Kia has fully unveiled the all-new 2022 Sportage midsize SUV which takes notable steps forward in maximising interior space and adds some crucial safety features.
Set to arrive in Australia by the end of the year, the Sportage features a radical new design and a Kia Australia is even looking to bring a hybrid version for our shores if it's made available in right-hand drive.
UPDATE: Kia is fighting to bring the Sportage hybrid to Australia, with a proposal to build right-hand-drive hybrid variants in South Korea being advanced to head office.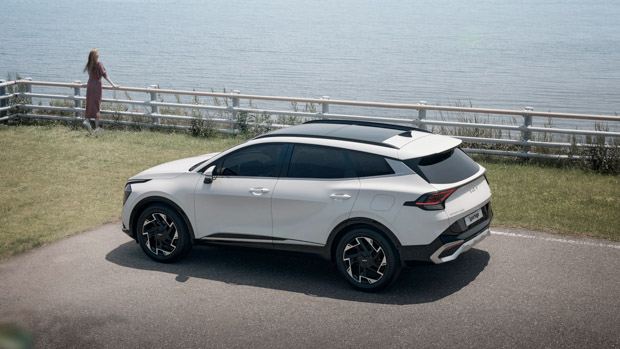 New design adds style and space:
Kia has already extensively shown off the design of the Sportage, which takes its inspiration from the fully-electric EV6, and is more functional than its predecessor.
Sitting on a new platform, the fifth-generation Sportage is slightly bigger in every dimension and that has helped increase legroom and headroom for second-row passengers.
Boot space has also grown substantially to 637 litres, which can open up further when you put the rear seats down at the touch of a button.
Similar to the closely related Tucson from sister brand Hyundai, the Sportage has heavily updated its interior technology to bring it up to modern standards.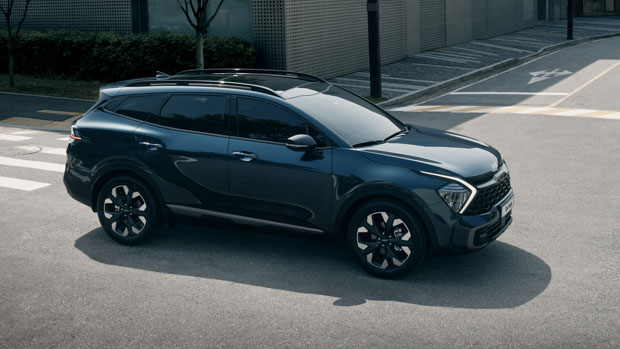 Arranged in a minimalist design, Kia has fitted a larger 12-inch touchscreen in the centre with an additional 12-inch display sitting in the instrument cluster.
While it's likely to be reserved for the top-trim models, the Sportage is also available with a Harman Kardon premium sound system which should provide some crisp sound.
The Kia now has the ability to receive over the air software updates into the system, which should allow the manufacturer to knock some problems on the head without you having to drive out to your local dealership.
While the official specification is yet to be detailed for Australia, Kia will be launching a new 'X-Line' grade for the Sportage that makes the midsize SUV look a bit tougher with some chunky bumpers, side skirts and a specialised roof rack; coupled with a sage green interior – similar to the Sorento X-Line released in the United States.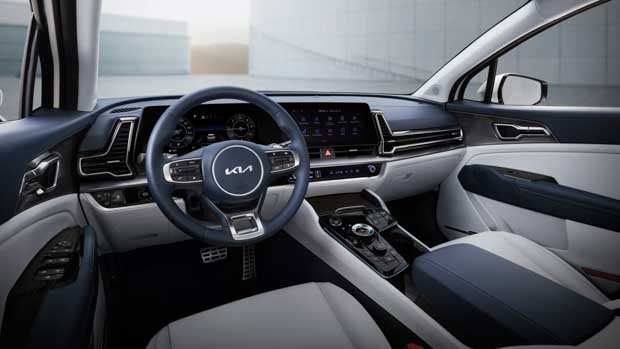 More safety for the Sportage:
Kia says safety was a top priority during development and claims a notable improvement in the car's ability to both absorb an impact and avoid a crash in the first place.
The Sportage features automatic emergency braking which warns the driver when it detects an incoming crash before slamming the brakes on itself. The sensors are also advanced enough to detect pedestrians and cyclists.
Adaptive cruise control is fitted and works with the navigation system to slow down for curves in the road before speeding back up again.
Kia's blind spot view monitor system, which displays a live feed of your blind spot in the digital instrument cluster, also makes its way to the Sportage along with remote parking to help drivers get in and out of tight spots.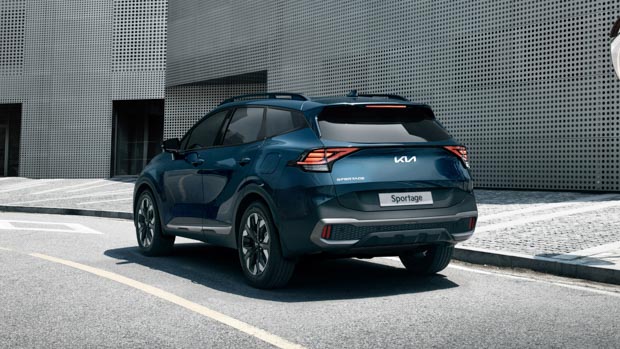 What's under the bonnet of the Sportage?
While prices and exact details are still a mystery, Kia Australia has told us they will bring a choice of three four-cylinder engines to our shores with two petrol and one diesel option.
Reflecting similar options to its Tucson sibling, the Sportage will be available with a 2.0L naturally aspirated petrol engine that develops 117kW of power and 191Nm of torque and even has a six-speed manual option.
A more powerful 1.6L unit making 132kW / 265Nm is mated exclusively to a seven-speed dual-clutch automatic and will likely arrive with all-wheel drive.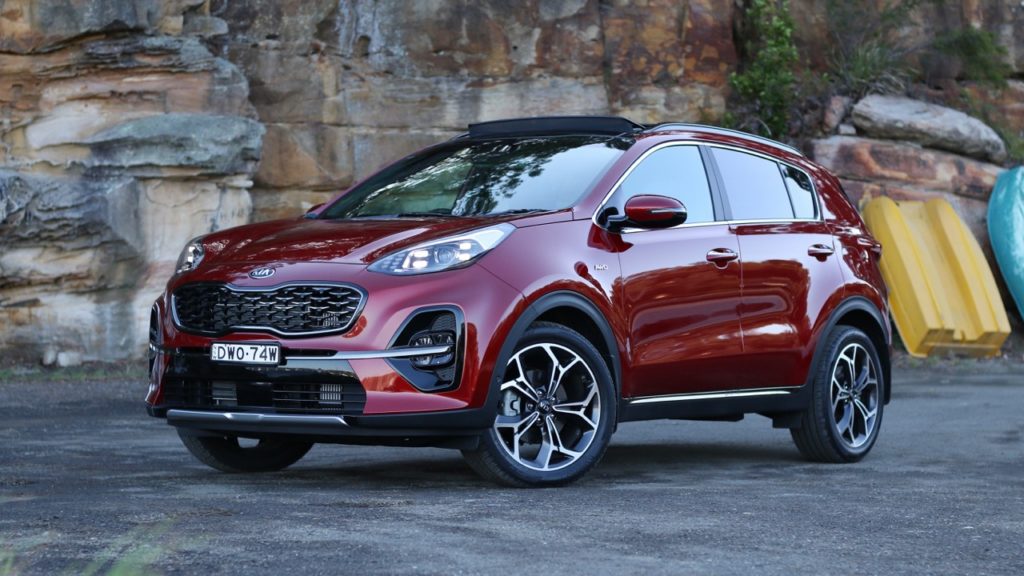 Kia will also bring back a torque-heavily 2.0L turbodiesel will send 137kW / 417Nm through an eight-speed torque-converter automatic. This drivetrain has historically been available with either front or all wheel drive.
The all wheel drive system available will also be more advanced thanks to an automatic terrain mode that detects the surface the vehicle is on and adapts accordingly.
Engineers have also worked to make the Sportage more comfortable with an electric suspension control system that adjusts the harshness of the damping on the fly.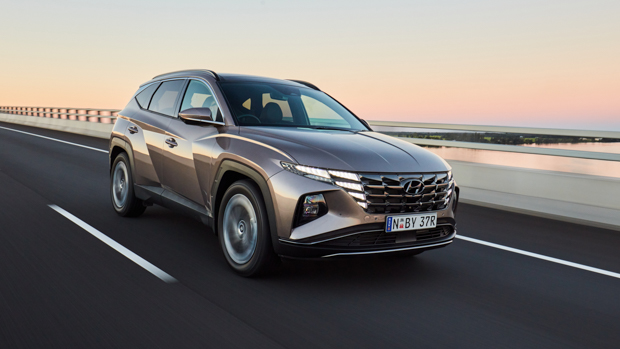 What about the hybrid options?
We were incredibly shocked earlier this year when we learned the Hyundai Tucson would not be getting a hybrid option and it seems Kia is keen to pick up the slack.
Kia Australia says they are hoping to bring a Sportage fitted with a traditional self-charging hybrid system to Australia, if the drivetrain is manufactured in right-hand drive.
This type of hybrid system has seen significant popularity in models such as the Toyota RAV4. A plug-in hybrid option also exists for the Sportage but Kia isn't as interested in bringing this to Australia.
Aside from better fuel economy, the hybrids also receive the new E-Handling system that is said to make the Sportage more capable in the bends – but Kia hasn't detailed how this process works just yet.
More information on exact pricing and specs will arrive closer to the launch of the Sportage in the fourth quarter of this year.