Korean automaker Kia this week pulled the covers off two off-roading concepts of its Sorento large SUV. The Sorento Yosemite and Sorento Zion editions showcase two potential rugged versions of this family car that could be green-lit in future.
The two concepts are based on the Sorento X-Line variant, which is powered by a 2.5 litre turbo four-cylinder engine sending around 210kW/422Nm to all an AWD system – though the Sorento X-Line is currently not available in Australia and is not slated for introduction in the short term.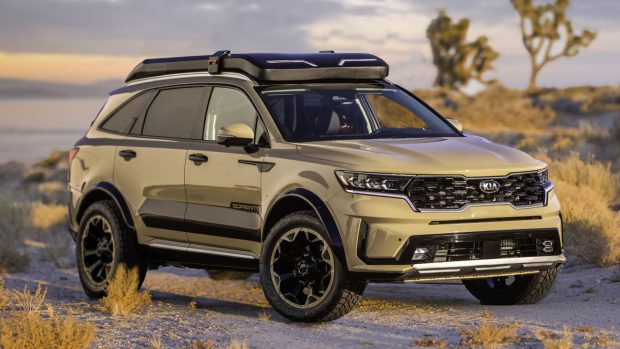 We spoke with Kia Australia corporate communications manager Alyson MacDonald about whether a Sorento off-roading spec could come to Australia in future.
"Not anytime soon, but [Sorento] does have a five-year life cycle, allowing plenty of time to consider introducing special editions down the track," Ms MacDonald said.
In the United States, where the concepts were revealed, the Sorento sits underneath a larger Kia Telluride full-size SUV that has never been officially ruled out for Australia. The Telluride's cousin – the Hyundai Palisade – launches down under this month.
Both versions have been equipped with 20-inch rims with 32 inch tyres, skid plates and earthy colour choices, with the Yosemite finished in Pine Green and then Zion in Desert Sand, both detailed with various black accents. Both versions are named for American national parks.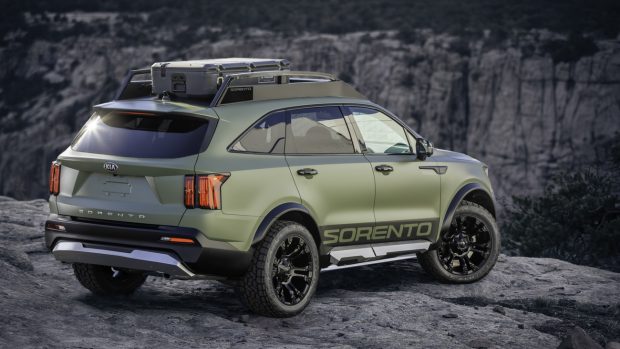 The upgrades have increased the ground clearance to 210mm, giving it improved approach and departure angles off road. Kia have also increased the capability of the AWD system and added a new 'snow mode'.
The forest themed Yosemite wears a chunky roof rack packed to store luggage, while an integrated system of LED lights are added to the front for increased visibility.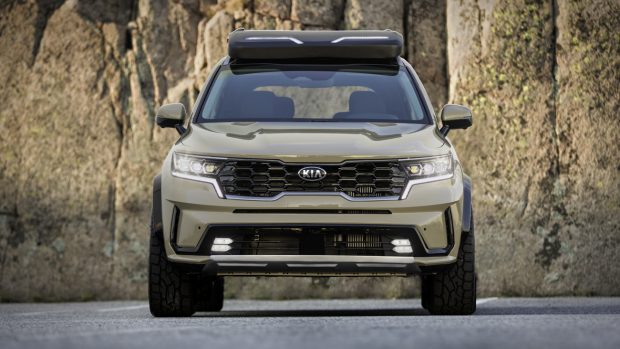 The handsome lower air intake donning the street-going Sorento has been ditched in favour of an aggressive teeth-like metal guard, with a tow hook hanging out the front in case you suddenly find the limits of the AWD system.
The Zion is described as a 'desert escape vehicle' and looks the part, with a roof storage pod fitted directly to the roof, with silver skid plates featuring front and rear.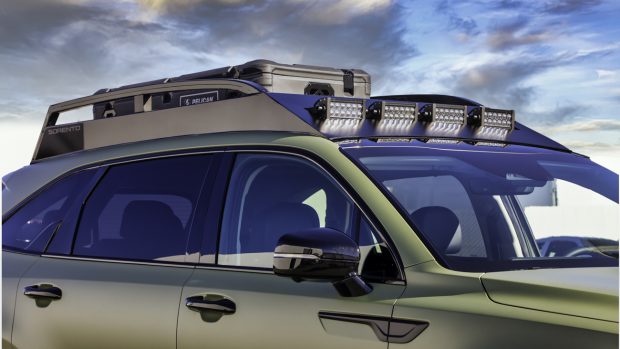 Kia Motors America has custom built the two Sorentos as part of an advertising campaign to showcase the capability of the impressive family hauler, and will be offering a range of accessories to be fitted by local dealers.
Kia Sorento 2021: prices in Australia
Sorento S V6 petrol: $47,290 driveaway
Sorento S diesel AWD: $50,290 driveaway
Sorento Sport V6 petrol: $50,290 driveaway
Sorento Sport diesel AWD: $53,290 driveaway
Sorento Sport+ V6 petrol: $54,690 driveaway
Sorento Sport+ diesel AWD: $57,690 driveaway
Sorento GT-Line V6 petrol: $62,290 driveaway
Sorento GT-Line diesel AWD: $65,290 driveaway