Let's say that you're looking for a new SUV to join the family. You've got two kids and spend most of your time in suburbia but critically, you're on kids' sports duty on weekends – meaning you occasionally need six or seven seats. Enter the 5+2-seat SUV: larger than a Toyota RAV4, for example, but smaller than the enormous Mazda CX-9. 5+2s have earned a loyal following in Australia thanks to their ideal balance between being small enough to park easily, but being big enough not to squish people in the third row. One car in this burgeoning segment is the 2019 Kia Sorento GT-Line and spoiler alert: you'd be crazy to not put the Sorento on your test drive list.
For the 2019 model year, Kia are offering the Sorento in four variants, priced from $42,990 plus on-road costs ($43,990 drive away). Each model is available in either 3.5-litre petrol V6 with front-wheel drive form, or with a 2.2-litre turbo diesel and all-wheel drive. Having tested the diesel combination in the past (watch our Sorento diesel review here), this time we brought in a top-spec GT-Line petrol for a detailed test.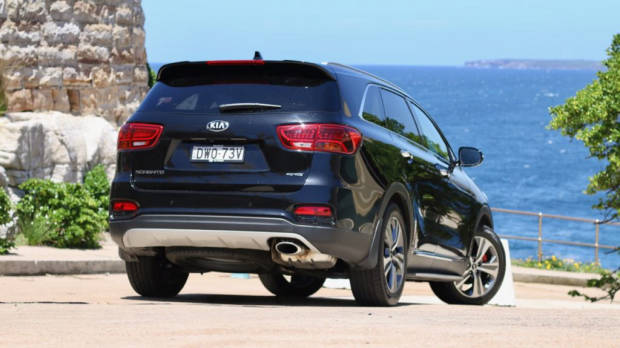 The GT-Line petrol V6 you see here costs $55,490 ($60,471 driveaway), plus $595 for the Aurora Black paint. This puts the flagship Sorento up against high-end versions of the Skoda Kodiaq (review), Volkswagen Tiguan Allspace (review), Mazda CX-8 (review) and Hyundai Santa Fe Highlander (review). That last SUV – the Santa Fe – shares a platform with the Sorento, as Kia is a sub-brand of Hyundai in Korea.
You could also cross-shop the Sorento against bigger SUVs like the Holden Acadia (review), Toyota Kluger (review), or Mazda CX-9 (review). This is interesting in itself because all of those SUVs are longer than the Kia, though the Sorento has effectively as much space inside – this is a really well-packaged vehicle, and it's better value for money to boot.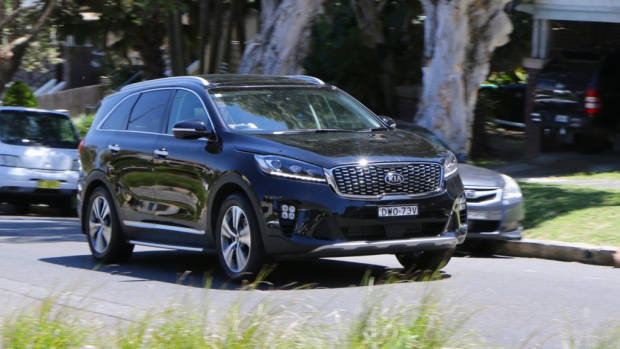 On the whole, the Sorento is priced fairly. Kicking off at $43,990 driveaway for an Si base model, the Sorento range is well-equipped with every car benefitting from autonomous emergency braking with forward collision warning, adaptive cruise control, alloy wheels, an eight-inch touchscreen with DAB digital radio, satellite navigation with live traffic, Apple CarPlay and Android Auto. Every Sorento has automatic headlights, too, though curiously, auto wipers aren't available at all.
Move up to the $44,990 Sport grade ($49,446 driveaway) and you get leather seats, larger 18-inch alloys, adaptive cruise control, front and rear parking sensors and drive mode select. Another $2,000 gets you the SLi spec ($51,546 driveaway), which adds a power tailgate, a 10-speaker Harmon Kardon stereo, keyless entry and start and 10-way power adjustment for the driver's seat.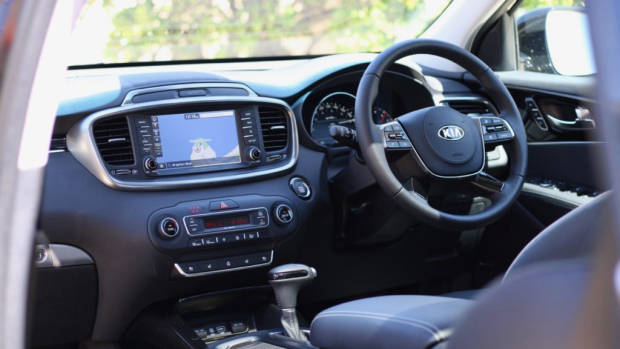 The SLi is the most attractive grade pricewise; from there, it's a $8,500 step to the pricey GT-Line, though that car exclusively gets a panoramic sunroof, heated and cooled front seats, a heated steering wheel LED headlights, blind spot monitoring, and rear cross-traffic alert. We would make the point that reserving blind-spot for the most expensive grade seems pretty nickel-dimey.
Measuring 4,800mm long, 1,890mm wide, 1,690mm tall and with a 2,780mm-long wheelbase, the Sorento is 30mm longer than its cousin, the Hyundai Santa Fe – but it's 90mm shorter than a Kluger: see what we mean when we say it straddles the two segments? Naturally, being a little smaller than big busses like that Toyota means boot space is more compromised with the third row in use – it measures just 142L in seven-seat mode. Most people will have the Sorento in five-seat mode most of the time, which expands cargo capacity to 602L. With just two seats up the boot is 1662L.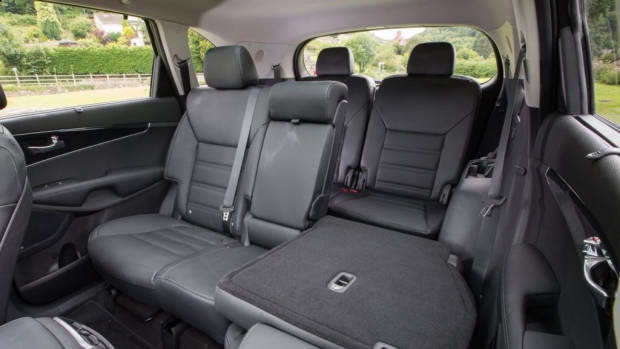 Facts and figures dealt with, what is the Sorento GT-Line like? In most aspects, it's quite impressive. The Sorento's cabin is very roomy, with plenty of space in the first and second rows, and even six-foot adults will just about fit in the third row seats. Those stowaway seats have their own cupholders, air vents and even a dedicated fan controller – though the curtain airbags only cover the third row's glass, and not further down to further protect occupants. We're pleased that Kia convert kerbside access for the third row to Australian (i.e. left-side) specification, unlike so many three-row crossovers that come here developed only for left-hand drive markets. Keep in mind, the Sorento's third row does not have child seat mounting ability.
The second row seats in the Sorento are impressively comfortable, even for those who draw the short straw by sitting in the middle. The GT-Line is positively luxurious for kids, with second row window blinds, heated seats, a dedicated USB port and 12-volt socket, and rear air vents. We'd love to see separate temperature controls back there, too. But more important is just how cavernous it is: adults have heaps of space, let alone children. The doors open nice and wide, allowing easy fitment of baby seats to outboard ISOFIX points.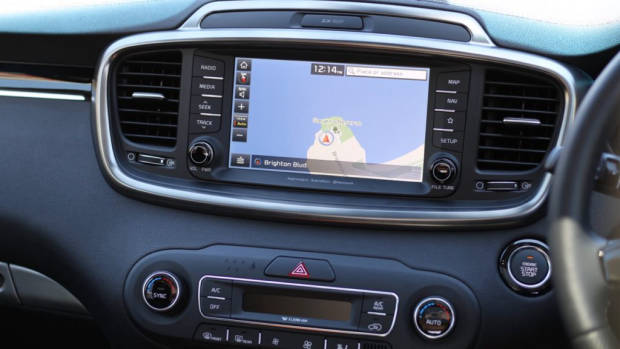 Move into the front seat of the Sorento and there's a lot to like. In fact, this SUV demonstrates among the best material quality in the entire Hyundai-Kia group. While the Sorento's interior design isn't flashy like the new Hyundai Santa Fe, it's well-finished and ultimately feels more refined than the newer Hyundai, with soft materials covering most surfaces, including the tops of both the dashboard and all four doors. The leather seats feel expensive, and the Sorento GT-Line's heated and ventilated pews are extremely comfortable with plenty of adjustment through a 14-way electrically adjustable driver's seat. The passenger gets a more basic 8-way electric set up.
Central to the Sorento's cabin is an eight-inch touchscreen that is the same as that used in many other Kia and Hyundai cars. It's well-featured with DAB+ digital radio, satellite navigation with live traffic reports, Apple CarPlay and Android Auto. It's also amazingly easy to use – the controls are simple to understand, the screen is modern and attractive, and although it's not as high on the dashboard as the Stinger or Cerato, it's still decently close to eye level while driving.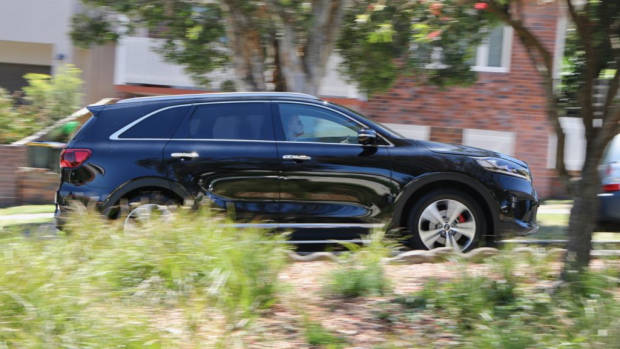 So the Sorento is comfortable to ride in and well-equipped – the icing on the cake is that it's also pleasurable to drive. Locally tuned like its stablemates in the Kia range, the Sorento's ride and handling balance is spot on. Unlike many three-row SUVs, the Sorento doesn't wallow but equally, it's not too firm – it's disciplined, and offers great body control. The Sorento puts many of its SUV rivals (and even some passenger cars) to shame on our urban ride loop. Similarly, the Kia's steering is nicely linear and lightens up effectively at low speeds to aid in parking.
The petrol V6 under the bonnet of the Aurora Black car here produces 206kW of power at 6,300rpm and (just) 336Nm of torque at a revvy 5,000rpm. That gives a clue to the Sorento's driveability: to get the most out of it, you do need to rev it out. The problem is that being front wheel drive, this induces plenty of wheelspin off the line – and having to work the petrol Kia hard does no favours for fuel economy. We saw about 13L/100km in urban settings. If you're going to be doing a lot of driving, the $3,500 upgrade to a more economical and torquier 147kW/440Nm 2.2-litre turbo diesel is something to consider.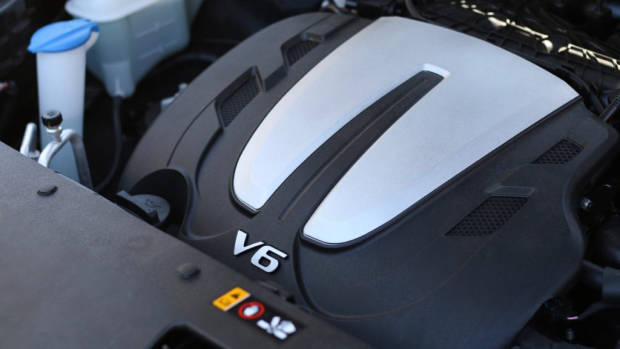 Engine choice aside, the eight-speed torque converter auto in all Sorentos is an impressive unit. Built in-house by Kia, the tuning is better than in the Stinger V6 sports sedan: in the Sorento, it's intuitive, responsive, and generally pleasant left to its own devices. A quick prod of the throttle triggers a quick downshift. Refinement overall is good: the Sorento is very quiet, with a more hushed character at speed than either a Mazda CX-8 or a Volkswagen Tiguan Allspace.
Another aspect to owning a modern Kia product in Australia is that the brand offers a seven-year/unlimited km warranty on all of their products, with capped price servicing lasting the duration of the warranty as well. The warranty itself is superior to sister brand Hyundai's five year term, though Hyundai's capped price servicing lasts the life of the car. Over seven years, the Sorento V6 costs $2,920 to service, which equates to $417 per yearly/15,000km service – entirely reasonable. Competitors such as the Volkswagen Tiguan Allspace will cost significantly more to service than the Kia – a Tiguan Allspace 162TSI costs $3,234 to service over just five years, which equates to $647 per annual/15,000km service.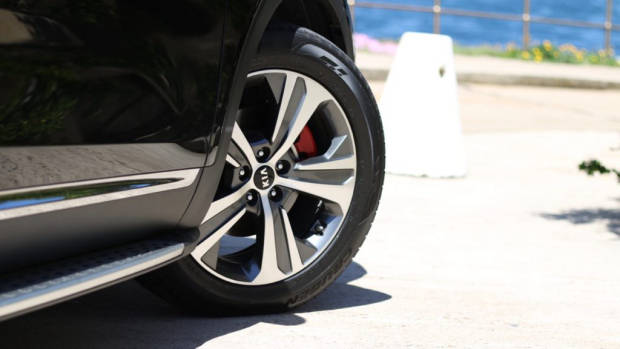 Overall, the 2019 Kia Sorento is one of the best seven-seat SUVs on the market. The value equation is far stronger than a Toyota Kluger despite offering more polish, and more than doubling the Toyota's warranty. While the Sorento has a little less room than the biggest three-row SUVs (particularly in terms of boot space with all seats in play), actual passenger space is great and comfort levels are high. Important dynamic elements like the ride and handling are impressive, and while the petrol engine can feel strained the diesel is always available to solve that.
If it were our money, we'd look closely at the SLi – but any Sorento is excellent buying. While all the Kia hype seems to surround its Stinger sports sedan, the quiet-achiever Sorento deserves more of the limelight. We think it might be the brand's best product – and that's high praise indeed.