The 2022 Kia Sorento hybrid will be launched in Australia in March 2022, initially only in top-spec GT-Line trim, though buyers will be offered a choice of front-wheel drive (FWD) or all-wheel drive (AWD) formats.
A self-charging hybrid large SUV set to compete squarely with the Toyota Kluger hybrid in Australia, the new powertrain joins a bustling set of engines available to Sorento buyers locally.
UPDATE 1 MARCH 2022: Pricing for the 2022 Sorento hybrid has been leaked via a Kia dealer bulletin.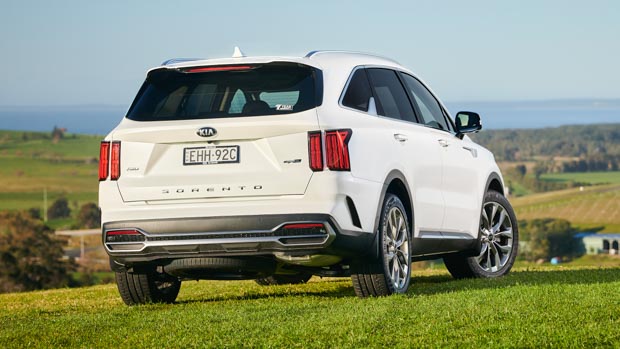 Kia already sells its fourth-generation 'MQ4' Sorento with a 3.5-litre petrol V6 with FWD, a 2.2-litre turbo diesel four-cylinder with AWD, and a 1.6-litre turbo petrol plug-in hybrid with AWD.
All four of the Sorento's trim grades – dubbed Sorento S, Sorento Sport, Sorento Sport Plus and Sorento GT-Line, are offered with the petrol V6 and diesel powertrains, but the plug-in hybrid is available only as a GT-Line with AWD – priced at $81,990 driveaway.
That compares to $65,990 driveaway for a GT-Line petrol V6 FWD, and $68,990 driveaway for the GT-Line diesel AWD.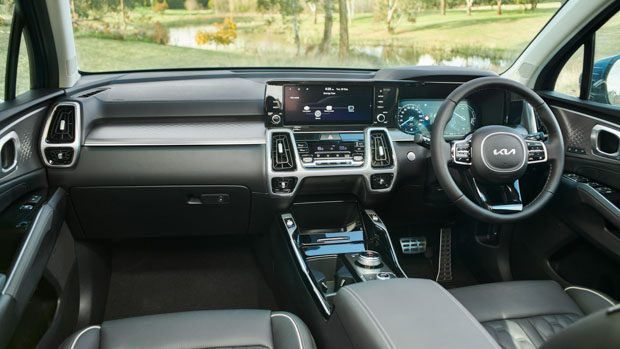 The rise-and-rise of self-charging hybrid powertrains in competing Toyota products – a technology that accounts for more than half of Kluger large SUV and RAV4 midsize SUV sales – could mean that the lighter-duty hybrid is a sweet spot for the Kia Sorento.
Kia Australia general manager of product planning Roland Rivero told Chasing Cars that the release of the new Sorento hybrid would occur once the launch of the all-electric EV6 SUV occurred in February – about a 12 week delay from the planned December 2021 launch.
Turbo petrol hybrid powertrain makes 169kW
Producing 169kW of power and 350Nm of torque, the Sorento hybrid teams a 132kW/265Nm 1.6-litre turbo petrol four-cylinder engine with a 44.2kW electric motor and a small battery that is recharged by braking and coasting in normal driving.
Slated to consume between 6-7L/100km, the Sorento hybrid is refuelled at the bowser with petrol and differs from its Sorento PHEV sibling we reviewed in late 2021 in that it does not need to be plugged into a power socket.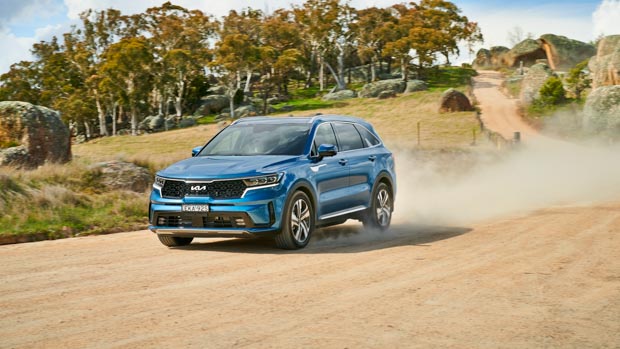 Like the plug-in Sorento, though, the new hybrid powertrain option will initially be available only in flagship GT-Line guise – but on the self-charging hybrid, buyers will be given an option of a cheaper FWD model, or spending more on an AWD configuration.
Chasing Cars expects that the GT-Line hybrid grades will fall between the $68,990 driveaway diesel and the $81,990 driveaway plug-in hybrid, with the AWD option set to command a premium of $2000-3000 over the FWD hybrid.
GT-Line hybrid now, Sport hybrid may follow later
Product planning boss Rivero told Chasing Cars that the Sorento hybrid would be competitive in light of the Toyota Kluger hybrid's positioning.
Toyota's fourth-gen Kluger launched in Australia in 2021, and is the first to offer a hybrid powertrain locally – but it is AWD only, priced between $54,150 as a base GX model, $63,350 for a mid-spec GXL and $75,400 for a flagship Grande – all before on-road costs.
Kia's GT-Line entrant will mainly provide competition to the Kluger Grande hybrid, but Mr Rivero says Kia is considering adding a level-two Sorento Sport hybrid grade to the lineup in the coming months, if supply allows. This mooted grade would fall between the Kluger GX and GXL.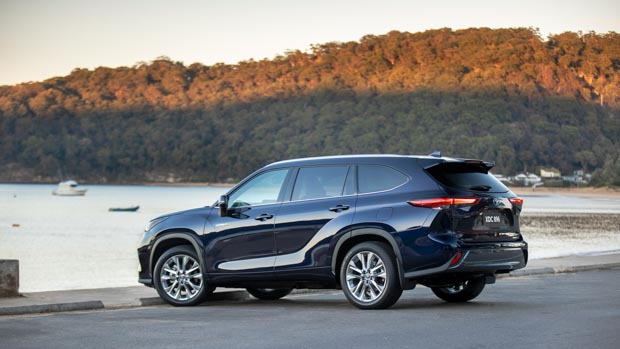 Kia Sorento 2022: prices in Australia
All prices listed are national driveaway prices.
S petrol V6 FWD: $50,790 driveaway
S diesel AWD: $53,790 driveaway
Sport petrol V6 FWD: $53,790 driveaway
Sport diesel AWD: $56,790 driveaway
Sport Plus petrol V6 FWD: $58,390 driveaway
Sport Plus diesel AWD: $61,390 driveaway
GT-Line petrol V6 FWD: $65,990 driveaway
GT-Line diesel AWD: $68,990 driveaway
GT-Line hybrid FWD: Pricing TBA
GT-Line hybrid AWD: Pricing TBA
GT-Line plug-in hybrid AWD: $81,990 driveaway