We're calling it: the luxury wagon renaissance in Australia is well and truly afoot. In preparation for a November launch, local pricing and specifications have been announced for the 2018 Jaguar XF Sportbrake, which will be available with four-cylinder petrol and diesel options, alongside Jaguar's superb V6 twin-turbo diesel, which we've driven in sedan form.
With an entry price of $90,400 for a diesel four-cylinder, Jaguar Australia have their sights trained directly on the new BMW 5 Series Touring – a car which, while offering more standard equipment, starts at $99,900 – making it significantly more expensive to buy. Plus, the BMW wagon has no six-cylinder variant on offer.
As usual, the Jaguar requires you to tick plenty of interior and safety options to rival the BMW's standard specification. However, in a stunning example of healthy competition among luxury brands, Jaguar's XF Sportbrake 25t undercuts the BMW 530i Touring by nearly $25,000 despite offering essentially equivalent performance from its 184kW two-litre turbo petrol.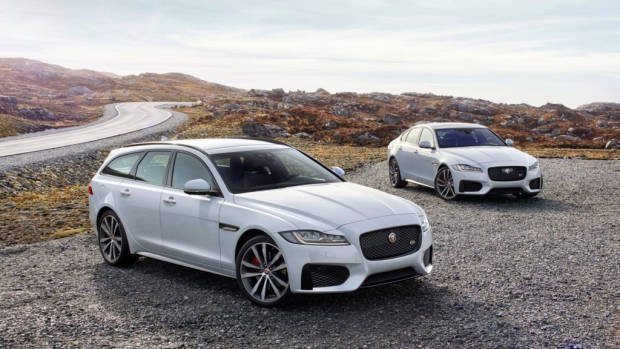 In fact, even if you tick the requisite options to bring the Jaguar as close to the BMW as possible you still end up a few thousand dollars ahead by purchasing the Brit. It is a compromise, though; technologically, the XF cannot touch the BMW's advanced autonomous driving proposition, and the BMW's cabin is in another universe of plushness.
Leaping $32,000 from that four-cylinder Jaguar wagon into the six-cylinder XF S 30d might seem ludicrously indulgent – but then again, the XF's V6 option is a mere $7,950 more than that four-cylinder petrol BMW.
Built on the same Solihull production line as the four-door XF sedan, the Sportbrake effort has been a far bigger effort than simply tacking on a wagon body. Adaptation of the chassis, further stiffening of the front suspension, and the addition of rear air suspension have all been done in aid of recreating the overtly sporting feel of the XF sedan within the Sportbrake's more practical shell.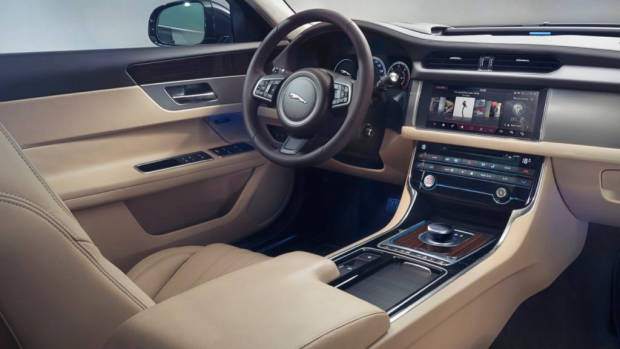 Clever material distribution has seen Jaguar achieve a near 50:50 weight balance with the Sportbrake, and the stiffer suspension – plus a faster steering ratio than the first-generation Sportbrake, which we never received – give the five-door XF reportedly tenacious turn-in. However, a 51mm longer wheelbase than the old Sportbrake has improved compliance; the four-door rides remarkably well, and we expect the wagon to follow in that vein.
As in the XF sedan, every Sportbrake that comes to Australia will exclusively use an eight-speed ZF automatic transmission – similar to that used in the 5 Series Touring. It's effectively tuned, and Jaguar's well-sorted Dynamic Mode makes the auto even more usable, with faster upshifts, reactive downshifts and a more responsive kickdown.
Two levels of adjustable dynamics will be optionally offered. 'Configurable Dynamics' allows drivers to fiddle with the steering weight, plus the throttle and transmission aggression; 'Adaptive Dynamics' adds in variable dampers that can be hardened or softened off, monitoring wheel positioning 500 times per second.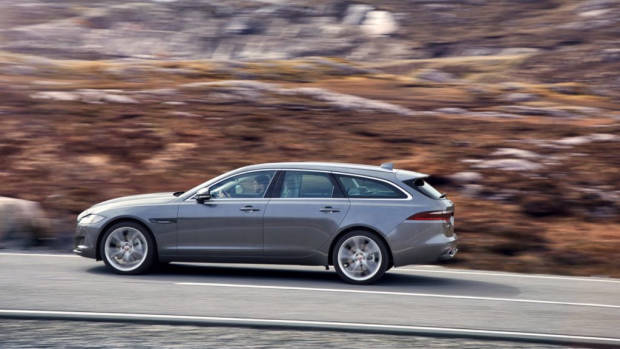 Liberal use of aluminium makes the XF as light as Jaguar can make it, but the minimum mass of 1,705 kilograms still makes the Sportbrake at least 7% heavier than the BMW 530i Touring which tips the scales at 1,596kg. However, the Jag's self-levelling rear air suspension makes the XF the more adept tow vehicle, with both the four-cylinder and V6 diesel capable of towing a 2,000kg braked trailer. The low-profile roof rails can support up to 100kg.
Disappointingly, all the advanced safety technologies apart from autonomous emergency braking are left on the options list. Active cruise control, lane keep assist, blind spot monitoring and rear cross-traffic alert cost $4,270 on the XF sedan – outrageously expensive on a luxury car. BMW might charge more for their car, but they aren't stingy with that kind of safety tech. At least Jaguar's Protect system automatically notifies emergency services of the car's GPS position after an accident.
A wagon is all about its cargo space and the 4,955mm-long XF estate sports a 565 litre boot, and a standard 40/20/40 folding rear bench that can be stowed by discreet levers within the cargo hold. The uninterrupted flat floor spans two metres from tailgate to front seats, and that tailgate can be opened and closed with a kick of the foot beneath the rear bumper. A clever cargo cover partially retracts with the boot open, and the tailgate's height can be controlled through the XF's central touchscreen.

Jaguar's innovative, waterproof Activity Key – a clever wristband key not seen on the XF sedan – is optional on the Sportbrake, and owners can use a smartphone app to remote start the car's climate control system, check on fuel levels and remotely lock and unlock the doors. And, in a nod to the XF's role as an executive express, they can download mileage logs for submitting expense reports…
The engine lineup features two of Jaguar's Ingenium engines, developed and built in-house, and one Ford-era V6 twin-turbo diesel. While the sedan is offered with four trim grades, the Sportbrake gets just two: the mainstream but body-kitted R-Sport, and the performance six-cylinder S trim.
The Australian Sportbrake range opens with the R-Sport 20d ($90,400), which uses a 2.0-litre single turbo diesel four-cylinder producing 132kW of power and 430Nm of torque. It uses 4.8L/100km and churns out 124g/km of CO2.
The R-Sport 25t ($91,400) is quite a bit quicker, with a two-litre turbo petrol making 184kW and 365Nm, while consuming 6.8L/100km and producing 155g/km of CO2.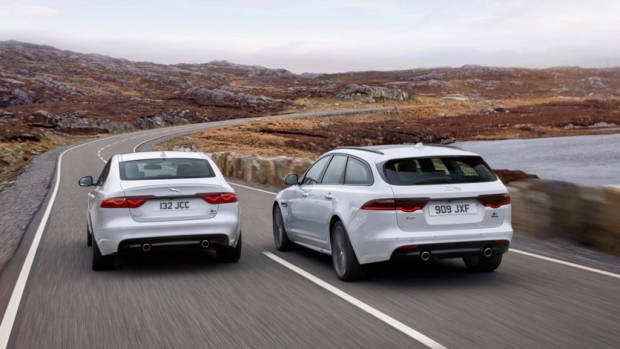 The pair of R-Sports include 19-inch wheels, a mildly-aggressive R-Sport body kit, xenon headlights and gloss black roof rails outside. Meanwhile, inside, you get 10-way electric leather seats with mesh inserts, an 8-inch navigation system, a 380-watt Meridian stereo, keyless entry and start, and a power tailgate.
For comparison's sake, the $99,900 BMW 520d adds a full suite of adaptive safety technologies, a heads-up display, LED headlights and a larger navigation screen. However, it makes do with smaller 18-inch wheels.
Then it's a substantial step to the XF Sportbrake S grade ($123,450), which uses a 3.0-litre twin-turbo V6 diesel making 221kW of power and 700Nm of torque. The S 30d sprints to 100km/h in 6.6 seconds while using 5.7L/100km of diesel and producing 149g/km of CO2.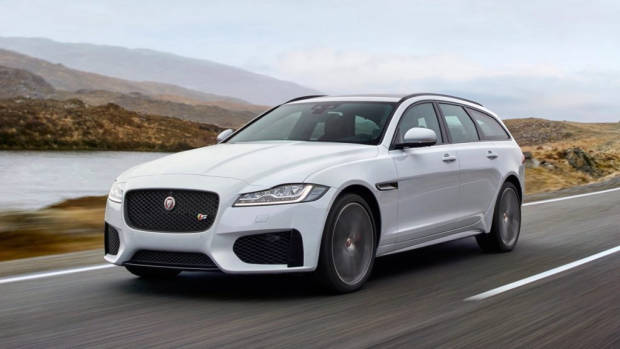 On top of the creamy six, the S adds 19-inch wheels, adaptive dampers, a heads-up display, 10-way suede and leather seats, a 360-degree camera, and adaptive LED headlights into the mix.
That's right: even at $123,000, Jaguar make you pay more for full leather (and adaptive safety tech). Go figure.
As is commonplace, a launch special called First Edition will be offered on the S 30d ($137,300), which further adds a fixed panoramic glass roof with a hand-gesture-controlled sunshade; silver roof rails; an Activity Key and Jaguar's 10-inch navigation screen and digital driver's display.
A range of thirteen colours will be available on the XF Sportbrake – sadly, British Racing Green did not place, but there are a number of fetching choices.
The Sportbrake will be available in Australia from November 2017.