The all-new Jaguar XF has been launched at the New York Auto Show overnight, with Ian Callum labelling the car the next step in the brand's revolution.
The XF is the third of three new Jaguars to launch this year, after the XE compact premium sedan debuted earlier in 2015. The pair share deep design similarities, particularly from behind – however, it's the XF that represents 'the ultra efficient, British cool executive sedan', in the words of Fiona Pargeter of Jaguar Land Rover.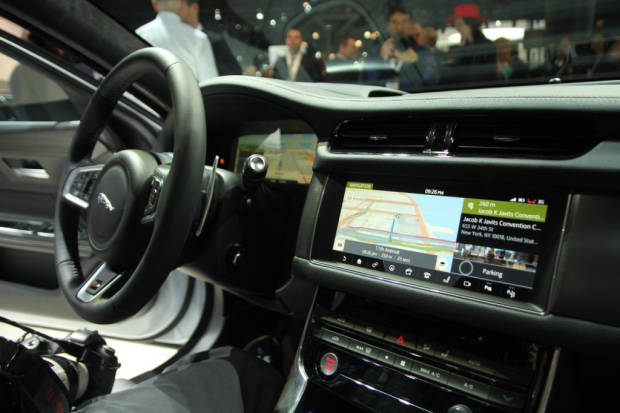 Building on what we discovered yesterday, the XF weighs in at just over 1.7 tonnes – 80 kilograms less than the nearest competitor in the segment. Combined with near-perfect weight distribution, and a number of new developments including a more active all-wheel-drive system, that will make the XF one of the most dynamic of the bunch straight out of the blocks.
Major improvements have been made to the interior, which felt cool but conceptual in the original XF. The new car's InControl Touch Pro infotainment system is beautiful to behold – set low in the dash like the XE, but generously wide and extremely swift thanks to quad-core technology. That makes the system "ten times faster than anything we've seen before", according to Jaguar Land Rover's engineering director Nick Rogers, in his first day on the job.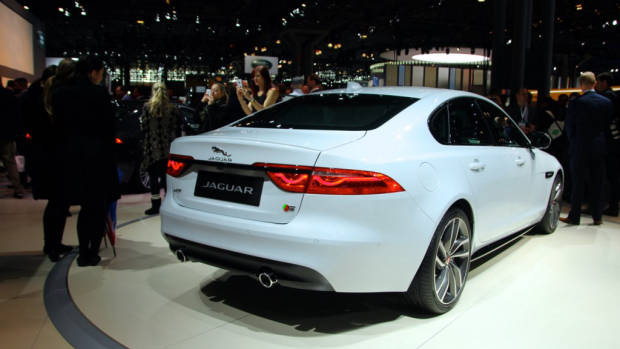 The big number to look at is the five-second sprint to 100 afforded by the XF S's supercharged V6, sourced from the F-Type. Until we see numbers from the Mercedes-Benz E400, that make the XF the fastest non-performance oriented luxury midsize sedan.
Additional niceties on the new XF include a 12-inch adaptive display behind the steering wheel, pictured below; and an adaptive cruise control system designed for use on poor surfaces like snow, allowing the driver to simply steer while the powertrain works out where grip can be afforded.
Fiona Pargeter called this eightieth anniversary year for Jaguar "the year of the cat". The new XF will be crucial in making that prophecy a fact.