The eleventh-generation Honda Civic was today revealed in late-stage prototype form via a North American media event that was exclusively accessible by a Twitch stream.
Presented in sedan form, the 2022 Honda Civic is notable in how substantially it tones down the current tenth-gen Civic's extroverted lines. It's clear that the next Civic, at least in four-door form, will take on cues from the brand's larger Accord sedan that was released in Australia in 2019.
While a sedan was shown today, Honda Australia have confirmed that the brand will only be importing the hatchback version of the car when it is released locally in the second half of 2021.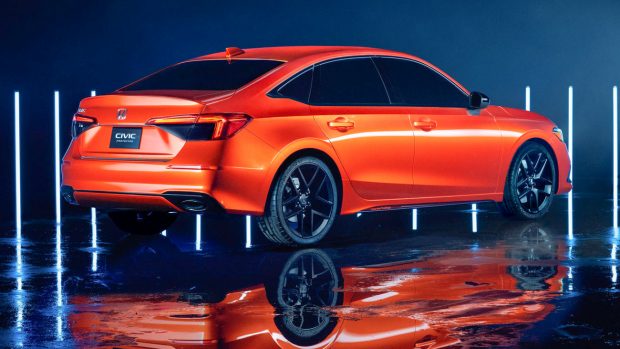 Justin Lacy, Honda Australia acting public relations manager, told Chasing Cars that "the eleventh generation Civic will be offered in the hatchback body style preferred by the majority of small car buyers in Australia, including the performance Type R variant."
The current, tenth-generation Civic is available in both sedan and hatchback form factors. Mr Lacy confirmed that the Civic sedan would enter run-out "towards the middle of 2021".
The current Civic's extroverted design made total sense in high-performance Civic Type R hot hatch guise – but even the mainstream variants, equipped with more modest naturally-aspirated 104kW/174Nm 1.8-litre or turbocharged 127kW/220Nm 1.5-litre engines, wore designs chock-a-block with character lines and (mostly fake) vents.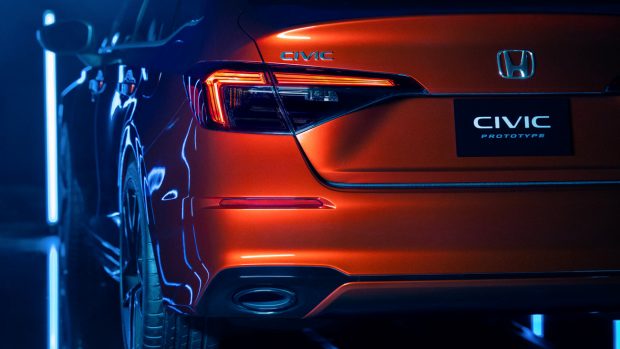 Revealed in a striking orange hue and sporting dark grey twin-spoke 19-inch alloy wheels, the next Civic sedan cuts a very handsome figure, but there's no doubt it is more restrained than the outgoing version.
Honda Australia's decision to bring the new Civic to Australia means there is a view that the small car segment is viable, but only with models that closely target local tastes.
"The Civic nameplate will continue as a core model in Honda's lineup with the next generation," Mr Lacy said.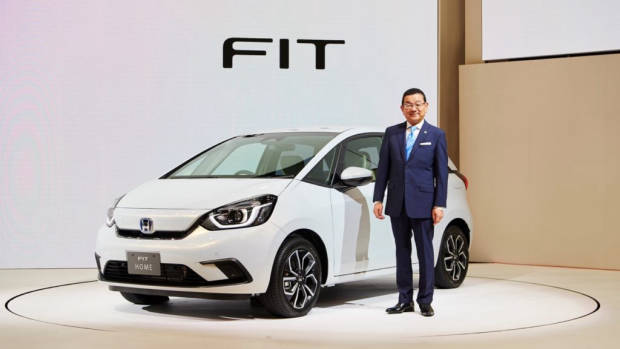 That's quite a different story to Honda's decision to axe the light Jazz hatchback in Australia. A new-generation Jazz was revealed at the 2019 Tokyo Motor Show, but Honda is one of a number of manufacturers who are abandoning the 'very small' segment due to cost pressures and drastically falling demand.
As is expected over the lifetime of most cars, the current-shape Honda Civic has seen sales numbers dwindle over its four-year run. In 2017, its first full year on sale, Honda shifted 14,672 Civics. 13,470 were sold in 2018, before the Civic logged 10,531 sales in 2019. Its market share has remained steady at around seven percent, including in 2020. Honda have sold just 5,923 Civics to the end of October, though this year has been greatly affected by the COVID-19 pandemic.
The 2021 Civic prototype revealed today by Honda would likely be badged as a 2022 Civic RS here in Australia. Acting PR boss Lacy says that "while there are always some unique elements applied when styling a prototype, it represents a strong indication of where Honda is taking the eleventh-generation Civic for production."
As yet, Honda have not revealed a Type R version of the eleventh-generation Civic, though Mr Lacy confirmed that a new Civic Type R is in the works and will come to Australia.
The 2022 Type R will continue to wear a hatchback body style, and a hatch is also likely to return alongside a sedan in the Civic lineup. Patent images registered by Honda in the United States reveal both Civic sedan and hatch forms for the 2022 release.
When it makes it to Australia, the Honda Civic will continue to compete with the Mazda 3, Toyota Corolla, Subaru Impreza, Volkswagen Golf and Skoda Octavia, among others.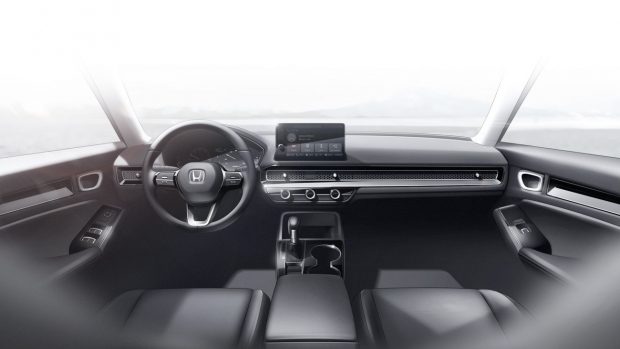 Honda have chosen not to adopt a huge front grille, though there is a large lower air intake in the centre of a blade-style diffuser. Slimline LED headlights include a crisp daytime running light (DRL) signature, while the wheel arches feature a subtle flourish. There are twin character lines running down the long bonnet.
The silhouette of the Civic sedan integrates a coupe-like swoop toward a boot that includes a very subtle lip spoiler. The side profiles are clean, while the taillight assemblies are quite large. Dual exhaust outlets were visible, meaning that 1.5-litre and 2.0-litre turbocharged power is likely to be offered once again.
The Japanese carmaker did not reveal the interior of the new Civic in today's stream, but a sketch was released showing the interior in what appears to be near-complete shape.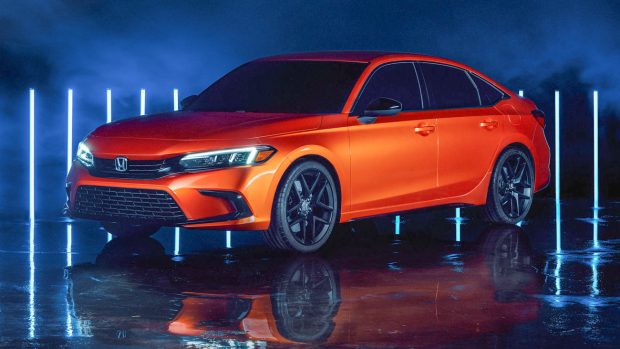 If the sketched cabin carries across to the 2022 Civic, it should endow this not-so-small Honda with one of the best interiors in its segment. With a long, lateral air vent forming a natural belt line, this interior is pleasantly minimal while knobs appear to be retained for volume and climate functions.
Notably, the button-driven automatic gear shifter preferred by Honda in North America is not present on the sketched interior: a conventional PRNDL shifter is visible next to two large cupholders on a sloping centre console.
A new steering wheel is present, with cues similar to the larger accord, while a digital gauge cluster sits alongside a tablet-style floating touchscreen.
Pricing, specifications and other detailed release information for the next Honda Civic in Australia will be revealed in 2021.