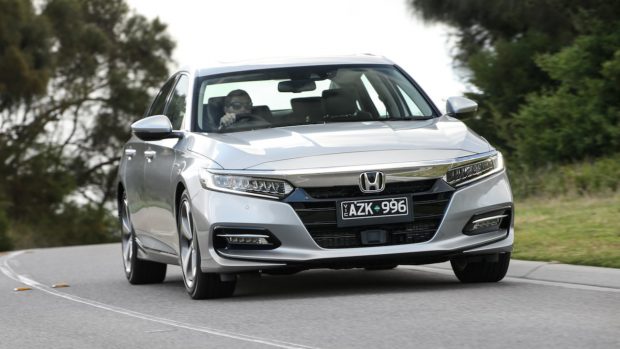 Remember when America's ginger-haired Disney brat Lindsay Lohan could do no wrong? Well you'll need to cast your mind back even further to remember the Honda Accord's heyday – a bright-eyed, bushy tailed 1970s/80s poster child for Japanese class and talent.
There were, of course, two generations of sportier Accord Euro (2003-15), which acted as the perfect foil for what the regular Accord had become – a depressing appliance that Honda Australia chose to offer alongside the European version. But when the Euro was finally retired (without replacement), the regular Accord slipped into obscurity faster than Ms Lohan and her shoplifting habit.
The ninth-generation Accord (2013-18) became so deathly dull it could kill the mood in a mortuary. And even the quite advanced 2015 Hybrid version wasn't transformed enough to save it, certainly not for $59K. And yet there remains a residue of goodwill towards the Accord nameplate in this country. That's what 250,000 sales and a strong reliability record will do for a car.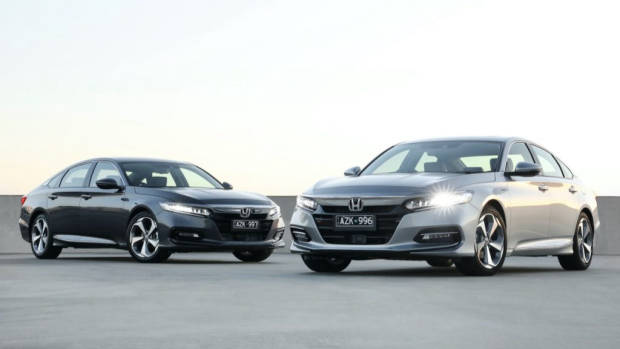 So much so, in fact, that Honda Australia has decided to give the 10th generation Accord a try. This time it's more sharply priced, sharply styled and keenly tuned, yet will remain similarly underplayed. Honda expects to shift just 150 a year (near-identical to the previous model), so be prepared to not see one. But if you do, you may be quietly impressed.
The fastback-shaped new Accord is a rather handsome beast. Lower, wider, slightly shorter, yet riding on a 55mm-longer wheelbase than its dowdy predecessor, it's also stronger, lighter (by 70kg), more aerodynamically efficient (by three percent), roomier, quieter and airier.
Its front A-pillars, for example, are 20 percent thinner, more angled towards the roof, and shift their bases closer to the front passengers – enabling the new Accord to reprise an element of the revered 'low cowl' forward vision of '80s Hondas.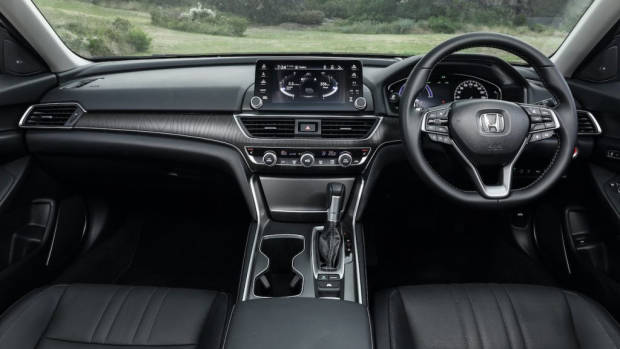 Behind the wheel there's a more cohesive and youthful dash layout than before, though the 10th-gen Accord's cabin is fairly derivative in design and nothing special in its choice of materials. Nicely built, sure, but lacking the tactility, warmth and textural pizzazz of its best rivals (Mazda 6 Atenza and new Peugeot 508).
Other lowlights include measly four-way electric adjustment for the flat, unsupportive front passenger's seat; a weirdly dated 'flap' disguising the wireless phone-charging hole; and the overly bright audio sound from its 452-watt 10-speaker stereo.
But there are many positives, starting with the driver's 12-way electrically adjustable seat (with a 25mm-lower hip point, as per both front chairs), a fairly sensible control layout and the newfound joys of Apple CarPlay/Android Auto in a Honda.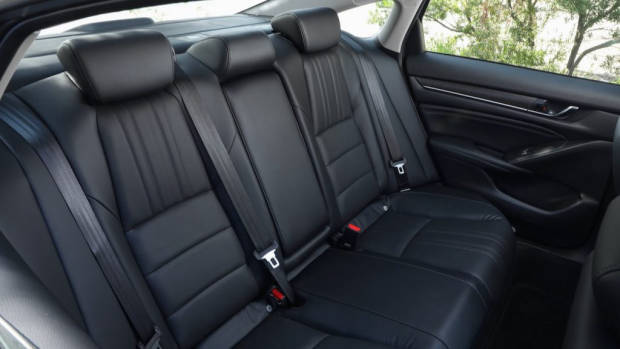 Plus there's the stunning rear seat (now mounted 20mm lower), whose vast amounts of legroom (up 49mm), excellent comfort and supreme all-round vision are proper limousine stuff. Ditto the new Accord's huge 570-litre boot, regardless of turbo-petrol or petrol-hybrid propulsion (the more compact battery is now mounted under the rear seat).
Based on a development of the Civic/CR-V's 'Earth Dreams' platform, the 10th-gen Accord shares absolutely nothing suspension-wise with its predecessor, and praise frigging be! In fact, the new Accord actually manages to better the Civic in most areas, with more consistent and communicative steering, a sweeter transition when changing direction and much less road noise.
But it ultimately isn't as dynamic as its smaller sibling, partly due to relatively non-sporting tyres (Michelin Primacy on the petrol, Yokohama Advan on the hybrid, both 235/45R18s). And the Accord's ride needs a comprehensive rethink. It jiggles over low-amplitude bumps and pounds into larger ones, with the in-between being a pogo-like affair that points to a lack of compression damping.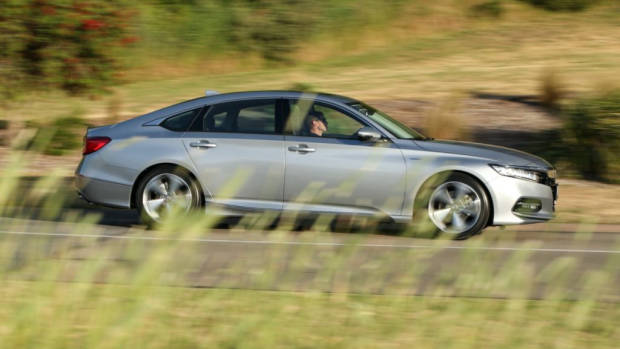 The Accord's petrol engine is the 140kW 1.5-litre turbo four from the CR-V, now with variable exhaust-valve timing, a new cylinder head and a different turbocharger boosting maximum torque to 260Nm from 1600-5000rpm. The engine sounds sweeter too, and the CVT transmission has been worked over to provide far more positive response. However the transmission's stepped ratios under full-bore acceleration seem oddly counter-productive.
The Hybrid essentially carries over its relatively new drivetrain from the previous model, which is no bad thing. It's a silky-smooth 2.0-litre naturally aspirated 'Atkinson-cycle' four with a pair of electric motors, giving total system outputs of 158kW and 315Nm (from 0-2000rpm), and is the pick of the two. It also drinks just 4.3L/100km of 91-octane on the combined fuel cycle (compared to 6.5 for the turbo-petrol).
The Hybrid isn't cheap though, at $50,490 – at least in comparison to a Camry SL Hybrid ($41,590) – despite a big price drop compared to the previous model. Badges, instruments and exhaust outlets apart, the Hybrid's VTi-LX specification is identical to the $47,990 petrol's, which means no options besides paint colour.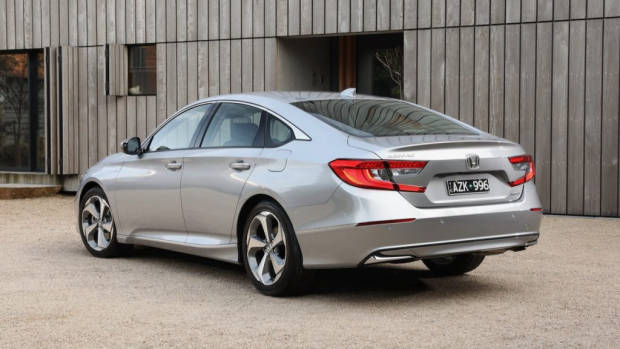 That brings Honda's full 'Sensing' safety suite (including rear AEB, adaptive cruise, lane assist and drowsiness detection), as well as 18-inch alloys, full-LED headlights, a sunroof, a head-up display, auto-parking, leather upholstery and rear-seat air vents. All worthy stuff but then nothing particularly exciting either…
… which sums up the new Accord perfectly. It's a huge leap beyond its predecessor but seems to lack the all-round polish that defined the last Accord Euro. Without the 188kW/370Nm 2.0-litre turbo-petrol four with 10-speed auto or six-speed manual options like the top US versions (a drivetrain not available from Honda's Thai factory), it doesn't have a headline hook either, and that's a shame.
What we're left with, then, is a larger, better looking, more refined extension of the Civic, rather than a standard setter like the Accord once was, way back when.