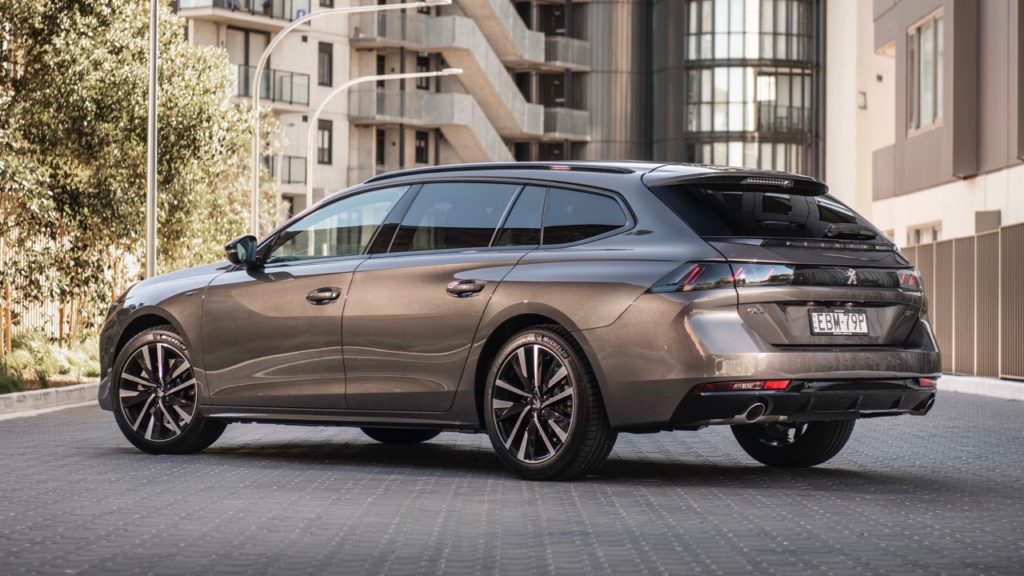 Now marks an unusual time to introduce a car into the sedan and wagon space. Australians having flocked to SUVs, surely the midsize, conventional family car has sung its swan song. Actually – maybe not. The SUV might be the choice of the masses, but the cool quotient now belongs distinctly to the anti-SUV. Enter the 2019 Peugeot 508 GT – a car that reminds us why you probably don't need a crossover.
The Peugeot 508 is a car we've seen in Australia before, and this badge is only the latest in a long line of medium-sized Peugeots: the venerable 505 and nineties-chic 406 are familiar iterations from the past. The previous-gen 508 achieved some success as a diesel wagon in this country, and extant examples are a common enough sight in rural towns.
The French actually do family cars pretty well and so it goes in this new second-generation 508. Offered in both Fastback and Sportswagon body styles – the former looks like a sedan but hides a large glass hatchback, while the former is a traditional estate car – the long and low Peugeot offers roomy accommodation for four adults and their luggage.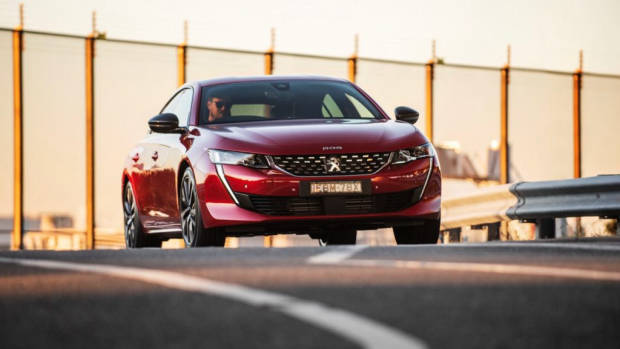 But while there's a very practical element to the 508, the new version is far more urbane and chic than the frumpy first-gen Frenchie last sold in Australia in 2017. The new car sits on PSA's slinky EMP1 chassis that also underpins the 308 hatch, and 3008 and 5008 twin SUVs. EMP1 is light, stiff and highly sophisticated, funded by PSA's record profits in recent years.
The result is a family car that weighs less than 1,400kg – that's almost 200kg lighter than a comparable Mazda 6 wagon, while the 508 is more like 300kg lighter than many medium SUVs. With such light-footedness comes plenty of benefits: achievable fuel consumption of about 7L/100km in the real world, less wear on key components, and great handling.
Like the smaller 308, the new Peugeot 508 sparkles on a country road, with a chuckable character that is simply not present in other cars in this segment. A Volkswagen Passat will attack corners too but there's just more inertia to deal with. The lithe Pug feels like a small hatch, not a 4.8m-ish long sedan or wagon.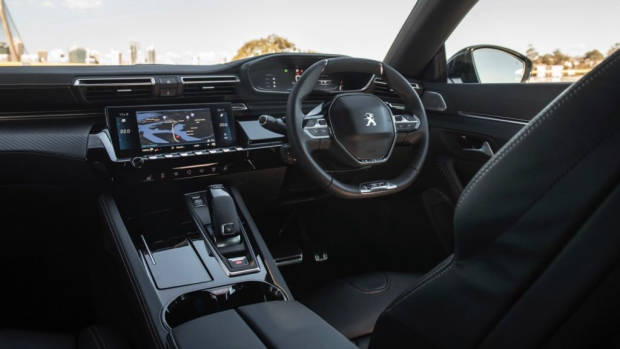 The steering rack is very quick, a point emphasised by the small-diameter steering wheel that is an acquired taste for some. There is body roll but it is well contained. The car feels balanced when pushed in corners, though the ESC tune intervenes to a strong degree – disappointing when we know how entertaining this chassis can be when let off the leash.
Part of the 508's agility comes from the fact there's little weight over the front axle. We've seen Peugeot's 1.6-litre turbocharged four-cylinder engine in plenty of applications; it's been around a while. Here in the 508 GT, it produces 165kW of power at 5,500rpm and 300Nm at 2,750rpm.
Though the power-to-weight ratio is a stellar 118kW/tonne for the wagon, and the 1.6-litre turbo is fine for pottering about in town and engaging to a point in the country, when pushed, it's ultimately only adequately fast for this money.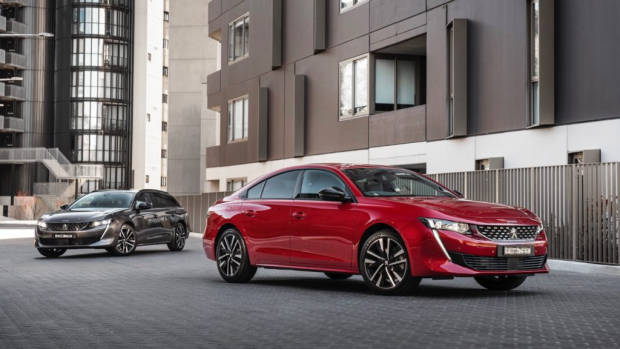 The 508 GT is $60,000 by the time you get it onto the road, as a wagon at least, and for that money, Mazda give you a far torquier 170kW/420Nm 2.5T, while the $68k-driveaway Volkswagen Passat 206TSI uses a 206kW/350Nm 2.0-litre turbo with AWD to great effect. The Pug may get a bit faster in future with the potential rollout of a plug-in hybrid electric version that pairs the 1.6-litre turbo with a circa-12kWh battery and a rear-driven electric motor.
A critical note for buyers of the new 508 will be that the car absolutely must be fuelled with at least 95-octane premium petrol. This car is fitted with the Australian market's first petrol particulate filter, painstakingly developed to work despite our terribly sulphuric fuel quality. Fill the car with 91-octane fuel and it's likely to clog and disrupt that filter.
No complaints about the ride comfort or refinement, though: there's a classically Peugeot suspension tune, blending sporty firmness with excellent compliance over bumps, feeling like the best of both worlds. There are adaptive dampers, though the well-balanced comfort mode means you don't look to adjust it. Intelligently, Peugeot Australia declined to take Europe's 19-inch wheels on this car, opting for a plusher 18-inch setup.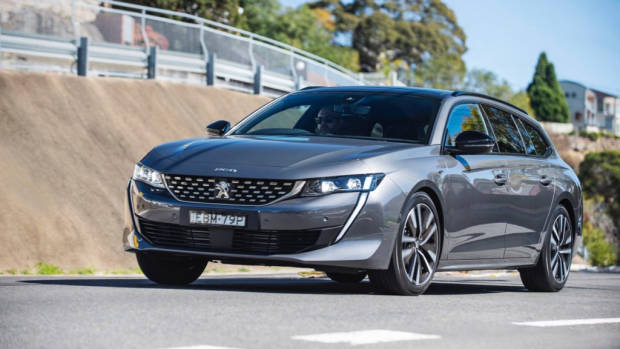 Road noise is minimal apart from when traversing the worst coarse chip roads; there's a bit of wind noise from the mirrors.
Perhaps the 508's main event is its interior, though. Peugeot have been on a roll with building lovely interiors since the introduction of the 2008 SUV in 2013, but in recent years they have worked hard on eliminating usability quirks. In fact, there's little to mark out the 508 as quirky; it's a tired stereotype for this French brand.
Sumptuous black nappa leather seats feature a distinctive watch-strap pattern, and both front seats are heated, electrically adjustable, and massaging. Twin digital displays make up the 508's iCockpit infotainment; the central touchscreen is easier to use than older iterations due to the inclusion of piano-key shortcut buttons for navigation, media and climate screens, though it's still too many taps to change the temperature or fan speed.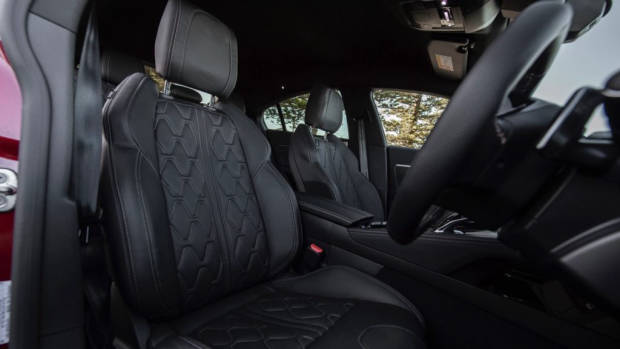 Only the inclusion of a naff carbon-effect trim on the dash and doors detracts from the elegant air inside the Peugeot. We wish Peugeot Australia had opted for the tasteful open-pore wood or alcantara trims worn by high-spec 3008 SUVs that similar interior components.
A spacious back seat includes a comfortable bench, air vents and charge ports but we'd go for the wagon if you intend to carry taller people at any point. Even the estate car's headroom is a little limited compared to boxier rivals, but the 508 Fastback is particularly limited here.
The wagon's 530 litre boot isn't as capacious as the Passat or Mazda 6, mostly because the 508 itself has a sporty, low roofline that limits vertical capacity. That's not to say it's poky: this is still a big space and a family's worth of luggage will fit without issues.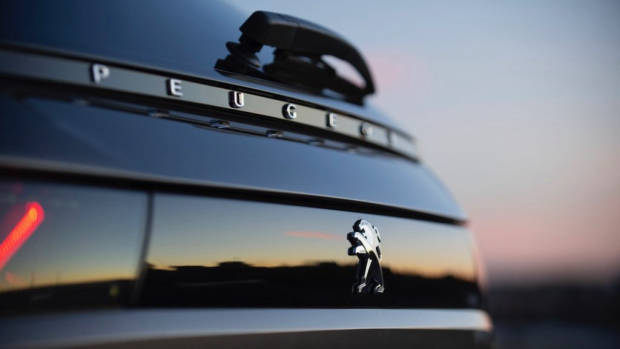 Specification on the 508 GT is generous – and given this car's sixty-grand-odd pricing and its role in helping to rebuild Peugeot sales, that's appropriate. Only a panoramic sunroof and metallic paint sit on the paid options list.
A well-proportioned safety suite is standard, with AEB that factors in vehicular, pedestrian, and cyclist detection at up to 140km/h. There's adaptive cruise control with stop and go, lane keep assist, blind spot monitoring, traffic sign recognition, and driver fatigue detection.
The standard kit list includes aforementioned highlights like nappa leather and the dual-screen iCockpit infotainment system. There's also keyless entry and start, navigation, DAB digital radio, a ten-speaker Focal stereo, Apple CarPlay and Android Auto, wireless device charging, four USB ports, dual-zone climate control, and LED headlights.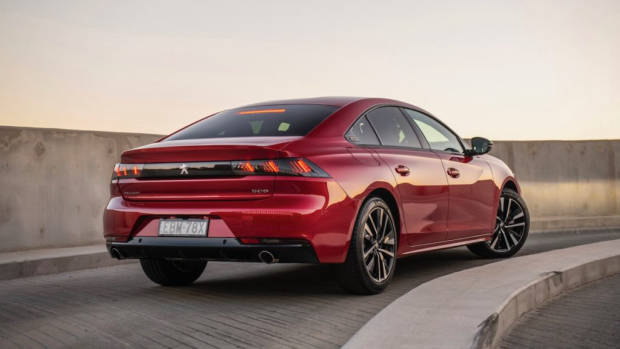 Senior managers at Peugeot Australia say they're actively considering a 508 GT-Line listing in the high forties that could enter the range if the GT achieves modest sales success.
On the ownership front, Peugeot has now solidified their five year warranty with unlimited kilometres and included roadside assistance. Servicing is required at the first of annual or 20,000km intervals – and it is a little expensive, with the first five scheduled stops sequentially clocking $600, $841, $600, $853, and $613 for a five-year cost of $3,507.
Ultimately, the 2019 Peugeot 508 makes for an impressive entrant to the medium passenger car segment. Sitting alongside two very impressive SUVs in the 3008 and 5008, plus the still-talented 308 small car, there's really no reason at all that Peugeot won't start making strides in their project to rebuild Australian sales.
Whether the punters agree is a separate question.