Peugeot is about to begin its electrification journey in Australia with the 508 plug-in hybrid (PHEV) sedan in the first quarter of 2022, joined by a plug-in hybrid version of its 3008 midsize SUV. 
Priced from $76,990 before on-road costs, the 508 PHEV will only be offered in sedan guise in Australia, carrying a $20,000 price premium over the regular petrol-engined GT making it the natural halo variant in the range.
The Peugeot Sport Engineered version of the 508 that boasts 265kW/520Nm, AWD and a high-performance suspension tune to suit its 0-100km/h time of 5.2 seconds is still under evaluation, however Peugeot Australia has stated it "would love to see it in our market".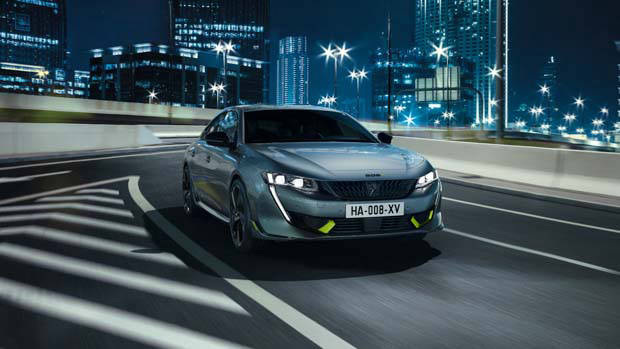 While the 3008 will feature AWD, the 508 PHEV remains front-drive and combines a 1.6-litre turbo-petrol engine with an electric motor, enabling it to achieve 55km of electric-only range according to the WLTP standard. 
With its pair of new plug-in hybrids, Peugeot is hoping to attract a slice of the expanding hybrid pie typically reserved for the Toyota Camry Hybrid as parent company Stellantis gears up to go fully electric later this decade. 
On the new PHEV option for the 508, general manager of Peugeot Australia Kate Gillis said "the introduction of our plug-in hybrid electric vehicles allows Peugeot to enter a new segment for the brand and reach a new audience of Australian consumers".
What's the power and efficiency of the 508 PHEV like?
Although the PHEV will top the 508 range, its total power output is identical to the existing GT's 165kW 1.6-litre turbo petrol four-cylinder.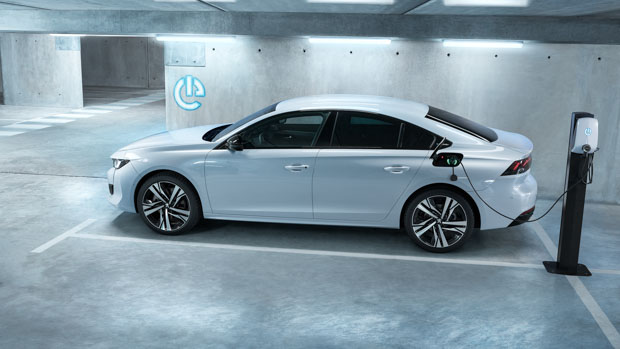 The 508 PHEV achieves its 165kW/250Nm total outputs by combining a 133kW 1.6-litre turbo-petrol four-cylinder with a front-mounted 81kW electric motor. As with the rest of the 508 range, the PHEV will use an eight-speed torque-converter automatic to send grunt to the front wheels. 
The result is a claimed 0-100km/h sprint of 8.2 seconds which is a tenth slower than the GT. That's impressive given that the PHEV weighs about 300kg more than the piston car (1385kg tare mass). We'll be able to find out early next year whether the extra kilos hurt the 508's delicately balanced handling.
However, the main reason for the 508 PHEV's appeal is its ability to travel on pure electric power at speeds of up to 130km/h, for a distance of around 55km.
An 11.8kWh lithium-ion battery mounted under the rear seats powers the single electric motor. Charging can be completed at a maximum rate of 7.4kW using a wallbox, which equates to a charge time of around 1 hour and 45 minutes. If need be, the 508 can be juiced up on a home socket in less than 7 hours.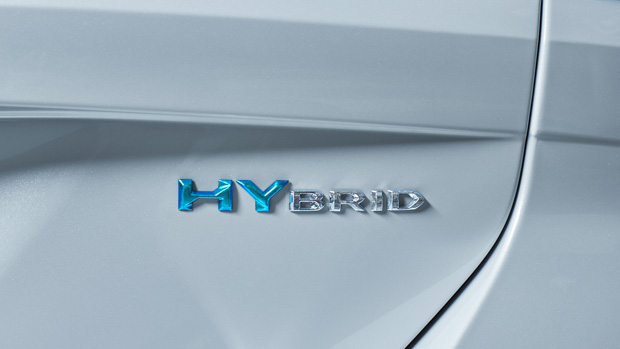 By selecting 'e-SAVE' mode, drivers will be able to keep EV power in reserve while travelling at higher speed, to maintain battery power for use in built-up areas – its natural environment.
Additionally, the regenerative braking system has two modes – one to mimic the feel of a piston car, and 'increased' that allows for pseudo one-pedal driving.
In the combined WLTP fuel-consumption cycle, the 508 PHEV uses 1.5L/100km with the battery charged, and carbon-dioxide emissions of 29g/km.
What will its equipment level be in Australia?
Precise specification levels will be confirmed closer to the 508 PHEV's launch early next year, though it appears to have similar standard equipment levels to the 508 GT, despite its $20,000 price premium.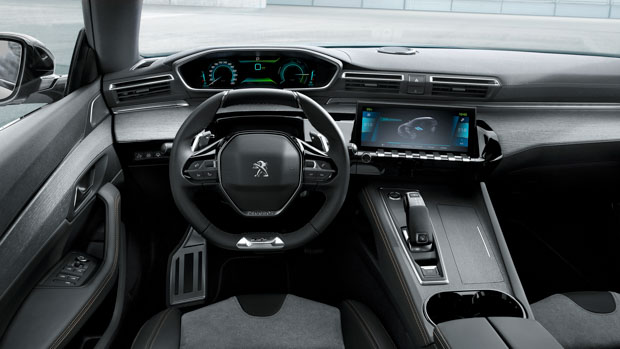 Outside, there are 18-inch alloy wheels (19-inch are optional), while all Australian 508s are blessed with Peugeot's sport-style bumpers, LED lighting and adaptively damped suspension as standard.
Moving into the cabin, Peugeot outfits Aussie 508s with 'mistral' black nappa leather upholstery and a 10-speaker Focal hi-fi system. Ahead of the driver will be a 12.3-inch digital display, with a 10.0-inch touchscreen in the middle to control the infotainment and 3D navigation. Wired Apple CarPlay and Android Auto functionality are also included. 
Safety features include AEB with car, pedestrian and cyclist detection at up to 140km/h (though no reverse AEB), active blind-spot monitoring and 360-degree camera. Additionally, niceties like adaptive cruise control and lane-keep assist are fitted.
The 508 PHEV is set to land in Australia during the first quarter of next year priced from $76,990 plus on-road costs.
Peugeot 508 2022: prices in Australia
All prices listed are before on-road costs.
508 GT fastback auto: $56,990
508 GT sportwagon auto: $58,990
508 PHEV fastback auto: $76,990