The French have rediscovered how to build great cars. Flush with cash, Peugeot and sister brand Citroen are on a roll, producing high-quality, fun-to-drive vehicles. The repertoire now includes a proper seven-seat SUV – not an odd minivan, but a properly handsome crossover – in the form of the Peugeot 5008.
After the launch of their excellent current-gen 308 hatchback in 2013, it was clear Peugeot had turned a corner with vehicle engineering. After a decade of building some pretty unusual cars with little mainstream appeal beyond European markets, Groupe PSA – Peugeot, Citroen and premium-brand DS Automobiles – were back on track. However, while having a great small car is an achievement, Australia wants SUVs.
Well, Peugeot now have two SUVs to offer here. The first was 2017's stellar five-seat 3008 – a crossover that gained a seven-seat sibling this year called the 5008. The bigger of the pair isn't massive – think less like a Mazda CX-9, more like a Skoda Kodiaq. The third row is a small, stowaway variety, keeping this vehicle quite short and light. As long as the average Australian family has two kids, the third row doesn't need to be huge – it's an occasional-use thing.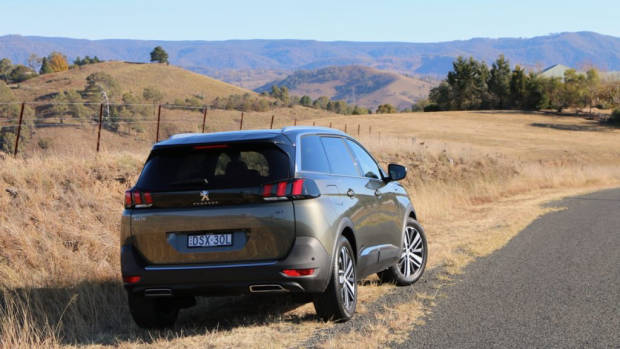 Available in three grades, the 5008 comes out swinging in the value stakes in this competitive three-row segment. Unlike the 3008, which is great but too expensive, the 5008 is fairly priced, and even the base model is generously equipped. Many features that are optional on a Skoda Kodiaq are standard on this French bus.
All 5008s come standard with a good safety suite – AEB with pedestrian detection, adaptive cruise control, lane keep assist, blind spot monitoring, driver attention alert and a 360-degree camera are all included. So too are a 12.3-inch digital driver's display, an eight-inch central touchscreen with navigation, DAB radio, CarPlay and Android Auto; there's wireless charging, a leather steering wheel and shifter, auto lights and wipers, tray tables and blinds in the second row, and the third row can even be removed entirely. The tailgate is electric on all versions. There's no stripper model in the range, which kicks off as a base Allure at $45,490 ($50,258 driveaway).
The Allure, which is the entry point to the range, does look a little more pedestrian than its two more premium siblings outside, on account of its conventional bumper package and halogen headlights, but otherwise, you can't pick it as the cheaper option.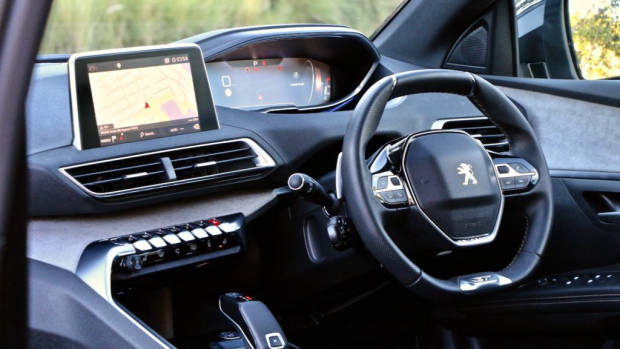 The upgrade to the second-rung GT-Line costs $3,000 ($53,408 driveaway). That variant keeps the Allure's 18-inch wheels but ups the aesthetic outside with a sports fascia, contrast black roof, a chequered grille, full LED headlights and fog lights, plus scrolling LED front indicators. The GT-Line also scores cool Peugeot 'lion' puddle lights projected from the mirrors in the dark. Inside, the GT-Line grabs extended ambient lighting, a perforated and stitched steering wheel, and two-tone fabric/faux leather seats.
The Allure and GT-Line are offered only with a 1.6-litre turbocharged four-cylinder petrol engine making a modest 121kW/240Nm. The main difference in opting for the GT – our test car – is that it swaps petrol power for a more robust diesel – a turbo two-litre unit producing 133kW/400Nm.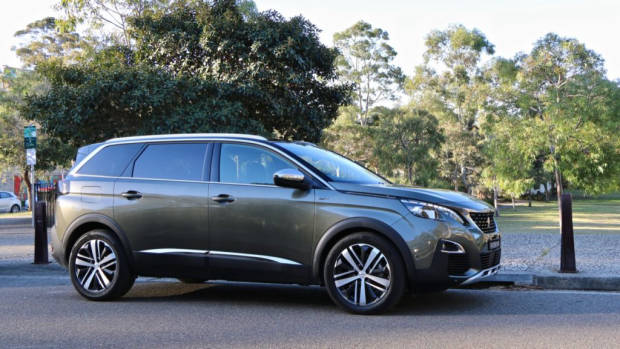 The $6,000 upcharge for the GT ($59,866 driveaway) is rounded out by diamond-cut 19-inch wheels, beefier wheel arches and chrome mirrors. Inside, you'll find quilted alcantara/faux leather upholstery; the front seats get heating and extendable thigh support, while the driver uniquely gets eight-way electric adjustment, memory, and a massage function.
Options are limited. A Premium pack is available on the GT and GT-Line, which includes an opening panoramic sunroof and quilted Nappa leather seating. On the GT-Line, you also pick up the GT's standard front seat heating and driver's massage, memory and electric adjustment. Further, the GT can be downgraded at no cost from 19-inch wheels and road tyres to the same 18-inch wheels with light off-road tyres that come on the lower two grades.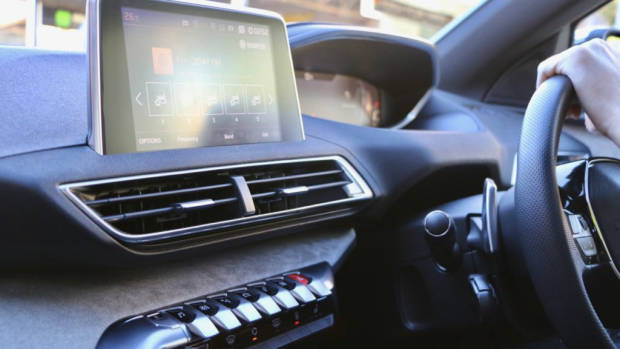 No inexcusable equipment problems, then, perhaps aside from the lack of standard leather. Nor are there major issues with the 5008's design. Outside, the Peugeot is distinctively handsome – while the smaller 3008 looks even better, this bigger variant wears its sharp edges and creases well. The copper detailing on GT and GT-Line models is attractive, and a selection of different grey colours particularly suit the Peugeot.
But it's in the cabin where the Peugeot 5008 really wows. Even on the base model, you get a beautifully designed, handmade interior that is unlike any other mainstream SUV on the road. And the good news is that despite looking great, the 5008's interior is functional and easy to learn.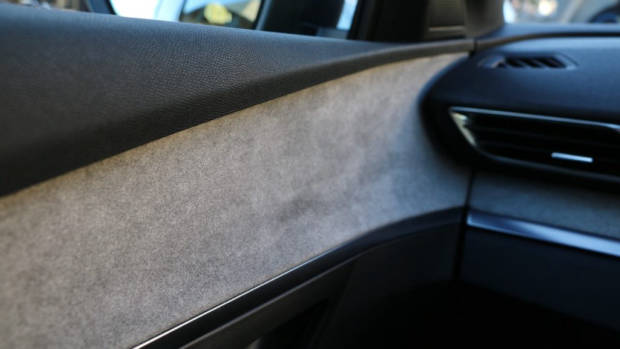 The recipe starts with good material quality: all of the secondary plastics are pretty soft. The seat upholstery is nicer than most, too – even the base car's fabric and faux-leather combo. Gorgeous detailing on the dashboard is standard, too – metal piano-key shortcut buttons are a highlight, as is the nicely-stitched leather steering wheel that is far smaller than usual – part of Peugeot's 'i-Cockpit' cabin design philosophy that integrates a high-mounted digital driver display instead of traditional analogue gauges.
Keep in mind that easy-to-clean leather seats aren't standard at any point of the range – they're only available (in ultra-luxe Nappa form) as part of the Premium package on the GT and GT-Line. Leather or not, though, the seats are comfortable and supportive. Storage space is OK, too – the central bin is big enough to fit a bottle of champagne, which – we're told – was a design requirement.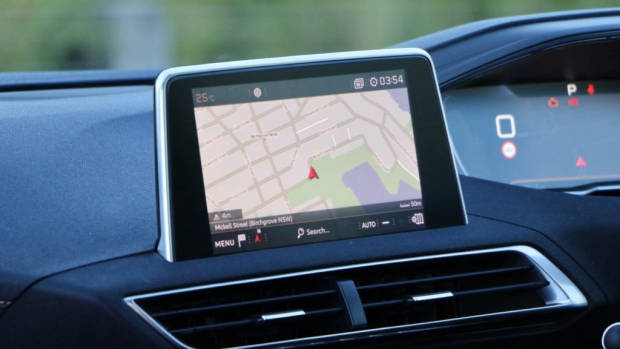 Peugeot's eight-inch infotainment system is on the small size and the in-built software isn't the best in the business, but thankfully, Apple CarPlay and Android Auto smartphone mirroring is standard, negating this point for the most part. The stereo sounds good.
Life in the second row is good, too. Peugeot are good enough to include kid-friendly features like integrated tray tables and side window shades for no extra cost – and we also like that each of the three seats back there are individual units, that you can slide and recline separately to the other two. Legroom in Row 2 is good, though headroom is compromised if you option the car with the panoramic sunroof. Air vents are standard in the second row.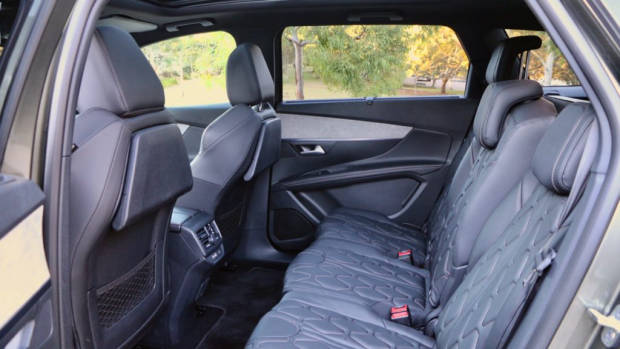 The third row is admittedly pokey – smaller than the one you'll find in the Skoda Kodiaq or Mazda CX-8. For very occasional use, it's fine, but adults will not fit and even kids will want to limit their time spent travelling in the 5008's wayback. Interestingly, the third row is completely removable if you wish to do so.
Taking out that third row would cut mass – not that you need to. The 5008 is a veritable featherweight in a class of pretty porky vehicles. Even the diesel-engined GT weighs in at a bare 1,500kg: a similar Kodiaq touches 1,730kg, admittedly with the benefit of all-wheel-drive, which no 5008 offers. Lightness is evident in most aspects of the Peugeot's dynamics: this is one agile, darty seven-seater that is fun to point down a twisting backroad – not something you can say about many of this car's rivals.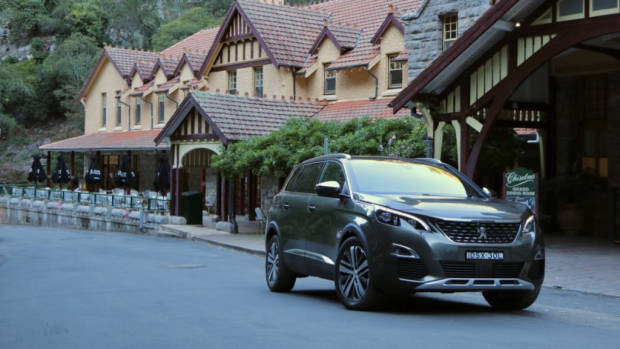 We love the 5008's quick steering that feels even faster thanks to the tiny steering wheel – this Pug changes direction cleanly and willingly. And, despite only having a torsion beam rear suspension, the ride quality is very good – firm but compliant and never uncomfortable. The handling is better than most with limited body roll and genuine driver engagement on a good road.
That said, spirited driving is best done in a GT thanks to its road tyres. The mud and snow rubber that is standard on the Allure and GT-Line is not a great compound for athletic driving. We know why Peugeot uses these tyres – in an attempt to get around the fact the 5008 is front-wheel-drive only, while most rivals have AWD, but they needn't. Nobody uses these types of SUVs to go offroad, so two-wheel-drive is totally fine. Give the whole range decent tyres, Peugeot!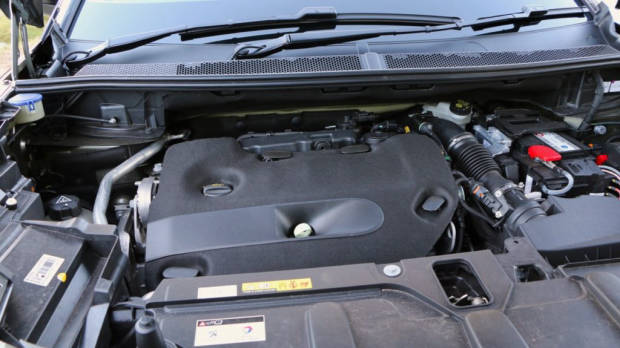 But while the 5008 is very light for this class, the petrol engine used on the two lower grades feels underpowered. Measuring just 1.6 litres, the outputs of 121kW/240Nm would be more at home in the small hatch class than on a seven-seater. The Kodiaq uses a 132kW/320Nm two-litre turbo petrol, for example – the torque makes all the difference. While the Peugeot's petrol is nice and smooth, and a good match for the six-speed Aisin torque converter automatic gearbox, it's very slow once you start adding passengers.
The diesel engine that is exclusive to the top-end GT is a better fit in this car. With 400Nm of torque, there is plenty of pull with a full complement of passengers aboard. With just a driver and passenger, the 5008 diesel is downright sprightly. While it's not the last word in refinement – it's an agricultural-sounding oiler – the diesel is very efficient, returning about 7L/100km in spirited country driving. The strained petrol used about 30% more fuel.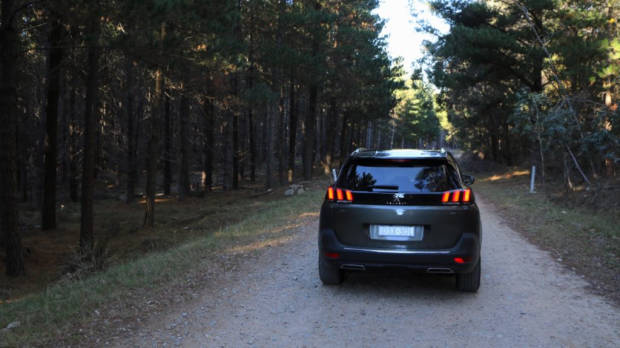 Ownership credentials aren't bad, either, with a five year, unlimited kilometre warranty helping to ease concerns about French reliability – though the Peugeot-Citroen group has been on a roll in this department for the last half-decade. The service intervals for both engines are annual or every 20,000km, with similar servicing pricing for both diesel and petrol. The diesel tested here costs $1,669 to service for three years.
All in all, we think the Peugeot 5008 is a great addition to the not-so-massive seven-seat SUV cohort. That's a great segment to be in: as much as we're impressed by, say, the Mazda CX-9, that vehicle is enormous, and won't fit in some garages. The shorter, lighter and more agile Pug is an antidote to the sense that vehicles have to be bigger to be better. Add in some French flair, enjoyable handling and a top-shelf interior, and the 5008 presents as a well-rounded, sensible package.