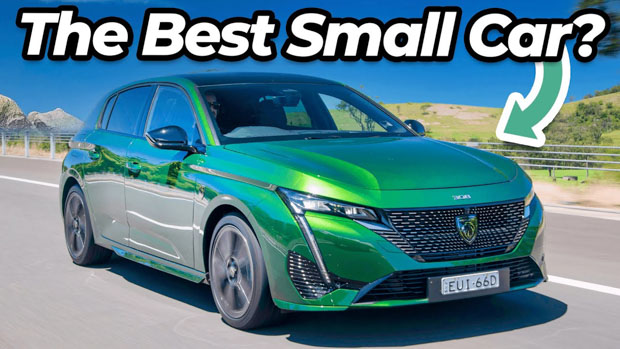 There wasn't much wrong with the way the previous-generation Peugeot 308 drove. That's why it's great that the French brand hasn't really touched the driving dynamics of the new 308 that lands in Australia this month.
What was dated about the outgoing version of Peugeot's small car was its design and the function of its in-cabin technology—both areas subject to intense focus for the incoming third-gen 'P5' 308 range.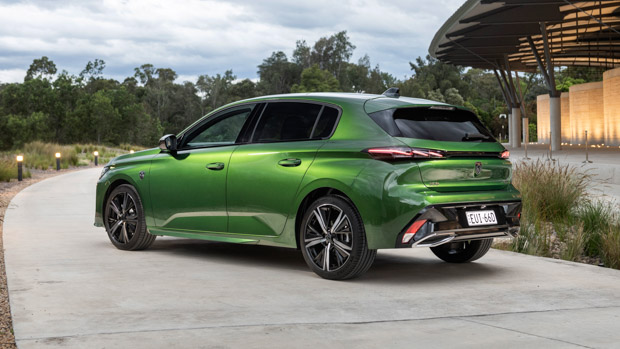 A thoroughly more upmarket car in presentation—particularly inside—the 308 arrives with an expected price increase. Locally, it will be offered in effectively mid-spec GT hatch guise (about $48,500 driveaway), and in high-end GT Premium trim in both hatch (about $53,500) and wagon (about $55,000) formats).
The three staple 308 grades use the same 1.2-litre turbocharged three-cylinder petrol engine as the predecessor model, but a powerful 1.6-litre turbo plug-in hybrid grade called the 308 GT Sport will come to Australia in 2023.
Peugeot Australia insists that it is properly regarded as a premium brand, and while the company's local managing director would not be drawn on which marques Peugeot sees as its competition, the 308 has been aimed at entry versions of the Audi A3, BMW 1 Series and Mercedes-Benz A-Class in price terms.
High entry prices mean the Peugeot 308 range sits well above the positioning of the Volkswagen Golf or Mazda 3 locally – but product planners point to high levels of standard specification which would see Australian buyers spending thousands extra on options for rival models.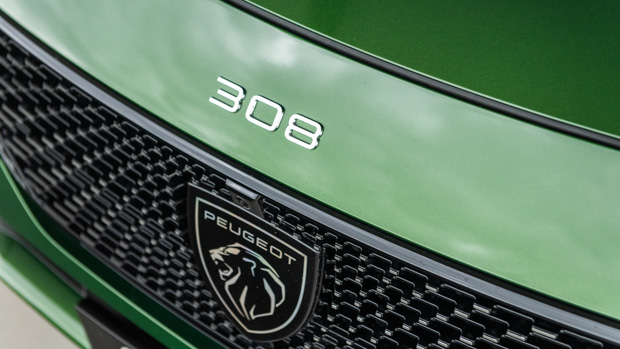 It is a claim that mostly checks out. Option Volkswagen's Golf R-Line model with a $1600 premium stereo and $1900 sunroof and at $48K driveaway, you're not far from the price of our 308 GT Premium hatch on test (about $48,500)—and the 308's electrically-adjustable, perforated nappa leather chairs trump the Golf's manual, velour/fabric pews.
Peugeot's local head told Chasing Cars that the biggest sales-loser for the previous 308 was its expensive servicing. If this was the chief hangup of potential buyers, there should now be no excuse: sharp new service plans make the Peugeot more than 30 percent cheaper to maintain than the Volkswagen.
So, there's an argument that the numbers add up. But what about the rest of the Peugeot 308 experience? Let's dive in.
How does the 308 drive?
Like the previous-gen 308, the new 'P5' shape uses the well-regarded Stellantis EMP2 developed in-house by Peugeot and sister-brand Citroen in the early part of the 2010s.
As small car platforms go, EMP2 is a pearler. Now tried and tested, this architecture is rigid, compact and lightweight, providing cars that it underpins with deft ride quality, agility, decent boot space and—usually—sporty handling.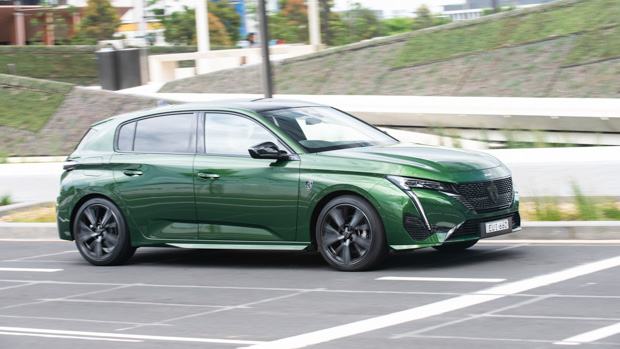 The latter attribute is particularly true of the Peugeot 308, which has hot hatch-esque cornering abilities despite being pitched as, effectively, a luxury-specification variant.
Large 18-inch wheels are standard, shod in high-quality (but low-profile) Michelin rubber. Combined with Peugeot's signature quick steering rack and small steering wheel, turn-in zeal is about as good as it gets in this class.
Those big wheels fill out the 308's guards well, but they do limit the level of compliance in the Peugeot's ride quality. The 308 rides quite firmly, but it is well-damped and avoids being crashy even when you strike a big bump—though you do hear these in the cabin.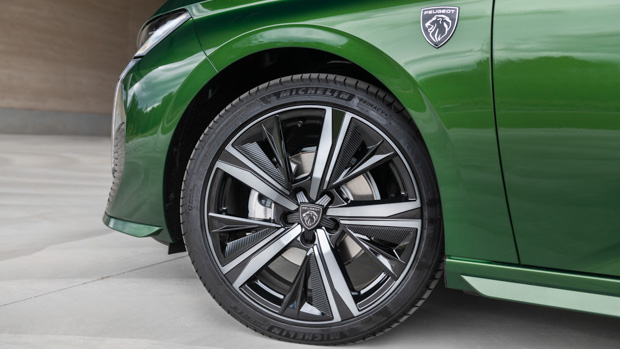 While the 308's swift turn-in is a fun party trick you find yourself taking advantage of, the Peugeot backs up its initial cornering response with a sophisticated and adjustable chassis that gives keen drivers options while cornering.
Subtle changes in throttle position mid-corner let you adjust the rear angle of the car with simple weight shifts.
It's got a torsion beam rear suspension once again, but Peugeot remains the master of these simpler, smaller axle setups. In some manufacturers, a torsion beam is a byword for poor ride and rear-end grip, but not here.
The 308 is fun to drive, in other words. But while the handling attributes remind us of hot hatches, the GT Premium isn't really one of those—and Peugeot purists will be disappointed to read that there is no planned replacement for the spice-laden 308 GTi.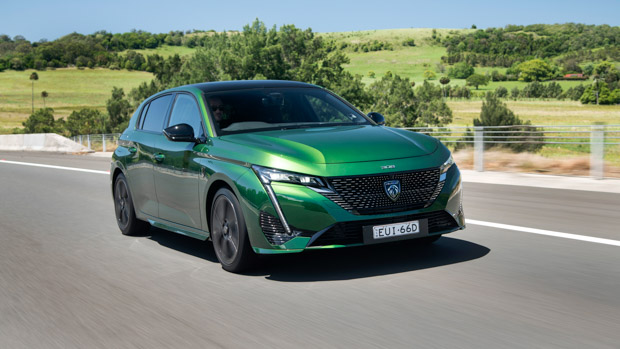 Not only did the manual-only GTi languish on dealerships in Australia, but its high-power engine tune falls foul of tightening European emissions regulations. The incoming, 165kW GT Sport plug-in hybrid model should provide shades of GTi performance, though.
The GT Premium grades share the entry-point GT's modest but effective engine. A turbo three-cylinder 'Puretech' family engine, the Peugeot's 1.2-litre is small but mighty in this application.
Producing 96kW of power and 230Nm of torque, the turbo-triple has more than sufficient performance to shift the 1258kg Peugeot—a featherweight even among lighter small cars like the 1300kg Golf or 1350kg Mazda 3.
Neither the Pug's power/weight or torque/weight ratios outpunch those cars, but it is at least competitive.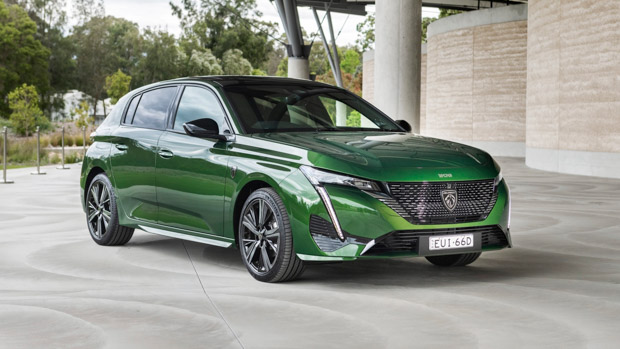 The 308 is an exclusively front-wheel-drive affair, and while a manual gearbox continues overseas, it is not offered locally. The standard transmission is a Japanese Aisin-built eight-speed torque converter automatic that shifts competently, but low-speed crispness could be better.
Traditional Peugeot buyers will lament the lack of a diesel engine option; these have been gone from the 308 range for some time. However, there will be an all-electric e-308 version, rated for 400km of range, launching in Europe next year. It's under consideration for Australia.
On the safety front, the GT Premium grade is well-equipped, with AEB, adaptive cruise control, strong lane centring, blind spot monitoring, rear cross-traffic alert, and a high-resolution 360-degree camera.
How is the 308's interior?
The previous-generation 308's interior was built from high-quality materials, but the 2013-era car was dated in terms of its technology proposition by its retirement.
The new model has fixed the tech lag, but it's actually improved on the old car's interior quality. In an era where many manufacturers are cutting costs from their interiors, Peugeot's move is a welcome one.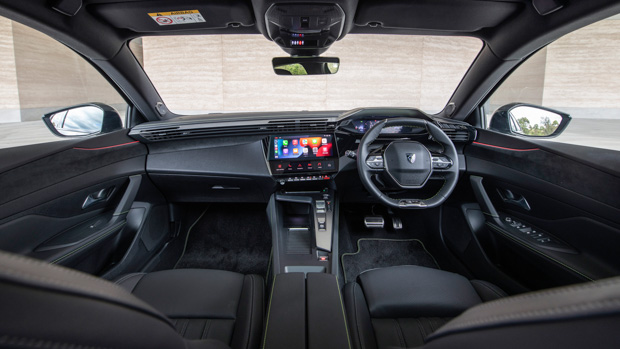 In many ways, it's a necessary step. If Peugeot tells us that it is a premium brand, it needs to walk the walk—but the circa-$53,500 driveaway 308 GT Premium arguably does so, with a classy blend of high-grade leather, supple secondary materials and excellent fit and finish.
The seats are as good as it gets in this class: shapely, supportive perforated nappa leather pews with extensive adjustment. But in the Australian summer they will get warm: black is the only interior colour, and while the front seats have heating, they lack a cooling function, unlike the top-spec Mazda 3 Astina or Hyundai i30 Premium.
Heated too is the unique-to-Peugeot steering wheel that forms part of the i-Cockpit suite of interior technology. Not all body shapes will get on with the 308's wheel, but this tester does: it's a small, squared-off tiller that sits much lower than in some cars, with the now fully-digital instrument binnacle sitting above the wheel.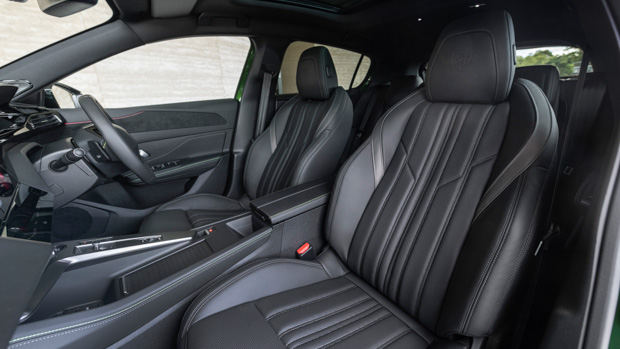 That binnacle incorporates a more sophisticated version of the 3D display technology Peugeot debuted in its 2008 small SUV. This time, we found it useful: secondary information like the navigation map sits in the background, while more urgent commands—for instance, what lane to be in for your next exit—sits in the foreground.
In the centre of the dash is a new 10.0-inch touchscreen that runs completely new software. Peugeot has radically upgraded the processing power and presentation of its cabin infotainment, and taps are responded to more swiftly than in the lag-prone old model.
Extensive screen customisation is possible, though climate is still driven largely through the screen. However, your own commonly-used commands can be linked to large shortcut buttons on a new third screen that sits below the main display. Here, five user-preferred functions get their own dedicated, fixed shortcuts.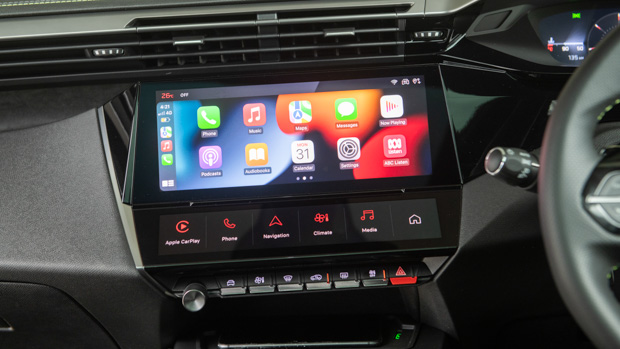 Of course, many people will simply link their smartphone wirelessly and be done with it, and a cord-free connection can be established both with iOS devices through Apple CarPlay and to Google-driven phones via Android Auto. This connection was rock-solid in our testing.
Discerning music listeners will get a lot out of the 308 GT Premium hatch's Focal premium stereo, which offers extensive EQ customisation and features cool-looking speaker grilles in the A-pillars. Oddly, the GT Premium wagon misses the Focal system, but the acoustics of its unbranded hi-fi system is still better than average.
The 308's back seat remains fairly tight for this class, particularly in the hatch that, while stretched from the old model, remains 55mm shorter in wheelbase than the station wagon body style. Legroom is just sufficient for an adult but it is not generous back there. We'll test it with our child seats in time.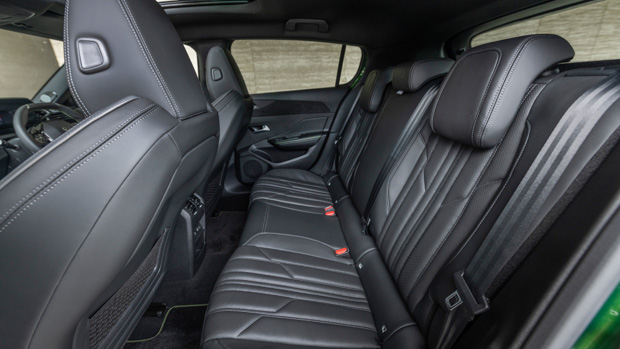 Secondary material quality throughout the cabin is generally good, with soft, stitched surfaces across the dash, front doors and areas where your knee tends to rest, though the back seat makes do with hard plastic doors and no central armrest—though rear passengers do score air vents.
Boot space is decent, though, largely thanks to the 308's neatly-packaged torsion beam rear suspension. Behind a manual tailgate sits 384-litres of cargo room and the back seats fold 60/40 in the hatch (40/20/20, with an electric tailgate, in the wagon). Though buyers will have to make do with a tyre repair kit as there is no spare wheel.
What are the 308's running costs?
We mentioned earlier that a common criticism received by Peugeot Australia regarding the last 308 was its relatively high servicing costs. These have been rectified for the new-generation car by way of discounted service plans you purchase up-front with the car.
The service intervals are 12 months/15,000km. A three year/45,000km plan costs $1000 at the time of purchase, but the $1800 five year/75,000km plan is better value for those planning to keep the car that long—as it significantly reduces the hit of a costly fourth-year service.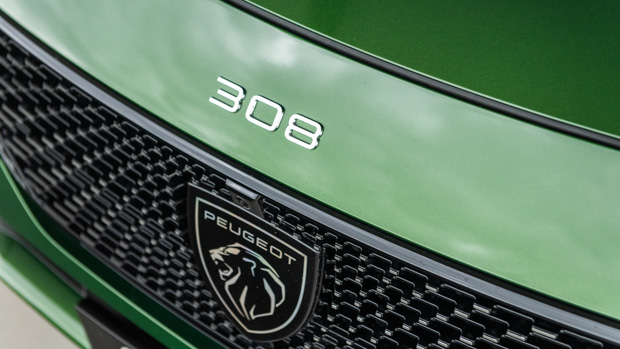 Peugeot's warranty in Australia is five years with unlimited kilometres.
Fuel consumption is especially frugal in the Peugeot 308. On the highway, we've been able to eke the 1.2-litre turbocharged engine down to about 5L/100km, while even in very spirited driving, the trip computer returned a relatively miserly figure of 8.4L/100km.
Keep in mind that the 308 requires premium-octane fuel.
The final verdict
The new Peugeot 308 is more expensive than before, but it justifies its premium positioning by largely living up to the brand's new promise in Australia—that it is ready to compete with the premium set.
Presentable to look at, plush to sit in and impressive to drive, the 308 isn't an easy sell in the early-fifties driveaway, but it does build a case for being considered against the premium set Peugeot believes it runs among in Australia.
Just who is that premium set? Peugeot will not say who its rivals are, but we'd suggest it ranges from high-grade Peugeot and Mazda trims through to entry-level Audi, Mercedes-Benz and BMW options. Perhaps a Volvo or a Lexus is the big target.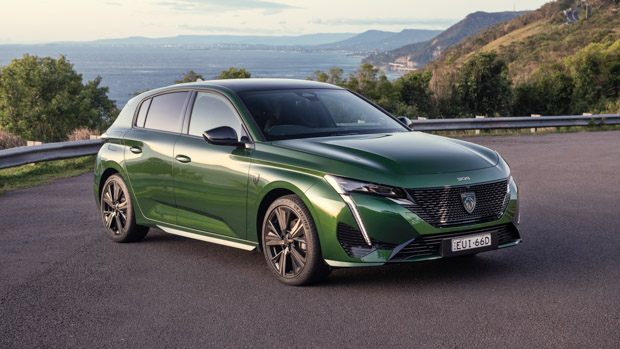 The natural rivals to the 308 GT Premium locally include top-end Golf R-Line and Mazda 3 Astina trims, both of which undercut the Peugeot on price, but also entry-level Audi A3, BMW 1 Series and Mercedes-Benz A-Class grades that must be optioned heavily to approach the Peugeot's level of interior appointment.
However, to build buyer confidence to purchase a 308 GT Premium over a base Audi will require the French brand to increase its sales volumes and success locally. Limiting depreciation to liveable percentages will be just as much of the picture as luxury feature inclusions. Guaranteed future value, available on this car, helps.
That said, if we planned to keep our next small car for more than two or three years, we'd certainly throw the impressive 308 GT Premium into the mix.