Hyundai's long march to becoming a more premium brand has mainly comprised of just making better and better cars over the years. Released in late 2017, today's i30 hatchback was a part of that plan. Better looking and with more technology aboard, the third generation of i30 has become a hotbed for another of Hyundai's new directions: sports cars. The 202kW i30 N hot hatch has quickly become a cult hit – but how is the underlying car, with a more modest engine, holding up?
On test is the 2020 Hyundai i30 Premium, equipped with a 2.0-litre naturally aspirated petrol engine, rather than the (optional) turbo diesel this grade launched with three years ago. Above this car sits the N-Line Premium – a warmer variant with a 1.6-litre turbo petrol and more sophisticated suspension – and below it lies the often discounted, fleet-focussed Go, Active and Elite versions that account for the bulk of i30 sales in this country.
At $33,285 ($37,165 driveaway), our i30 Premium with metallic paint isn't a cheap car – but Hyundai pitches this grade as a quietly sophisticated small car. It has more features than the cheaper versions, plus nicer trim inside, and plenty of standard technology. However, its shares its petrol engine with the base i30, whereas most cars in this segment get an upgraded donk at this end of their range. A sweeter, torquier turbo diesel costs an extra $2,200.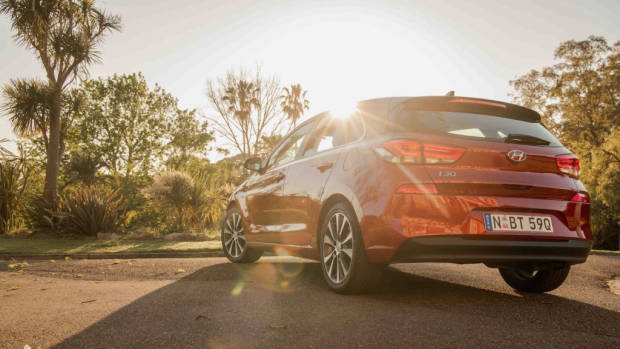 What is the i30's design like?
Going some way to justify the extra coin for this top-shelf model, the i30 Premium receives a number of small design tweaks over its more affordable siblings. Chrome grille and window surrounds lend the i30 Premium a sophisticated appearance without being chintzy. The Premium also gets snazzy LED lights – this is the only way to distinguish it from lesser versions from the rear.
Metallic paint is a $495 option, but we reckon this Fiery Red paintwork is worth it. 17-inch wheels are standard on the Premium trim, which are on the small side at this price. A $2,325 accessory pack brings 18-inch wheels and a lowered ride – but if a sportier look is the aim, just go for the $1,705-dearer N Line Premium model.
Is the i30 Premium good to drive?
Hyundai spent a lot of time getting the chassis of the i30 to sing, going through more than 30 iterations to arrive at the chosen damper and spring package that is unique to Australia. Around town the i30 does an impeccable job dispatching speed bumps, expansion joints and drains. Only if you approach sharp edges at really silly speeds does the car feel out of its depth, otherwise it's composed and silky.
Oddly, the Premium model continues to miss out on the independent rear suspension of the N-Line grades, making do with a torsion beam set-up. The problem here isn't so much the car's bump absorption. The problem is that the torsion bar is noisy. There are occasions where the rear suspension transmits a jarring low thump through the cabin – this is not found in the N-Line equipped with IRS. It's not terrible, but we buyers of of this price deserve better.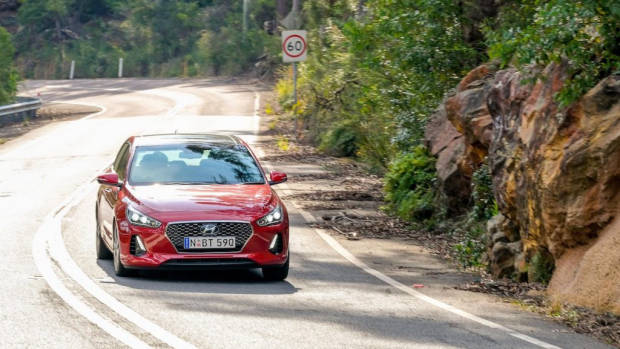 Still, the chassis is impressive and upping the pace in the i30 on a good road is enjoyable, the car feels planted and secure with a natural tendency for neutrality. When pushed hard, the front tyres will begin to push wide, but thankfully – not unlike French hatchbacks of old – a lift of the throttle will coaxes them back on line. If you do find yourself carrying too much speed into bends, we found the i30's ESP to be well calibrated, subtly cutting power and applying the brake to nip your line. The little i30 sports the kind of well-sorted if conservative dynamics that translate to swift, secure, uneventful progress down Australian roads.
Sadly, the engine isn't really a match for the shining chassis. When the i30 Premium launched, we praised its torquey and efficient 1.6-litre diesel. That engine is still available, but a 120kW/203Nm 2.0-litre petrol is standard fit – and hence what most people buy in this trim. Unlike many rivals, this petrol goes without the aid of a turbocharger, so peak torque is found at a revvy 4,700rpm. By comparison, a comparable Volkswagen Golf makes its 250Nm of torque from 1,500–3,500rpm. Torque at low revs makes a car feel more effortless.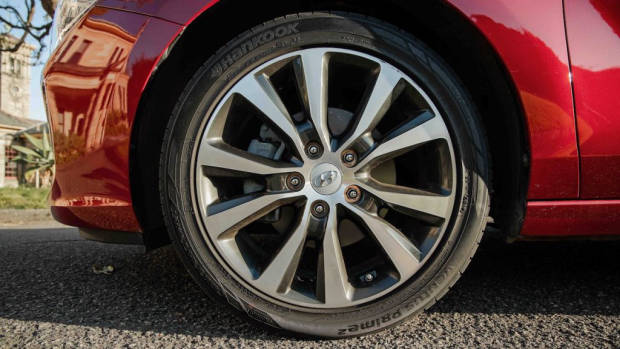 The two-litre in the Hyundai is more old fashioned, and under foot the experience is just a bit too thrashy and sluggish for our liking. It also drinks too much petrol, consuming 11.5L/100km across our week of mixed town and country testing. At least it accepts E10 without complaint.
A six-speed torque converter automatic gearbox is standard, and it is calibrated well enough, delivering pleasantly swift changes around town – though it will occasionally shift up too fast when trying to make progress. The shift pattern (plus throttle sensitivity and steering weight) is altered with the choice of three drive modes: eco, normal, and sport. We found sport mode gave steering that was heavy and treacly, with an anxious throttle response. The steering in eco was then too light and the throttle becomes tentative – so we found ourselves leaving the car in normal mode.
Does the i30 Premium have a quality interior?
Like the Elite below it, the i30 Premium scores standard leather seats. We found the shape to be a little flat, though there is enough lateral bolstering to hold you in while cornering. Disappointingly, the front passenger seat does not have height adjustment, which prevents anyone above about 188cm (including me) from fitting comfortably.
There is generous storage inside, with a deep bin in the armrest, sizeable door pockets, and adjustable cup-holders to fit from coffee cups, to redbulls to water bottles. Soft-touch plastics are found above the belt-line and feel quality, however below the midriff – and especially around the centre console – there is a collection of cheap feeling, scratchy plastics. It's a mistake that these hard plastics take in the trim pieces directly in front of the passenger seat. We also note the previous-generation 'GD' i30 had soft trims in more places.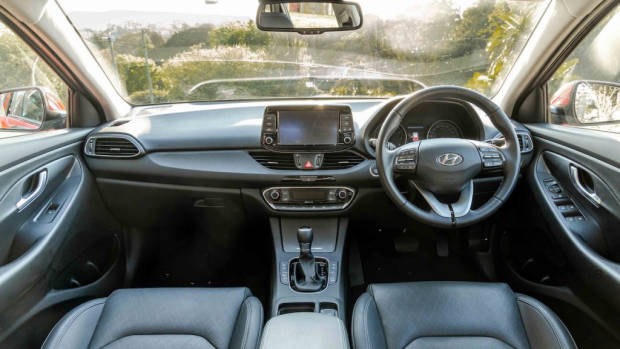 Space in the back seat is a little cramped, especially if those up front are tall. However, rear-seat passengers do have a few amenities of their own. These take in a flip-down armrest with cupholders, and like other higher-spec i30s, rear air vents are standard here. Large windows mean the view out the rear is good, and you can fit three across in a pinch due to a reasonably low floor.
Cabin noise is generally well suppressed too, with the exception of the occasional thumping from the rear suspension. Touch points feel solid, with the leather covered steering wheel and gear lever being highlights. The dials are clear and contain a digital readout that can be configured to tell vehicle status, fuel consumption, or real-time speed.
How practical is the Hyundai i30?
Boot space is generous in the i30 hatchback at 395 litres. The Premium grade also receives an adjustable floor, which allows you to eliminate the pronounced load lip when the floor is in its standard configuration. Some bag hooks are to be found, and the standard cargo net is a nice touch for securing delicates and small bags. Fold the seats flat and there is plenty of room to carry a bike and gear.
The station wagon variant of the i30 is no longer available in Australia, though it is found in overseas markets. Buyers wanting a Hyundai with more space in the back will need to step up to the Tucson SUV or look to a rival car that offers a wagon variant. These include the Volkswagen Golf and Ford Focus lineups.
What's the technology like in the i30 Premium?
The i30 Premium does technology well – there's plenty of it, and it is easier to use than in many rivals. A high-mounted eight-inch touchscreen is crisp and allows simple control of the Infinity-branded stereo, navigation, digital radio, plus corded Apple CarPlay and Android Auto. We did find that while the car was moving, some on-screen controls required a stretch, though, making the voice control – which integrates with your phone – more useful.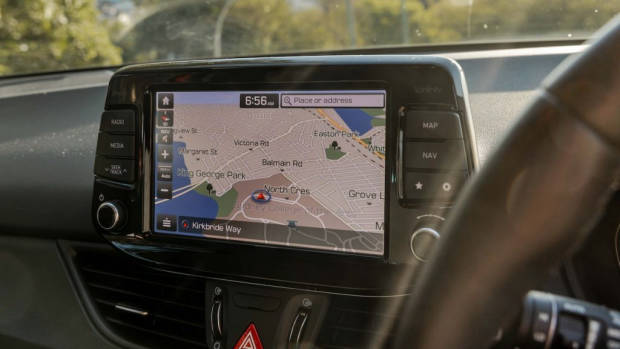 A standard panoramic glass sunroof is a really nice touch, and we found ourselves with it open just about all the time. There is also dual-zone climate control, and the front seats are both heated and cooled. Smartphones can be charged wirelessly on an inductive charging pad mounted ahead of the gear shifter.
On the safety front, Hyundai's Smart Sense suite is standard. That takes in autonomous emergency braking, blind spot monitoring, rear cross-traffic alert, radar-guided active cruise control – which works well – and lane keep assist, which works decently.
What does it cost to service and own the Hyundai i30?
Hyundai are known for their attractive aftersales arrangements. A five year warranty is included, though there are sometimes seven year warranty promotions. You can also pay up-front for servicing with 5 years and 75,000km costing a meagre $1,395 so apart from filling the tank running costs are some of the lowest in class. Even if you don't, Hyundai's lifetime capped service programme means you can review servicing costs online.
Which of the i30's competitors should you consider?
We'd also test drive the Volkswagen Golf, which is coming to the end of its seventh generation, meaning good deals are at hand. The Ford Focus is a lively car to drive, with even better handling. The Toyota Corolla looks funky and is available in an ultra-frugal hybrid model, but it is not as practical. The new Mazda 3 has the best interior in this set of cars, but you do pay more for it.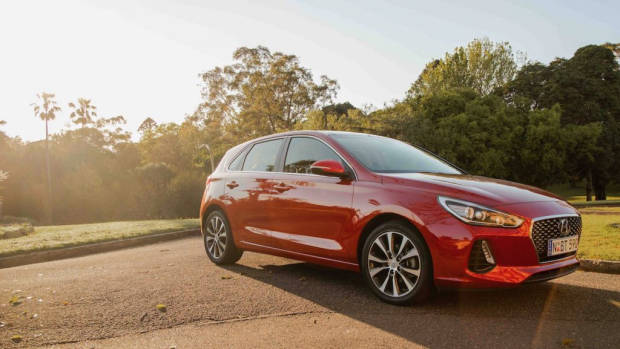 Why does the i30 Premium score 7.5/10?
The Hyundai i30 continues to be a strong player in the small hatchback segment. It is a good looking car that is practical, well-priced and resisting ageing pretty well. The time and money spent developing an Australia-specific suspension has paid dividends, and even though the i30 Premium feels most comfortable driven gently, it dishes out enjoyment on country road driving, too.
The i30 feels safe and dependable, but it is a shame the Premium grade misses out on the quieter, more capable independent rear suspension of N-Line variants. The biggest negative of this car is its sluggish, thirsty two-litre petrol engine, so we'd recommend looking closely at the diesel option or the turbo petrol N-Line.
The i30 is not a car to be overlooked, combining high levels of tech, good refinement, and strong value.