Peugeot Australia has this week announced it will revive the 308 GT 'warm hatch' after a four-year absence from the Australian market. Last seen in 2015, the GT sits below the 308 GTi 270, and above the Allure in the 308 range. The GT offers more standard equipment, power, and boasts a revised suspension tune to sit between the hotter GTi 270 and softer 308 Allure models. The GT will start at $39,990 (driveaway pricing not confirmed).
The last Australian iteration of Peugeot's 'warm' 308 GT offered 151kW/285Nm, but the car will return with an increased power figure of 165kW delivered at 5,500rpm. The 1.6-litre twin-scroll turbocharged four cylinder is closely related to the engine found in the new Peugeot 508 and also in the hotter 308 GTi 270 where it develops 200kW/350Nm, though the smaller turbochargers used on the GT mean the torque figure of 285Nm is available from 1,750rpm, 250rpm lower than in the GTi. 
The GT has a claimed fuel consumption figure of 6.0L/100km (identical to the GTi 270), along with a Petrol Particulate Filter (PPF) to reduce particulate emissions, a first in a passenger cars sold in Australia.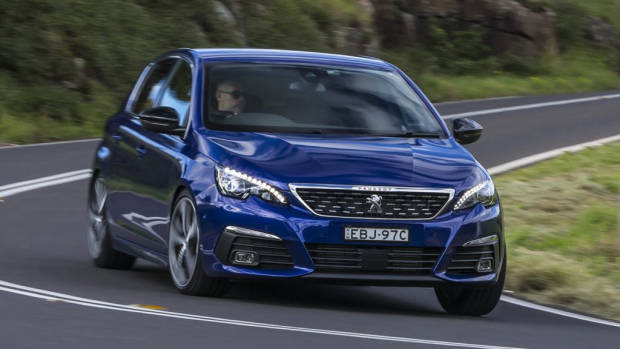 Sources at Peugeot-Citroen Australia (PCA) have confirmed the PPF's effectiveness even with Australia's sulphuric fuel. Poor local fuel quality has prevented other manufacturers, including Volkswagen, from importing PPF-equipped cars to Australia in recent times. The 308 GT's PPF is rated to handle an average of 40 parts per million of sulphur in petrol fuel. The legal maximum on premium octanes in Australia is 50 parts per million.
While the previous local iteration of the 308 GT was offered only with a six-speed manual, this time around it flips: the 308 GT is now exclusively paired to an eight-speed Aisin torque converter auto. Although it's a shame Peugeot hasn't chosen to offer a manual, it marks a clear separation in the range from the hotter, manual-only 308 GTi 270 (and makes sense for Peugeot's target market.) 
The 308 GT sits lower by 7mm front at the front and 10mm at the rear than Allure models, with firmer spring and damper rates by 10-20%. Peugeot claims the GT still offers more ride comfort than the (already quite plush for a hot-hatch) GTi 270. One of the big secrets to the 308's suspension performance is its light weight: at 1,208kg Peugeot can use softer spring and damper rates than competitors to retain compliance without sacrificing body control.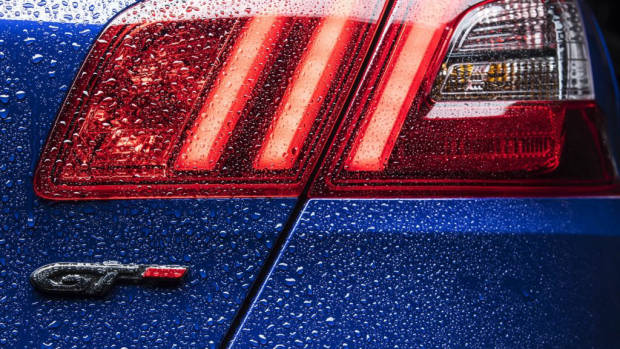 The GT sports bigger brakes than Allure models, with large 330mm front, and 268mm rear discs combined with significantly larger calipers. 
The GT is fairly well specified with standard safety kit including AEB, active cruise control with stop and go function, switchable ESP, lane departure warning, blind-spot monitoring, six airbags, and tyre pressure monitoring. The GT also comes with a large suite of tech including a 9.7-inch touchscreen display, head up display, rear view camera, engine stop-start, rear privacy glass, and keyless entry. The 308 GT is also covered by Peugeot's five year unlimited kilometre warranty with free roadside assist.
A tarted-up interior is found in the GT, with anthracite fabric and contrast red stitching, Peugeot's 'interior mood lighting', adjustable drive modes giving sharper throttle response and louder exhaust, and a go-kart like steering wheel which we have found can be an issue for taller drivers as the instrument cluster can be obscured by the small rim.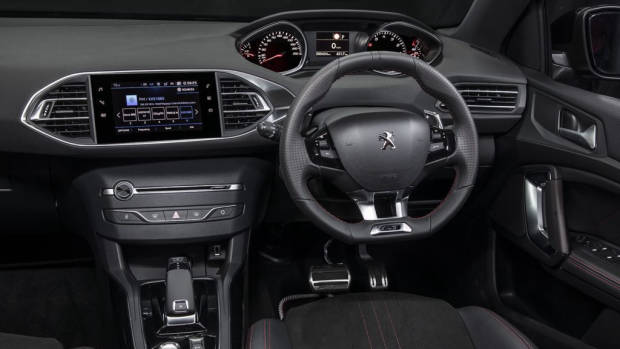 Peugeot have included LED lights as standard for the GT, new functional air scoops in the front bumper for extra cooling, and 18-inch alloy wheels. The different bumper and body kit on the GT all add up to a more aggressive stance than lower model 308s, without the colourful addenda found on the GTi 270, it's a tasteful looking machine. 
The GT is shown here in its exclusive Magnetic Blue hue, though it is offered in five other colour options. Metallic paint will set you back an extra $590, and Peugeot offer two 'premium' colours – Pearl white and Ultimate red – which add $1,050.
The 308 GT continues in a long history of French warm hatches which have traditionally offered a compelling combination of suspension compliance, sportiness and french quirkiness: think Peugeot's 306 XSi, and Renault Megane GT-Line. It will be interesting to see how the 308 GT holds up on our Australian roads. The GT is a limited edition with only 140 examples coming to Australia and is available now.