Holden will embrace its "diverse" lineup of five SUVs and crossovers in a unified push as the Australian arm of General Motors looks to stem – and turn around – hemorrhaging sales figures in a severely challenging period for the Lion badge. Holden's focus will increasingly turn to where the bulk of sales are – SUVs – with less emphasis on passenger cars in future.
Speaking with Chasing Cars at the national media launch of the Holden Acadia – the brand's first new seven-seat SUV in over a decade, sourced from GM's American SUV specialist GMC – Holden general manager of SUV marketing Matthew Rattray-Wood was measured but confident about an SUV-centric rebuild plan.
"We know that when people search SUV, we're just not as high up on the list as we'd like to be," said Mr Rattray-Wood. "When they're [thinking about] who does SUVs well, at the moment we're not in the conversation, so we need to get there."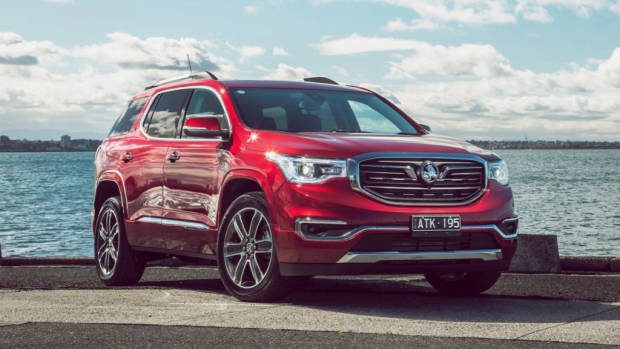 Holden's new Acadia seven-seater launched this week.
Getting there – to the idea that Holden does SUVs just as well as, say, Mazda, who have sold 39,955 of their "CX" range of SUVs so far in 2018 – is a challenge, but a focus on the diverse capabilities of Holden's SUVs will be key, executives say. By comparison, Holden have sold 14,010 SUVs in 2018, thanks in no small part to the departing, Korean-built Captiva which has soldiered on for 12 years, notching up around 160,000 local sales in that time.
The Tennessee-built Acadia is the fifth model to join Holden's crossover sub-range, replacing the 12-year-old Captiva in the critical large SUV space. The Acadia joins the nine-month-old Equinox five-seater, based on a Chevrolet design and built in Mexico; the Trax, a compact SUV of 2013 vintage designed and built in Korea; the Trailblazer, a wagon iteration of the Colorado ute that hails from Holden's technical partnership with Isuzu; and the newish Commodore Tourer, a raised and cladded AWD estate based on the German-made ZB Commodore.
Hailing from different corners of the globe, Holden's SUVs are something of a menagerie – but with the GM world contracting considerably in recent years, it's likely that in future, Holden's SUVs will be American, and sourced from just a couple of brands. GM Korea has been shut down while European operations have been sold to Groupe PSA – aka Peugeot. In future, expect to see SUVs hailing from the Americas in the vein of the Acadia and Equinox.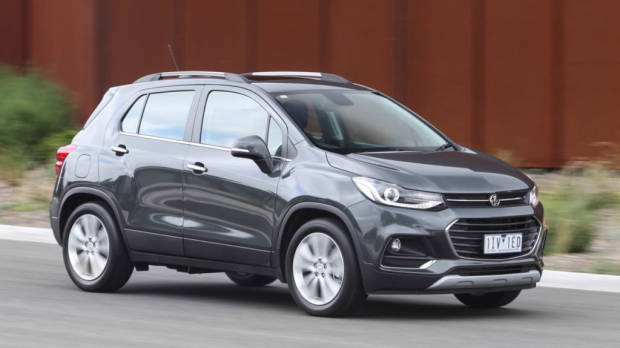 Holden's compact Trax SUV.
While Holden's SUVs don't share a common aesthetic DNA, Rattray-Wood doesn't discount that Holden has been able to choose specific vehicles that are fit-for-purpose within their segment. "The reality is we've got a diverse portfolio of brands that we can choose from, and when we're selecting which car is best for this market, we're doing that based on customers in each different segment – and they want different things," he says.
After a large campaign concentrating on the new Acadia, Holden's five-strong SUV lineup will appear as one suite in future marketing. "That's something that is coming pretty soon – it's in the works as we speak," said Rattray-Wood. "I think we need to do [this], because if we do it individually, we're not getting across the message … that we've actually got a great range of SUVs."
Mirroring the way Subaru market the enormously successful Outback, Holden will break from current strategy and detach the Commodore Tourer from the broader Commodore range. The Tourer will be explicitly labelled an SUV and be transferred under Rattray-Wood's area of responsibility in SUV marketing. The Tourer has not yet taken the fight to the Outback, a vehicle that routinely demonstrates Australia's interest in a wagon-based crossover. "There is an appeal in the Australian marketplace for a high-riding wagon, which that car is. We need to start differentiating it and bringing it under the SUV umbrella," Mr Rattray-Wood says.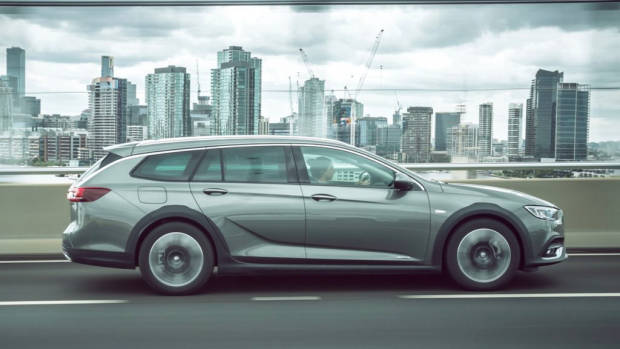 "You'll start to see us refer to [Tourer] as one of our suite of SUVs. I think that is the opportunity for that car: it offers something different to people than what [the standard] Commodore offers." The issue, Rattray-Wood says, is undermarketing. "People are not aware that we have that particular car."
By contrast, Subaru has near-constant advertising for the Outback in the market under the catchcry of "The SUV for Australiana". In the first nine months of 2018, Subaru have moved 8,559 Outbacks – slightly down on last year. That's certainly incremental volume that would appeal to Holden, who do not currently list the Tourer as an SUV. Its specific volume is not identified within the Commodore's 2018 running total of 7,295 units.
The Commodore Tourer is available only with a 3.6-litre V6 and all-wheel-drive and, as a result, the range opens at the relatively high price of $45,990 for a Calais model. A more highly specified Calais-V Tourer is $53,990. By contrast, the Subaru Outback is available with two four-cylinder engines – a 2.5-litre petrol starting at $36,240 and a 2.0-litre turbo diesel from $38,740. A fully-equipped Outback 3.6R flat six petrol is $49,140.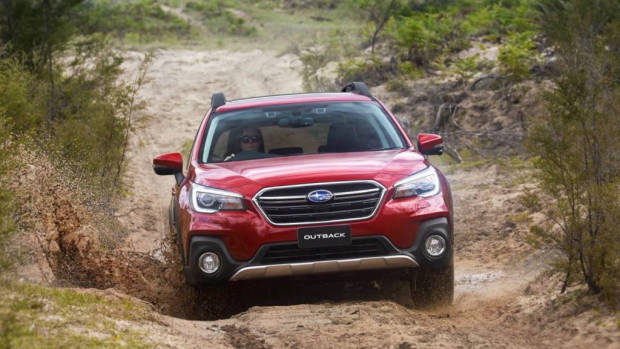 Subaru's Outback shows that a wagon/SUV crossover can deliver strong additional volume.
Questioned on whether the Commodore Tourer is too expensive in light of the Outback's positioning, Mr Rattray-Wood suggested things could change in future. "We are always reviewing the portfolio to see where there are opportunities. If there's an opportunity to broaden [the Tourer's] appeal by bringing it into new price segments, that's certainly something we'll look at."
A range of Holden executives were keen to include the role for dealers to play in renewing the Holden brand in the market. The launch of the five-seat Equinox SUV into the Australian market did not include sufficient input and planning with dealers, insiders suggest – a bugbear that was not repeated with the Acadia's arrival.
When asked about what lessons were learned from the Equinox's difficult launch, Mr Rattray-Wood said internal processes were more rigorous this time around, with dealer input sought and integrated into Acadia development from well before launch month. This would be complemented by better external communications post-launch. In other words, no repeats of the Equinox's "Nothing to prove? Prove it" campaign. "We actually did a great job with Equinox of getting the name out there … where we fell down is that [Australians] don't identify Equinox with anything in particular."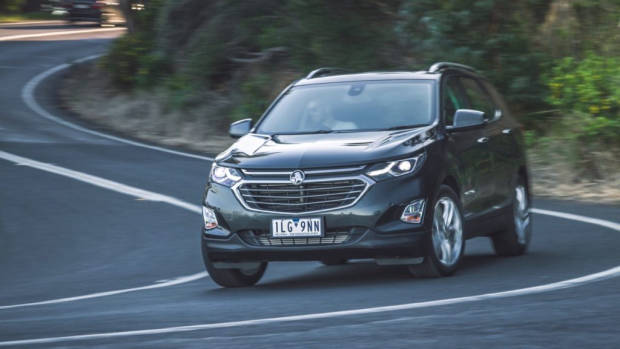 The Chevrolet-based Holden Equinox.
The Acadia's messaging, which Chasing Cars was given a preview of at the SUV's national launch this week, retains the 'quirky' style of the Equinox ad visuals – think dads and kids with swagger to match this car's aesthetic – but with a far more forthright presentation of the car's attributes – and no odd phrasing.
So if people don't know what to identify the Equinox with, what is Rattray-Wood hoping people will believe the Acadia to be, six months from now? "Australia's favourite family car," he laughs, before indulging in some Commodore nostalgia. "That was once Commodore, wasn't it. It was a car that you were proud to drive. It was a cool car to drive. That's what we want people to feel about Acadia. It's not just taking snotty-nosed kids around in the back seat. It's something you'd be proud to rock up in to a mate's place, or go away with friends."
"That, for me, is what we want people to think about Acadia after launch, if it's a success. Fingers crossed – and toes," Mr Rattray-Wood says.