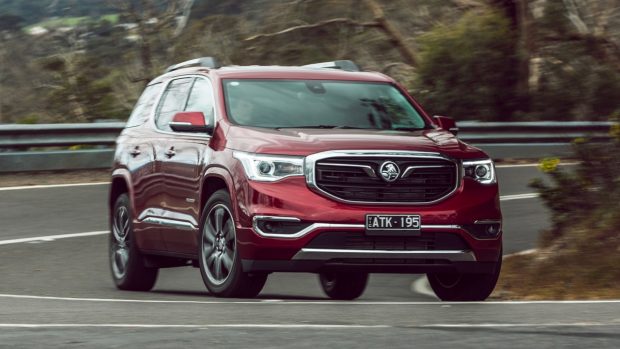 Holden know a thing or two about family cars – after all, they built the most successful one in Australian history in the locally-made Commodore. But unless you've been under a rock for the last year, today's Holden is a very different company. 52 weeks ago, local production ceased but the weight of that history still echoes, and the transition from car-builder to full-line importer is not proving to be an easy one. Holden sales are at their lowest point ever and two major launches post-transition have yielded disappointing results. Let's make no bones about it: Holden are a challenger brand now, and they need a hit.
Refreshingly, management has recognised this, and Holden have poured a major effort into the preparation of the third, and by far the most important, product launch since the Commodore production line stopped a year ago. The 2019 Holden Acadia plays right to the Australian market's growth zone: it's a large seven-seat SUV designed to tackle the Toyota Kluger and Mazda CX-9, which between them account for more than 20,000 sales per year.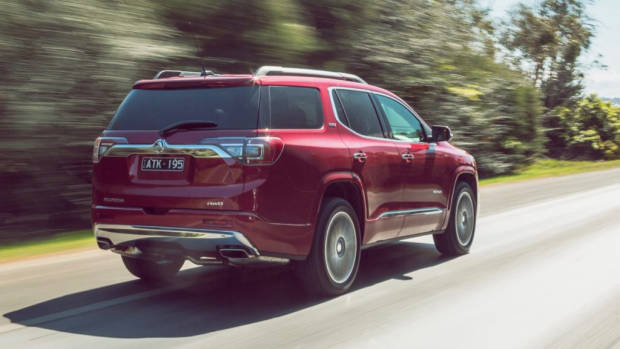 A Captiva this ain't. The Acadia is not a familiar badge in Australia but it is a long-standing model in the range of General Motors' premium SUV specialist, GMC. In the United States, the second-generation Acadia is two years old and well-regarded. Handsome, right-sized and relatively upmarket, the Acadia is a straight bat play for Holden. And that's what they need.
While this rugged-looking SUV is "Proudly Built in Tennessee", as stickers in the passenger door jamb declare, the American Acadia arrives down under with substantial calibration work completed by big-name Holden engineers, who say they're very satisfied with the way this flavour of American motoring translates to Australian pavement.
While the brash styling and big V6 petrol engine are reminders of this car's American origins, the Acadia's resoundingly composed dynamics remind more of a Holden Caprice than they do of a soggy Yank tank of days gone by.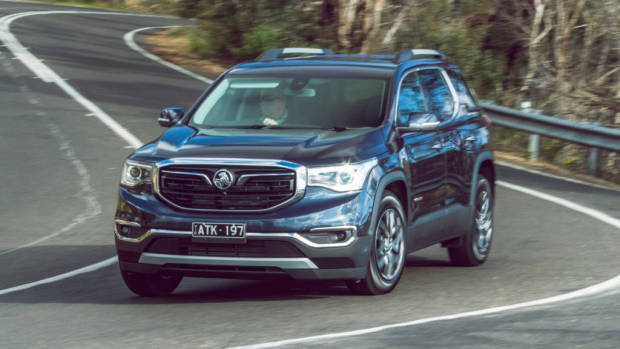 Our initial fears of a heavy and roley-poley driving experience were allayed at the Acadia's national launch in the Yarra Valley, where the deft touch of Holden's A-team of engineers, led by suspension and steering guru Rob Trubiani, are clearly identifiable.
With superb ride quality over smooth roads, undulating terrain and chopped-up tarmac, the Acadia has the sort of long, loping character of Holden's biggest sedans – and that is no bad thing. While only a comparison will tell if the Mazda CX-9 or Kia Sorento still has the Acadia beat for overall compliance, it's clear the Acadia is one of the most comfortable and relaxing large SUVs on the market.
And that's the case either on the 18-inch wheels and passive dampers of the entry-level LT and mid-tier LTZ models – where we share a suspension tune with next year's GMC Acadia refresh, desiged by Trubiani in collaboration with the Americans – or on the large 20-inch wheel package of the high-spec LTZ-V, which uses adaptive dampers running an exclusively Australian tune. The feel of both damping setups is remarkably similar. Both are plush, with the LTZ-V only demonstrating its superiority when pushed through corners.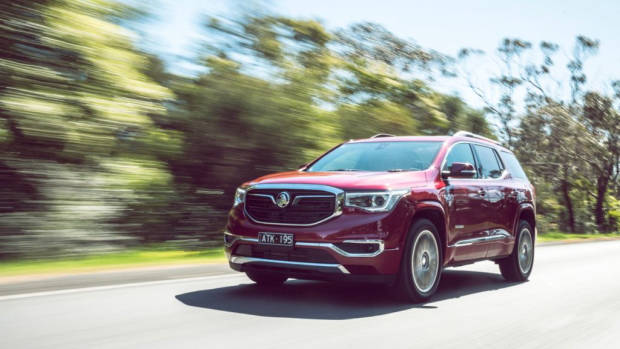 The steering tune is all-Australian. In the US, the GMC car has heavier steering with a little more play on-centre – characteristics that the Australians dialled out at the Holden Proving Ground in Lang Lang, outside Melbourne. They've imbued our Acadia with what they see as key Holden steering characteristics: the weighting is lighter, and it's pretty direct off-centre. The steering tune isn't as sweet as the nimble new Commodore – or even the Equinox five-seater that the Acadia shares showroom space with – but it's not a bad rack.
The Acadia hustles. You'd expect that of a vehicle with a big-block V6 engine – the Acadia's 3.6-litre unit is essentially the same High Feature six used in the ZB Commodore, naturally aspirated and producing 231kW of power and 367Nm of torque. It sounds great when wound right out, but naturally, we had two concerns approaching a petrol V6-only large SUV. One concern was legitimate – the other wasn't.
Fuel economy was the factor that turned out better than expected. Because the Acadia launch drive was almost entirely rural, we can't report on city consumption, but country touring returns around 10.5L/100km in all-wheel-drive configuration – the front-driver a little less. So the Acadia is actually a little more frugal on a backroad than a smaller displacement, turbocharged, four-cylinder Mazda CX-9.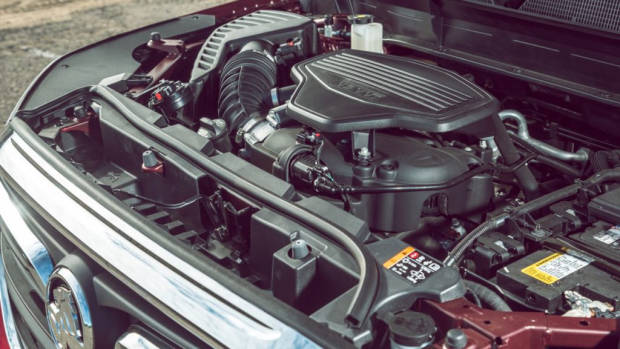 But the atmo V6 didn't manage to allay our fears of a lack of mid-range punch. It's decent off the line and the Acadia has a healthy, rorty top end, but overtaking just isn't as confident as it should be. Without the aid of a turbo, not enough shunt is developed low in the revs, and the standard nine-speed torque converter auto has a few too many choices of gear to get moving really rapidly.
Inside, the Acadia is a much more convincing job than the last US-market SUV to arrive wearing a Holden badge – the Equinox five-seater that launched in similarly wet conditions nine months ago in Queensland. The Equinox starts life as a Chevrolet in America, which ranks below GMC in both premium appointment and crossover specialisation. Above GMC, in terms of SUVs, it's only Cadillac offering more luxury.
That translates to an Acadia cabin that features a good – if not outstanding – swathe of soft-touch surfacing. The dash and door tops, front and rear, are pretty plush and the leather seats – standard on LTZ and up – feel nicer and more supportive than Equinox's, though they don't rival a CX-9 Azami LE's Nappa leather for perceived expense.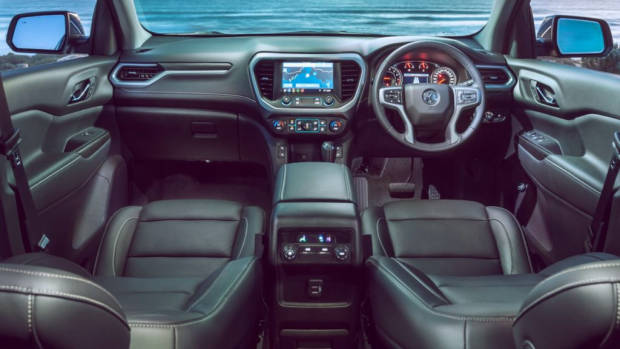 The driving position is actually reassuringly old-school. The seat extends quite low and you sit in, not on, the Acadia, but the centre bin and door armrest fall right to elbow height – this is a proper American cruiser. The standard 8-inch touchscreen is perhaps a little low-mounted for our liking, but it is the first GM product in the world to run the company's new cabin tech software, which mimics smartphone software cues with bright, circular controls that are easy to quickly interact with. The graphics are a step up from Holden's outgoing MyLink system.
Storage is plentiful, with a deep central bin and big door pockets, though the cupholders won't quite fit a Venti Starbucks. LTZ and LTZ-V cars have a wireless charging tray but impressively, all models have five high-powered, 2.1 amp USB-A ports.
The Acadia range is fairly simple, with three grades, each offered only with the V6. Front-wheel-drive is standard; all-wheel-drive is a universal $4,000 option. The $43,490 LT base car (currently $43,990 driveaway) is well equipped with 18-inch alloys, navigation, full keyless access and tri-zone climate control – plus most safety kit: lane keep assist, rear cross-traffic alert, blind spot monitoring, forward collision warning, AEB and traffic sign recognition.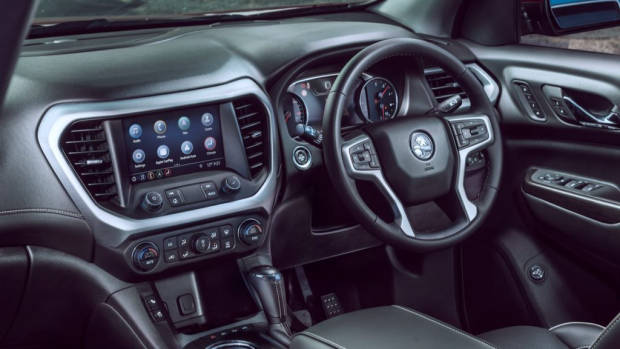 But most people will want to make the $10,000 leap to the LTZ ($53,490; currently $53,990 driveaway), which is our pick of the range. The 'Z' isn't a cheap upgrade but it starts to add the really desirable stuff you'd want in a family car (though, realistically, probably not enough kit to justify ten whole grand). Cloth is subbed out for more luxurious (and durable) black leather. The front seats gain heating, plus 10-way electric adjustment for the driver, 8-way for the passenger. You get a power tailgate, wireless phone charging, auto wipers, automated parking, differentiated 18s, and more chrome trimming outside.
The flagship LTZ-V is another ten grand, priced at $63,490 (currently $63,990 driveaway). You get more value in this step up than from LT to LTZ, but the outright cost of the 'V' is pretty steep, when you consider that a safer bet for depreciation – the Mazda CX-9 Azami – is $2,500 cheaper. An Acadia LTZ-V with AWD scrapes $70,000 even with introductory driveaway pricing.
The fully-loaded Acadia adds memory for the driver's seat and adaptive cruise control (which should be standard on the LTZ) – along with 20-inch wheels and the adaptive dampers you need to make them ride comfortably; plus a dual-pane sunroof, HID headlights, high-speed AEB, a 360-degree parking camera, digital driver display, an 8-speaker Bose stereo, front seat cooling, and electric lumbar adjustment for the front passenger pew.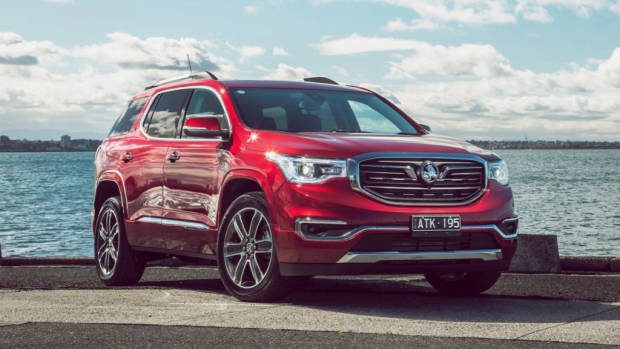 While the notion that Acadia directly replaces Caprice is something of a hard sell, there are similarities beyond a plush ride. This is a big Holden car for a big country, with the second and third rows offering generous legroom and headroom even for a 6' adult (with modern amenities like tri-zone climate control, two USB ports in Row 2 and one for Row 3). Width is good in the third row and acceptable in the second row – two people in each row means this is very accomplished six-seater, and an okay seven-seater.
Only an 'okay' seven seater? Yes: while you've got space, air vents and airbags back there, the failure to fully convert the Acadia for right-hand-drive is a problem. This is evident in the fact that kerbside access isn't as easy as a CX-9: the easy, light-to-tumble element of the second row – the segment with one seat to fold, not two – is on the right – designed for right-side traffic.
Aside from that slight own goal, it's clear that a lot of thought has in fact gone into the interior packaging of the Acadia. It's something of a, well, large tardis: big inside, relatively small outside. Despite the capacious interior, this Holden is meaningfully more compact than the (colossal) Mazda CX-9 – the Acadia is almost 10 centimetres shorter, which means it'll fit in some garages the CX-9 just won't. That said, burly folks will notice that the Holden is 5 centimetres narrower than the Mazda.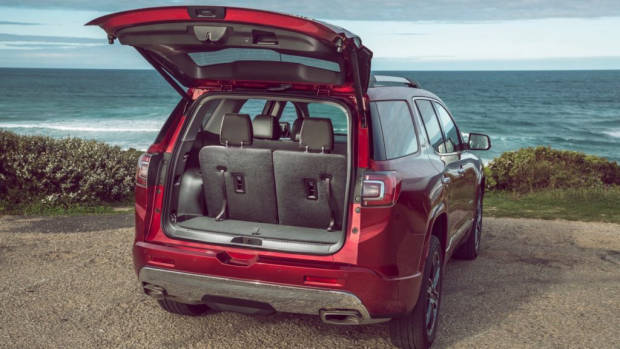 The Acadia also has a bigger boot, though both Mazda and Holden play by unusual rules when measuring cargo capacity. Both measure to the roofline, while the regular standard is measuring to the cargo cover. Anyway, the Acadia measures 292L in seven-seat mode (versus 230L in the CX-9), or a cavernous 1,042L in five-seat mode (versus 810L in the CX-9). A power tailgate is standard from the LTZ upward, with kick-to-open functionality.
A five year warranty with unlimited mileage applies to the Acadia and is standard fare with new Holden vehicles. Service pricing as not yet been announced, but the SUV will be covered by Holden's "Know Your Cost" capped price servicing programme for five years. 24 hour test drives are available allowing you to evaluate the car in your own time.
Is the Acadia the car that will kick start Holden's rebirth? After a couple of false starts in the last year, hopes are high for this seven seater from Tennessee with a distinct Australian flavour. Though the flagship grade is a little expensive, there is plenty of value in the largest Holden. In fact, there's much to like in general.
Good-looking, comfortable to sit in and with plush, capable dynamics, the Acadia delivers a solid first impression. Certainly, our expectations in isolation were exceeded: it's hard to overvalue the Australian input here that has generated one of the best ride qualities in this class. Sure, more mid-range torque, a slightly sharper price and better third-row access would be nice – but there's no denying that Holden have a fundamentally good car on their hands here. Market it properly and there's no reason this one won't sell.