Recognising the increasingly premium preferences of Australian ute buyers, Holden are exploring the potential for a luxurious range-topping Colorado LTZ-V ute as a future addition to the lineup – though the effort is hindered by a split platform underneath the two General Motors utes named Colorado. The Holden-badged car uses a cheaper southeast Asian platform, while a more expensive North American chassis underpins the Chevrolet version, and a premium American cousin to the Colorado, the GMC Terrain.
Speaking with Chasing Cars at the launch of the most expensive Colorado yet – the off road-focussed Z71 Xtreme priced at $69,990, Holden product marketing manager Andre Scott said Holden would "never limit Colorado in its potential". The Colorado range is expanding partly in execution of a goal to achieve third-place status among 4×4 utes.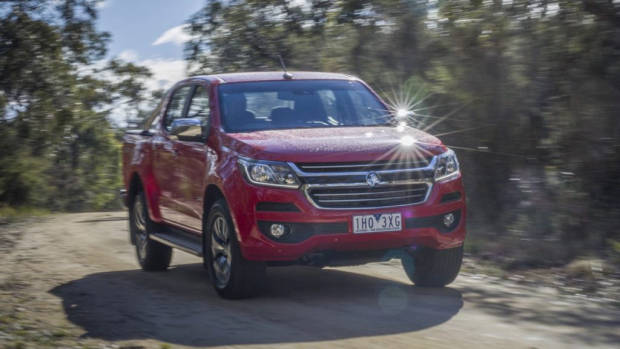 "You're looking at a growing portion of consumers cross-shopping [dual-cab utes] with SUVs," Mr Scott said when asked why the ute market was quickly progressing toward more premium pricepoints. Equipment additions aside, the $69,990 drive-away Colorado Xtreme represents a substantial step up from the previous range-topper, the $57,190 Colorado Z71 auto upon which the Xtreme is based.
Holden are not the only pick-up brand entering more expensive territory. The new Ford Ranger Raptor costs $74,990, the top-shelf Volkswagen Amarok V6 580TDI Ultimate is $71,990, and the medium pick-up segment will soon be crowned, pricewise at least, by the Mercedes-Benz X350d Power, priced at $79,415.
The Ranger Raptor is just eight weeks old and the V6-powered X-Class is unreleased but the success of the Volkswagen Amarok V6, which launched into the $60,000–$70,000 pricepoint almost two years ago, is testament to the possibility of luring Australians into an expensive ute.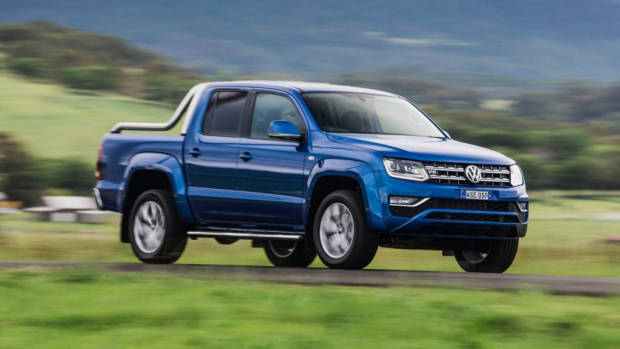 The Volkswagen Amarok V6 Ultimate, one of the pioneering premium-segment utes in Australia.
The arrival of the new Z71 Xtreme grade covers off a gap in the Colorado lineup for a loud-and-proud capable off-roader special, but the lack of a higher-specification premium model with more subtle looks, beyond the $49,990 driveaway LTZ model, is an unexploited space within the Holden ute range.
It's a gap Mr Scott concedes. "The Colorado is one of those cars that can be everything. I definitely see scope and potential for waht you'd probably consider a more white-collar version of an LTZ. That's something that is attitudinally different from a Z71 and the stance that it has."
Whether the Holden Colorado, which uses a capable but gruff 2.8-litre four-cylinder diesel, can broach similar pricing territory is a deeper question. Mr Scott nominated one hurdle in the way of a truly refined flagship Colorado: the split in General Motors' platform strategy for medium pick-up utes. In short, the Thai-built Holden Colorado seen in Australia sits on a different platform to the US-market Chevrolet Colorado – despite the pair's visual similarities.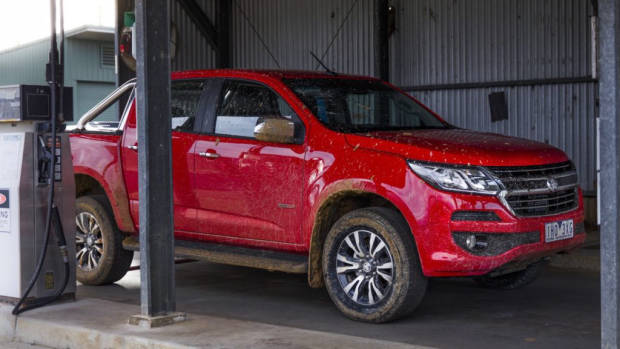 The difference in platform means that Holden product planners do not have access to American-market Colorado features. Any mooted top-shelf Colorado, with more luxurious interior fittings, a passenger car-like engine or greater sound insulation would have to fit in with the Southeast Asian-market Colorado's platform and supply chain.
"We have to make a business case stack up. We have to work with what we have in [the Asian market]," Mr Scott said. "I definitely think continuity across a global market provides more opportunities for leveraging other technologies, other interior fit-outs, further accessorisation."
It was clear among Holden executives that, in an ideal world, the Holden Colorado, the Chevrolet Colorado and GM's more premium American-market midsize pick-up, the GMC Canyon, would share a unified global platform. "Common sense would say [a global Colorado platform] makes life a bit easier. You have more to choose from, and a broader business case to support a broader range of interior trims and options," Mr Scott said.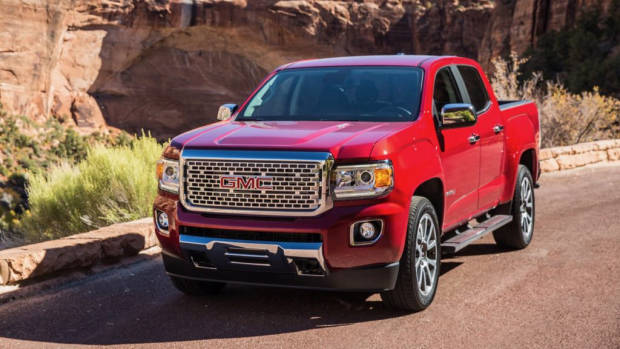 The GMC Canyon, the Chevrolet Colorado's posh cousin
Senior Holden sources were quick to pour cold water on the suggestion that the GMC Canyon could be brought to Australia, to be sold alongside the Colorado, as product planners believe the Australian market is not yet large enough to support GMC-branded utilities alongside Chevrolet-based, Holden counterparts.
In top-spec Denali trim, which is priced about 15% higher than the most expensive Chevrolet Colorado, the Canyon includes a variety of premium features that Holden product planners would undoubtedly like on a Colorado LTZ-V: heated and ventilated leather seats, a heated steering wheel, 20-inch wheels, chrome side steps, a torsioned tailgate, a wi-fi hotspot, GM's OnStar concierge, and a rear-seat reminder.
Certainly, some of those features – larger wheels and side steps are the obvious thoughts – could be integrated into the Holden product easily. Substantial components like seats, though, are a bigger issue without platform consistency.
We'll be watching with a keen eye to see the terrain Holden traverses in the premium ute space. In the short term, though, it'll be more in the exterior accessories vein, as Mr Scott points out: "Holden have a team here that works extraordinarily hard from an accessories engineering perspective to bring the best range they can. We have a very broad range of accessories, and right now, our primary focus is on exterior."