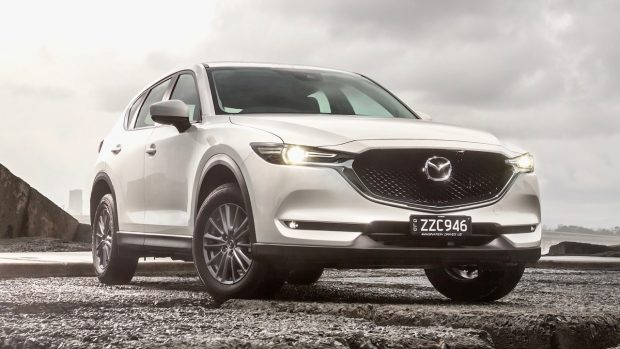 When you make Australia's best-selling SUV, it makes sense that you'd want to update it from time to time to make sure it doesn't slip behind other popular rivals. But just a year after the model launched onto the market? That's what is happening to the 2018 Mazda CX-5, the dominant player in the medium SUV class, where the popular CX-5 fights alongside alternatives like the Volkswagen Tiguan, the Hyundai Tucson, and the Peugeot 3008. The Mazda is a winner for a reason – we already loved the way it drives, and the current, second-generation CX-5 is the best one yet – and the arrival of a few subtle updates help its cause further. Arguably, though, the changes don't go far enough to completely stave off rival SUVs, particularly if you're after a petrol engine.
So, what's changed? Mainly the diesel CX-5. Already one of the best diesel units in this class, the CX-5's 2.2-litre twin-turbo four-cylinder has seen one of the blowers swapped out for a larger, variable geometry turbo that sees total outputs rise 11kW and 30Nm, to 140kW of power and an impressive 450Nm of torque. And all that shove is available at 2,000rpm – so, as expected, the diesel CX-5 remains perky at low speeds and effortless while cruising on the highway.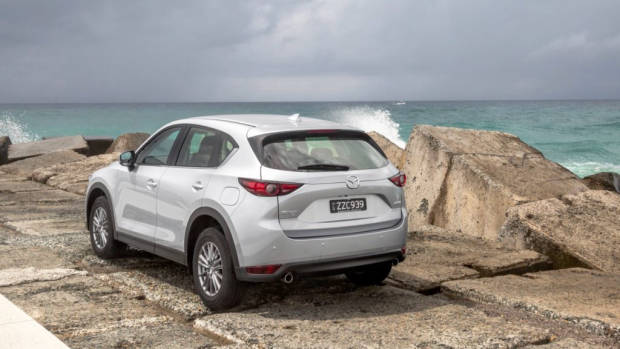 The 2.5-litre naturally aspirated petrol engine – the one most people get in their CX-5s – now features cylinder deactivation in an effort to improve fuel efficiency. While cruising gently at a steady speed, two of the four cylinders shut down, which reduces fuel wastage by a marginal (but noticeable) amount. Engine noise across the 2.0-litre petrol, the 2.5-litre petrol and the 2.2-litre diesel has also been further reduced, though you are hard-pressed to notice.
The list of 2018 amendments is rounded out by the addition of a 360-degree parking camera – helpful tech when parking any SUV, though sadly – like adaptive cruise control and lane keep assist – the birds-eye camera is reserved to the top-shelf Akera grade that starts at $46,190. Plus, the mid-specification Touring now has a proper windscreen-projected head-up display, matching the higher GT and Akera variants, replacing a dinky flip-up HUD in the 2017 Touring. Oh, and rather handily, prices have been cut on most models. The Maxx Sport and Touring grades fall by $400, while the premium GT and Akera trims drop $800.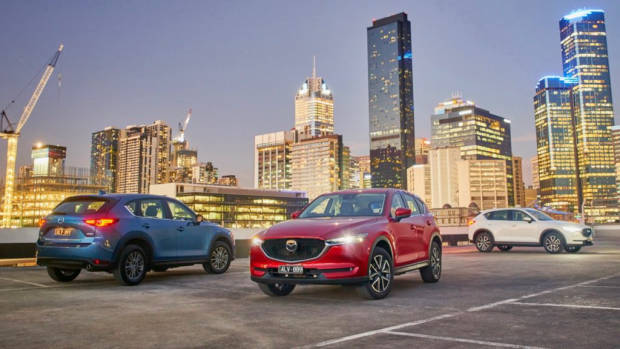 And that's it for changes. Unfortunately, the biggest item on our CX-5 updates wish list didn't come up this year: we would like to see the CX-9's 2.5-litre turbocharged petrol make its way into the CX-5 lineup: its 170kW of power and 420Nm of torque handily trumps the current 2.5-litre's weedy 250Nm. The CX-9's turbo four is going into the Mazda 6 – the brand's non-SUV family car – so, why not the CX-5? The lack of a turbo petrol CX-5 is a growing problem for Mazda, given most CX-5 rivals have adopted these setups. A petrol CX-5 feels noticeably slower and louder than a Volkswagen Tiguan 132TSI, Hyundai Tucson 1.6T or a Peugeot 3008 1.6T, which provide the kind of lush torque that makes a car easy to drive in the city. Additionally, we wouldn't have minded seeing the base model Maxx upgraded to alloy wheels, but this was not to be.
That said, the CX-5 hardly needed comprehensive upgrades. This model is very new, having launched little over a year ago in second-generation form (though, admittedly, all three engines did carry over from the second-gen car), and the CX-5 looks and feels like a bang-up-to-date SUV – and in diesel form, it drives like a bang-up-to-date SUV as well. Outside, the CX-5 carries its relatively simple lines well, especially on larger 19-inch wheels, and the presentation and quality of the interior is very good. That said, only the pricy GT (and Akera) grades, which cost a minimum of $43,590, get a full set of soft touch materials in the cabin. The Maxx Sport and Touring have some soft touch panels, and the base Maxx gets effectively none. It's unusual to have varying cabin quality by grade. A base model Peugeot 3008 feels effectively as premium as the flagship.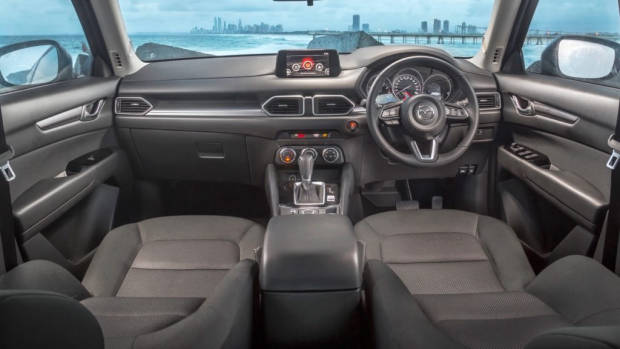 The CX-5 is plenty roomy for families. Up front, you sit higher than expected but with a commanding view out, to the side and behind you – with large mirrors. On grades with a head-up display (Touring, GT, Akera) you have a digital speedo – on the Maxx and Maxx Sport, you miss out on that feature. But the analogue dials are clear and attractive, and also in your line of sight is Mazda's excellent 7-inch touchscreen. It (still) does not have Apple CarPlay or Android Auto, which is a shame, but the inbuilt software is easy to use and all CX-5s have DAB digital radio. We also applaud the fact that you can control the Mazda's screen with an Audi-style rotary controller between the seats, which is safe and intuitive.
Seat comfort up front is pretty good – better than the Tiguan, but not the Skoda Kodiaq. The GT and Akera have electric seat adjustment which helps to achieve a more comfortable driving position behind a lovely steering wheel that is borrowed from the MX-5. There's storage aplenty, too. Plus kids in the back are very well taken care of, with a roomy and supportive bench – and Mazda know their market, as they include two rear USB ports on every CX-5 apart from the absolute base model. There are air vents back there as well to keep the cool air flowing on long trips. And while the boot (442 litres) is not the biggest in the class, it is a useful square shape, the GT and Akera have an electric tailgate, and the back seats fold 40/20/40 at the pull of a latch inside the boot to make loading simple.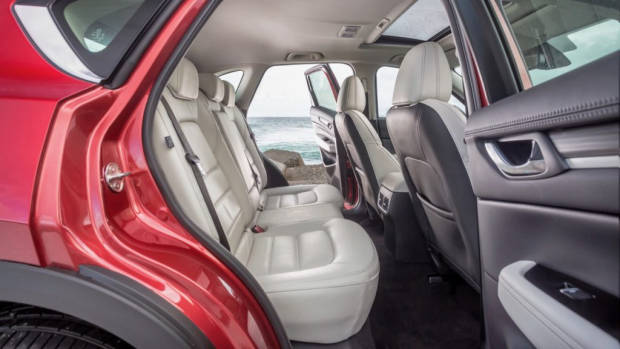 So, that's the static stuff out of the way – the CX-5 is impressive to look at and sit in. But what's this thing like to drive? Does Mazda's trademark catchphrase of 'zoom-zoom' still apply to their midsize family SUV?
It mostly does. The CX-5 is comfortable and relaxed but find the right road, and it reveals itself to be one of the sportier cars in this segment, with playful and surefooted handling that allows a keen driver to exploit this nicely-made Mazda chassis. Good, linear, mid-weight steering feeds through to grippy Toyo Proxes tyres (on the higher specifications), and when pressed through a bend at speed, the CX-5 doesn't lean much. It involves its multi-link rear end nicely and essentially compliments its driver. That's always a nice surprise in a mid-size SUV, though the Tiguan and 3008 also have keen, sporty sides if you look for them.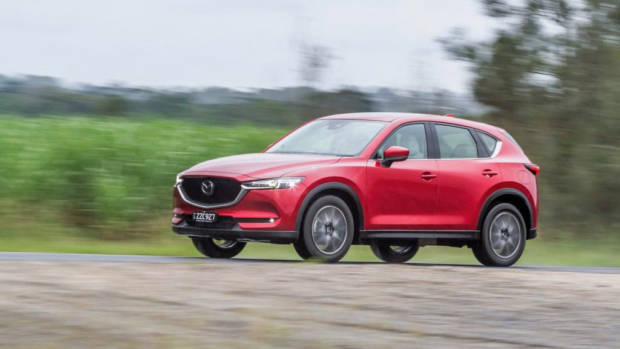 Reduce the pace to realistic in-town situations, and the CX-5 is easy to manoeuvre with light low-speed steering and good visibility. It also rides pretty well, especially on the small 17-inch wheels and chunky tyres of the Maxx, Maxx Sport and Touring grades. The 19-inch versions on the GT and Akera introduce more abrupt thumping over bad bumps, but you can live with it. Road noise is impressively restrained – this used to be a big problem in Mazda's cars, but the Japanese brand has put plenty of time into fixing this over the last few years.
The biggest issue with the driving experience is the 2.5-litre petrol engine: this is the motor most people go for when they buy a CX-5, and it is below-average for the medium SUV class. Sure, it makes 250Nm of torque – but so do lots of small hatchbacks now, and it makes all that torque high in the rev range, so you have to really rev the Mazda to make the best of it. The six-speed auto tries its best to keep up, but starved of adequate pulling power at low speeds, it makes you work for it. At highway speeds things are better, but overtaking is a slow affair that needs planning. And while the petrol's on-paper fuel economy is good, because you have to strain the engine in real life, consumption balloons quickly. The base model's 2.0-litre engine is slower still; the small petrol is the only one of the three engines to be front-wheel-drive. The other two score AWD.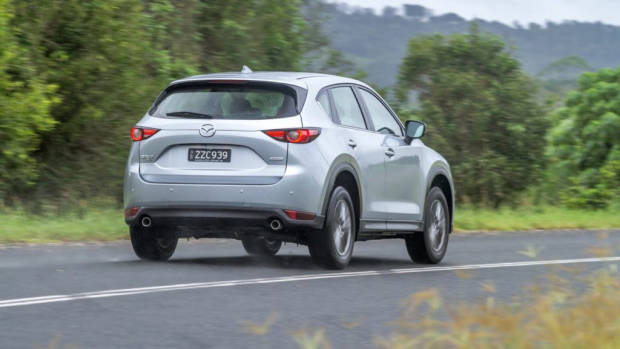 All of these problems are cured by spending an extra $3,000 to upgrade to Mazda's excellent, class-benchmark diesel engine. The 2.2-litre twin-turbo has been around a while, and it was already our favourite diesel in a family SUV before these updates, and 420Nm was already a lot – but the new upgrade to 450Nm puts the icing on the cake. The diesel CX-5 is everything the petrol CX-5 is not: it is supremely torquey, effortless to drive, quiet, unexpectedly refined and very fuel efficient. That's our biggest piece of advice: get the diesel. It is money well spent. You'll make some (probably not all) of it back in fuel savings, but you'll enjoy the driving experience much more during your ownership of the car. Plus, the price reductions for 2018 mean you can get the CX-5 diesel in decently-equipped Maxx Sport form for $39,990 – which is a great deal.
And that's a good point to talk about the value proposition, and what you get at various points in the range. There are five models and three engines available on the CX-5, so there is plenty of choice. But there are a few standout choices which we'll get to in a minute.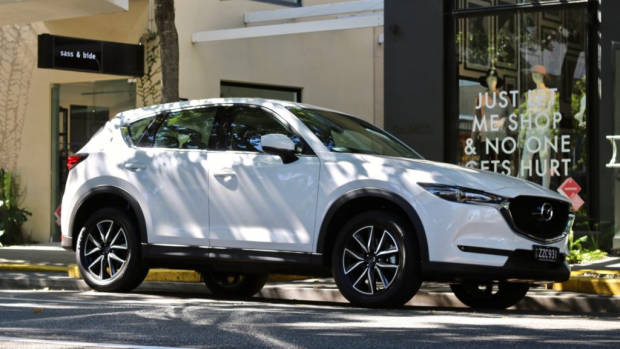 What is impressive right out of the gate is the CX-5's standard safety proposition. All models, from the $28,690 Maxx manual, have autonomous emergency braking that works when going forward (up to 80km/h) and in reverse. They all have blind spot monitoring, rear cross-traffic alert, a reversing camera and rear parking sensors.
The base Maxx (from $28,690) looks cheap on its old-school steel wheels, but apart from the weird omission of alloys it is a well-equipped base model, with all that safety kit, the 7-inch touchscreen with DAB radio, LED headlights, power folding mirrors, cloth seats, and push-button start. Navigation is a $500 accessory on the Maxx.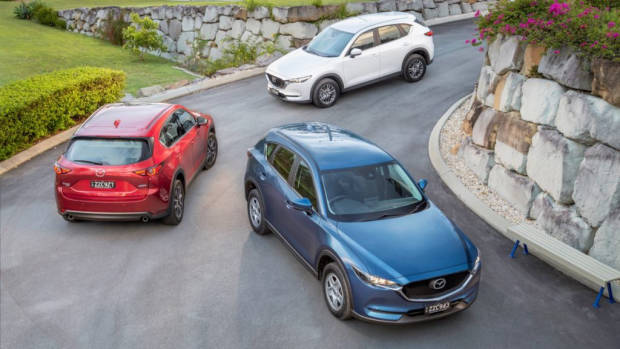 But the Maxx Sport (2.0L $33,990, 2.5L $36,990, diesel $39,990) is the most popular model, which makes sense given it upgrades to desirable features like 17-inch alloys, automatic headlights, automatic wipers, satellite navigation, dual-zone climate control, an auto-dim rear view mirror, and 2 rear USB ports. Plus, the Maxx Sport brings the diesel engine into the fray.
Then there's the mid-spec Touring (2.5L $38,590, diesel $41,590) which adds a few niceties in the form of suede/faux-leather seats, keyless entry, front parking sensors, a head-up display and auto folding mirrors.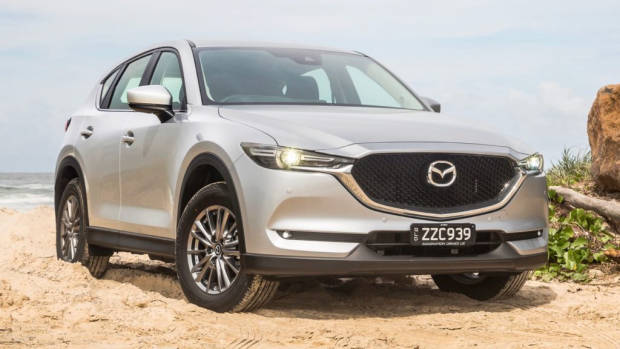 But the two 'premium' CX-5s are definitely tempting. They look quite a bit more expensive on their 19-inch alloys. The GT (2.5L $43,590, diesel $46,590) brings heated black or white leather seats with 10-way power adjustment and memory for the driver (and 6-way for the front passenger), a power tailgate, sunroof, and a 10-speaker Bose stereo. Finally, the top-shelf Akera (2.5L $46,190, diesel $49,190) adds in the new 360-degree parking camera, adaptive cruise control with stop and go, adaptive LED headlights, driver fatigue detection, and lane keep assist.
So, what are the sweet spots? In our opinion, the Maxx Sport diesel ($39,990) or the top-of-the-line Akera diesel $49,190) are the way to go. They're a lot of car for shy of 40 grand and 50 grand respectively – the Akera particularly. With all the safety tech on board, the Akera represents better value than the competing Volkswagen Tiguan 140TDI, which enters the mid-$50,000 range once you've optioned it up with the CX-5's standard kit. Plus, the Mazda has an additional 50Nm of torque and, arguably, sexier looks inside and out.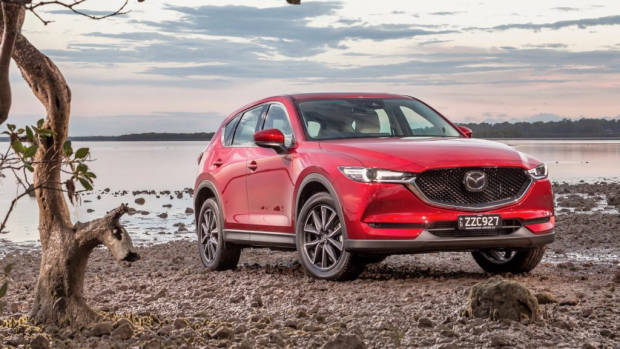 All in all, then, the 2018 updates represent a marginal but appreciated bump in specification for the CX-5 and undoubtedly, it'll help Mazda in getting more families to upgrade into this popular SUV. It's a shame the 2.5-litre turbo petrol didn't arrive this time but we would expect to see it in a year or so: the current CX-5 petrols aren't up to scratch, in our view. But the diesel is exceptional, and viewed as a whole, the CX-5 is well-equipped, good-looking, comfortable and sporty when pushed. At this point, it's essentially the best all-rounder in the segment – and that is not a bad place to be.