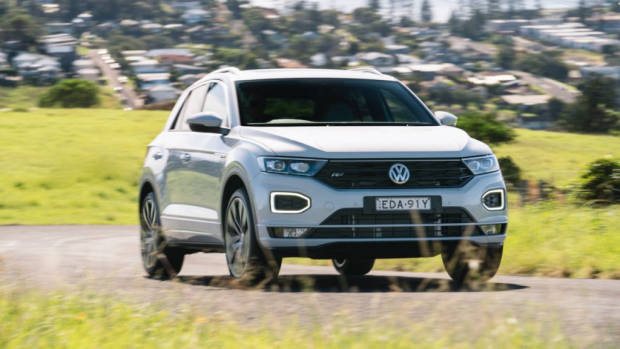 The long-awaited Volkswagen T-Roc has arrived in Australia, pitched to sit between mainstream rivals like the Mazda CX-30 and premium models like the Audi Q2. Is the new T-Roc the SUV sweet spot?
For a vehicle that started production nearly three years ago, the Volkswagen T-Roc's journey to Australian shores has been a long and arduous one. We first wrote back in August of 2017 that the T-Roc would make it down under, and this month – May of 2020 – that became a reality – and not a moment too soon.
Volkswagen's prized SUV counterpart to the perennially-popular Golf small car arrives in the market to take on a wide field of rivals, from the tiny Mazda CX-3 on one end, through to larger competitors like the Kia Seltos, and even premium crossovers like the BMW X2.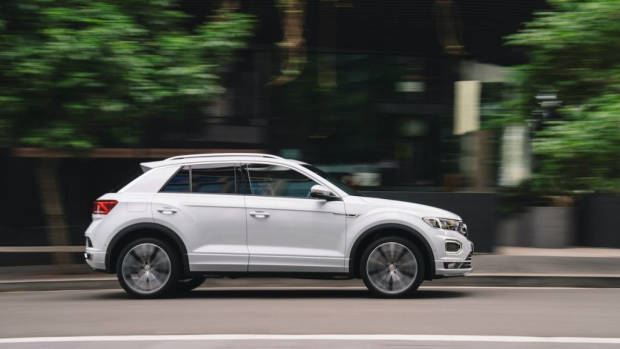 With supply still constrained, VW's Australian product team have opted to bring in only one specification of T-Roc: a high-end grade known here as the 140TSI Sport, priced at $40,490. A pair of option packs fill out the lengthy feature list, with a fully-loaded T-Roc setting buyers back $46,590 before on-road costs.
It's a price point that sits well above the similarly-sized T-Cross that launched last month from $27,990 – but that vehicle is based on the Polo and front-wheel-drive. The T-Roc aims to be a more grown-up proposition, wearing upmarket styling above a higher-end package that includes a detuned Golf GTI engine, all-wheel-drive, and higher-end rear suspension.
Still, there's no avoiding that both of Volkswagen's new small SUVs – both T-Roc and T-Cross – hit buyers with an SUV tax. The conventional hatchbacks that underpin these new crossovers represent far better value. Simply put, the SUV form factor is fashionable, and you're expected to pay more for it. A loaded Golf R-Line is more than $6,000 cheaper than a similar T-Roc Sport, while an optioned-up Polo R-Line saves you nearly $10,000 compared to a similar T-Cross. The SUVs have some additional features thrown in – but we'd suggest taking a close look at both the crossovers and their hatch siblings that actually drive better.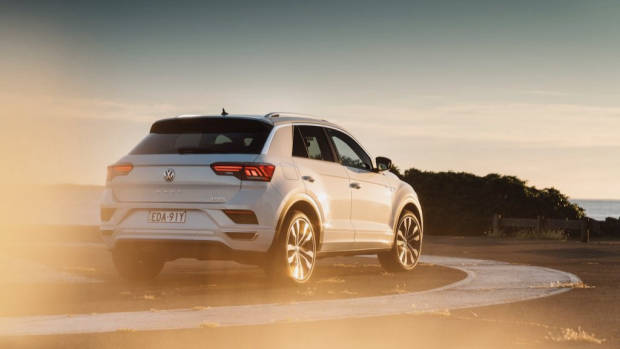 But we understand the pull of a small crossover, and you need look no further than the T-Roc's chunky but handsome lines to see why someone might walk past a Golf in the showroom for this. From the slim LED running lights that also act as indicators to the chrome 'hockey stick' roofline and optional 19-inch Suzuka wheels pinched from the flagship Tiguan, this SUV looks more expensive than even its ambitious pricing would suggest.
Unsurprisingly, the T-Roc drives expensively, too. The sole engine offered in Australia, for now, is the two-litre 'EA888' turbocharged petrol that also does service in the Polo GTI and Golf GTI (among many other Volkswagen Group cars). Here, it makes 140kW/320Nm, sent to all four wheels through a seven-speed wet clutch gearbox. While it's not outright fast – the T-Roc 140TSI does 0-100km/h in 7.2 seconds – it feels very nippy, particularly when overtaking. Compare a T-Roc to a rather breathless Toyota C-HR 1.2-litre and it's chalk and cheese.
The 140kW 2.0-litre isn't the sole T-Roc engine sold overseas, but there is no confirmation of a more affordable 110kW 1.4-litre front-wheel-drive grade for Australia. Sadly, it looks unlikely that the beefier T-Roc R – a fully-fledged R vehicle within the Volkswagen performance lineup – will come to Australia owing to that car's insistence on a petrol particulate filter, which Volkswagen suggests will not work with Australia's higher-sulphur petrol fuel.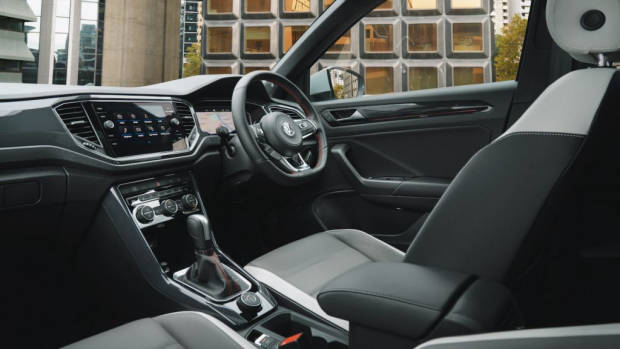 The T-Roc steers, handles and rides much like a (raised) Golf: with the pair sharing virtually all of their oily bits, including the vaunted Volkswagen MQB platform, this is no surprise. Steering inputs are done through the brand's small, but now superceded, 'performance' steering wheel that looks and feels great. Adjustable drive modes come as standard, with two selectable steering weights: a twirlable 'normal' setting, and a firmer, but not heavy, 'sport'.
At all times, the T-Roc feels eager, demonstrating an agility that is at or near the top of this class. It turns in crisply, feeling light as air and delivering plenty of tyre grip. Body roll is well suppressed but the T-Roc moves naturally on its feet. Our car's three-stage adaptive dampers – part of the $2,000 Sound and Style package, bundled with 19-inch wheels and a Beats stereo – allow some float in 'comfort' but the body is well controlled in 'normal', though the big wheels do catch Sydney's hard-edged potholes. The standard 18-inch alloys demand the fixed suspension, but we think this would deliver a good ride.
The driving experience screams Volkswagen, then – and that's a good thing. It's just a shame that classic Volkswagen virtues have been diluted to a notable degree inside the cabin.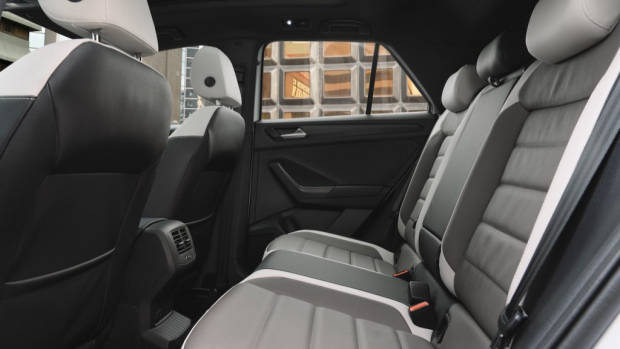 While there's no questioning that the T-Roc has a lovely steering wheel, comfortable and supportive seats, a functional and attractive centre console and well-integrated tech – including an 8-inch touchscreen with navigation with wired smartphone mirroring, plus a large digital driver display – there are serious questions about secondary material quality.
Despite assurances made last year to Australian media, the hard plastic dashboard and door materials of the UK-specification T-Rocs we sampled in early 2019 have not been replaced with the promised more plush interior. Where a base model Golf ($25,390) packs soft, plush dash and door materials as standard, the T-Roc brings shiny, hard, scratchy plastics. The only give you'll find is on the wheel, shifter, centre and door armrests, and a thin mid-door insert. Even the cheapest Polo ($18,990) has a soft, yielding dashboard.
This is a surprising omission from Volkswagen, given the T-Roc can push $50,000 driveaway. While not everyone cares about whether the dash or doors have some give when touched, it has the air of a decision enforced by bean-counters. Mainstream brands like Toyota and Mazda have moved to match Volkswagen's high levels of quality and plushness in recent years – and the result is that their SUVs, like the CX-30 and C-HR, feel materially more generous inside, so to see a regression from Volkswagen is disappointing.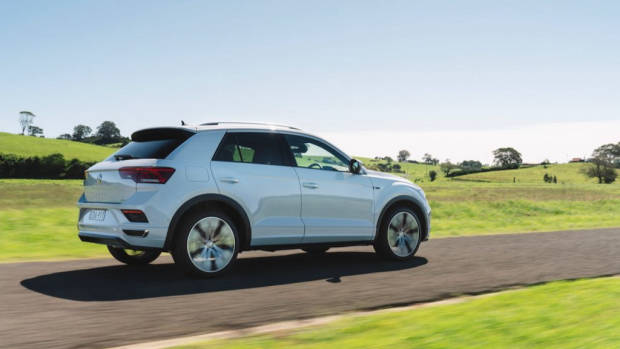 The good thing is that actual build quality seems excellent. As you'd hope, the T-Roc's doors thunk closed, shut lines are very tight, and fit and finish is generally excellent. Individual knobs and switches continue to look and feel upmarket. Few (if any) rivals in this segment even come close to the T-Roc's infotainment, with its ability to present a full map in front of the driver on a crisp, bright, wide display.
As for the standard sports seats, cloth trim is standard but a $3,500 Luxury Package switches this material to leather – though it doesn't feel overly supple, and the seats remain manually-adjusted. Also included in this package is a panoramic opening sunroof (good!) and an electric tailgate (unnecessary in a car this small!), so we'd probably save our money and opt for the preferable cloth upholstery.
Despite the T-Roc's attractive roofline, the back seat is very spacious, with sufficient headroom, legroom and toe room for six-foot adults sitting in tandem. Three people will fit across the second row but we'd limit it to two if possible – but there are air vents, a centre armrest, and a 12-volt socket back here. The boot measures 392 litres: that's about 13 per cent more than a Golf hatch fitted with all-wheel-drive.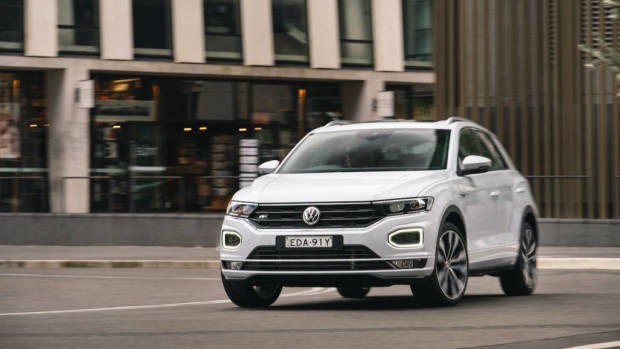 On the ownership front, Volkswagen Australia's comprehensive five-year warranty applies to the T-Roc. Servicing can be paid for up-front – this is also transferrable. Buyers can also purchase a T-Roc online – deposits are currently being accepted.
If you're a current small car owner looking to jump up into a slightly bigger car that also rides higher– and wears this undoubtedly attractive styling – the T-Roc will make a lot of sense. This is a compact crossover that is fun to drive, good to look at and generous on the technology front. It's simply a shame to see Volkswagen regressing in terms of perceived interior quality. Those who also test-drive a Mazda CX-30 will be taking notes.