Volkswagen's product offensive will roll on in 2018, with the German brand moving into one of the hottest segments of the market: small SUVs. The funky 2018 Volkswagen T-Roc will fill a conspicuous hole in Wolfsburg's lineup, and will provide buyers with a smaller alternative to the popular Tiguan mid-size SUV, while giving Polo shoppers a similarly-sized SUV to consider. Previewed by concept cars from the past including the Cross Coupe and T-ROC from 2014, the production T-Roc will compete with other small SUVs such as the Toyota C-HR, Honda HR-V and Mazda CX-3.
Sitting atop the same MQB as many other modern Volkswagen Group products, the T-Roc is to the Polo what the Tiguan is to the Golf – a jacked-up and larger offering aimed at customers with a desire for more interior space and a higher driving position without dramatically increasing the size of the car.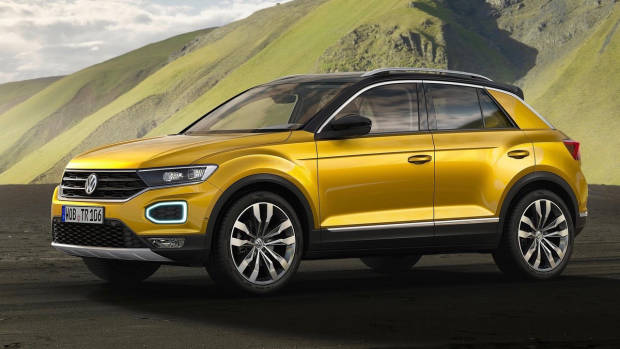 Design
Taking design cues from the previous T-ROC concept car of 2014, the production T-Roc enters new design territory for Volkswagen, with a bolder and simpler hexagonal grille interpretation than before that sits proudly as the face of the car. The large grille makes the front of the T-Roc appear low, wide and somewhat aggressive, and accentuates the stance of the rest of the car.
Below the grille sits two large port holes with LED daytime running lights running the entire outside shape, and with front foglamps sitting below. The coupe-like roofline emphasises the T-Roc's 'dynamic' look, according to Volkswagen, and the side takes cues from the Audi Q2. The rear end is more traditional Volkswagen, with Tiguan-like tailights and an available electric tailgate with motion activation.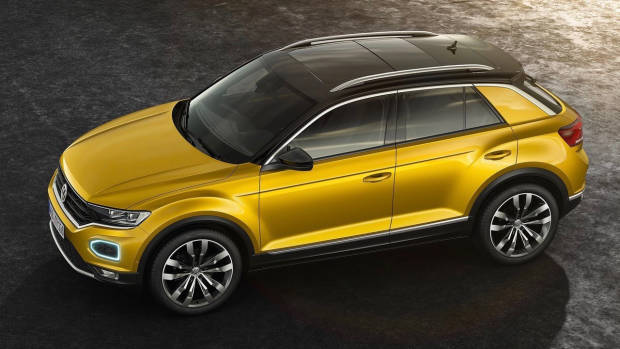 Interior
The interior of the T-Roc follows the same general theme as the new Polo, with significantly more available colour than previous Volkswagen models. The door trims, centre console and dashboard facia are available in different colours, including bright blues, reds and yellows to match the exterior.
Centrepiece of the dashboard are the infotainment systems, ranging from 6.5-inches to a larger 8.0-inch 'Discover Media' system that features in the Golf and Tiguan. Volkswagen's 11.7-inch Active Info Display digital dials is also available in the T-Roc, and like the new Polo, features a slightly revised design with new graphics and improvements in its ease of use.
Like the new Polo, a 300-watt, eight-speaker Beats audio system is also available, as is in-car technology such as wireless charging, Volkswagen's Media Control application-based infotainment system control and two USB ports in the lower centre console.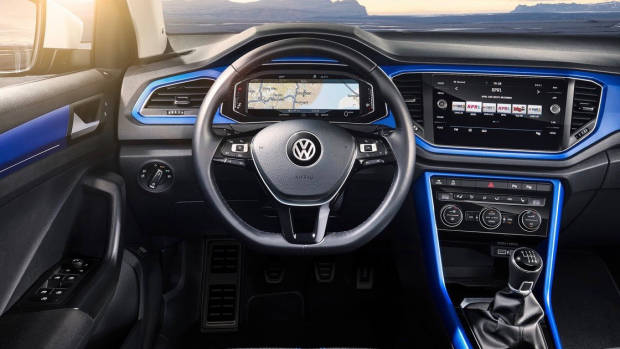 Drivetrains
Volkswagen has developed six different engine options for the T-Roc, with front- and all-wheel drive and manual and dual-clutch automatic drivetrain options available. At the bottom of the range are two 85kW turbocharged powerplants – a three-cylinder 1.0-litre petrol engine and a four-cylinder 1.6-litre diesel, each with a six-speed manual and front-wheel drive.
The middle of the range is of most relevance for Australia, with two 110kW four-cylinder powerplants – a 1.5-litre turbo petrol and 2.0-litre turbo diesel available in both front- and all-wheel drive, and with six-speed manual or seven-speed dual-clutch automatic transmissions.
At the top of the range are two 140kW turbocharged four-cylinder engines – a 2.0-litre petrol and 2.0-litre diesel that, like in the Tiguan, are exclusively available with all-wheel drive and a seven-speed dual-clutch automatic. All-wheel drive variants also feature independent rear suspension, with the front-wheel drive variants using a torsion beam.
While the Australian T-Roc lineup is unconfirmed as yet, we'd expect both mid-range powerplants and possibly the higher-end ones as part of a possible R-Line trim.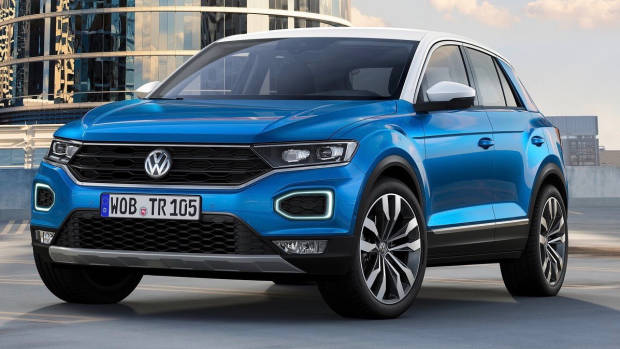 Dimensions
Volkswagen is heavily promoting the car's "very dynamic proportions" and attempting to capture those shopping for a 'style over substance' car. The supposed dynamism is seen in the car's overall dimensions – its 4,234mm length is 252mm shorter than a Tiguan, yet 271mm longer than the Polo. Yet its height is much closer to the Polo, at 1,573mm (1,466mm for the Polo, 1,839mm for the Tiguan).
The T-Roc's 1,819mm width is closer to the Tiguan (1,839mm – just 20mm wider) than the Polo (1,751mm). These dimensions allow for the T-Roc to have a lower centre of gravity and therefore better dynamics than competitors, according to Volkswagen.
The T-Roc also appears to offer one of the largest and most practical boots in the small SUV segment, with 445-litres on offer with the rear seats up. With them down, it offers 1,290-litres, which is not quite up with the Honda HR-V (1,462L down), but significantly larger than the Mazda CX-3 (264L up/1,174L down) and Subaru XV (350L up/765L down).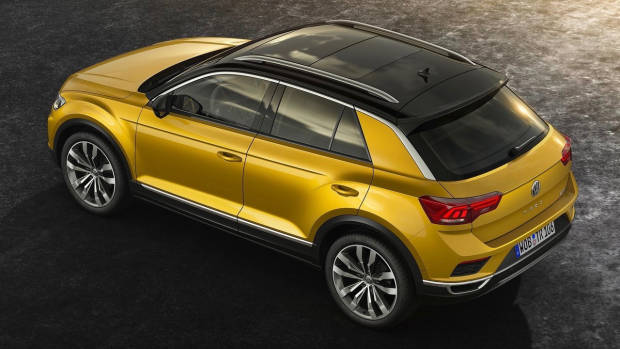 Customisation
Volkswagen is boasting that the T-Roc is available with a number of different trim options and colours for T-Roc owners to make their car really theirs. Like the new Polo, the dashboard facia and interior trimmings are available in a number of different colours, including whichever exterior colour an owner has selected. The interior seat and upholstery trim also has a number of different options available, with different types of trim as well – cloth, leather and suede all feature.
The T-Roc goes further than the Polo with customisation however, with the roof, A-pillar and exterior mirror colours available in three different colours (white, black and a metallic brown) to compliment one of the ten different exterior colours. A range of different alloy wheels are also available for the T-Roc, in multiple designs, colours and sizing ranging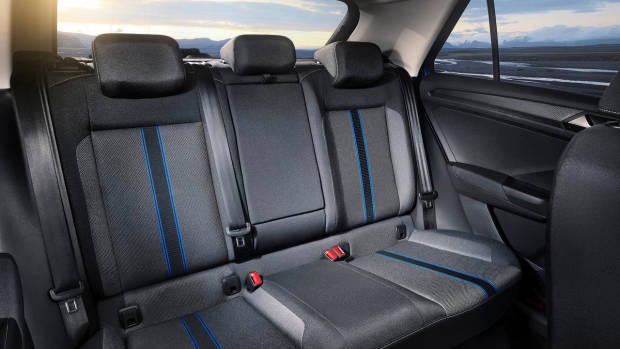 Available Technology
Where the Mazda CX-3 arrives in Australia with AEB as standard, and the Toyota C-HR is offered with AEB and other equipment such as radar cruise control as standard across its range, many competitors limit active safety to more expensive models – Subaru XV, Honda HR-V – or none at all, such as the Nissan Juke, Renault Captur, Ford EcoSport and Suzuki Vitara.
With active safety, Volkswagen is claiming that the T-Roc is a segment leader, with more available active safety than most competitors – though, what the T-Roc will come with in Australia is yet to be revealed. In Europe, all T-Roc models with come with a post-accident automatic braking system to prevent further accidents, lane keep assist and autonomous emergency braking.
Available optionally is radar cruise control (active from 30-210km/h on manual variants and from 0-210km/h in automatics), dynamic road sign display, blind-spot monitoring with rear traffic alert, park assist semi-autonomous parallel and 90-degree parking, traffic jam assist, emergency assist, a proactive occupant protection system, a driver alert system and automatic high beam headlights.
Like other Volkswagen models such as the Golf, we'd expect at least AEB and a rear camera to be standard equipment with the majority of active safety features forming part of an optional Driver Assist Package.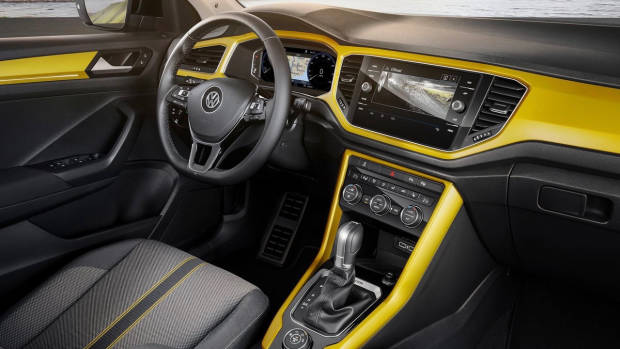 Australia
The T-Roc is confirmed for Australia, but when it will arrive is unknown at this stage. Due to predicted high demand from Europe and other left-hand drive markets, production for right-hand drive markets will start later in 2018. Volkswagen Australia are launching the latest Polo of which the T-Roc is based on Q1 2018 and are unable to confirm when the T-Roc will hit Australia – they are hoping for a late 2018 release.
Considering that small SUVs form a 65,011-strong sales force so far this year in Australia, no doubt Volkswagen will want the T-Roc as soon as possible to be further part of the sales action.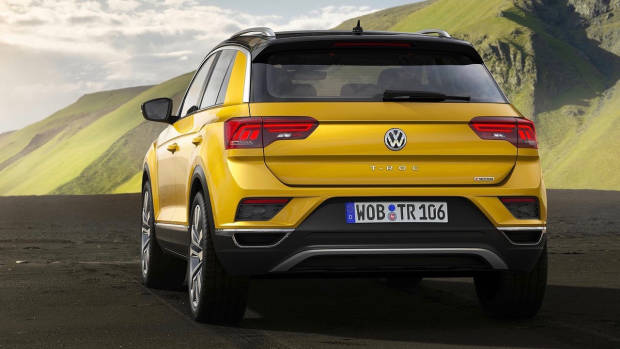 Stay tuned to Chasing Cars for news regarding the new Volkswagen T-Roc.