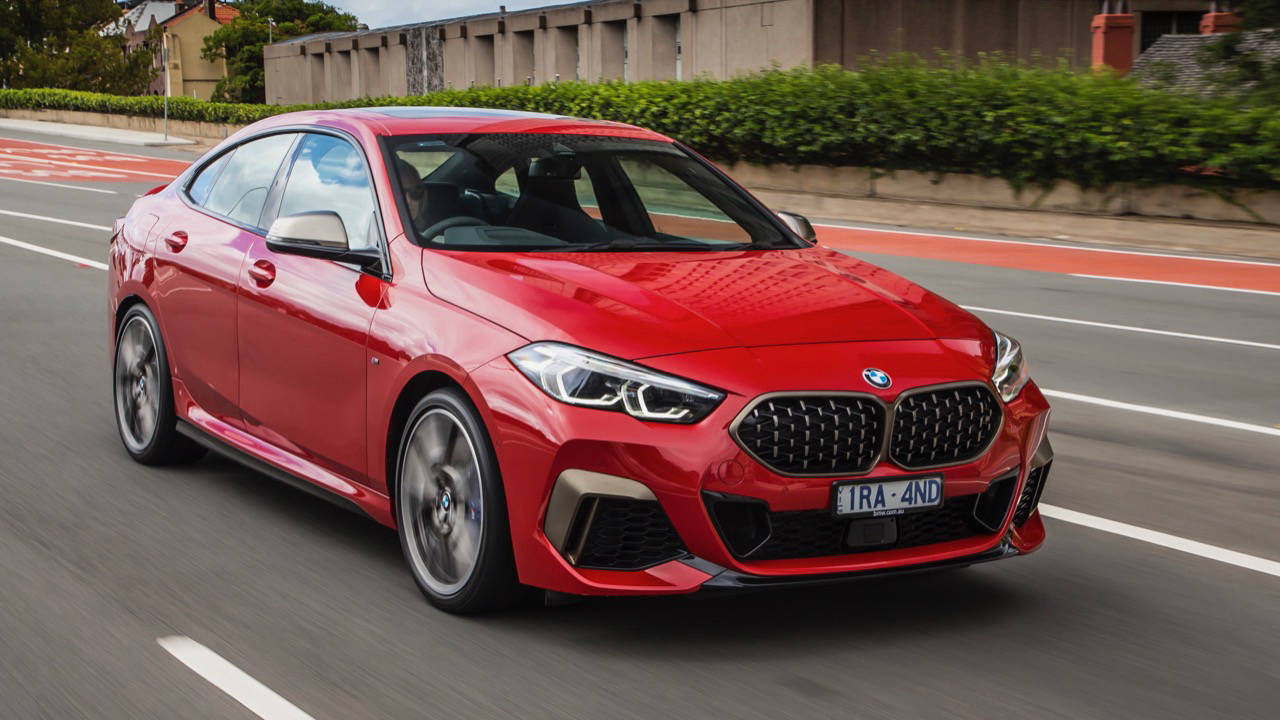 For a decade or more, BMW have been working on a programme of range diversification. By adopting clever, modular chassis platforms that sit underneath their vehicles, BMW – and other carmakers, too – have been able to develop a cornucopia of differently-shaped models that appeal to different people, without having to engineer completely separate cars. The result? Huge amounts of choice, but also complexity, for buyers.
Enter the latest example of this philosophy: the BMW 2 Series Gran Coupe. As the marketing suggests, this car is both all-new and 'first-ever' – it doesn't replace anything in the BMW lineup. It is essentially a 1 Series sedan, sharing almost all of the mechanicals of the brand's new front-wheel-drive hatchback. The cabin is nearly identical, too, and the way the cars drive is ultimately very similar.
However, BMW knows that not everybody who wants an entry-level luxury car wants a hatchback – and Americans in the least. Possibly Australians, too, if the success of the 2 Series Gran Coupe's chief rivals – the Mercedes-Benz CLA and Audi A3 sedan, which have been in market for years – is anything to go off. BMW's product planners are bullish about the 2 Series GC, and suggest getting enough supply will be the biggest problem.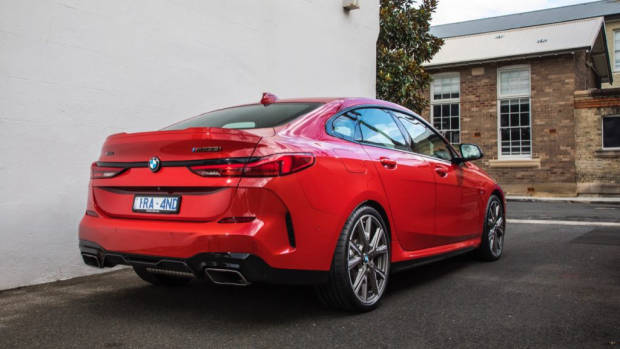 The booted but rakish-rooflined 2 Series Gran Coupe arrives in Australia with the same two launch engines as its 1 Series sibling. There's a base turbo three-cylinder petrol badged 218i ($47,990, 103kW/220Nm), and a much hotter two-litre turbo four that is adorned with a performance badge. The all-wheel-drive M235i is $69,990 and generates 225kW/450Nm. We sampled both engines on local roads here around Sydney.
Savvy BMW buyers will note that the M235i is positioned in the same space as its slightly larger, rear-wheel-drive BMW 330i sibling ($70,990) which we rate more highly here on Chasing Cars. Certainly, if you're after a small BMW four-door, we advise test driving both a 2 Series Gran Coupe and a 3 Series to confirm which better suits your tastes.
For us, it's the traditional 3 Series that suits us – it is the more balanced of this pair of sedans, offering pure rear-drive dynamics, less corrupted steering, and a more expensive and sophisticated chassis. The 330i weighs 120kg less than the M235i's 1560kg tare mass, as well.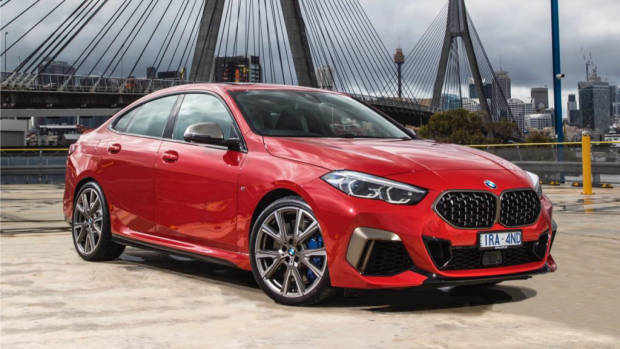 Much of the (physically smaller) 2 Series Gran Coupe's lard comes from its standard Haldex-style all-wheel-drive system that can direct a maximum of 50 per cent of the 450Nm (i.e. 225Nm) to the rear wheels during spirited, flat-footed cornering. Essentially, the M235i follows recent hot hatch methods of performance, starting with a front-wheel-drive base and adding responsive AWD that can send some, but certainly not all, drive rearward.
Heavy as it may be, the M235i is a fast car, dispatching 0-100km/h sprints in reliably less than five seconds and, driven within the limits of it chassis, devouring corners with alacrity. With 19-inch wheels shod in Bridgestone Potenza rubber, it turns in better its sorely under-tyred, ContiSportContact-wearing M135i sibling, and deliberate but linear throttle inputs see it torpedo out of corners with plenty of traction.
The base 218i is a fair bit slower everywhere but its warbling three-cylinder engine is the charmer of the range. The three-pot is paired to a dual-clutch automatic which is a pretty good example of its type, as you don't really notice it. The 218i's even lighter nose makes it pretty entertaining to drive sportily. It's handy that on its 18-inch wheels, the 218i rides better and on Australia's pockmarked rural roads, that can mean the base car actually makes more enjoyable progress.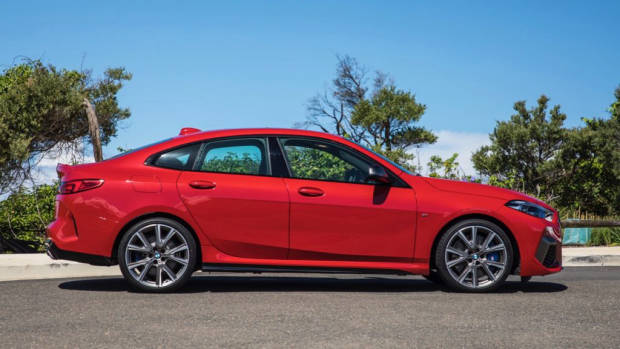 Unfortunately, the M235i's big wheels cause it to ride pretty poorly on Australian roads. The 19s can only be had with fixed M Performance dampers, which transmit plenty of road feel – and firmness – into the cabin. Encounter a mid-corner bump and there's not much give in the tyre or springs, meaning the M235i can hop laterally with a big intervention from the trick new wheel-by-wheel stability control system. Unlike in a rear-drive BMW, getting on throttle doesn't do much either: there's not a particularly perceptible moment of drive being sent to the rear axle.
You can downsize the M235i to 18-inch wheels (at no cost), and further add adaptive dampers to the 18s (for $400), and we'd recommend that. One M235i on 18s and fixed dampers was available on launch and the improvement was evident. Or, you could buy a 330i – on its standard 19s and adaptive dampers – which rides very well indeed, because the 3 Series sits on a much more expensively developed platform.
Good thing there's little to complain about when it comes to the refinement – this is a quiet, largely vibration-free car – or the brakes, which in the quick M235i are very much up to scratch. Visibility is a little restricted rearward thanks to the flowing roofline, but it's not terrible.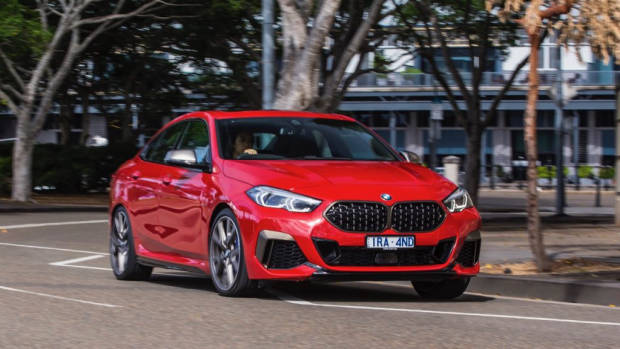 The lack of standard full autonomous emergency braking (AEB) is disappointing, though. Full AEB has the capability to fully stop a car without driver intervention if you're driving at an obstacle and not stopping. If this potentially lifesaving tech can be standard on a base model Volkswagen Polo, it's can be standard on a $50k+ BMW. Partial AEB is standard; you have to option adaptive cruise for it to be upgraded to full.
The 2 Series Gran Coupe scores plenty of points back inside, though – we like this car's well-built, restrained cabin. It's a refreshing counterpoint to the Mercedes-Benz CLA's flashy interior: we think the two different designs will suit different buyers. In the BMW, you'll find plenty of soft plastics, smartly integrated technology with both touchscreen and hard rotary dial inputs – plus standard wireless Apple CarPlay. There's a feeling of solidity in the fittings, too.
The 218i can be specified with a range of interior options: the standard cloth seats are supportive and breathable, though black, white, and chocolate brown leather is also available. In the M235i, you get cool sports seats in black or magma red leather, or you can have the seat trimmed entirely in Alcantara.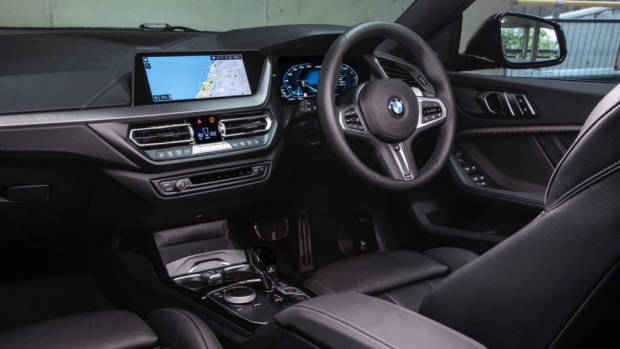 While space is good up front, the back seat is tight. Six-foot adults will struggle for both headroom and legroom, but children or smaller people will cope. Of course, BMW has two station wagons and seven SUVs for those wanting true practicality, though the 430L boot is pretty spacious.
The entry-level 218i is dressed up as an M Sport grade by default in Australia, and includes a head-up display, twin 10.25-inch screens, wireless smartphone charging, LED headlights, a six speaker 100-watt stereo, lane departure warning, forward collision warning, city-speed AEB, rear cross traffic alert, and speed limit recognition.
The M235i ups the power and specification to include M Sport brakes and steering, a rear spoiler, 19-inch wheels, keyless access to all doors, support for an Android phone key, electric adjustment for the front seats with driver's memory, adaptive LED headlights, auto high beam, and a 464-watt 16-speaker Harmon Kardon stereo.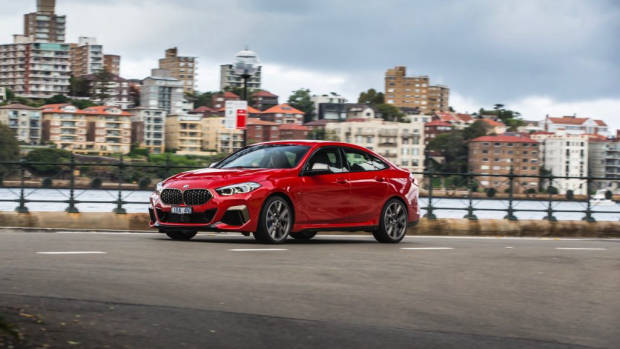 Like other BMWs, the 2 Series Gran Coupe is offered with a three-year warranty that is now looking a little short after Mercedes-Benz Australia recently announced it would go to five years of coverage starting this month. Service plans can be purchased up front for the 2 Series Gran Coupe at attractive prices, however.
The BMW 2 Series Gran Coupe is, then, an interesting new option for buyers looking for a well-made, compact, luxurious four-door. While we'd still be looking carefully at the more traditional 3 Series as an alternative – and of course at this car's chief rivals from Mercedes-Benz and Audi – the M235i and 218i are certainly worth consideration.