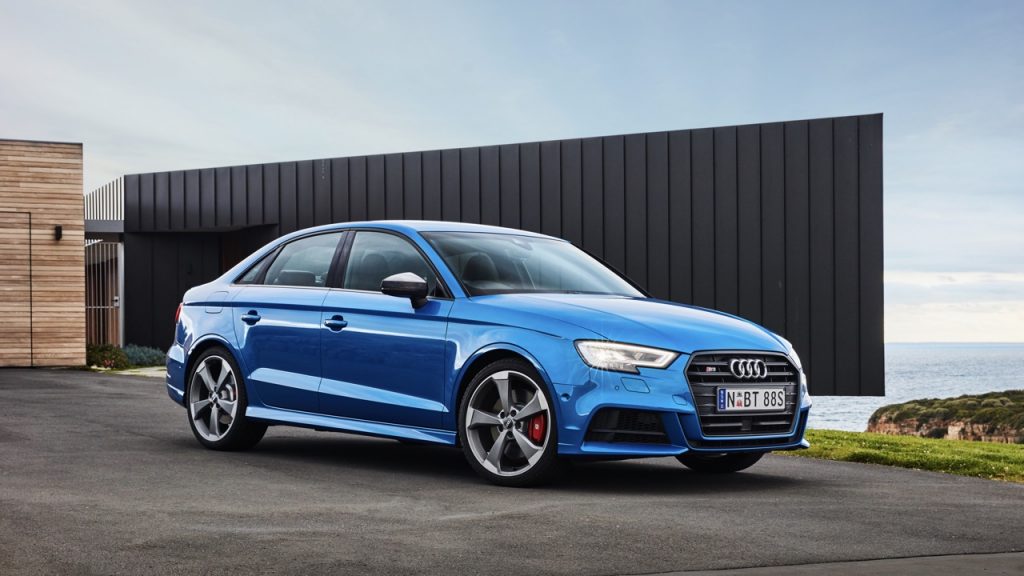 2020 Audi S3 sedan review
For a car entering its eighth year of service, the biggest surprise of the 2020 Audi S3 is just how gracefully this sporty small car is ageing. Crisply styled outside and in, the looks have held up with only minimal facelifting mid-life. A combination of quick steering, an agile chassis and a boosty turbo four have kept the excitement factor very much alive.
The fact that an all-new replacement for the third-gen S3 is now on the horizon means that pencils are sharpening at Audi dealerships, meaning there is also good potential to pick up this desirable small car at an attractive price – you'll likely do better than the $65,800 ($72,291 driveaway) price of the sedan on test here.
A more classic S3 hatchback is offered alongside the small four-door sedan on test here, and the (more practical) hatch is also $1,600 more affordable – but if you like your German performance cars with a boot, the saloon-body S3 sports better looks than the Mercedes-Benz A-Class and CLA twins, or the forthcoming BMW 2 Series Gran Coupe.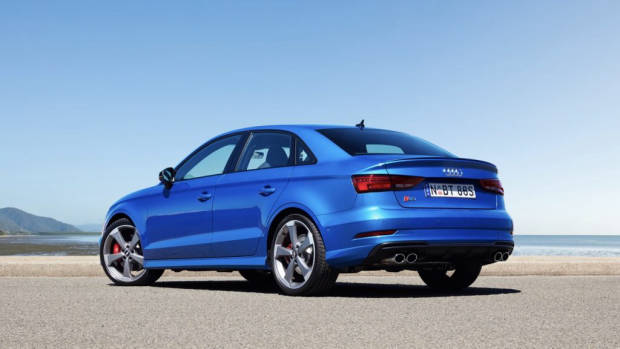 Inside, quilted Nappa leather seats and a gorgeously simple and attractive dash layout lift interior quality to heights still unmatched in the small car segment. Even as rival Mercedes-Benz has made gains here, Audi still does interiors best. The black-and-aluminium scheme of our test car was deeply Teutonic; Audi also offers a brighter grey hide.
The S3 sports a one-generation-old Audi cabin, though – not that we think this is a problem. Actually, the S3's rotary MMI-driven infotainment is more intuitive and safer to use than the touch screens that feature on newer Audis, like the 2020 Q3 SUV we tested earlier this month. But there are signs of ageing: the standard wireless smartphone charging is poorly located underneath the driver's armrest.
Audi's impressive Virtual Cockpit – a huge digital display for the driver, which can present a full satellite map – is standard at this level. Combined with a good standard stereo, Apple CarPlay and Android Auto, there is a useful level of modern technology. That said, the S3 doesn't get Audi's internet-driven Connect Plus system of its newer siblings, which offers features like internet radio and live fuel prices.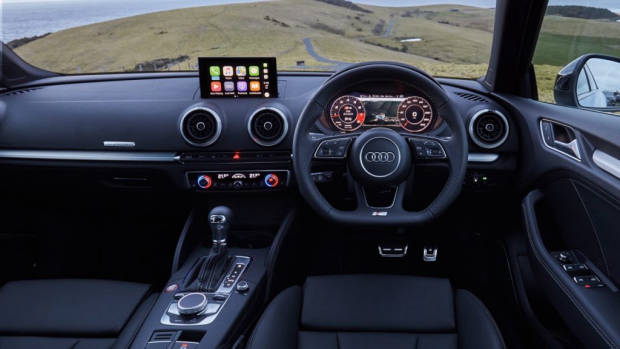 Also, there are some areas where we think value is poor: the seats may be comfortable, heated and impressively appointed, but their movement is manual. Electric adjustment with memory is relegated to the options list, which feels cheap on a $72,000-driveaway vehicle.
The back seat is spacious enough for two adults – three would be a real stretch – but there are air vents back there, the plush material quality continues, and headroom is fine even in the sedan thanks to its conventional roofline.
That sedan form factor is one of the biggest differentiators of the Audi S3 over its closely-related platform-sharing cousin – the Volkswagen Golf R. These two cars are deeply similar, mechanically, though the Audi outclasses the Volkswagen by a country mile inside and by a slimmer margin on the road.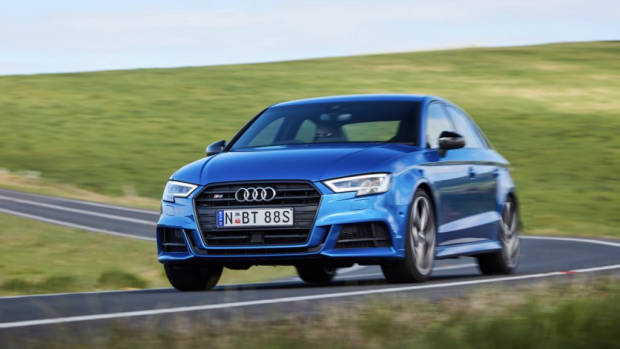 Under the bonnet the S3 utilises the same 213kW/380Nm 'EA888' 2.0-litre turbocharged petrol four-cylinder engine as the Golf R. Like the Volkswagen, the Audi sends torque to a Haldex-style all-wheel-drive system via a seven-speed wet dual-clutch automated gearbox.
The result is blistering straight-line pace – to the tune of a 4.8s 0-100km/h dash – even though the S3 is Audi's fastest small car: that's the $18k-dearer RS3, which uses a unique-to-Audi 2.5-litre five-cylinder engine kicking out 294kW/480Nm and hitting triple figures 0.7s faster. But the RS3 remains stuck in emissions testing delays, so the S3 is the quickest A3-derived Audi on sale in Australia right now.
While the S3's convincing turbo four-pot and dual-clutch combo can fire off party-trick launch control starts, the more impressive element to this Audi's pace comes from its outstanding point-to-point athleticism.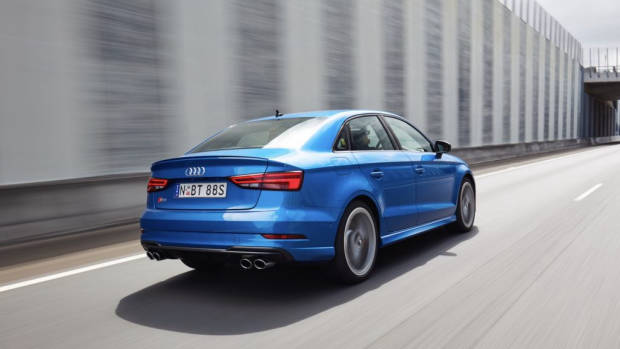 Armed with stacks of grip, a compliant ride, awesome tractability from the Quattro-badged AWD system and a well-tuned, lightning-fast transmission, the Audi S3 is a delight to fang up hill and down dale. On our country testing roads outside Sydney, the Audi offered up a rare blend of confidence-inspiring handling and grand touring ride comfort.
Audis have long been criticised for clinical dynamics but this claim does not apply to the S3, its short 2.6m wheelbase and pliant stability control system offering keen drivers little powerslides from all four wheels exiting a damp corner. But then the Pirelli rubber grips up and the next corner approaches at speed.
For those not looking to drive to the ragged edge of the S3's superb chassis, the fast-ratio, connected steering is enjoyable at any speed, offering up just-firm-enough weighting in the lighter of its two settings. And the breathable, adaptively-damped suspension means the S3 is comfy enough in town while controlling movement from the 19-inch wheels over pockmarked Australian country roads.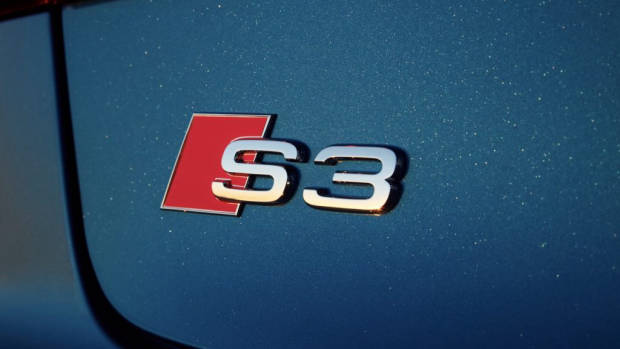 Maybe that quad-tipped exhaust could be a bit louder: it offers giggle-inducing fart sounds on hard upshifts from the dual-clutch but only slightly evident pops from throttle lifts. The rest of the time, the exhaust note isn't especially inspiring. Things couldn't be more different in the screaming five-pot RS3.
Other criticisms? The driver's seat is set too high for our tastes. It never feels like you're sitting low enough within the vehicle. And there's considerable road noise on coarse chip surfaces from the Pirelli P Zero 235/35 R19 tyres as a tradeoff from their high grip levels.
And then there's a problem common to all German luxury cars: short warranties. While middle-market brands all offer five-year coverage to their customers in Australia, Audi, Mercedes-Benz and BMW do not echo this level of confidence in their vehicles. All offer three years. At least Audi's coverage does not limit your mileage in those 36 months. Notably, the mechanically similar Volkswagen Golf R has a five-year warranty.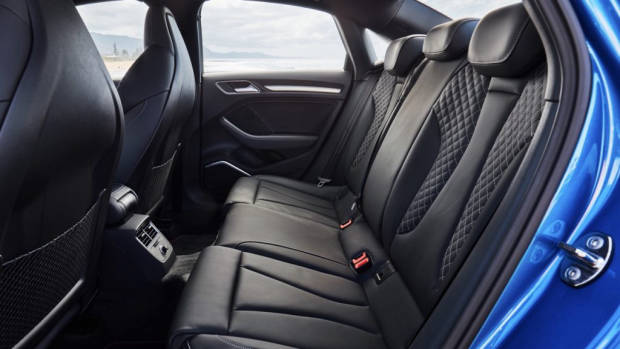 Servicing the S3 is done at the first of annual or 15,000km increments, and you can pay for it up front: $1,850 for three years ($616 per service on average) or $2,380 for five years ($476 per service on average). These packs are transferrable to subsequent owners.
In sum, the Audi S3 still makes a lot of sense. This is an attractive small luxury car that packs a beautifully appointed interior and offers an engaging driving experience. It feels fast, comfortable and secure on Australian country roads. Given this S3 is approaching the end of its life, the potential to secure a great deal is high – which would only sweeten the experience even more.