Modest price hikes across Audi's A3 and S3 range of hatches, sedans and cabriolets are offset by bumps in both power and efficiency.
List prices increase by $300 for all A3 models, reflecting the lower buying power of the Australian dollar. There are two exceptions – the 2.0-litre diesel Sportback model which increases by a dearer $400, and the 1.6-litre TDI diesel hatch, which remains unchanged, at $36,900.
Every model gains power or betters its fuel economy. The base engine – the 1.4-litre TFSI turbo petrol, shifts to 92kW (+2 kilowatts), while the newer 1.4-litre TFSI cylinder-on-demand motor is bumped up 7kW to 110kW. The base 1.6-litre diesel gains 4kW, moving it to 81kW.
The larger petrol and diesel among the A3 range – the 1.8 TFSI petrol and 2.0 TDI diesel, retain their power figures but see consumption gains of 0.1L / 100km – shifting to 5.6L / 100km (front-wheel-drive petrols), 6.5L / 100km (quattro petrols), or 4.4L / 100km (diesels).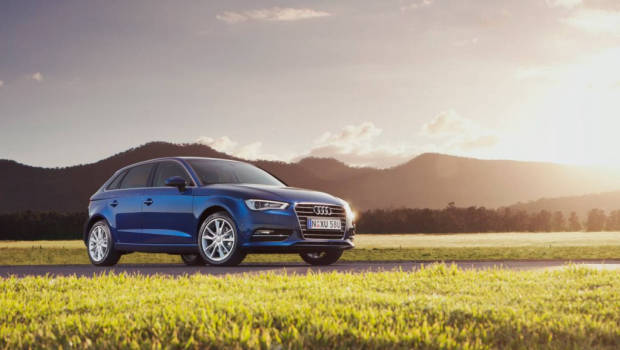 The S3, available in sportback, sedan and cabriolet guises with the same 2.0-litre TFSI turbo petrol, sees a power gain of 4 kilowatts, taking it up to 210kW for 2015. However, that rise comes at a cost: S3 models are up $1,200, moving the basic Sportback over $60,000.
The updated Audis are available now.
2015 Audi A3 and S3 range: pricing
All prices are RRP list prices, before on-road costs or options.
A3 Sportback
1.4 TFSI manual: $35,900
1.4 TFSI automatic: $35,900
1.6 TDI automatic: $36,900
1.4 TFSI COD automatic: $38,500
1.8 TFSI manual: $43,100
1.8 TFSI automatic: $43,100
2.0 TDI automatic: $43,200
1.8 TFSI quattro automatic: $46,100
A3 Sedan
1.4 TFSI COD automatic: $40,100
1.8 TFSI automatic: $45,400
2.0 TDI automatic: $45,500
1.8 TFSI quattro automatic: $48,400
A3 Cabriolet
1.4 TFSI COD automatic: $47,600
1.8 TFSI automatic: $52,200
2.0 TDI automatic: $52,200
1.8 TFSI quattro automatic: $55,200
S3
Sportback quattro manual: $61,100
Sportback quattro automatic: $61,100
Sedan quattro manual: $63,400
Sedan quattro automatic: $63,400
Cabriolet quattro automatic: $70,500