Alongside the new A3 Sportback Audi has revealed a sleek four-door Sedan body style of its small car, a move that has historically been popular in Australia. The updated Sedan is due in Australia in the first half of 2021.
Small sedans seem to be cool again, with BMW's latest effort – the polarising 2 Series Gran Coupe – and slick Mercedes-Benz A-Class Sedan already proving popular.
And first impressions are favourable for the A3 Sedan, Audi appears to have worked out the proportions of the small Sedan better than competitors. Instead of looking overly tall, the A3 Sedan looks on the surface just like a shrunken A4, a good thing we reckon.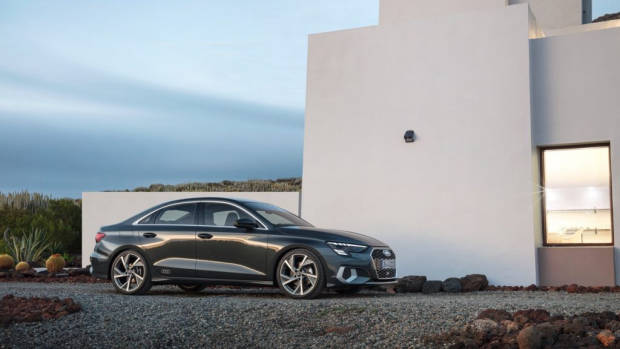 Crisp exterior lines enhanced by the pictured car's S-line exterior package that brings a more generous front grille, chunkier side skirts and a lovely set of alloy wheels.
It's the front end that's most noticeably new, Audi's hexagonal grille is flanked by fetching Matrix LED lights, with a slit between the bottom a homage to the original Audi Quattro.
Aerodynamics favour the Sedan body-shape, the latest A3 returns an impressive 0.25 cd, 0.04 points improved from the previous generation and 0.03 better than the new Sportback.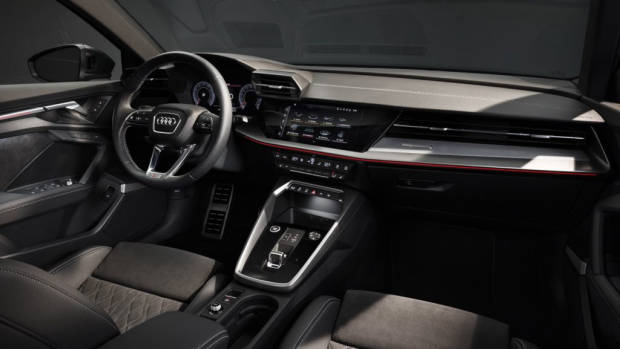 The interior mirrors that of the new A3 Sportback with a 10.1-inch touchscreen nestled neatly into the centre stack and a pleasing lack of buttons. It's hard to ignore Audi's excellent 10.25-inch digital driver's display which we think is best-in-class.
Based on the same MQB platform as before, the new A3 Sedan has grown 20mm in width to 1,820mm and 10mm in height to 1,430mm to alleviate the previous car's headroom concerns. A 425-litre boot is pretty generous but remains identical to the outgoing A3 Sedan
Engines on offer in Europe include a turbocharged petrol dubbed 35 TFSI; it's a 1.5-litre four-cylinder with outputs of 110kW and 250Nm. A six-speed manual is available, though Australians will favour the seven-speed dual-clutch 'box.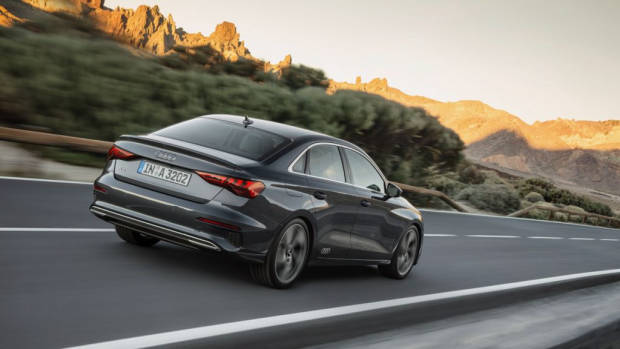 Dual-clutch equipped A3 Sedans have the added benefit of a 48-volt MHEV system, allowing coasting and extended start-stop cycles for maximum frugality.
There's also a two-litre diesel 35TDI producing 110kW and a generous 340Nm of torque. We presume Audi's two-litre 40TFSI turbocharged four-cylinder petrol engine with its more generous outputs of 140kW and 320Nm will appear in reasonably short order.
It's almost unquestionable that Audi will bring along several performance variants such as a warm S3 to compete with the BMW M235i and a feisty RS3 to take traffic-light GP honours from the manic AMG CLA 45 S.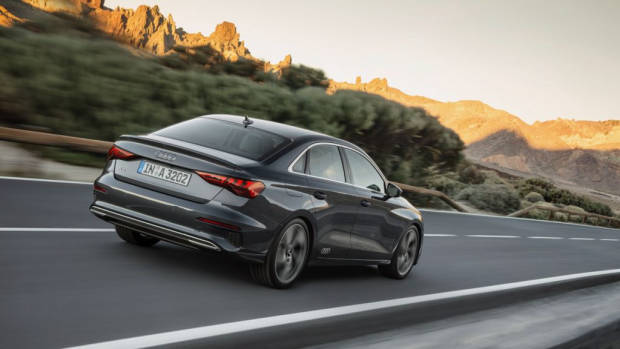 In pictures the A3 Sedan certainly looks sharp, it might not be particularly extroverted, but even Audi refer to it as an "evolution". With the recent resurgence of the small Sedan, it's sure to be a hit when it arrives.
We'll have more information about pricing and specification for the A3 Sedan closer to its launch in the first half of 2021.