The Chasing Cars review of the latest T6.2 Ford Ranger is now live on both our YouTube channel and at chasingcars.com.au. 
Journalist Iain Curry was the lucky one from our office who got to sample the brand new Ranger and drive it for the very first time. 
Curry was impressed by the standard interior fit and finish and cabin technology of the Ranger lineup, along with solid handling, 'tough-guy' looks and smooth 10-speed automatic transmission.
But some points of improvement for the range of utes were a jittery ride over small bumps in the road surface and that the V6 engine is not "an all-out powerhouse". 
Curry also tested the Ranger Wildtrak, praising the 12-inch portrait-style touchscreen and V6 grunt, but again commented about the sub-par ride and the lack of paddle shifters. 
If the new Ford Ranger Wildtrak is not enough grunt for you, the Ranger Raptor with its twin-turbo V6 engine will arrive in August 2022, but make sure you get in quick as wait times are now over nine months long.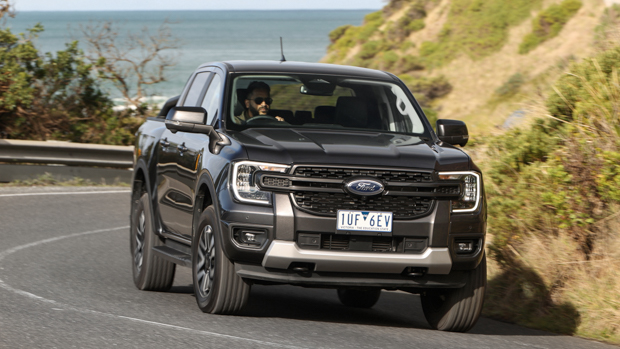 High points of the Ford Ranger
Available diesel V6
Standard interior fit and finish
Solid handling
Smooth 10-speed automatic transmission
Excellent 12-inch touchscreen (Wildtrak)
Points to improve for the Ford Ranger
Jittery ride over small bumps
Lack of paddle shifters
Fully optioned Wildtrak gets expensive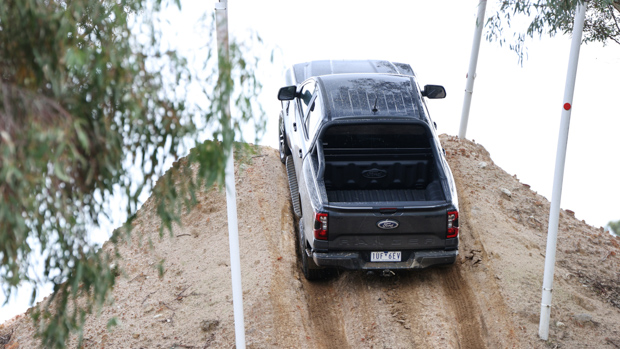 Read more about the Ford Ranger below!
Fast facts about the new Ford Ranger
The Ford Ranger welcomes a turbo-diesel V6 engine for the first time, producing 184kW of power and 600Nm of torque and is mated to a 10-speed automatic transmission.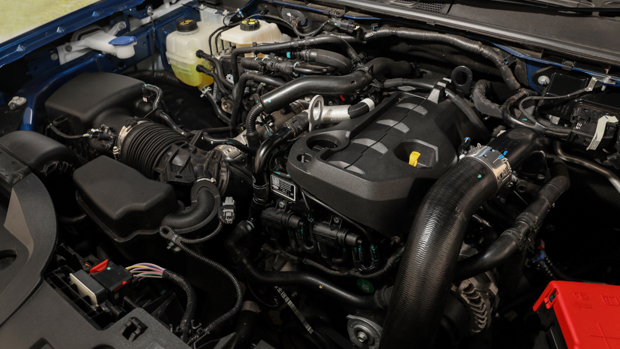 The new Ranger will be available in single and dual-cab variants, and for those who want a more frugal engine, single and twin-turbo diesel four-cylinders will be available, too.
A high performance Ranger variant is coming soon and will be called the Ranger Raptor. This beast will feature a twin-turbocharged petrol V6 engine producing outputs of 292kW/583Nm, making it the most powerful Ranger yet.
The Ranger lineup will start from $35,930 for a single cab 4×2 variant and will run right up to the flagship Raptor that will be priced from $85,490 before on-road costs.
Ford's Ranger will be able to tow 3500kg braked across the range, except for the Ranger Raptor which can only tow 2500kg.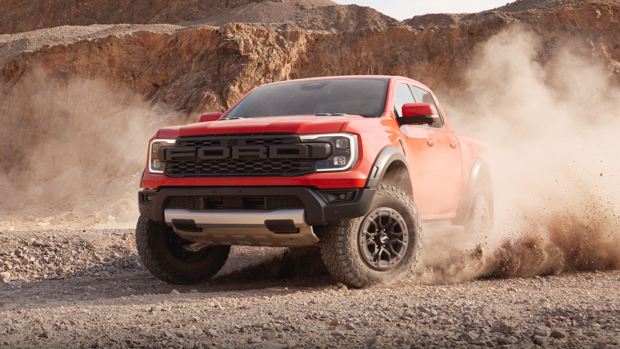 There are six variants to choose from, including XL, XLS, XLT, Sport, Wildtrak and Raptor for 2022.
The Ranger rides on the platform as the soon-to-be-released next-gen Volkswagen Amarok that will also use a V6 engine.
We hope you enjoy our Ranger review video, and don't forget to like and subscribe over at our YouTube channel!
Ford Ranger 2022: prices in Australia
All prices listed are before on-road costs.
XL 4×2 HR Single CC 2.0L SiT 6AT $35,930
XL 4×2 HR Super CC 2.0L SiT 6AT $38,430
XL 4×2 HR Double CC 2.0L SiT 6AT $40,430
XL 4×2 HR Double PU 2.0L SiT 6AT $42,330
XLS 4×2 HR Double PU 2.0L BiT 10AT $46,730
XL 4×4 Single CC 2.0L BiT 10AT $47,030
XL 4×4 Double CC 2.0L SiT 6AT $48,030 
XL 4×4 Super CC 2.0L BiT 10AT $49,530 
XL 4×4 Double PU 2.0L SiT 6AT $49,930 
XL 4×4 Double CC 2.0L BiT 10AT $51,530 
XL 4×4 Super PU 2.0L BiT 10AT $51,430
XL 4×4 Double PU 2.0L BiT 10AT $53,430 
XLT 4×2 HR Double PU 2.0L BiT 10AT $53,990
XLS 4×4 Double PU 2.0L BiT 10AT $54,330
XLT 4×4 Super PU 2.0L BiT 10AT $59,190 
XLT 4×4 Double PU 2.0L BiT 10AT $61,190 
XLT 4×4 Double CC 3.0L V6 10AT $62,290
XLT 4×4 Double PU 3.0L V6 10AT $64,190
Sport 4×4 Double PU 2.0L BiT 10AT $63,690 
Sport 4×4 Double PU 3.0L V6 10AT $66,690 
Wildtrak 4×4 Double PU 2.0L BiT 10AT $67,190 
Wildtrak 4×4 Double PU 3.0L V6 10AT $70,190
Raptor 4×4 Double PU 3.0L V6 EcoBoost 10AT $85,490