Ford Australia has released full engine details, payload and towing capability, and equipment breakdown of each model grade for the new-generation T6.2 Ranger ute line-up.
Orders for the 2022 Ranger will open next month, though it's unclear when Ford will be able to deliver its new-gen utes to customers, and official pricing is yet to be released.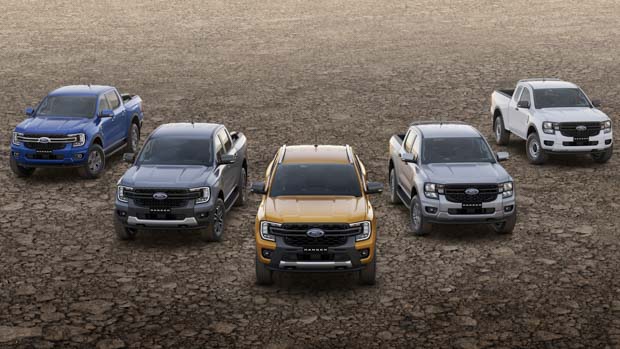 Ford will offer the new Ranger in a familiar spread of six grades consisting of the XL, XLS, XLT, Sport, Wildtrak and the high-performance Raptor.
Intended to appeal to a broad range of commercial and lifestyle ute buyers, Ford Australia will offer the Ranger as a single, extended and dual-cab-chassis, along with the popular ute body style paired with extended and dual-cab configurations.
Engines and capability
Ford will offer a choice of four engines in the 2022 Ranger including single- and twin-turbo diesel four-cylinder versions, along with a turbo-diesel V6 and a twin-turbo petrol V6 – though not all engines can be paired to all grades.
It should be noted that a manual option and the low-rider body style have been ditched for the T6.2 generation – a move that is likely to have a direct impact on the price of entry for fleet buyers.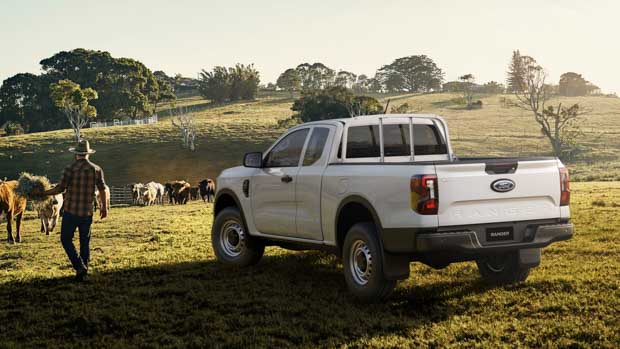 Single-turbo diesel four-cylinder
Replacing the ageing 118kW/385Nm 2.2-litre turbo-diesel four-cylinder engine as Ford's entry-level engine is a 125kW/405Nm 2.0-litre turbo-diesel four-cylinder.
The new engine is derived from Ford's popular 'Bi-Turbo' diesel engine but features a single turbocharger and is available only on the workhorse Ranger XL grade – paired exclusively to a six-speed automatic transmission, coupled to either a rear- or four-wheel-drive system.
Twin-turbo diesel four-cylinder
Available on all grades bar the Ranger Raptor is the mainstay 2.0-litre twin-turbo diesel which has lost 3kW during recent tuning by Ford Australia among efforts to improve durability, with outputs now rated at 154kW/500Nm.
The aforementioned engine, as well as the petrol and diesel V6 Rangers, are coupled exclusively to a 10-speed automatic transmission.
Ford provides the option to pair the twin-turbo diesel with rear-wheel-drive on the XL, XLS and XLT grades, a full-time four-wheel-drive system on the XLT, Sport and Wildtrak or part-time 4WD across the five grades.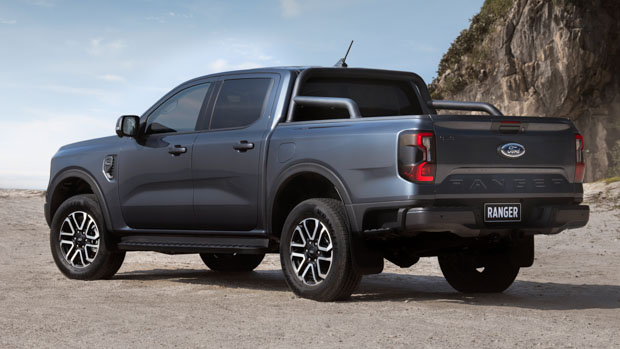 Turbo-diesel V6
Headlining the new-generation Ranger is the availability of a 3.0-litre turbo-diesel V6 engine which produces 184kW and 600Nm – making it the torquiest in the range.
The turbo-diesel V6 is only available in the dual-cab body style, with Ford offering a cab-chassis option exclusively in XLT guise while those who opt for the popular ute body style have a broader range of XLT, Sport and Wildtrak grades to pick from.
Twin-turbo petrol V6
The high-performance Ranger Raptor exclusively features a 3.0-litre twin-turbo-petrol V6 making 292kW and 583Nm – paired to a 10-speed automatic and a full-time 4WD system.
Ford has put considerable work into making the Raptor vastly different from the core Ranger line-up so for more information, read our previous articles.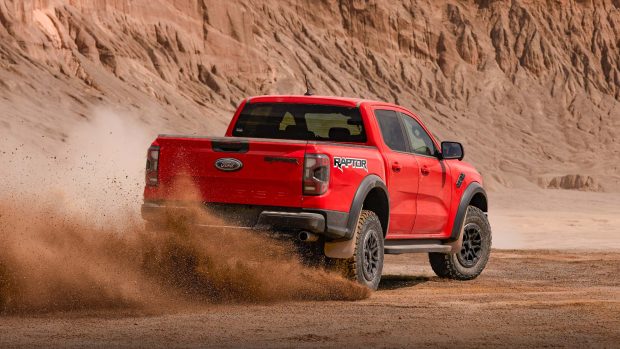 Towing capacity, payload and more
The T6.2 Ranger continues with a headline towing capacity of 3500kg braked with the only exception being the Raptor variant that maintains its 2500kg rating.
Payload varies depending on which grade, engine and body style is selected but the most capable option is the Ranger XL 2.0-litre turbo-diesel 4WD single-cab-chassis which can carry 1327kg while the weakest is the Ranger Raptor with a 753kg payload.
The Ranger offers a gross combined mass (or GCM) of between 6200-6400kg across the bulk of its line-up with the Raptor slightly down at 5370kg.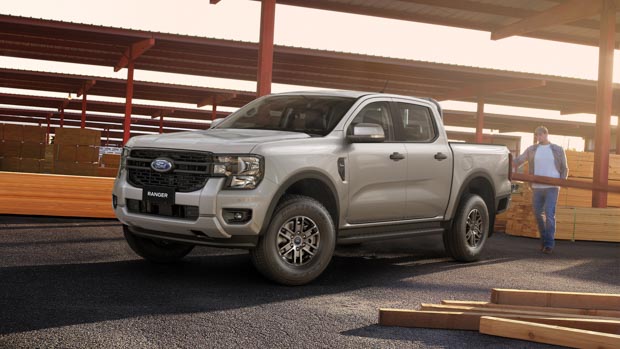 What does each grade of the Ranger include?
Ranger XL
Available on: single, extended and dual-cab-chassis or extended and dual-cab utility.
Drivetrain: 2.0-litre single- and twin-turbo-diesel 4cyl with RWD or 4WD
Kicking off the Ranger line-up is the entry-level XL grade which features a choice between single- or twin-turbo diesel engines with rear-drive or 4WD.
Cab-chassis buyers can pick between single, extended and dual-cab variants while those opting for a traditional ute layout can pick between the extended or dual-cab option.
The strictly-business XL rolls on steel wheels, has a vinyl floor and fabric seats inside with eight- and four-way power adjustment on the driver and front passenger side respectively.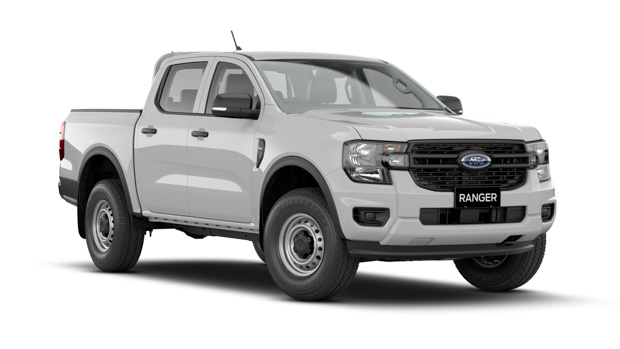 The cabin also features a 10.1-inch touchscreen with wireless Apple CarPlay and Android Auto, along with an 8.0-inch digital instrument cluster.
Steel underbody protection is fitted underneath as standard along with halogen headlights upfront and a locking rear differential on 4WD models, though it can be optioned to RWD models as well.
The safety package includes passive safety like the inclusion of nine airbags along with driver assistance features like adaptive cruise control, AEB and lane-keep assist while only extended-cab and dual-cab models receive blind-spot monitoring, a reversing camera and rear parking sensors.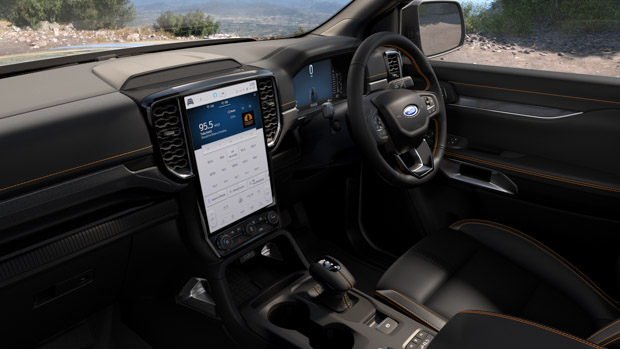 Ranger XLS
Available on: extended-cab and dual-cab ute
Drivetrain: twin-turbo-diesel 2.0-litre RWD and 4WD
The Ranger XLS continues as the value option for buyers looking for a pick-up-style ute but it does receive some extras over the base XL.
Moving up to the Ranger XLS adds a 16-inch alloy-wheel option, a black grille design, halogen fog lights, front parking sensors and a nicer cabin with carpeted flooring and a six-speaker sound system.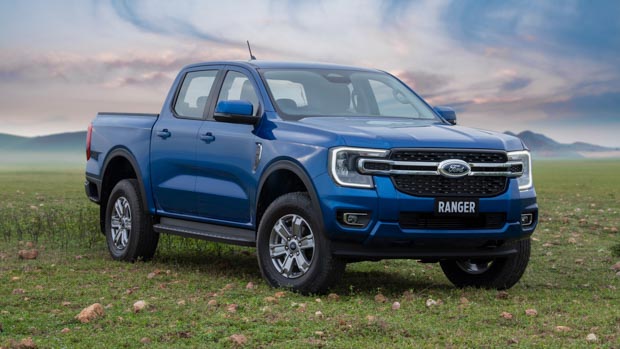 Ranger XLT
Available on: extended-cab and dual-cab utilities or dual-cab chassis.
Drivetrain: twin-turbo-diesel 2.0-litre in RWD or 4WD, 3.0-litre turbo-diesel V6
Building on the equipment introduced on the XLS, the Ranger XLT features a new grille design and gains 17-inch alloy wheels, LED headlights, a sports bar and a bed liner.
Ford also fits a tow bar as standard along with rear disc brakes which it says improves towing ability, undoubtedly due to the increased dissipation of heat.
The interior also gains dual-zone climate control, satellite navigation and a voice assistant along with a leather-clad steering wheel and shifter.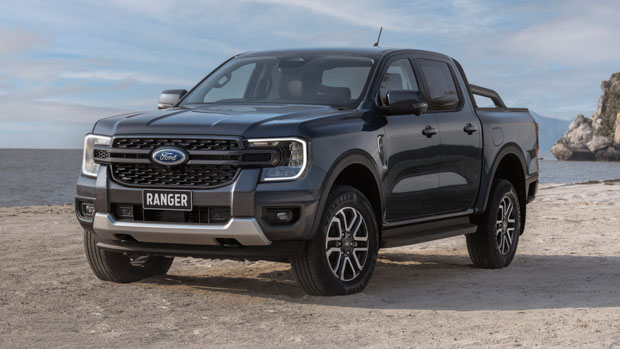 Ranger Sport
Available on: dual-cab utility
Drivetrain: 2.0-litre twin-turbo-diesel 4WD, 3.0-litre turbo-diesel V6 4WD
Stepping up to the Ranger Sport sees the Ranger become a 4WD-only proposition with a more aggressive design featuring a skid plate, darker exterior accents including the grille, and 18-inch alloy wheels.
Inside, the buyers gain leather upholstery with eight- and six-way power adjustment on the driver and passenger front seats, along with tech features such as a wireless phone charger and a dedicated off-road drive-mode program.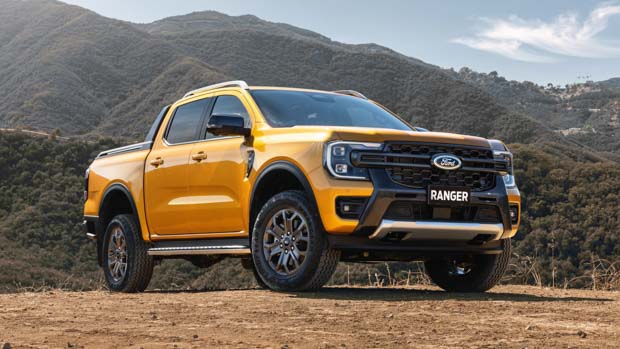 Ranger Wildtrak
Available on: dual-cab utility
Drivetrain: 2.0-litre twin-turbo-diesel 4WD, 3.0-litre turbo-diesel V6 4WD
Serving as the go-to grade for lifestyle ute buyers, the Ranger Wildtrak features a unique 18-inch alloy-wheel design along with extras such as roof rails, a power roller shutter, more tie-down points in the tray and puddle lamps.
The cabin gains unique Wildtrak leather upholstery with eight-way power adjustment and heating across both front seats.
Buyers also gain upgraded technology such as a larger 12.0-inch touchscreen, 360-degree camera, ambient lighting and active park assist.
Ranger Raptor
Available on: dual-cab utility
Drivetrain: 3.0-litre twin-turbo-petrol V6 4WD
The Ranger Raptor is the undisputed halo model in the range and is dressed to stand out with wider wheelarches hiding Fox racing 2.5-inch live-valve suspension dampers.
Its beefy 17-inch wheels are wrapped in the same BF Goodrich K02 tyres as the outgoing model, joining a number of off-road-focused upgrades including a 2.3mm steel front bash plate and an electronic locking rear differential.
The Ranger Raptor receives many exclusive upgrades including a 12.4-inch digital driver's display, Matrix LED headlights, a variable exhaust and 'FORD' lettering in the front grille.
More information and official pricing are expected to be released in the coming weeks as Ford Australia prepares to officially open the order books in April.