The upcoming Ford Ranger Raptor super-ute is proving to be quite the sensation in Australia, with 4000 orders already placed for the new performance dual-cab ahead of the new Raptor's August 2022 Australian release date.
As of June 2022, if you want to order the hot new Raptor model, Ford Australia has said you will be waiting at least nine months from the time of ordering to picking up your brand-new Raptor.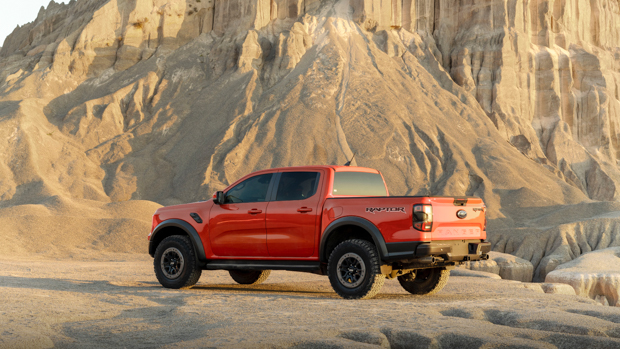 Although nine months does seem like a long time to wait for a brand-new vehicle, brands such as Toyota are experiencing severe delays for new cars – some customers will have to wait up to 18 months for their Toyota Hilux. 
The new Ford Ranger Raptor has the longest wait time at the moment when compared to the new Everest (estimated at seven months) and Ranger Wildtrak (estimated at eight months), while other variants in the Ford lineup have much shorter waiting times such as the Ranger Sport or XLT variants which Ford Australia says can be in customer's driveways much quicker. 
The Raptor is priced at $85,490 before on-road costs and is $6100 more expensive than the outgoing four-cylinder turbo-diesel Raptor – but the new model is a staggering 90 percent more powerful.
What is the Ranger Raptor and why is it an important model for Australia?
The Raptor variant of the Ford Ranger has always been the most hardcore and rugged ute produced by Ford, and utilises specialised off-road Fox suspension, a powerful engine (in the new generation) and the ability to conquer fast off-road courses with ease. 
But the new Raptor's heart and soul will be a 3.0-litre twin-turbocharged V6 engine producing 292kW/583Nm, a massive 138kW/83Nm over the outgoing model. This engine will be paired to a 10-speed automatic transmission. No manual version will be offered.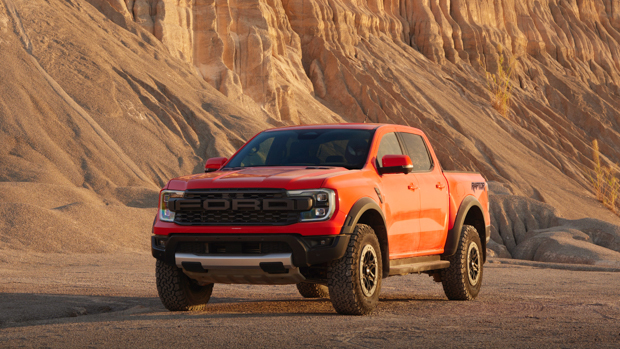 Some special components on the new Ranger Raptor include Fox shock absorbers with adaptive damping, a variable, valve-controlled exhaust system and an anti-lag system to keep the twin turbochargers constantly spooled and ready for action.
Several accessories will be available for the Raptor, including 17-inch beadlock-capable alloy wheels, BF Goodrich all-terrain tyres and an optional 'sticker pack' to make the Raptor stand out from the crowd.
The Ford Ranger Raptor will be released in Australia in August 2022.
Ford Ranger 2023: prices in Australia
All prices listed are before on-road costs.
XL 4×2 HR Single CC 2.0L SiT 6AT $35,930
XL 4×2 HR Super CC 2.0L SiT 6AT $38,430 (+$1,040)
XL 4×2 HR Double CC 2.0L SiT 6AT $40,430 (+$1,040)
XL 4×2 HR Double PU 2.0L SiT 6AT $42,330 (+$1,540)
XLS 4×2 HR Double PU 2.0L BiT 10AT $46,730 (New model)
XL 4×4 Single CC 2.0L BiT 10AT $47,030 (+$1,740)
XL 4×4 Double CC 2.0L SiT 6AT $48,030 (+$740)
XL 4×4 Super CC 2.0L BiT 10AT $49,530 (+$240)
XL 4×4 Double PU 2.0L SiT 6AT $49,930 (+$1,240)
XL 4×4 Double CC 2.0L BiT 10AT $51,530 (+$240)
XL 4×4 Super PU 2.0L BiT 10AT $51,430 (+$2,240)
XL 4×4 Double PU 2.0L BiT 10AT $53,430 $740
XLT 4×2 HR Double PU 2.0L BiT 10AT $53,990 (+$700)
XLS 4×4 Double PU 2.0L BiT 10AT $54,330 (+$1,840)
XLT 4×4 Super PU 2.0L BiT 10AT $59,190 (No change)
XLT 4×4 Double PU 2.0L BiT 10AT $61,190 (No change)
XLT 4×4 Double CC 3.0L V6 10AT $62,290 (New model)
XLT 4×4 Double PU 3.0L V6 10AT $64,190 (New model)
Sport 4×4 Double PU 2.0L BiT 10AT $63,690 (New permanent model)
Sport 4×4 Double PU 3.0L V6 10AT $66,690 (New permanent model)
Wildtrak 4×4 Double PU 2.0L BiT 10AT $67,190 (+$1,100)
Wildtrak 4×4 Double PU 3.0L V6 10AT $70,190 (New model)
Raptor 4×4 Double PU 3.0L V6 EcoBoost 10AT $85,490 (+$6100)