Mini has detailed the facelifted Hatch and Convertible range which will launch in Australia in the second half of this year with a starting price of $37,500 (before on-road costs).
The entry price represents a $2,350 price jump over the current model but Mini has loaded up its iconic small car with upgraded tech and refined safety features while offering increased personalisation for no extra cost.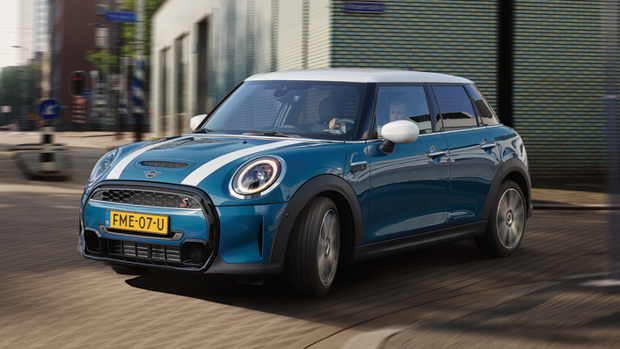 Mini continues to offer their core model in the base Cooper variant and sportier Cooper S model in a choice of three or five doors, while the full-fat John Cooper Works (JCW) models are reserved for two doors. 
An all-electric model is also offered which we have detailed in another article.
The brand has renewed its commitment to the manual transmission across the range with a spokesperson from Mini Australia telling Chasing Cars they would "not get rid of the manual option in the near term, at least in the three-door models" but its end date is still near with Mini committed to going fully-electric by the early 2030s.
Mini Cooper detailed:
Opening up the range, the Cooper starts at $37,500 in the three-door and $38,500 in the five-door with the Convertible carrying a slight premium across the range and starts at $43,680 (all before on-road costs).
All Mini Cooper models use a 1.5L turbo three-cylinder engine making an unchanged 100kW of power and 220Nm of torque.
The six-speed manual will be offered alongside the seven-speed dual-clutch as no-cost option, with both sending power to the front wheels for a decent 0-100km/h time of up to 8.2 seconds.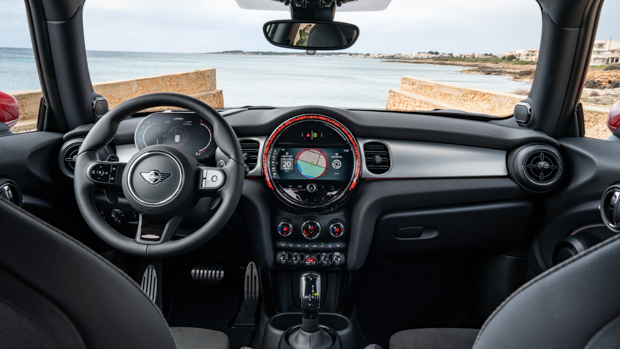 Mini has fitted an 8.8-inch screen as standard in the entry-level Cooper Classic with wireless Apple CarPlay built in but no Android Auto at the moment, which works in conjunction with the wireless phone charger.
Buyers can choose between two 16-inch wheel options and multiple different bonnet stripe options, which help dress up the outside alongside the standard LED headlights and taillights. Inside Mini offers seats trimmed in either cloth or synthetic leather and throws in niceties such as adaptive cruise control.
Stepping up to the mid-tier Cooper Classic Plus, Mini offers larger 17-inch wheel options, synthetic leather sports seats with heating in the front row, a Harman Kardon sound system and a panoramic sunroof.
Mini has renamed its Cooper Exclusive grade the 'Mini Yours' which gives buyers the choice of 17 or 18-inch wheels, a Nappa leather steering wheel, a leather interior and a chequered silver interior trim.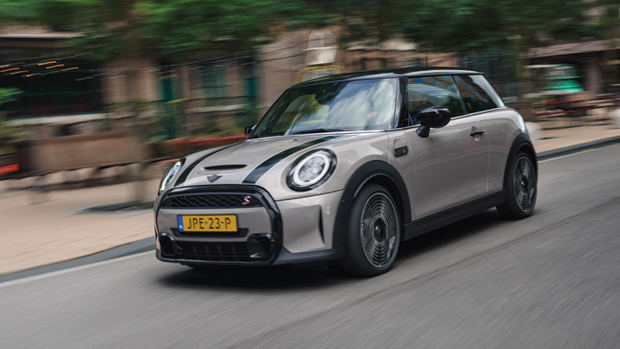 Mini Cooper S detailed:
Stepping up to the Cooper S first and foremost adds a bigger and more powerful engine, the turbocharged 2.0L four-cylinder petrol engine develops 141kW/280Nm for a brisker 6.7 second 0-100km/h time.
The base Cooper S Classic grade starts at $45,700 for the three-door, $46,950 for the five-door and $51,530. The faster model largely mirrors the Cooper in equipment but steps up to 17-inch wheels in the base model and features a fully synthetic leather interior as standard.
Mini steps up the equivalent mid-tier Cooper S grade, confusingly badged the Mini Yours, which adds a choice of different leather materials on the inside, along with niceties such as a heads-up display, larger 18-inch wheels and even some concierge services.
Sitting at the top of the Cooper S tree is the JCW Sport, which adds a specialised aero package, adaptive suspension, a Harmon Kardon sound system and JCW leather Sports seats.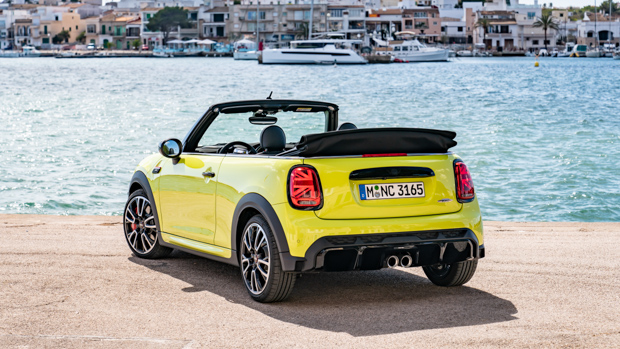 Mini John Cooper Works detailed:
If you want a Mini that is genuinely fast and not just fun, the JCW is the pick of the bunch and is a more unique hot hatch than examples such as the Honda Civic Type R and Hyundai i30N.
Mini fits a turbocharged 2.0L four-cylinder engine under the bonnet which is cranked up to 170kW/320Nm which can be had with either a six-speed manual or an eight-speed torque converter automatic which will hit 100km/h in 6.1 seconds with launch control engaged.
The Mini JCW offers a new Essential grade, which does what it says on the tin and keeps all the go-fast bits for a lower price of $54,850 in the hatch and $60,380 in the convertible.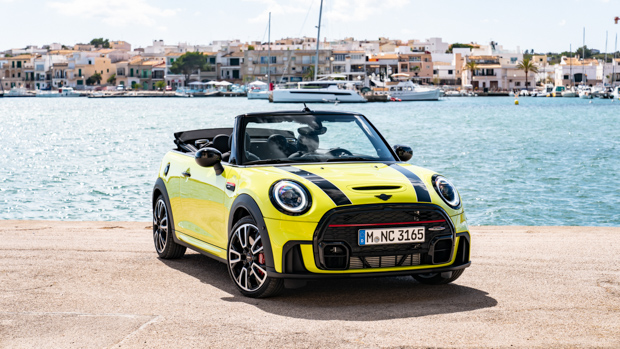 It includes performance features such as sports suspensions and JCW brakes but still includes a few luxuries such as LED headlights, a Nappa leather steering wheel and leather JCW Sports seats.
Stepping up to the Mini JCW Classic grade adds niceties such as heating in the front seats, the Harman Kardon sound system, while the top-spec JCW Mini Yours throws in a panoramic sunroof.
With so many options on display for the petrol models we'll be doing a separate article on the Mini Electric which you can find here.
Mini Hatch and Convertible 2021: prices in Australia
All prices listed are before on-road costs.
Hatch 3-door Cooper Classic: $37,500
Hatch 3-door Cooper Classic Plus: $41,000
Hatch 3-door Cooper MINI Yours: $46,000
Hatch 3-door Cooper S Classic: $45,700
Hatch 3-door Cooper S MINI Yours: $52,800
Hatch 3-door Cooper S JCW Sport: $53,200
Hatch JCW Essential: $54,850
Hatch JCW Classic: $58,850
Hatch JCW MINI Yours: $62,350
Hatch 5-door Cooper Classic: $38,500
Hatch 5-door Cooper Classic Plus: $42,500
Hatch 5-door Cooper MINI Yours: $47,500
Hatch 5-door Cooper S Classic $46,950
Hatch 5-door Cooper S MINI Yours: $54,050
Hatch 5-door Cooper S JCW Sport: $54,450
Convertible Cooper Classic: $43,680
Convertible Cooper Classic Plus: $48,180
Convertible Cooper MINI Yours: $53,180
Convertible Cooper S Classic: $51,530
Convertible Cooper S MINI Yours: $58,630
Convertible Cooper S JCW Sport: $58,880
Convertible JCW Essential: $60,380
Convertible JCW Classic: $64,380
Convertible JCW MINI Yours: $67,880