Right now, in Australia, you can buy a Mini with an electric motor and a battery that lets you drive it in town with zero tailpipe emissions. Did you know? Many don't: the introduction of the 2020 Mini Countryman S E All4 plug-in hybrid occurred locally with little fanfare. Priced at $57,200, this compact SUV with retro styling is admittedly niche, unlikely to overwhelm the decent sales of the regular petrol and diesel Countryman versions.
For some, though, the partially-electric Countryman will make a lot of sense. And the rest of us should pay attention, too, because Mini's range is perhaps one of the most likely to be all-electrified within the next decade. As you read this, the first all-electric Mini three-doors are making their way down the company's heritage production line in Oxford, which has been given a radical overhaul for the coming electric revolution.
We sampled the plug-in Countryman in its home market on a recent visit to London. That wasn't a decision merely to make cute British references easy – for starters, that would require ignoring the fact the Countryman is the only Mini to be assembled outside of the UK: it's built in the Netherlands.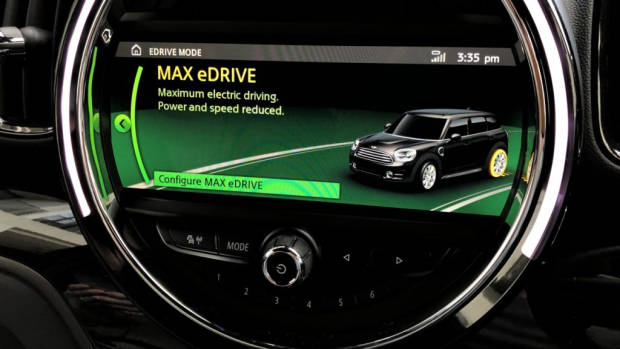 No – we primarily conducted this test in London because the UK is a much more developed EV market than Australia. Back home, we're getting on with the job of building much-needed public charging infrastructure, and household solar means the chances of home-charging working out are good. But right now, in late 2019, London should be able to show us what's possible in Sydney in the future.
Regulations on cars are much stricter here. The Countryman, which can officially drive 40km on battery power alone, is one of relatively few cars that can be driven into London's ultra-low emissions zone – the congestion charge area – at no cost. It's a move designed to incentivise zero tailpipe emissions, leading to improved air quality. Why London's smog-belching diesel taxis are given the same exception to the charge is a little baffling.
In this, the largest of Minis, the 7.6kWh battery teams with the 1.5-litre three-cylinder turbo petrol engine from the base Countryman. That 100kW/220Nm engine is modest but driven in the car's mixed mode, it produces a combined figure of 165kW/385Nm. That's why the brand badges this PHEV as a 'S' – the letter reserved for warmer-than-usual Minis. That decision makes sense, with progress underfoot feeling brisk when the engine and motor work in concert.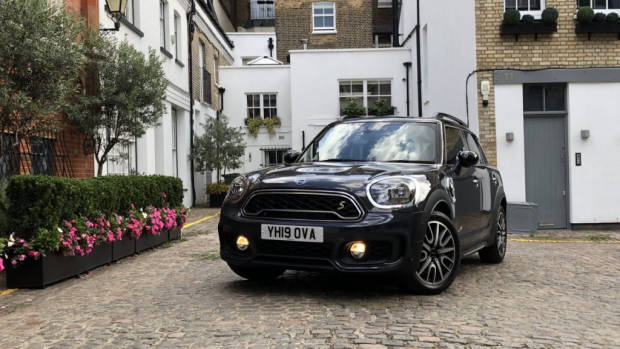 The whole point of splashing out the extra $15,300 over the 1.5-litre petrol-only Countryman, though, is to use it in electric-only mode most of the time. You do that by charging it up, either through a household power point in three hours, through a Mini-supplied wall box in two hours. The Countryman maxes out at a 22kWh charging speed which still takes two hours or so to charge it up, so it's nowhere near as fast-charging per kilometre of range as the similarly-priced, pure-EV Hyundai Kona Electric.
But is it that easy? In London, not so much. The near complete absence of household garages in this world city rules out home charging – making it rather unlike Sydney in that regard. Public charging it is, then. Ah, but remember those financial incentives for buying a plug-in hybrid? Turns out other London denizens have heard of them, too, because nearly every public charging point you pass in this city's streets is occupied.
Even with about eight pay-as-you-go chargers available in the square kilometre around our accommodation in South Kensington, it took us nearly two hours to find a vacant charger. Hardly the Mini's fault – but it is a major consideration for places looking at how infrastructure should be built and then divided up among the population.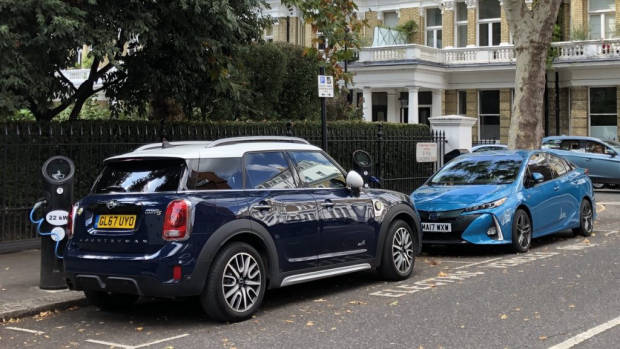 A fellow Countryman PHEV driver charges his Mini at one of London's many on-street paid chargers.
The demand-and-supply situation has created something of a goldmine for EV-charger companies in London. We ended up paying £5 ($9 AUD in November 2019) for a full charge of the Countryman's battery to a usable 30km of range, or so. That's about the same cost to charge as London's near-$3 cost per litre of petrol fuel – but you get the benefit of no-cost access to the city's streets and cheaper plans are available for longer-term use. Plus, we reiterate the point that Australia's garages and household solar have the potential to make our market a better fit for electrified wheels.
Still, the message here for buyers and governments is that once the point is reached that tips the majority toward buying an EV, an enormous supply of charge points will be required. The message to carmakers and technologists is that today's batteries also charge far too slowly
If you've got a garage and a power point to charge the Countryman S E All4 up, though, you can put our vicissitudes of charging entirely aside. That's because once it's juiced, the partially-electric Mini is a delightful small SUV.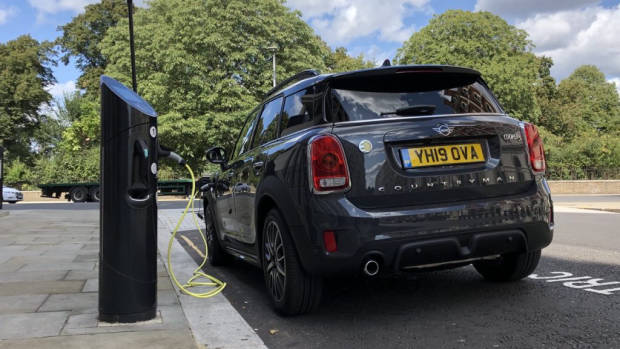 The basic Countryman package is constrained only slightly – with boot space falling 10% – meaning this bulked-up Mini that seats five and carries the luggage of at least three is well-sized, comfortable and desirable. If you're a fan of the vaguely retro nature of Mini's styling, you get plenty of it despite the brand's foray into crossover development. Both the squircle-laden exterior and curvy interior recall little Minis of old.
The interior, in particular, is impressive. Soft touch surfaces abound, the ergonomics are sound, and the seats are supportive. A reskinned version of BMW's previous-generation iDrive software is utilised for the Countryman's infotainment, and it works really well – with both a touchscreen and a rotary hardware controller. Wireless Apple CarPlay is standard. Android Auto is absent.
The way the Countryman PHEV drives is also more than adequate. Sure, you feel the extra 250kg aboard compared to the base Countryman. That's the batteries and the rear-mounted motor. Locating the electrified portion at the rear axle gives this PHEV all-wheel-drive. Theoretically, that opens up soft trail abilities but the real benefits are felt on-road.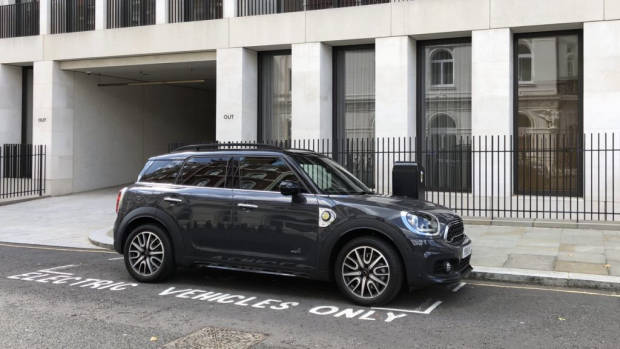 There's a real security in the Countryman PHEV's handling in the wet, but in electric-only mode, it is entirely rear-wheel-drive, which feels great in this relatively short and compact SUV. In the future, all-electric, RWD Minis sound like brilliant fun to us. That will be especially true if those future vehicles keep the darty and quick steering displayed on today's Countryman PHEV.
That said, keeping the weight down through modern advances in battery tech will be utterly critical for retaining the unique go-kart feel of a Mini. Nobody has yet driven the all-electric three-door Mini, and its weight has not yet been disclosed. But in this 1,640kg Countryman, with its admittedly small battery, the mass robs it of its overtly sporty character and replaces it with a solid, heavy, secure feel. Those characteristics can be desirable – but are they Mini-sequel? No, they aren't.
Other aspects of the way the plug-in Countryman proceeds down beaten-up roads, which in England are pretty reminiscent of those in Australia, are similar to the combustion versions of this car. The ride is surprisingly supple and forgiving, making the big Mini relaxing to drive on cross-country road trips or in town. We did both and came away liking the car a lot.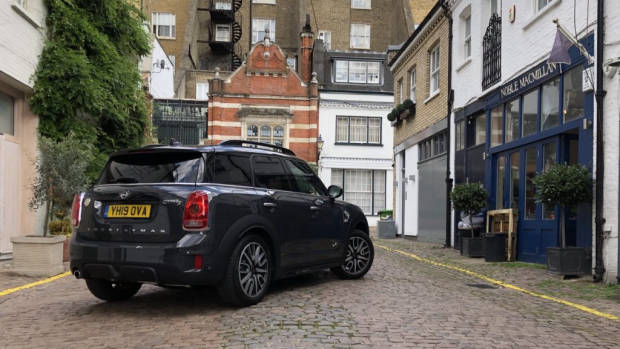 So, should you buy the only electrified Mini on sale today? Depending on a number of factors, maybe. If you love the design of the Mini and the practical nature of the Countryman, you're trying to lower your carbon footprint and you have a garage with the prerequisites to charge it, it'll work out very nicely. For most Australians, 30km is just enough range to get daily commuting done without the need for the petrol engine to be used.
Many of our readers also point out quite accurately that plug-in hybrids are uniquely well suited to Australian distances, with an electric motor and battery aboard to cover city terrain and a petrol engine for long-distance range. Those things hold true in the Countryman PHEV.
But it's also quite expensive, and the range will quickly pale as new plug-in vehicles emerge in the next year with more like 60km of EV capability. There's also compelling, cheaper alternatives like the Toyota RAV4 Hybrid we ran as a long-termer, though there is no doubt that car misses the panache of the Mini badge.
For a certain set of Mini buyers out there with particularly urban lifestyles, today's Countryman PHEV is a solution available Right now, affording the chance to hit the road in a retro SUV with zero tailpipe emissions in the city and 'burbs. For many, that is a compelling mix.