MINI. An iconic brand that was transformed from cheap transport to a byword for fashionable, fun motoring faces many challenges in today's car market. Pushing the Mini into lucrative, SUV-like segments is one; maintaining the relevance of the brand's iconic small cars is another. Now in its third generation since BMW took over Mini in 2000, the modern Cooper hatches remain true to form: both visually, and conceptually – these are niche, expensive little cars that promise a desirable, customisable package. To understand more about the attraction, we recently sampled the updated range with a focus on the sporty 2018 Mini Cooper S.
Armed with a series of tech upgrades, refreshed styling that includes Union Jack-motif taillights, and a new dual-clutch automatic, the 2018 Mini range has also bee simplified. The very basic entry-level Ray has gone; so too has the diesel Cooper D. Now, there are three basic trims – the entry Cooper, sporty Cooper S and hotter Cooper S JCW – in three- and five-door shapes. The sole exception is that you can't have both practicality and max heat: there is no JCW five-door.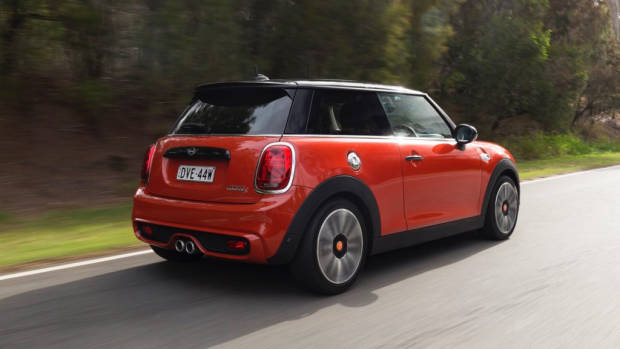 A premium edge to the pricing has stuck around. Now, pay attention: the range kicks off with a Cooper three-door manual for $29,990: the new seven-speed dual-clutch auto adds $2,500; two extra doors costs $1,250. Adding performance costs $10,000 apiece: a Cooper S manual is $39,990; an S JCW manual is fifty grand – you get the picture. Meanwhile, convertibles throw in the auto (though you can have a manual for no-cost): the Cooper is $40,990, the Cooper S $47,990, and the Cooper S JCW $57,990. All of that is before you get to customisation and options.
Standard kit is more generous for 2018 to the tune of $3,600, Mini Australia says. The base Cooper is fitted with 16-inch alloys, a 6.5-inch non-touchscreen with navigation, wireless CarPlay and digital radio, auto lights and wipers, a reversing camera and sensors. The Cooper S adds 17s, LED headlights and taillights, drive mode select, interior ambient lighting, dual-zone climate control, and wireless phone charging. Finally, the JCW picks up adaptive dampers, sports seats, 18-inch wheels, run-flat tyres, an 8.8-inch touchscreen, heads-up display, and a Harmon Kardon stereo.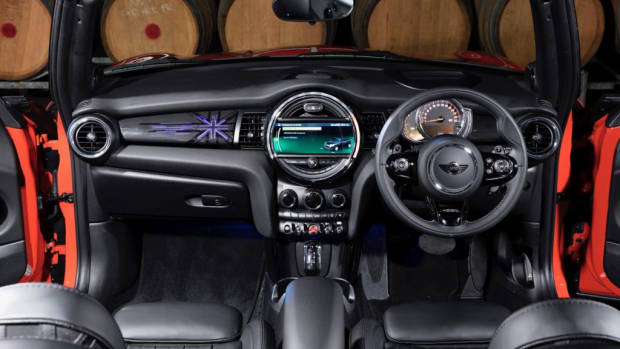 The way options work has also changed. It's now a package system. What stands out is the $4,500 Chilli package for the Cooper model, which includes AEB, forward collision warning, bigger wheels, wireless phone charging, dual-zone climate control, the S's LED lighting, mixed cloth/leather upholstery, and a few other niceties. Also of interest is the $2,100 Convenience package, which brings along keyless entry and start, front sensors, and electric-folding mirrors – though that stuff should really be standard.
Among the other packages on the menu are a climate and sunroof pack, a multimedia package with a larger touchscreen, better stereo and head-up display, and a 'Control' package which adds in Matrix LED headlights, adaptive cruise control, and the adaptive safety tech from the Chilli package.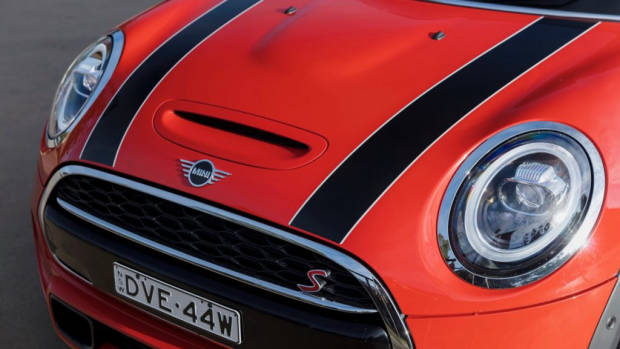 Plenty of customisation options are sure to bring plenty of smiles – custom alloy wheels range from $400 to $1,500; metallic paints from $800 to $1,200. Bonnet stripes will set you back $200 – and you can even change the colour of the roof and mirrors (white, black or red) for free. Inside, various cloth and leather options are available (we like the Chester brown leather colour), and coloured dashboard parts are $250. Of course, it can all add up.
It must be pointed out that the Mini is well off the pace in not including autonomous emergency braking as standard. It's unfortunate that helpful assistance technologies like lane keep assist, blind spot monitoring, rear cross-traffic alert and reverse-gear AEB remain entirely unavailable.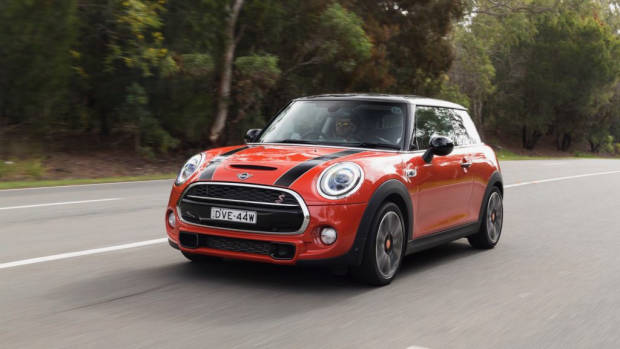 Off the screen and onto the road, what is the 2018 Mini range like? We drove all model variants of the updated range on the car's launch in Brisbane, but we found the Cooper S three-door to be the sweep spot. The S turns up the performance taps, with a two-litre turbocharged four-cylinder producing 141kW/280Nm. The 6.7s 0-100km/h sprint is brisk and the frugal 5.5-6.3L/100km economy is fairly realistic. The four-pot sounds rorty and encourages you to push on – and it pulls hard. The only problem is that at this price – forty grand – those interested in performance could afford a 202kW/353Nm Hyundai i30 N.
While the Cooper S is our favourite point in the range, the engines either side of it won't disappoint either. The base Cooper's characterful three-cylinder sounds fun and goes pretty well if you give it a good pedal, with its 1.5-litre making 100Kw/220Nm. Meanwhile, the big-daddy John Cooper Works beefs up the Cooper S's two-litre four to make 170kW/320Nm and is hot-hatch quick.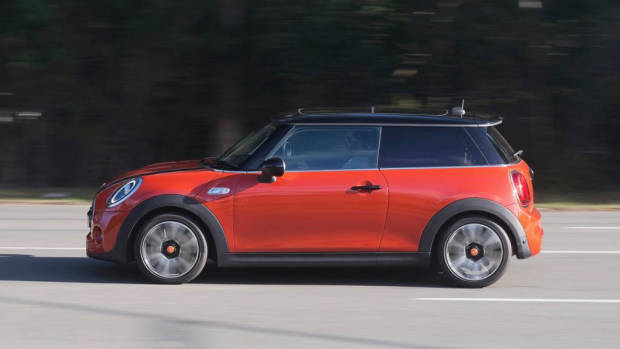 Anybody who comes to the new Mini from a classic Cooper will undoubtedly find the contemporary car a bit too grown-up. This is a very solid-feeling little car – hardly raw and ragged like an old Mini: it feels more along the lines of a Volkswagen Golf GTI. Of course, this is what most buyers will ultimately want – though we did ponder whether the three-door models have retained enough of the darty, chuckable character for which they are known.
There is still a load of fun to be had, however, with a real enthusiasm for cornering that is also felt in BMW's other cars that share the Mini's platform, like the X2 SUV. Naturally, in the Mini, there is less weight – a three-door manual weighs just 1,169kg – and a low centre of gravity. There is surprising heaviness to the steering, though some feel is still there and the ratio is progressive in both normal mode, and the sport setting that also pumps in more engine noise.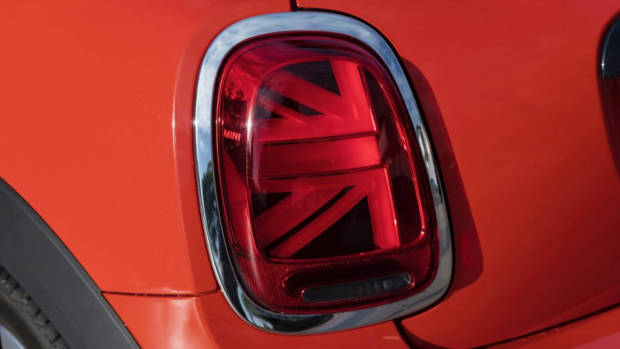 A highlight of the Mini experience is the new seven-speed dual-clutch automatic transmission, which isn't quite as quick as DSGs from Volkswagen, though its more relaxed nature is definitely to its benefit with a more refined and less hesitant nature. Having said that, some will still feel that a sporty hatch, and especially a Mini, should be a manual – though in Australia these are usually special orders and there was not a single stick-shift to sample on the launch.
Step away from the Mini's driving experience and the cabin is a lovely place in which to spend time. Full of character, and assembled from high quality materials, Mini have made their interiors more ergonomic and functional without diluting the visual fun. The only downside to this cabin is that it is still pretty tight in here despite the enlarged body size: sure, this is a small car, but a Volkswagen Polo is only 48mm longer than the 5-door but it offers much more cabin and boot space (351L in the Polo versus 278L in the five-door Mini, or 211L in the three-door Mini).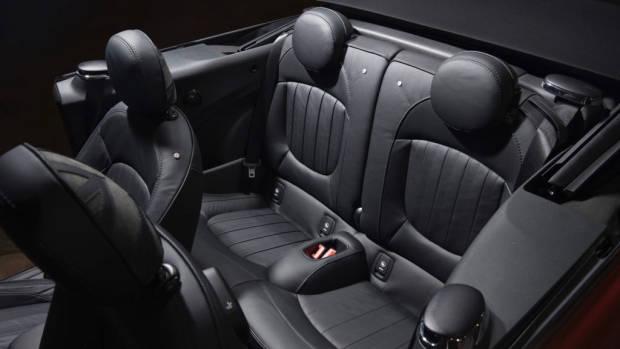 The three-door does have a little back seat, but small kids are all that will realistically fit back there: forget about it for six-foot adults or really tall teens – at least the second-row windows are big. The five-door is slightly larger though the rear doors look comically small. The aforementioned VW Polo is undoubtedly more practical: the Mini's small glovebox and door pockets, as well medium-sized cupholders and a small tray ahead of the cupholders are all you get. Using the cupholders also restricts access to the USB ports and toggle switches – one with the car's start button – behind them.
But if you wanted conservative and practical, you'd be buying that Polo, wouldn't you – the Mini is about being fun and different. It's a pleasurable little car to spend time in, and to drive – and we do think the current car befits the premium status (and price) the brand seeks to command. Engaging engines, keen handling, quality materials inside and good BMW-sourced infotainment add up to create a mostly cohesive package that would make a great second car or sole vehicle for someone that doesn't need too much space.