Honda has unveiled a new hybrid version of the latest generation CR-V, with the 2019 Honda CR-V hybrid on sale already – albeit only in Europe. Not due for Australian sales any time soon, the CR-V hybrid replaces the older model's diesel powerplant and claims some of the best fuel consumption figures in the medium SUV class.
Combining a 2.0-litre Atkinson Cycle petrol engine at the front with two electric motors and a Lithium-ion battery pack, the CR-V hybrid offers fuel consumption as low as 5.3L/100km on a combined cycle, yet reasonable performance with an 8.8 second 0-100km/h sprint time.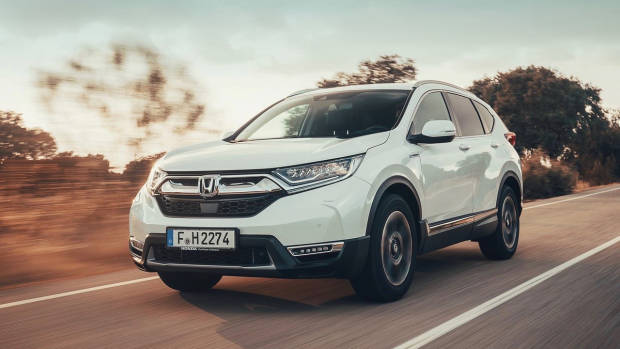 According to Honda, the CR-V has "continuously improved throughout each generation since the original in 1995. This latest evolution of the popular compact SUV has been developed to exceed the expectations of customers, with enhanced and unique characteristics. The new CR-V now features a range of sophisticated technologies and superior quality throughout."
"In a first for a Honda SUV in Europe, the all-new Honda CR-V will be available with advanced hybrid powertrain technology. The hybrid system uses intelligent Multi Mode Drive technology (i-MMD) combining two electric motors, an Atkinson-cycle petrol engine, Lithium-ion battery and a fixed-gear transmission to deliver high levels of refinement, responsiveness and efficiency. It is available in both FWD and AWD formats."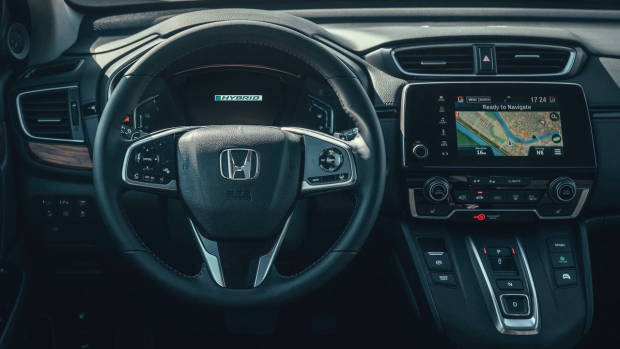 Pairing a 107kW/175Nm 2.0-litre petrol engine two electric motors producing 135kW/315Nm in total, as well as a lithium-ion battery pack, the CR-V hybrid is available in both front- and all-wheel drive. A single-speed transmission with an electric gear selector is the sole transmission available, and the car can sprint to 100km/h in as little as 8.8 seconds. Fuel consumption is rated at 5.3L/100km (5.5L/100km for the AWD model), and the CR-V emits as little as 120g/km of CO2. Honda claims that the CR-V hybrid is capable of travelling up to 2km on electric power alone, and three powertrain modes are available: sport, normal and EV.
The new CR-V is also available in Europe with the company's 1.5-litre turbocharged four-cylinder petrol engine, which can be had in either front- or all-wheel drive, just like the hybrid, and with either a six-speed manual transmission or a CVT automatic with stepped ratios. Helping the hybrid's regenerative brakes are paddle shifters that increase or decrease the force that the car takes energy from the brakes – the Mitsubishi Outlander PHEV uses a similar system.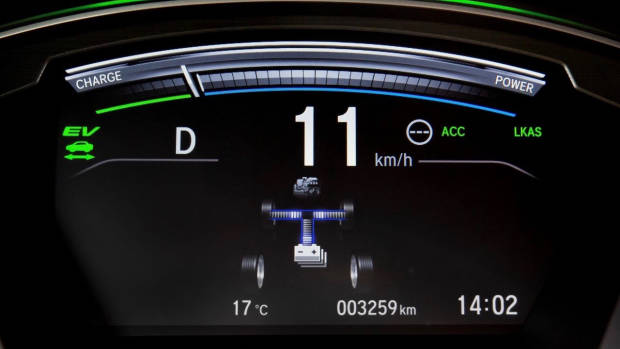 Also evident with the European specification CR-V is how much more advanced their local model is with active safety technology. A lack of autonomous emergency braking on all but the top-spec Australian VTi-LX model is well known, but even this model is unavailable with blind-spot monitoring, rear cross traffic alert, a large colour heads-up display and traffic sign recognition – all of which are available in Europe. This is due to Australian CR-Vs being sourced from Thailand, and hopefully the company finds a solution to the issue soon.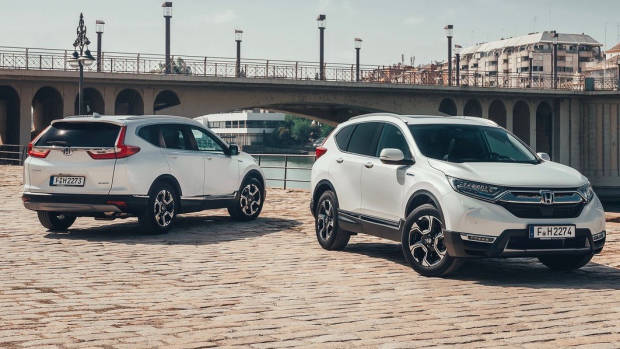 Stay tuned to Chasing Cars for more Honda news and reviews.