A significant facelift is in store for the 2016 Toyota Kluger, and we've got pictures of its muscly new looks. The new Kluger will officially debut at the upcoming 2016 New York Auto Show.
But while the Kluger's front and rear fascias have bulked up, the upgrades to the family SUV are not simply skin deep.
Arriving from spring 2016, the upgraded Klugers will also pack a bigger punch from the 3.5-litre petrol V6 under the bonnet.
We've heard from Toyota USA that the 3.5-litre will make "significantly more" power than the current 201kW. We're going to conservatively assume that means 10% more power, which lands us at an educated guess of 221kW. No surprises there: Lexus uses a 221kW version of the 3.5-litre across its '350' numbered cars.
Presently the V6 makes 337kW of torque through a six-speed automatic. The choices of front-wheel-drive or optional all-wheel-drive will remain for this upgraded model.
If Australia's Klugers will be anything like those in the US, a "sports" focussed model will be added to the range for the first time. Known over there as the SE, it will pack a firmer suspension for upgraded cornering abilities.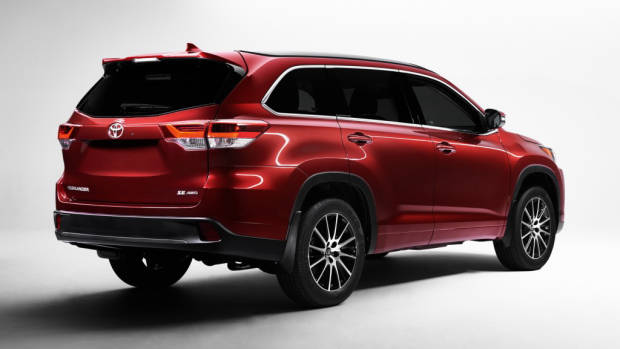 What else is changing? Some more chrome is being added, there are revised tail light graphics and two new colours join the range—a silver colour known as Celestial, as well as the peckishly-named Toasted Walnut Pearl.
Inside, it's black or brown leather for the higher-end models. USB ports increase markedly from one to a smartphone-friendly five.
As a refresher, the current 2016 Kluger in Australia is available in one of three trim levels, with or without all-wheel-drive, which adds $4,000 across the board.
The $42,190 GX base car has recently dropped its crappy steel wheels in favour of 18-inchers, daytime running lights and fogs, a 6-inch touchscreen audio system with six speakers, and a reversing camera.
The $51,190 GXL mid-spec car cheaply misses out on navigation (tut tut), but adds better-looking wheels, leather on the seats, shifter and wheel, heating to the front seats, keyless entry and start, and roof fails.
Most common around inner Sydney seems to be the $64,342 Grande flagship. The Grande currently wears some pretty garish 19-inch chromed-out wheels, upgrades your screen inside to a nine-incher with nav and DAB radio, gives the kids in the back their own 9-inch DVD player, and throws in a sunroof and automatic wipers.
We'll know towards the middle of the year what prices and specification levels will be changing for Australian buyers. The upgraded Kluger, which we'll most likely date as 2017 by the time it gets here, arrives in Spring 2016.