The 2023 Mercedes-Benz GLC was revealed by digital premiere overnight, with the highly anticipated second-generation of Stuttgart's best-selling model largely sticking to conventional themes outside and under the skin.
Set to arrive in Australia in the first half of 2023, the new X254-chassis GLC will be built at Mercedes-Benz's Bremen and Sindelfingen plants in Germany, as well on the company's Beijing, China production line.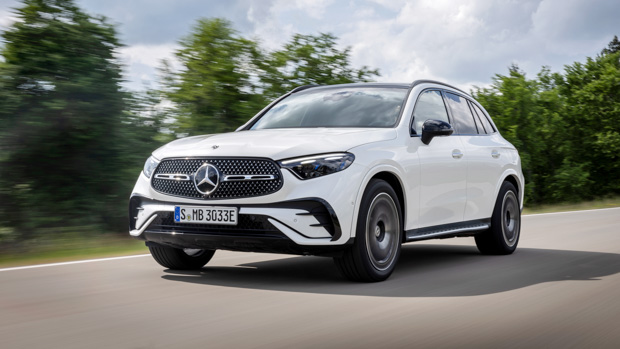 Riding on an updated version of the company's MRA rear-wheel drive platform shared with the new C-Class, the GLC has been future-proofed, the brand says, by the decision to offer three new plug-in hybrid powertrains, both of which offer much longer electric driving range of more than 100km.
Every new GLC engine is a hybrid, Mercedes-Benz says, with the three PHEV models joined by a range of petrol and diesel engines globally – all of which use a new-generation 48-volt mild hybrid system with integrated starter generator offering additional boost to the engine.
While diesel engines will be offered in Europe – including a surprise six-cylinder diesel – Chasing Cars understands that Australian customers will be offered only petrol and plug-in hybrid GLC options, as they are now.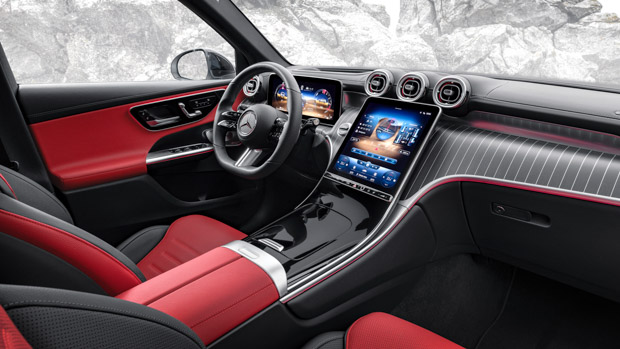 Later, a range of AMG GLC models will arrive in Australia, including a four-cylinder replacement for today's V8-powered AMG GLC63. It is understood that the Europe-market diesel straight-six will be the only GLC engine with more than four cylinders globally.
A new-generation GLC coupe will also follow after the considerable success of the fastback version of the first-gen GLC, with Mercedes-Benz director of exterior design Robert Lesnik telling Chasing Cars the new GLC coupe would be revealed "in the foreseeable future".
Australian release date set for first half of 2023
Mercedes-Benz Australia product communications manager Ryan Lewis told Chasing Cars that local deliveries of the new-generation GLC are expected to commence in the first half of 2023.
The unusually broad window for arrival reflects the fluid state of production across the automotive industry at present, which continues to be afflicted by a range of delay sources, including – but not limited to – semiconductor shortages.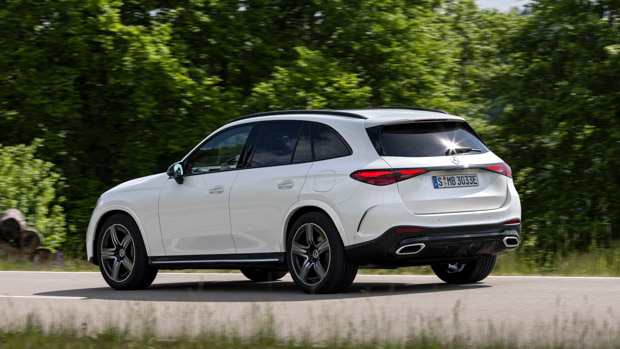 As with the new C-Class, introduced in Australia earlier in 2022, price increases are expected but not locked in for the new GLC, which is still at least seven months from its local launch.
The outgoing GLC is priced from $78,114 (before on-road costs) for an entry-level GLC200 wagon through to the fire-breathing $185K AMG GLC63 coupe.
New GLC200, GLC300 and petrol plug-in hybrid for Australia
Seven launch powertrains have been announced for the GLC so far, and Australia is expected to receive three of these – not including future AMG engines.
The range in Australia is expected to take a similar shape to today, with GLC200 and GLC300 petrols all but confirmed for local release – plus one of two globally-available petrol plug-in hybrids.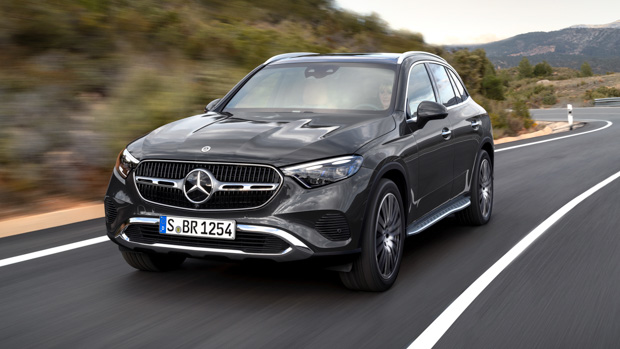 The new GLC200 is again a 2.0-litre turbocharged petrol – rather than a 1.5-litre, as seen in the C200 sedan – but it now makes 150kW of power and 320Nm of torque, assisted by a 17kW/200Nm boost from the mild hybrid system. All-wheel drive is standard.
The popular, mid-range GLC300 sees its outputs lifted to 190kW/400Nm and it also benefits from 4MATIC AWD and a 17kW/200Nm mild hybrid boost.
Fuel consumption for the two petrols is identical in Europe, with a rating of 7.3-8.2L/100km, but the GLC300's claimed 6.2sec 0-100km/h sprint is a considerable 1.6sec quicker than the GLC200's effort.
In Australia, GLC buyers can currently choose a GLC300e plug-in hybrid with about 45km of range from its 13.5kWh battery – but electric range is set to be more than doubled in this PHEV's new-gen replacement.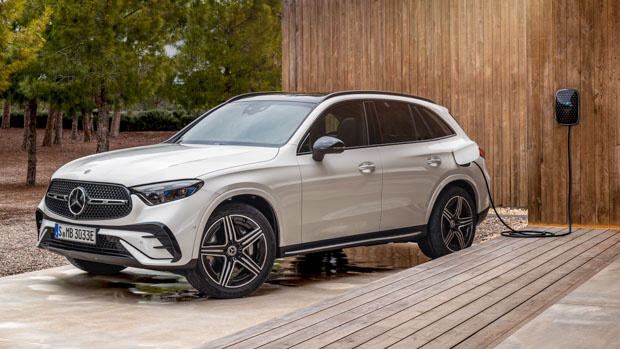 Two petrol plug-in hybrids are on the GLC menu globally: a 230kW/550Nm GLC300e, and a more powerful 280kW/650Nm GLC400e. Both share an identical electric motor and a battery with about 25kWh usable capacity, promising a range in excess of 100km (WLTP).
The electric motor produces 100kW/440Nm on its own – strong enough for daily electric-only use. The point of difference is the output of the underlying 2.0-litre petrol: 150kW/320Nm in the GLC300e, and 185kW/400Nm in the GLC400e – making the 400e 1.1sec quicker from 0-100km/h with a claim of 5.6sec.
Six-cylinder and four-cylinder diesels not likely for Australia
While rival midsize luxury SUVs including the Audi Q5, BMW X3 and Genesis GV70 continue to offer the option of diesel power in Australia, Mercedes-Benz is not looking to resume diesel GLC deliveries locally.
The outgoing first-generation GLC was offered with four-cylinder diesel engines – and briefly, a diesel V6 GLC350d – but diesel engines were discontinued entirely for the GLC in 2019 with the arrival of a mid-life facelift.
Diesel continues to be an important part of the SUV mix in Europe, where the GLC will be offered with not only the aforementioned petrol and petrol PHEV engines, but also with a four-cylinder turbo diesel, a diesel plug-in hybrid, and a forthcoming inline-six diesel as well.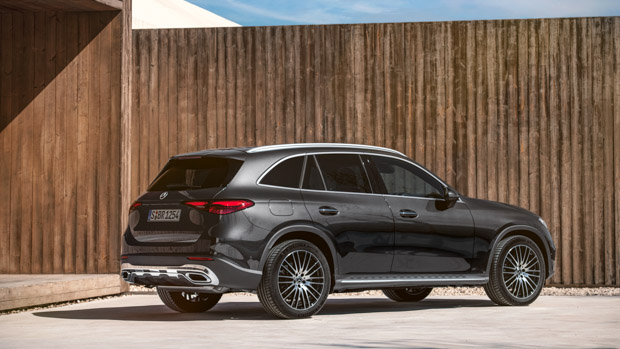 The GLC220d four-cylinder makes 145kW/440Nm (plus 17kW/200Nm hybrid boost), while a particular highlight will be the Europe-only GLC300d, a 3.0-litre straight-six that will make 198kW of power and around 600Nm of torque before a hybrid boost.
Mercedes-Benz has also had some success in Europe with diesel plug-in hybrids, and a new GLC300de for Europe pairs a 2.0-litre turbo diesel four-cylinder with the 100kW/440Nm electric motor from the petrol PHEVs for a very stout total output of 245kW/750Nm.
Mercedes-Benz Australia poured cold water on the suggestion that Australia could receive any of the diesel powertrains.
Aero-driven exterior, with interior borrowed from new C-Class
A cut in the drag coefficient of the GLC from 0.31cd in the outgoing model to 0.29cd was one of a range of measures taken to improve overall fuel efficiency of the new model.
That's important, as under the evolutionary new exterior lines, the GLC is between 6-10 percent heavier than the old model: it's 120kg heavier in four-cylinder petrol form (now 1925kg) and 180kg weightier as a plug-in hybrid (now 2355kg) – the latter is explained mainly by the near doubling in the size of the battery.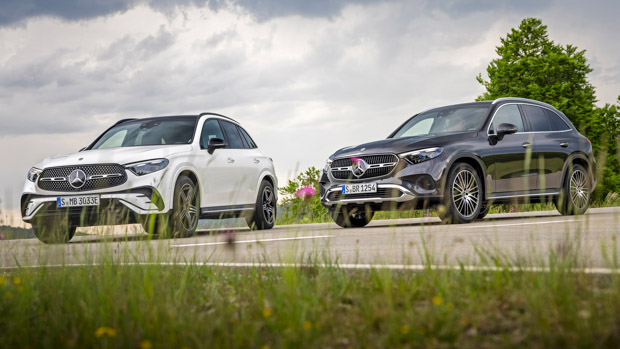 It is no surprise that Mercedes-Benz have chosen not to comprehensively alter the exterior design of what is their best-selling model – but the concessions to aerodynamic design are clear in the curving, organic shape that is more coupe-like even in wagon form.
A chrome-driven Avantgarde styling package will be standard in Europe, though it is likely that Mercedes-Benz Australia product planners will favour the optional AMG Line treatment that also adds firmer sports suspension as standard to either the steel springs/passive dampers or optional Airmatic air suspension. Wheel sizes range from 18-20 inches.
Inside, the cabin design is shared extensively with the new W206-chassis C-Class, with two large high-resolution displays packaged as standard – along with the brand's 'Super Sports' five-spoke steering wheel on AMG Line versions.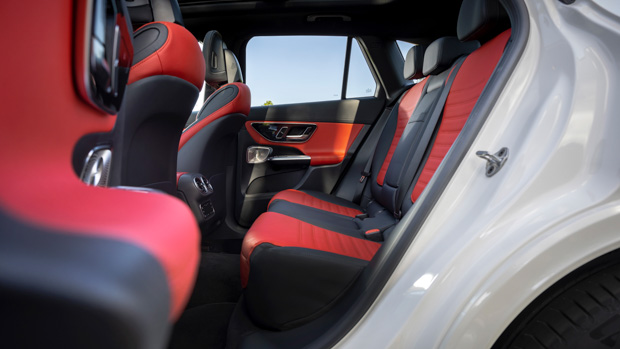 Gloss and wood inlays are on offer, along with a range of Artico and real leather colour combinations, with two-tone mixes for AMG Line cars and more traditional monotone treatment for the Avantgarde.
Satellite navigation, wireless Apple CarPlay, Android Auto, heated and power-adjustable front seats will all be standard when the car reaches Australia in 2023 to compete with the recently-facelifted BMW X3, Volvo XC60 and Audi Q5, and the new-generation Lexus NX and Genesis GV70.