As Mercedes-Benz works on a new EQC electric SUV, the company's best-selling model will receive a major boost in its electrification credentials with the arrival of three plug-in hybrid (PHEV) powertrains for the second-generation GLC midsize SUV that is set for Australian release in the first half of 2023.
The usable size of the battery nestled underneath the SUV's boot floor will nearly double from 13.5kWh in outgoing-generation form to about 25.7kWh for the new X254-chassis GLC – but improvements in battery chemistry and energy efficiency mean that the GLC's electric range more than doubles.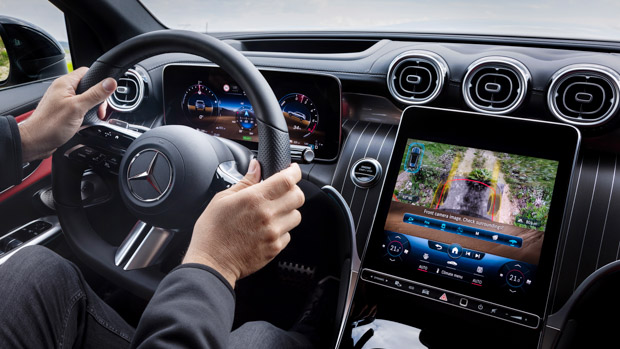 Electric driving range was rated at 45km WLTP for the outgoing GLC300e ($95,700 before on-road costs) but each of the three new GLC PHEVs is certified to deliver at least 102km with all option boxes ticked, and up to 120km in lightly-optioned form.
The large new battery does have its costs though, with nearly a quarter of boot space lost – falling from 600L in the mild-hybrid petrol and diesel versions of the GLC to 460L in the PHEV models.
One diesel and two petrol PHEV options will be offered for the second-generation GLC. European buyers will get all three when the SUV launches there in late 2022, but Australia will likely get just one petrol PHEV powertrain – either the GLC300e that makes 230kW/550Nm, or the GLC400e that produces 280kW/650Nm.
100km range to make charging less frequent, onerous
Many PHEVs – including the outgoing GLC, plus the BMW X3 and Volvo XC60 – have previously targeted electric driving range of 40-50km, thought to be satisfactory for 1-2 days of commuting.
But research and real data regarding customer use of PHEVs revealed that buyers simply were not charging their PHEVs anywhere close to daily, and many tended to drive the car with a 'flat' battery.
Senior Mercedes-Benz executives say extending electric driving range to 100km and beyond will create better incentives to charge the car, while requiring less regular charging, and attracting purchase incentives further into the future.
"The charging experience of most customers is not the way we expected," said Jörg Bartels, head of vehicle integration at Mercedes-Benz, speaking with Chasing Cars.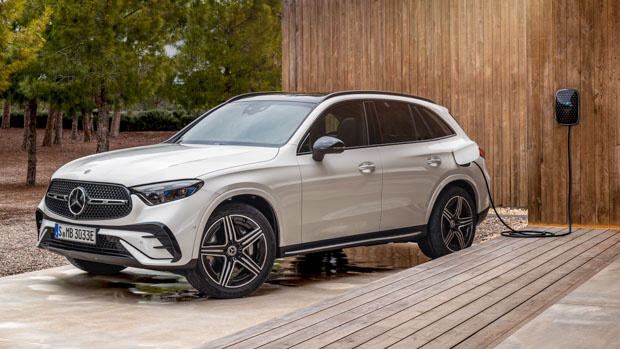 "A lot of PHEV customers don't charge their cars that often, because they have no [home] wallbox, and public infrastructure is not the way we thought it would be. That is one reason we decided to add a bigger battery into the car.
"Using a car for 100km gives plenty of electric range for going the usual distances in a week, commuting between your own place and your office. We thought that 100km is a good number. It stays in the brain for a while … it's a good way to fulfill customer expectations."
In Australia, the average vehicle is driven about 35km per day, meaning the new GLC PHEV should be able to deliver about three days' worth of driving on purely electric power without demanding recharging – compared to just over one days' driving with the old model.
60kW DC rapid-charging will be optional, 11kW AC standard
Newly-optional for the GLC in Australia will be 60kW DC charging capability, which will allow replenishment of the PHEV's circa-25kWh battery in around 20 minutes.
Standard in all new GLC PHEV models will be an 11kW AC inverter that will take around 2 hours and 20 minutes to recharge the battery from empty to full from a suitable home or office wallbox. A standard three-pin wall socket will take about 12 hours to do the same job.
Mercedes-Benz says it has been surprised by the high take-up rate of optional DC charging capability when it is offered as an option for the company's PHEV models. In Australia, 22kW DC charging is a $1990 option in the A250e PHEV small car.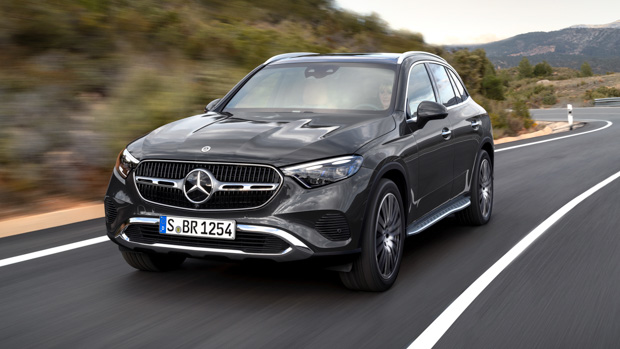 "For long distance travel where you probably need more than 100km, it's the only way to have a short interruption of your trip and get a lot of power in that time when you go to the toilet or get a coffee," said Bartels, who is also head of energy efficiency at the Stuttgart carmaker.
"We got some requests [for higher DC charging speeds]," Bartels says. "In today's car, the DC option has a good take rate, so the customer likes to have the option [of DC charging] at least.
"But in most cases, the car is going to be charged by AC, either at work or home, and we know from our customers that the take rate of private wallboxes is rising up. The rate of office buildings where they offer charging is increasing, but they all stick to AC because DC infrastructure is very expensive – it's along highways for long-distance trips."
Circa-25kWh capacity with 6kWh in reserve for boost and ageing
An unusually high proportion of the GLC PHEV's lithium-ion battery will be reserved for auxiliary functions, including a reserve for boosting engine outputs even when the battery is 'flat' and reporting 0km electric range available.
Of the 31.2kWh total battery size, about 25.7kWh is usable – leaving around 5.5kWh (or 18 percent) free for other functions.
This decision should mean that the significant claimed system output figures of the three PHEV powertrains can be delivered even when the GLC's electric driving range has been exhausted.
All three of the PHEV powertrains use a common 100kW/440Nm electric motor that significantly enhances the output of the 2.0-litre turbo petrol four-cylinder engine that is used in both models.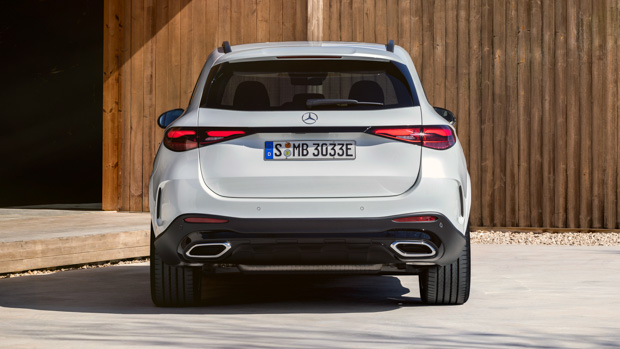 In the GLC300e, the underlying petrol engine makes 150kW/320Nm but in full flight, with boost from the electric motor engaged, system output is 230kW/550Nm; for the GLC400e, the 185kW/400Nm engine outputs are boosted up to 280kW/650Nm with the electric motor engaged.
Theoretically, these maximum outputs should be able to be deployed even when the battery is flat given the significant proportion reserved for boosting – and ageing.
It is possible that some of the reserved capacity will 'bleed' into the usable capacity of the battery over time, though we're yet to confirm this functionality. All batteries lose performance and capacity over time.
"The reserve kWh [capacity] is for driving characteristics, for boost function whenever you need it – even if the battery is low – and some portion is also for ageing…to make sure that the 100km [range] stays for a long while," said Bartels.