After four years of development, seven million kilometres, and a mix of digital and real-world testing, the second-generation Mercedes-Benz GLC premium midsize SUV will soon begin production.
With the debut of this crucial model imminent, Mercedes-Benz has disclosed much more information about what to expect from its new C-Class-based SUV – including powertrains, safety systems and engineering hardware.
The entire GLC range will feature mild-hybrid systems, with a second-generation starter-alternator integrated into the transmission that works in conjunction with a 48-volt electrical system and provides an additional 17kW of power and 250Nm of torque.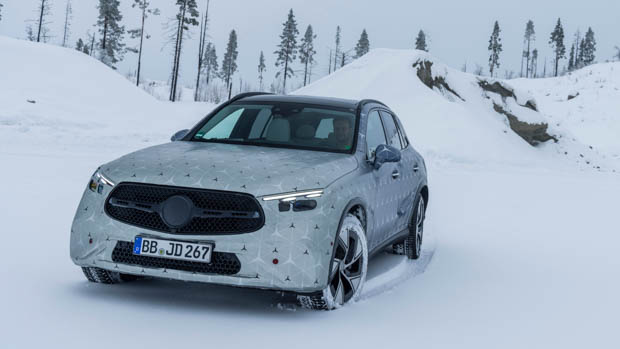 Both turbocharged petrol and diesel engines will feature this 48-volt technology, including an M254 2.0-litre turbo-petrol four-cylinder engine with outputs of up to 190kW/400Nm. The OM654M turbo-diesel engine will produce up to 195kW/550Nm.
The turbo-petrol four-cylinder features nanoslide cylinder coating, conic-shape cylinder honing and an exhaust after-treatment system positioned directly on the engine.
Plug-in hybrid versions will also be available and will be based on both of these engines. An electric motor has been positioned within the nine-speed automatic transmission and produces 100kW/440Nm.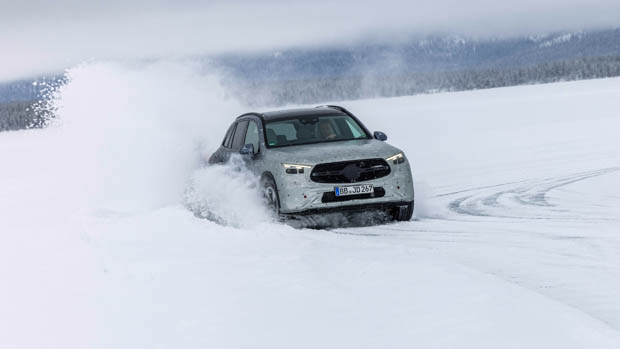 Mercedes-Benz has said that the plug-in hybrid versions of the GLC will offer "well over 100km of WLTP range".
Digital technology and enhancement of safety systems
Mercedes-Benz says there are several improvements to road safety systems in the new GLC.
Active-distance 'distronic' can automatically maintain a preset distance from cars in the front and also automatically reacts to stationary vehicles at speeds of up to 100km/h.
Active steering-assist has been worked on to provide assistance at up to 210km/h, along with a new traffic-sign assistance program.
Optional rear-axle steering will be offered to further improve manoeuvrability when parking or in tight corners.
Other digitisation of the GLC includes an optional 'transparent' bonnet that transmits a camera feed of the ground beneath the GLC to the driver in the cabin.
Large screens will be standard across the GLC range and include a 12.3-inch digital driver display as well as an 11.9-inch central touchscreen.
Already available on the W223 S-Class and W206 C-Class, the second generation of Mercedes-Benz's MBUX infotainment software will be available on the GLC. The new system features augmented reality, adaptive voice assistant, smart home and music streaming.