Mazda has released a teaser image of the dashboard of its new CX-60 premium midsize SUV ahead of the crossover's March 8, 2022 reveal date.
Pictured in the teaser image is a padded and stitched section of dashboard believed to sit ahead of the front passenger in the CX-60.
It is the second teaser picture to be released of the CX-60, with the SUV's headlight shape revealed last week – though the vehicle was in 2021 leaked uncovered while shooting video assets.
Finished in a textured dove grey textile, the CX-60 dashboard appears to have a more dramatic drop-off than the curvaceous interiors of the original 'Mazda Premium' models: the current-shape Mazda 3 small car and CX-30 small SUV.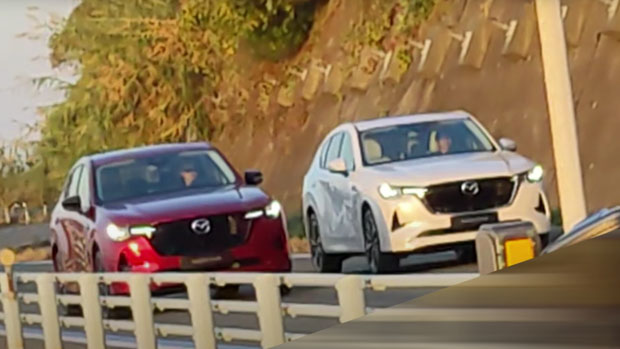 Said to introduce the 'ideas of Kaicho' – a concept of harmony springing from the mixing of materials and textures – the CX-60 sits on Mazda's new Large Product Architecture platform that features rear-wheel drive.
Likely to represent a significant move upmarket for the brand, the CX-60's interior will feature a mix of nappa leather upholstery, maple wood trim, chrome detailing and the use of Japanese textiles – as seen in the teaser.
A plug-in hybrid four-cylinder powertrain has already been confirmed for the CX-60, and this petrol-electric hybrid engine has been locked in for Australian release in late 2022.
Six-cylinder engines are also expected to be offered for the CX-60 in petrol and diesel flavours.
The CX-60 will sit alongside the recently-facelifted CX-5 in Mazda's Australian crossover lineup.