Kia Australia has confirmed that its local ride and handling tuning team is entering the final stages of development for the EV6 GT midsize SUV.
The high-performance, all-electric EV6 GT will sit at the helm of Kia's range when it goes on sale in Australia between October and December this year, with localised tuning for the halo model considered to be crucial by local executives to better suit our rough conditions.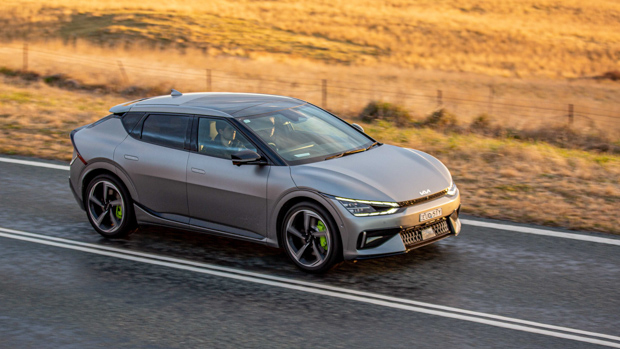 Kia has previously undertaken a localised ride and handling tuning for the rest of the EV6 range along with other popular models such as the Sportage midsize SUV and Cerato small car in recent years, in an effort to better cater to the tastes and needs of Australian buyers.
Australian buyers are expected to see a sizeable increase in price as well as performance, with the new EV6 GT expected to cost more than $100,000, just above rivals such as the Tesla Model Y Performance midsize SUV. 
From the Nurburgring to Aussie back roads
Initial tuning for the EV6 GT took place in Germany with Kia Australia's engineer team traveling to the Nurburgring to begin the process on a pre-production car and also sought out "B grade" roads to help replicate Australia road conditions.
It was here that the team locked in the approximate settings for the hydraulic tune of the shock absorbers and electric power steering, before making fine-tune adjustments once back in Australia.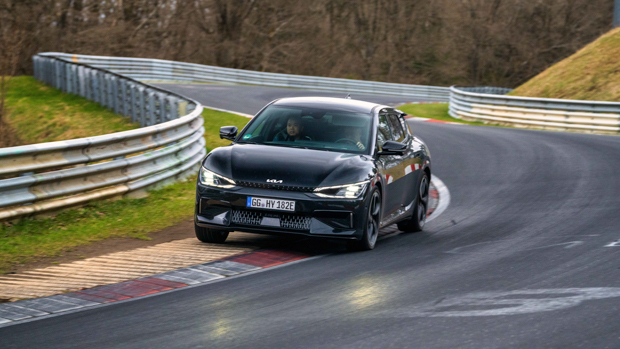 The localised tune is just one of just four setups created for the EV6 GT globally, with Kia Australia's general manager of product Roland Rivero emphasising that the local development was necessary despite the logistical challenges faced as a result of Covid-19.
"Being given the opportunity to add a new dynamic halo to our range, it was important we developed an Australian tune and not simply adopt a spec from another market," he said.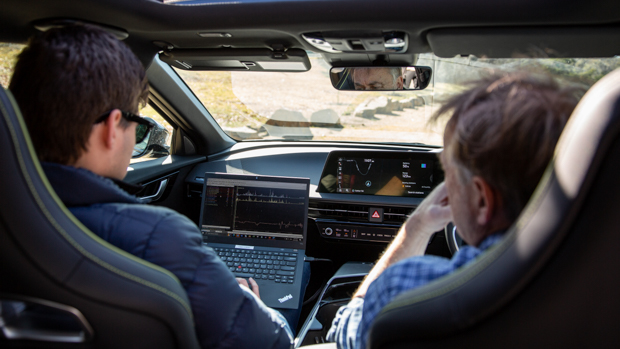 Ride and handling engineer Graeme Gambold said that it was important that the EV6 GT was well-suited to rough Australian roads while still being able to hold its own on the track.
"We had a solid platform to work with and spent time in both Germany and locally, ensuring the GT can cope with our harsher conditions. Compliance on rough country roads and importantly grip on uneven surfaces, which is more prevalent in Australia, has been addressed," he said.
"It is a confident GT which can be pushed hard, driven spiritedly, is forgiving on our roads and equally for the performance enthusiasts, a very capable GT on the track when flicked to GT mode."
If the EV6 GT is able to live up to this claim it will be an impressive achievement, given that the combination of a heavy battery and rough Australian roads and the need for keen diving dynamics will require a well-tuned and flexible setup.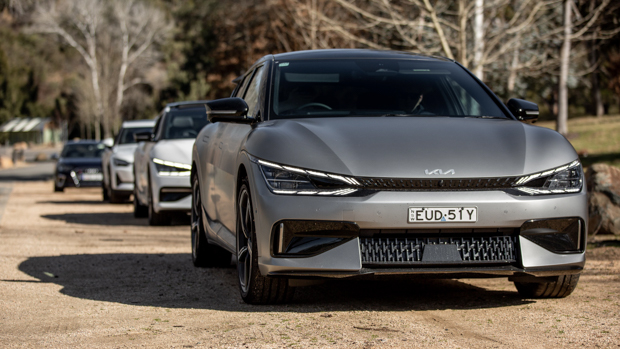 Kia EV6 GT performance specs
The EV6 GT is fitted with the quickest drivetrain seen on the e-GMP platform, with the front and rear motors combined producing 430kW of power and 740Nm of torque.
With electric motors providing peak torque from a standstill, Kia says the EV6 GT can accelerate from 0-100km/h in just 3.5 seconds. For context, the 274kW/510Nm Stinger GT performance sedan reaches the same benchmark in ​​4.9 seconds.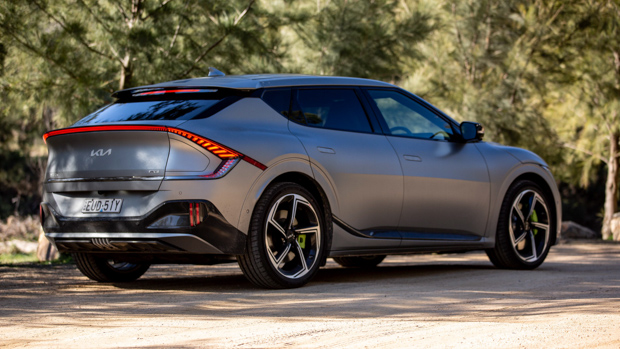 Kia will likely arm local EV6 GTs with the same 77.4kWh lithium-ion battery fitted to the EV6 GT-Line AWD, which has a WLTP-tested driving range 484km, a figure that is likely to be similar in the new high-performance variant.
With the e-GMP platform underpinning the EV6 GT capable of charging at speeds of up to 350kW, buyers should be able to top up their EV from 10-80 percent in as little as 18 minutes. 
More information on the exact price and specification of the EV6 GT will be revealed closer to its on sale date in the fourth quarter of this year.
Kia EV6 2022: prices in Australia
All prices listed are before on-road costs.
EV6 Air: $72,590
EV6 GT-Line RWD: $79,590
EV6 GT-Line AWD: $87,590
EV6 GT: TBC