It's a rare pleasure when a concept vehicle gets transformed into a production-car reality with barely any alterations from its original aesthetic vision. The Hyundai Ioniq 5 is a shining example that manages to morph what could've been concept-car fantasies into everyday realities.
Here is what we think are the seven coolest things about the 2022 Ioniq 5.
MORE on the Australian release of the Hyundai Ioniq 5:
#1: 'Parametric Pixel' lighting graphics
Super-crisp, beautifully proportioned styling is one thing, but without appropriate lighting detail, the Ioniq 5's look wouldn't quite hit home. Thankfully, the 'Parametric Pixel' lighting perfectly suits this high-tech EV.
When Hyundai's design team were creating the Parametric Pixel lights, they searched the Korean language for a character that represents a pixel, and they found it in the first syllable of the word 'milae' – Korean for 'future'.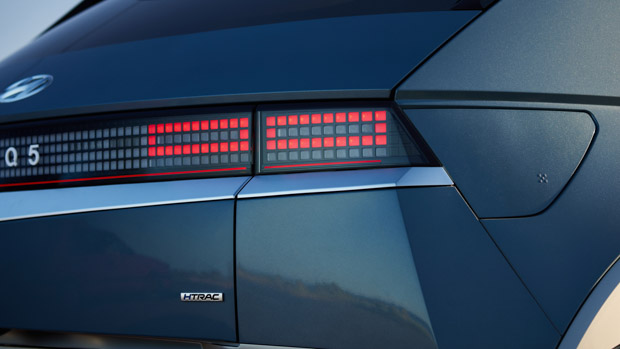 The sharp-edged Parametric Pixel lighting not only defines the head- and tail-lights, it also runs in a hidden band across the front end of the car, beneath the 'black panel' grille that Hyundai calls the 'sensor zone'.
There's also 'Slice' reflectors in the lower rear bumper that Hyundai says are a nostalgic nod to '80s electronics, but look more like a sunglasses prop from a 1985 video clip to us.
#2: 'Relaxion' front seats
Instead of providing oversized screens to support streaming services while the car is charging, Hyundai has taken a much more zen approach within the Ioniq 5.
It's architectural interior features light tones and a minimalist aesthetic to convey a sense of distraction-free calm. The twin 12.3-inch screens are light-coloured instead of black, and there's no Hyundai badge on the steering wheel, though perhaps that's because one day the brand will just be Ioniq…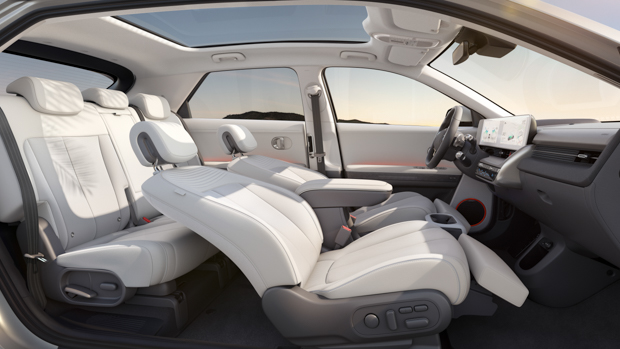 Defining this wellness-centre mindset are the 'Relaxion' front seats designed to promote relaxation. Able to recline like aircraft seats to a 'zero gravity' position, Hyundai says they've been designed to reduce fatigue and discomfort, with the zero-gravity position optimising weightless posture and body-pressure distribution on specific areas – ideal for long distances and resting while charging.
#3: 'Universal Island' centre console
Capable of sliding up to 140mm forward and back, this adjustable centre console also incorporates the Ioniq 5's connectivity ports and a lower shelf well-suited for bags, shoes, fruit platters, you name it.
Hyundai says that with the front seats forward, the 'Universal Island' slid all the way back and the rear bench also adjusted into position (it electrically moves across a 135mm range), you can position a laptop on the centre console and host online meetings. Or watch Netflix…
The 'Universal Island' also frees up room behind the dashboard, allowing for a sliding-tray glovebox that offers 9.4 litres of storage.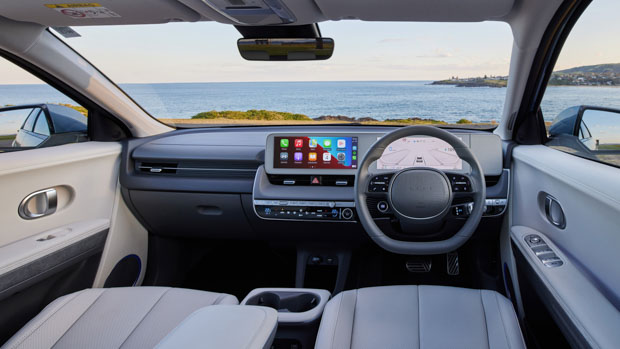 #4: Ultra-fast charging
With the ability to support both 400-volt and 800-volt charging infrastructures – the first mainstream EV model to do so (a la Porsche Taycan) – you can charge the Ioniq 5 on any contemporary charging platform.
But this patented multi-charging system is also able to use the motor and inverter to boost charging from 400 to 800 volts, so even if you don't have access to an 800V DC charger, the Ioniq 5 can stably boost the charge amount to 800 volts for true ultra-fast charging.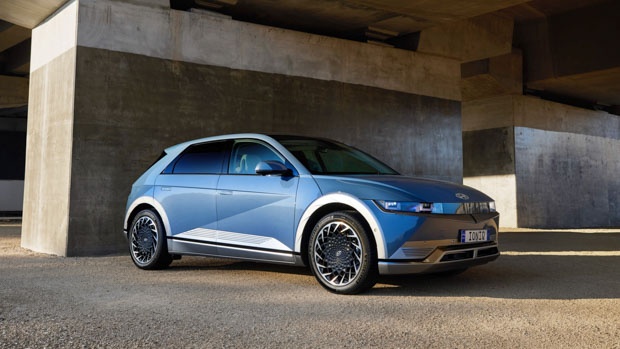 Hyundai says the Ioniq 5 can go from 10- to 80-percent charge in 18 minutes, and can add 100km of range in five minutes.
The Ioniq 5 can also provide voice notification of charging status, such as 'charging started' or 'charging scheduled' if you program a charging time.
#5: Eco-friendly cabin furnishings
An EV wouldn't be worth its weight in battery tech if its build materials didn't contain a nod towards environmental sustainability. It's a trend we've seen in rivals like the Mazda MX-30, and the Tesla Model 3 skips leather, too.
Every Ioniq 5 interior features 32 recycled plastic bottles used to produce yarn for the seat coverings and door armrests – the recycled content totalling 40 percent.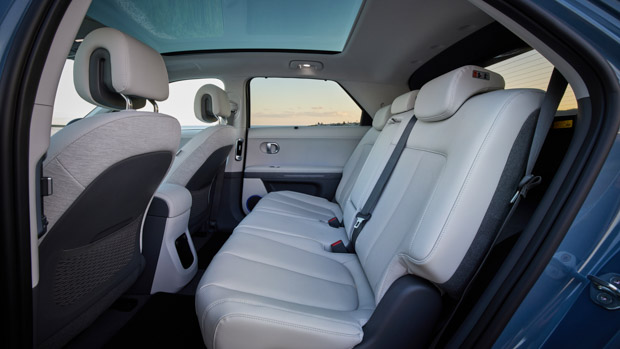 Bio-PET is another sustainable yarn used for the headlining, seat coverings and floor, which contains organic ingredients such as sugarcane and corn, and is claimed to reduce carbon dioxide emissions by up to 63 percent.
Real wool makes up 30 percent of the seatback material, with every Ioniq 5 containing up to 300 grams of wool – reducing carbon dioxide emissions by up to 80 percent. And there's eco-processed leather that uses flaxseed oils instead of animal-derived oils.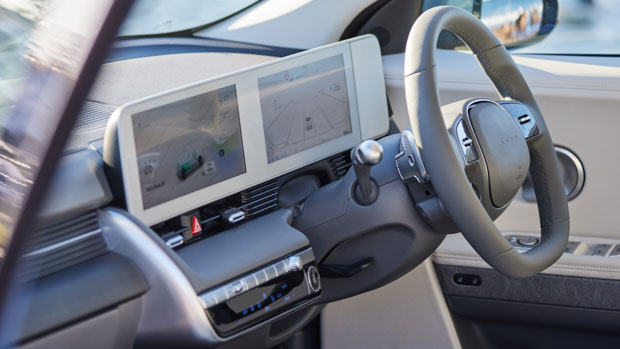 The Ioniq 5 also features 'Paperette', which is a 100 percent recyclable and reusable, high-density polyethylene resin. Paperette is used in the doors as a trim highlight material and feels like fabric or paper when you touch it. It's also free from harmful substances.
Other enviro nods include bio yarn (with up to 22 percent organic material, used in the crash pads and door trims), and bio paint with up to 13 percent bio poly oil (used in the dash pad, door trims and switches).
#6: Matte-gold paint
It isn't often that the hero colour in a new car is gold, but that's the hue of the moment for the Ioniq 5 – Gravity Gold.
Matched with a Dove Grey/Dark Teal interior – the same cabin colouring matched to Galactic Grey metallic paint – it symbolises the calming, non-threatening friendliness of the Ioniq 5.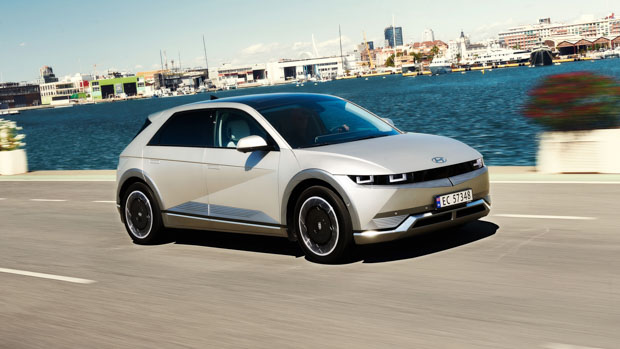 Other exterior colours include Atlas White (with an Obsidian Black interior), Phantom Black mica (also with Obsidian Black inside), the highly popular Digital Teal Green mica (with Dove Grey/dark Pebble Grey interior) and soothing Lucid Blue mica (with Dove Grey/Pebble Grey).
#7: Riding, my (1974) Pony!
South Korea's first-ever domestic car (besides remaking other company's designs) was a humble little sedan called the Pony, launched in 1975 … but that's not quite the same Pony that inspired the ultra-cool Ioniq 5.
Instead, the styling inspiration for Hyundai's hero EV – especially at the front – is the 1974 Pony coupe concept that debuted at the 1974 Turin Motor Show.
Designed by Giorgetto Giugiaro at Italdesign, the Pony coupe concept screams 1974 futurism louder than Abba's Eurovision outfits, but it was ultimately intended to preview the forthcoming '75 Pony sedan – also designed by Giugiaro.
And, as it turns out, the 2022 Ioniq 5.