Golden anniversaries don't happen often – but fifty years ago today, Honda Australia commenced operations. February the 4th, 1969, marked the beginning of national representation of the Japanese carmaker in Australia, which dispatched executive Hidehiki Shiomi to establish a Melbourne office.
Honda are commemorating their golden jubilee by painting the range gold – or a chunk of the range, more accurately. From their car lineup, Honda selected the NSX supercar ($420,000 list, $453,406 driveaway) and Civic Type R hot hatch ($50,990 list, $55,287 driveway) to be wrapped by Melbourne outfit Vinyl Wraps and Graphics in a resplendent gold hue.
It was clearly time to go big with the celebrations, with Honda's Australian operations notching up over five million sales in the past five decades.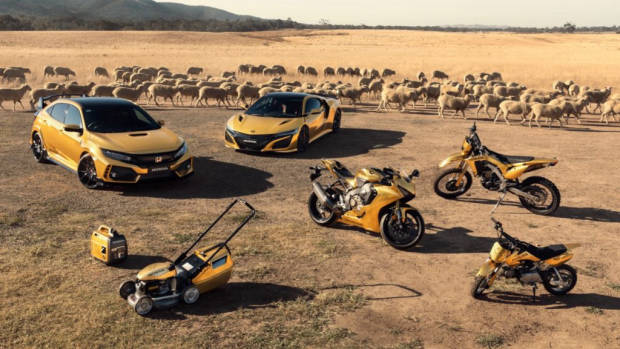 Not just a car building firm, the NSX and Type R were joined by a variety of Honda's other mechanical products for the golden photoshoot. Also sporting the commemorative paintwork were Honda's CBR1000RR Fireblade and CRF450L motorbikes, and the CRF50F Kids Fun off-road bike.
But that wasn't all: many Australian lawns are maintained by way of Honda lawnmowers, and it's only fitting that the brand's HRU19 Buffalo Premium mower also sports gold paint. The pack is rounded out by a Honda EU22i generator.
"We thought about how we could celebrate our birthday and our unique diversity in a bold and fun way. I mean, who has ever seen a golden mower or generator before?", said Hiroyuki Shimizu, managing director and CEO at Honda Australia.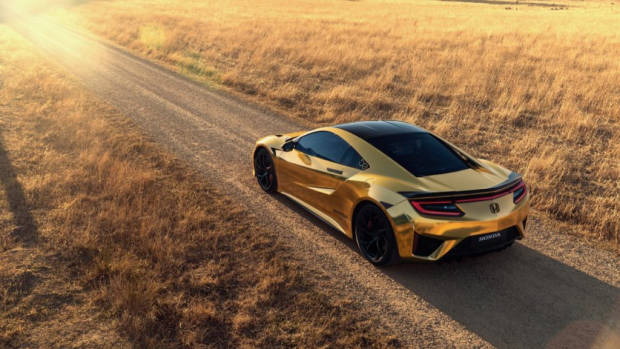 Robert Toscano, managing director of Honda Motorcycle and Power Equipment, was pleased to see the collaboration include two-wheeled Hondas: "Honda products have been instrumental in shaping the landscape of modern Australia over the last fifty years – take the CT110, more commonly known as the Australia Post 'postie bike'."
Matt Czerny, who oversaw the wrap job, said that "the intricate profiles of the bodywork" across the two cars, three bikes, mower and generator meant it "was a complex project…but we are thrilled with the results."
Photos by Jayden Ostwald for Honda Australia.