One of the most supremely cool coupes of the 1990s, Honda's NSX supercar, has been reawakened for a second-generation that will be built from the spring of this year.
Announced overnight in Detroit as an Acura – Honda's luxury brand in the United States – we're currently short on detail and specifications, but we're not short on pictures.
And it looks fantastic, doesn't it? Building on, rather than taking away from recent concepts, the production NSX is almost 30mm wider that envisaged, and eight centimetres longer, bringing the length to 4.47 metres. The bigger car will remain lightweight and highly humble with a carbon fibre floor and chassis that makes extensive use of light aluminium.
The design language employs the best of American Acura designs, the aggressive elements of recent Honda Type R models, plus plenty of flair that recalls the modernist lines of the first-generation car, that was built from 1990 all the way until 2005.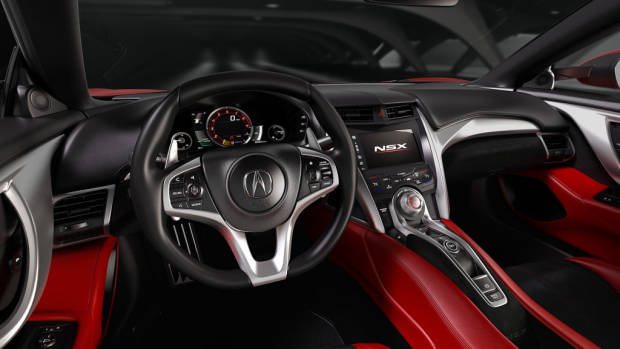 As for output, we have no hard numbers, but we know this: there will be a hybrid V6 powertrain but no CVT here – and no manual. Instead, a nine-speed dual-clutch automatic will channel power to the ground through an all-wheel-drive format that builds on the brand's Super Handling All Wheel Drive system.
No less than three electric motors will supplement the petrol six: one electric motor per front wheel, and one between the rear wheels.
Adjustable driving modes will be standard, including hardcore Sport Plus and Track modes, plus a Launch Control system that employs all four 'engines' simultaneously.
The cabin is free from the busier design language of more recent Hondas, and is instead a focussed affair centred around a decent-looking wheel with aluminium paddle shifters, and a raised centre console with no traditional gear shifter.
We're guided on the pricing of the new Honda NSX by American figures: the Yanks will pay around US$150,000. With the usual inflation seen in car prices here, we wouldn't be expecting much change from $250,000 from this one. An expensive Honda, sure. But a very unique, very quick proposition indeed.