An all-terrain, 4×4, well-specified, 'large' diesel three-row SUV priced from just $42K?
When it comes to the new Mahindra Scorpio, just launched in Oz, you might respond with "where do I sign?" Or, perhaps, "what's the catch?"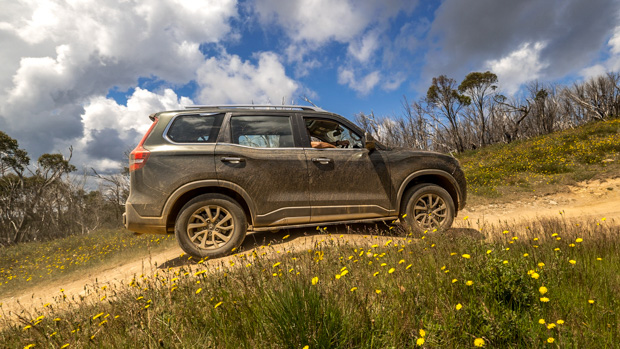 Indian carmaker Mahindra pitches a lot of promise for little outlay in Scorpio, its rugged wagon competitor for everything from Isuzu MU-X and Ford Everest to Toyota Prado.
It's carved a reputation – both fair and foul – for cut-priced modesty largely with its Pik-Up ute, and mostly with regional buyers.
And Scorpio is the marque's thrust towards the big smoke while targeting adventure loving families.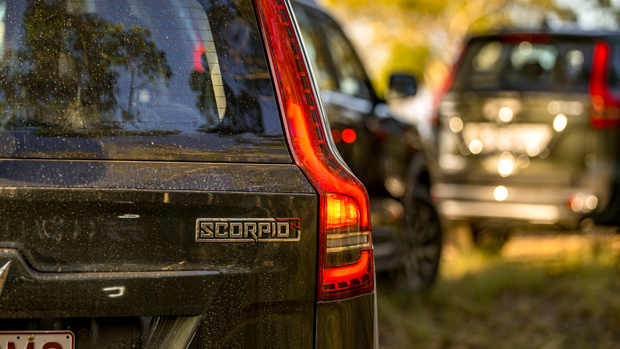 The Scorpio, available in two highly specified trims in entry Z8 and flagship Z8 L, is a bold proposition and one not without quirks and flaunting convention.
Take, for instance, naming: it's Scorpio in Oz, though its Indian market name 'Scorpio-N' – but not 'Scorpion' – is also acceptable because it appears on vehicle badges and literature in Australia.
Mahindra calls it a large SUV, loudly and confidently. But at 4662mm in length, it's nowhere near as long as a Prado (4995mm) and is, in fact, shorter than a midsize Fortuner (4795mm).
Like its key competitors in the 4×4 SUV segment, the Scorpio features body-on-frame construction.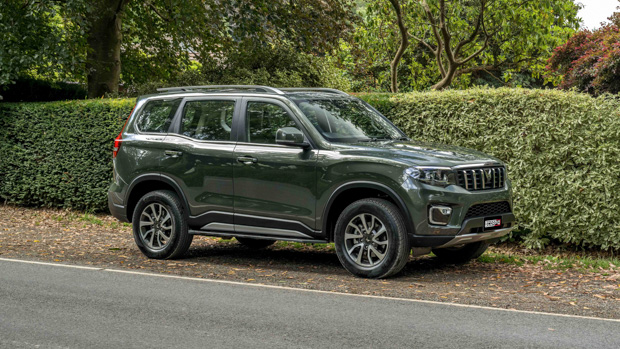 The Scorpio is a three-row wagon, though it's strictly a six- rather than a seven-seater in both available grades.
And with a captain's chair second-row format found in (properly) large SUVs such as Mazda CX-9 and Nissan Pathfinder. "Supply chain issues," its importer says, are to blame, though seven seats are the default specification in its homeland.
Its all-terrain credentials are more definitive. The range fits a sole 2.2-litre all-alloy turbo diesel outputting 129kW and 400Nm – a modest torque figure for its target segment – and a six-speed automatic transmission paired with dual-range on-demand 4×4.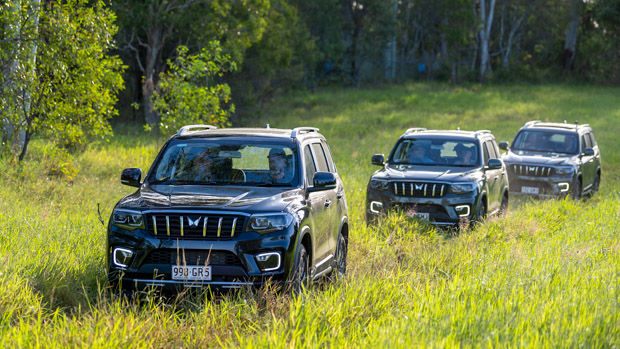 Petrol, manual and rear-drive choices are available in Scorpio's domestic Indian market though aren't offered locally.
Mahindra had both the Z8 and Z8L variants available to drive on and off road at the Scorpio's local launch, though Chasing Cars chose to focus exclusively on the former entry version as the clearer example of the Indian SUV's core value pitch.
What are the Mahindra Scorpio's features and options for the price?
The two-variant Scorpio range starts at $41,990 for the entry Z8. The higher-trim Z8L is priced at $43,990. Both prices are national driveaway.
Mahindra's aggressive pricing considerably undercuts the entry points to key 4×4 towing and touring rivals such as Isuzu MU-X LS-M ($54,900), Mitsubishi Pajero Sport GLX ($49,490), Toyota Fortuner GX ($49,965) and Land Cruiser Prado GX ($60,830), all listed before on-roads.
The entry Scorpio Z8 includes the features such as:
18-inch alloy wheels with 255mm rubber

Four-wheel disc brakes

LED headlights and tail lights

On-demand 4×4 with dual range

Auto-lock rear LSD

Six-seat configuration

Leatherette seat trim

8.0-inch touchscreen multimedia

Wired Apple CarPlay and Android Auto

Dual-zone climate control

Cooled glove box

4.2-inch monochrome driver's screen

Cruise control

Hill descent control

Reversing camera

Rear parking sensors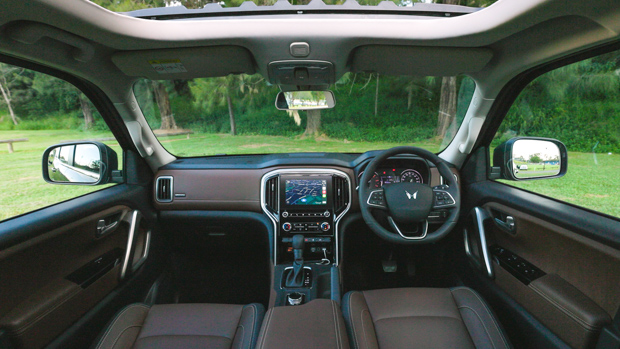 The Z8L adds further niceties such as:
Front parking sensors

A forward-view camera

7.0-inch colour digital driver's display

Six-way electric driver's seat adjustment

12-speaker Sony audio system

Wireless phone charging
How does the Mahindra Scorpio drive?
The Scorpio sits on Mahindra's scalable third-generation body-on-frame platform that's stiffer, lighter and a generation newer than the current Pik-Up underpinnings. And one that could well support the Indian marque's future utes.
Suspension is double-wishbone front and a live-axle Watts link rear, coil sprung at both ends with what Mahindra calls Frequency Dependent Damping, essentially passive dampers with variable valving.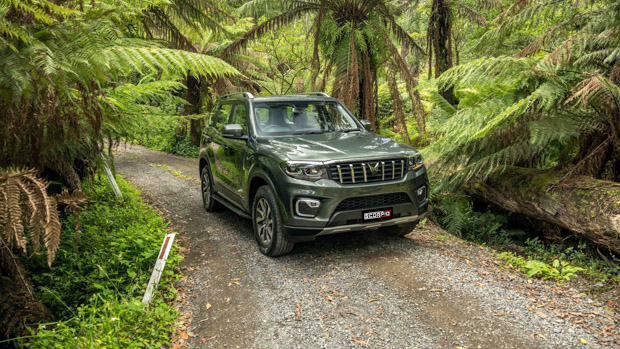 Electric power steering and four-wheel disc brakes adds solid grounding for a wagon that defaults to rear-drive for the on-road experience.
On the sealed stuff, the Scorpio feels competent and unremarkable, save perhaps for the 2.2-litre diesel that is impressively smooth and chatter free.
The Aisin six-speed auto, adopted in the likes of Fortuner and MU-X, is a smooth operator, doing a handy job of plucking the engine's 1750rpm (low torque peak) to 3500rpm (high power peak) sweet spot with excessive shifting or fuss.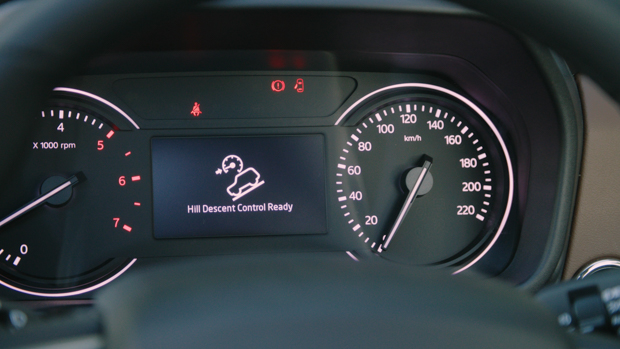 In fact, initial impressions are that, on road, the Scorpio more than has the measure of its competitors in fundamental refinement levels. It's also quite solid, generally decent in NVH suppression and imparts a sense of substance that belies the spectre of its chips-cheap pricing.
It's torquey enough for unflustered progress with three adults aboard, demonstrating ample touring manners.
But it's no powerhouse and when tasked with step inclines over highway overtaking the oiler reveals a breathlessness to rev towards redline – comically placed at way up at 5000rpm on the analogue tachometer. Go figure.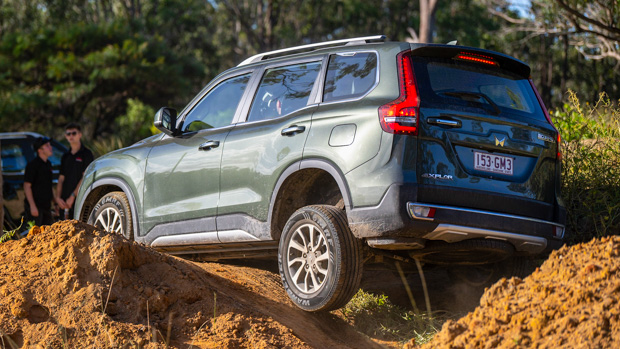 It's not all smooth sailing. The on-demand automatic diff lock, functional in either rear-drive or on-the-fly switchable 4×4, does clunk noticeably when it calls itself into play.
Similarly, there some separate driveline lash that's evident as you roll on and off the throttle, though not to the point of genuine annoyance.
The electric steering, a dual-pinion design, is fairly aloof and over-assisted to the point of being inert, though the front end, with its meaty 255mm 18-inch tyres, tends to track confidently enough to tune out excessive vagueness at the helm. In short, it's easy-going and non fatiguing.
Ride is middling. The tricky dampers do seem to come into their own during hard hits at pace, though it does get a little fizzy in vertical movement across smaller, finer road imperfections.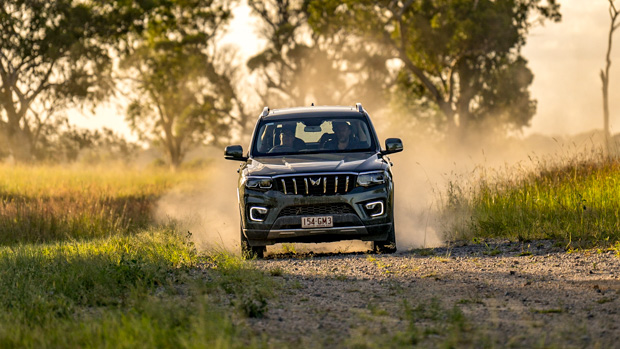 All up, though, it's quite good for a competitor in a 4×4-oriented segment where general ride comfort discipline so often seems unconsidered.
Frankly, for the money it asks for, I was expecting a more agricultural experience. The Scorpio is certainly a more pleasant and evolved model than what I remember of Mahindra's pick-up offerings.
In terms of towing, the Scorpio is rated at 2500kg braked. Decent if hardly segment leading. We look forward to testing its towing chops some time in the future.
The Scoprio's Australian launch program wasn't the hardest-core off-road demonstration, but the jack-up wagon did romp through much of it in 2-High rear-drive in its on-road drive mode, showing many and varied shades of all-terrain competency.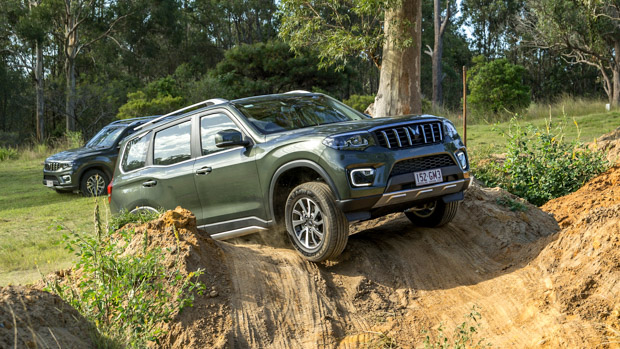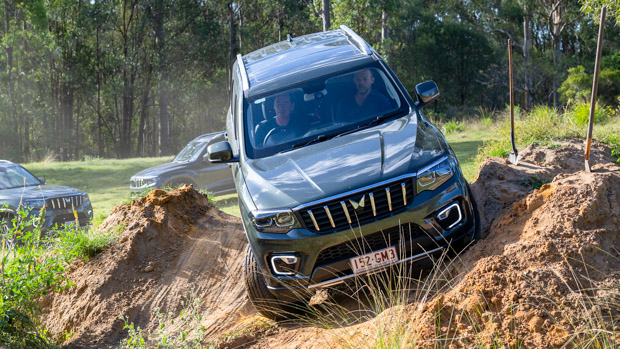 Its respectable ground clearance (227mm) and decent enough approach (27.2deg), departure (21.3deg) and breakover (23.5deg) angles allowed steady progress across an array of curated dirt humps and moguls, though I did manage to dislodge a side-skirt during one misadventure. It popped back into place easily enough.
More concerning, though, is that the diesel's ad-blue tank hangs aft of the left-side rear wheel, exposed to easy impact.
The powertrain slips quickly into 4-High on the move (up to 80km/h) and low-range engages without fuss, the latter a little longer geared than might be ideal when requiring a proper crawl speed across some obstacles and challenges.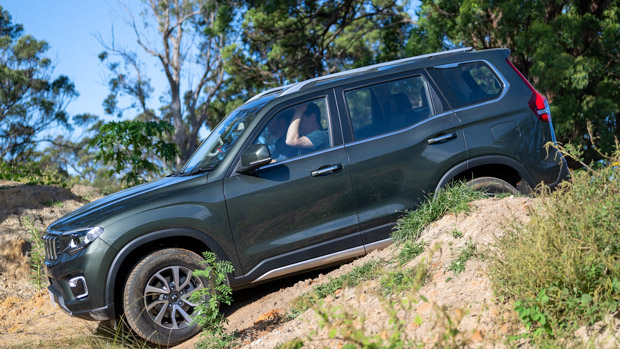 Traction is impressive from the all-terrain (Indian-made) MRF Wanderer rubber, though the jury is out on the self-locking rear diff across the rough stuff.
The design is load reactive, and the constant locking and unlocking on and off the throttle isn't quite as handy as a user-activated design, though there's no need to 'remember' to activate the diff in the heat of the moment.
The Scoprio also uses electronic slip-regulation-by-brake across both axles and it never seems stumped for forward progress regardless of how high a wheel hangs during big articulation manoeuvres.
The suspension's cushy nature also makes for downright comfortable transit across sharp and punishing landscape. It feels, in a sense, more Land Cruiser Prado and Fortuner in many respects.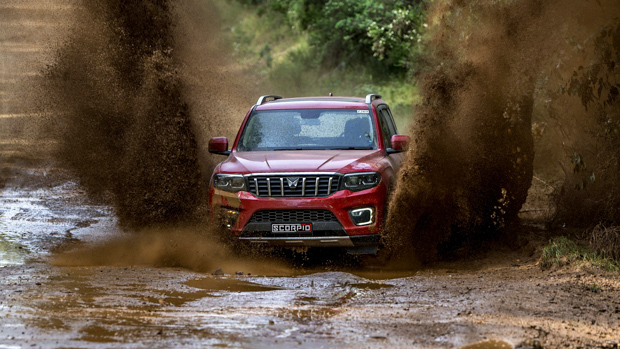 The Scorpio also took a dip through a muddy river crossing with no sign of water penetration into areas you want to keep dry.
The so-called '4Xplor' drive mode select offers dedicated terrain tunings for grass/snow, mud/ruts and sand, and rifling through them on the off-road course yielded subtle differences used outside of their labeled themes. But generally, mode switching is easy and beginner friendly.
In fact, one promise the Scorpio delivers handsomely on is newbie accessibility.
There's really nothing confusing or that demands a steep learning curve in multi-terrain adjustment and it's backed by an off-road performance that seems (at least) somewhat idiotproof.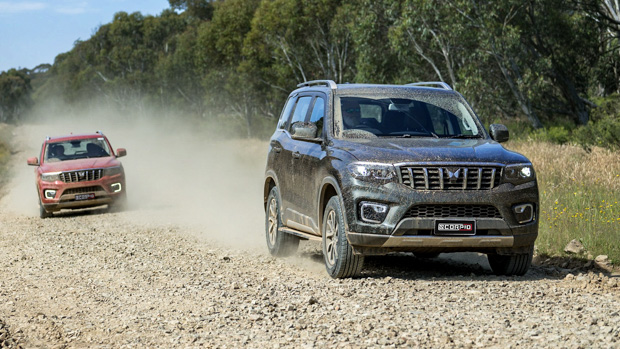 Faultless? No. In low-range, our test SUV was prone to some shuddering idling at a standstill. It disappeared switching up into 4H. Elsewhere, the hill descent control is a little hit and miss, tending to run-off at a speed that's a little too rapid for comfort.
Nice, though, is that the Scorpio never, ever starts to beep or ping unnecessarily in warning, be it on road or off. So often, with all-terrain offerings, the proximity sensing goes haywire in the heat of an off-roading moment and it's not the case there.
Perhaps it's something to do with the alarming lack of active safety equipment, though that's a topic we'll discuss a little further down the review.
What is the Mahindra Scorpio interior and tech like?
Before burning down into trim and tech, the Scorpio proposition takes a strange turn when it comes to size and packaging. Particularly if you take Mahindra's 'large SUV' claim with much credence…
The unusual six-seat configuration is usually offered in (properly) large SUVs such as Mazda CX-9 and Nissan Pathfinder as a premium and indulgent addition.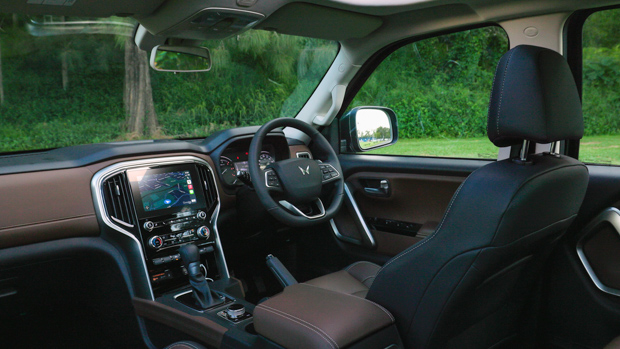 And yet here it is, shoehorned into what's ostensibly a midsize cabin space in what's actually a midsize wagon body…with no option of a second-row bench to create a seven-seat format.
So what gives? Put simply, boot space. With all three rows in play, there is literally no luggage space whatsoever, as the third row bench butts up against the rear door.
Mahindra quotes 686 litres of boot with row three folded, some 756L by further flipping the seat forward. But here's the problem…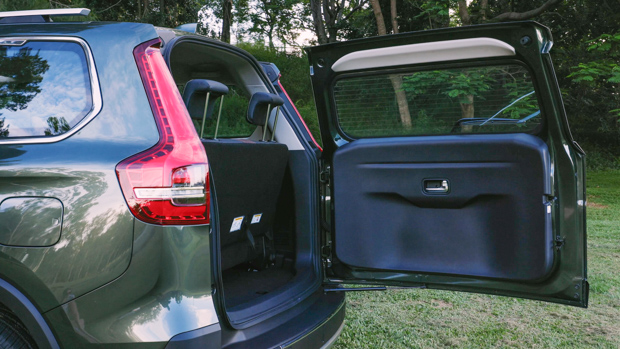 With any luggage space whatsoever, the Scorpio is effectively a four-seater only. This seriously impacts outright practicality compared with either five- or seven-seat alternatives.
One plus is that the laterally swinging rear door opens to curbside though, interestingly, only the left-side row-two captain's chair can flip forward to allow access to row three. Quirks? You bet.
Mahindra claims the absence of a row-two bench/seven-seat configuration is due to "supply chain issues," presumably from the same suppliers of the seating in rows one and three (that is in fact a bench). Seven seats are coming in Scorpio's lifecycle, its importer promises…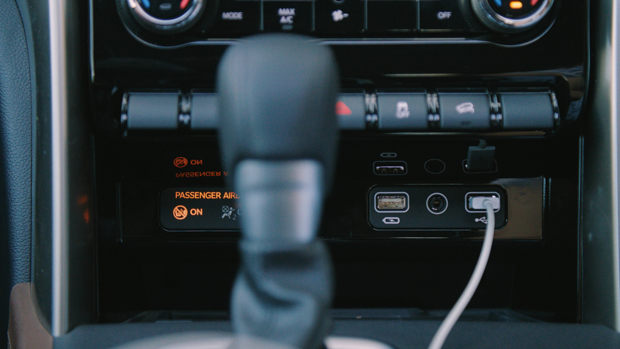 Overall, the cabin space presentation punches above driveaway pricing expectations.
The so-called Rich-Coffee Black (brown and black) theme is fetching and the leatherette used for the seat trim is quite supple. Plenty of soft touch surfaces and double stitching, including along the dash fascia, drag the Indian SUV out of excessive cut-price doldrums.
However, the Scorpio does put a firm lid on excess and indulgence. Part of that is material choice and use, from the cheap-ish old-school HVAC array through to much of the plastic trim.
That said, it's no lower-rent than many of its Thai-built competitors wanting for much more outlay at more modest variant trim levels.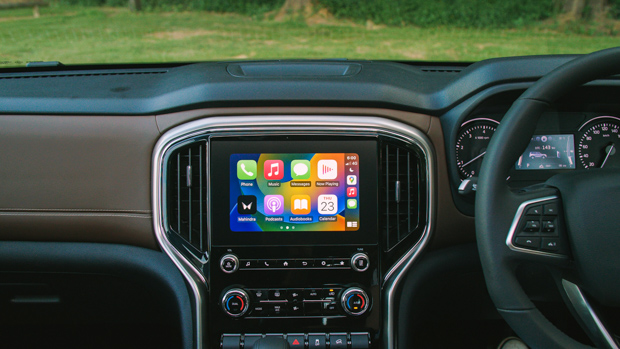 The solid if unremarkable theme continues elsewhere in a cabin that's innocuous in design. It's easy to negotiate, offers few frills and could've been styled at any time in the past decade.
The mechanical (in base Z8) front seats are moderately comfy and amply supportive, though the lack of steering wheel reach might cause some body types fatigue on a long haul.
A real highlight, though, is that the low window line and huge glass area affords exceptional outward visibility.
The 8.0-inch infotainment is run-of-the-mill, with a workmanlike camera system and no proprietary satnav, leaving any interesting features down to smartphone mirroring.
In start up and in response, it's also quite slow. There's also nothing fancy, either, about the analogue driver's instrumentation and old-hat 4.2-inch monochrome information display.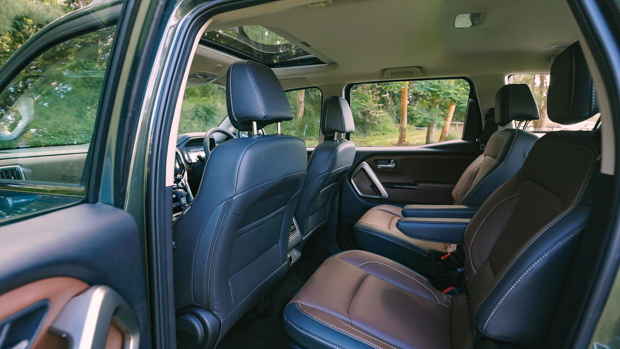 Storage is a mixed bag. You do get a cooled glovebox, which is neat, though the centre console bin is laughably shallow. Oddment storage is okay, given that the phone bin doesn't offer inductive charging…even if the design of the cubby mat suggests otherwise.
Row two is perhaps the comfiest place to spend the long-hours in. Leg and headroom is very generous and the captain's chair format, for its impractical nature, does bring some upmarket flash.
Pluses in the middle row include fold-down armrests and dedicated fan controls for ventilation, located in the back of the centre console.
The seat bases are also set high for so-called stadium seating and outward visibility here is, like the first row, most excellent.
However, rear passengers will have to fight for the sole USB-C outlet and, strangely, there are no cup-holders. In fact, Scorpio fits just one cupholder period: in the middle of the first row console.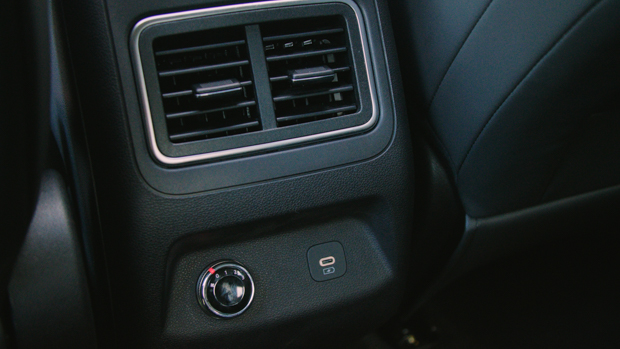 There's no slide adjustment for the captains' chairs, meaning that they can't be positioned further forward to allow improved row three legroom, which is pitiful.
The stepped roof, though, does add a modicum of rear-most passenger headroom. Not unsurprisingly, row-three occupancy is for small kids only and, again, access is only available through the left-side door.
Despite the aforementioned lack of real-world luggage space, the Scoprio does mount a full-size spare wheel, which is essential for a wagon that proposes all-terrain capability.
Is the Mahindra Scorpio a safe car?
The Scorpio fits ABS, traction control and stability control. It has four-wheel disc brakes with disc wiping tech to aid braking hardware friction in the wet.
It offers trailer sway and roll-over mitigation and features a gamut of electronic terrain assistance by way of torque shuffling-via-braking.
However, the wagon does not fit autonomous emergency braking. Nor does it fit blind spot monitoring, lane departure warning, lane keeping assistance, rear cross-traffic alert or really any active safety or convenience system other than passive cruise control.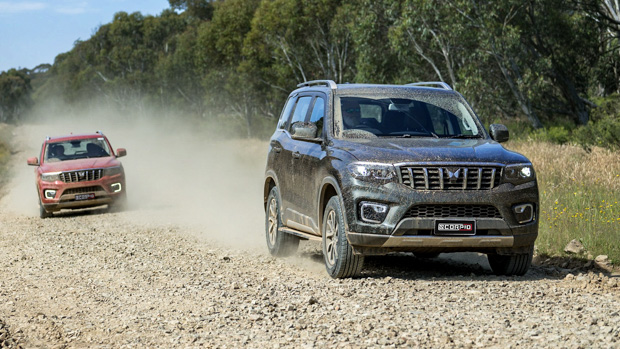 For an all-new model launched in 2023, that's quite unorthodox to say the least.
The Scorpio is not sold in Europe so is not rated by Euro NCAP. Nor is it rated by our locally focused ANCAP.
Further, its six airbag coverage features front, side and curtain airbags, while the latter is described by the vehicle's importer as having "partial third row coverage".
Given the curtain unit extends towards the rear from the the front of the vehicle, it is questionable how much lateral head protection this partial third-row coverage provides.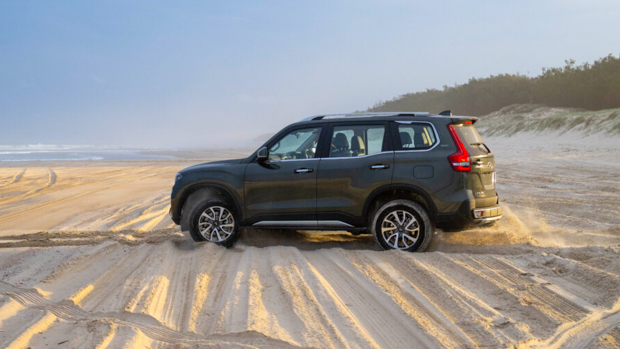 Mahindra has promised that active safety will be introduced into the Scorpio model line at a future time in this model's lifecycle. As reported elsewhere, it will need to by early 2025 in order to comply with ADR requirements.
Given its braking system uses Bosch DNA, one presumes that associated AEB active safety isn't a huge technological leap in order to be integrated into Scorpio.
What are the Mahindra Scorpio's ownership costs?
On test, the Scorpio displayed a mixed-cycle consumption figure of just over eight litres per hundred, a bit thirstier than its 7.2L combined claim.
Given its (untested) extra-urban claim of 6.8L/100km, the fitted 57-litre tank offers a theoretical highway range of over 800kms.
Servicing intervals are 12 months or 15,000kms, whichever comes first, though at the time of the local launch Mahindra Australia hadn't finalised servicing costs, capped or otherwise.
Warranty is a long seven years, if capped at 150,000kms of duration.
The honest verdict on the Mahindra Scorpio
When you undercut the competition so aggressively on price, there are clearly some concessions to be made and some expectations to be curbed.
But generally speaking, from the character of the powertrain down to the quality of the leatherette interior trim, the base Scorpio Z8 delivers well in its proposition for the sort of money it asked for.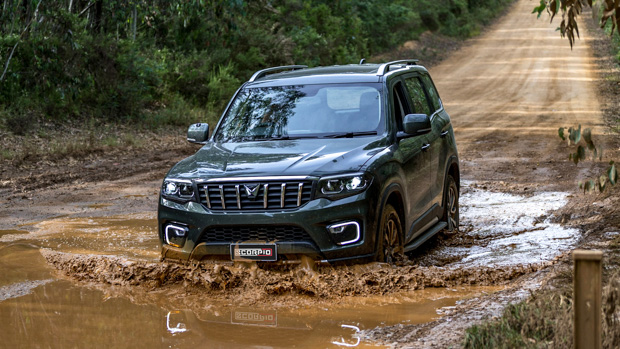 From here, it's a bit of a polarising pitch, be it seductive or dissuasive, depending on the buyers' intended use.
For $42K driveaway, the Scorpio Z8 is one helluva of an all-terrain machine for the dough.
How far off the beaten path it could venture against pricier rivals remains to be seen (and tested), but on test it romped through moderately tricky challenges and – a big plus – is very user friendly in the process.
But in its core duality, the Mahindra 4×4 SUV also promises to be family friendly. And here it becomes much trickier to recommend.
Firstly, the issue of the lack of active safety and emphatic third-row airbag coverage are two sizeable blows to its family hauling credentials. Even a Toyota 70 Series Land Cruiser gets AEB in 2023…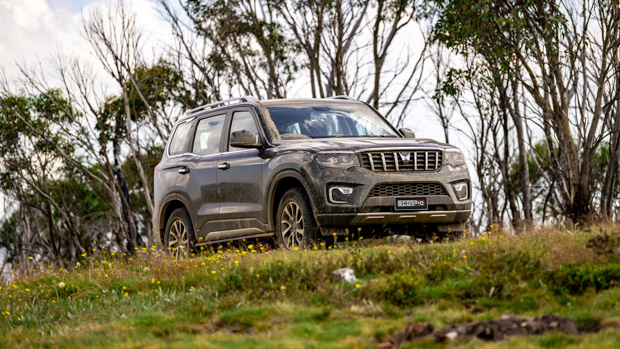 The six-seat format will be a mixed blessing. As a pro, it brings novelty factor and an endearing point of difference in the segment it plays in.
As a con, it's realistically a practicality drawback when tasked with moving passenger and luggage: surely a key role for a 4×4 all-terrain wagon.
So while the Scorpio offers a lot of enticement as a value-laden offering, our advice is to be circumspect and realistic when sizing it up as a worthy and fit alternative to the usual, pricier suspects.