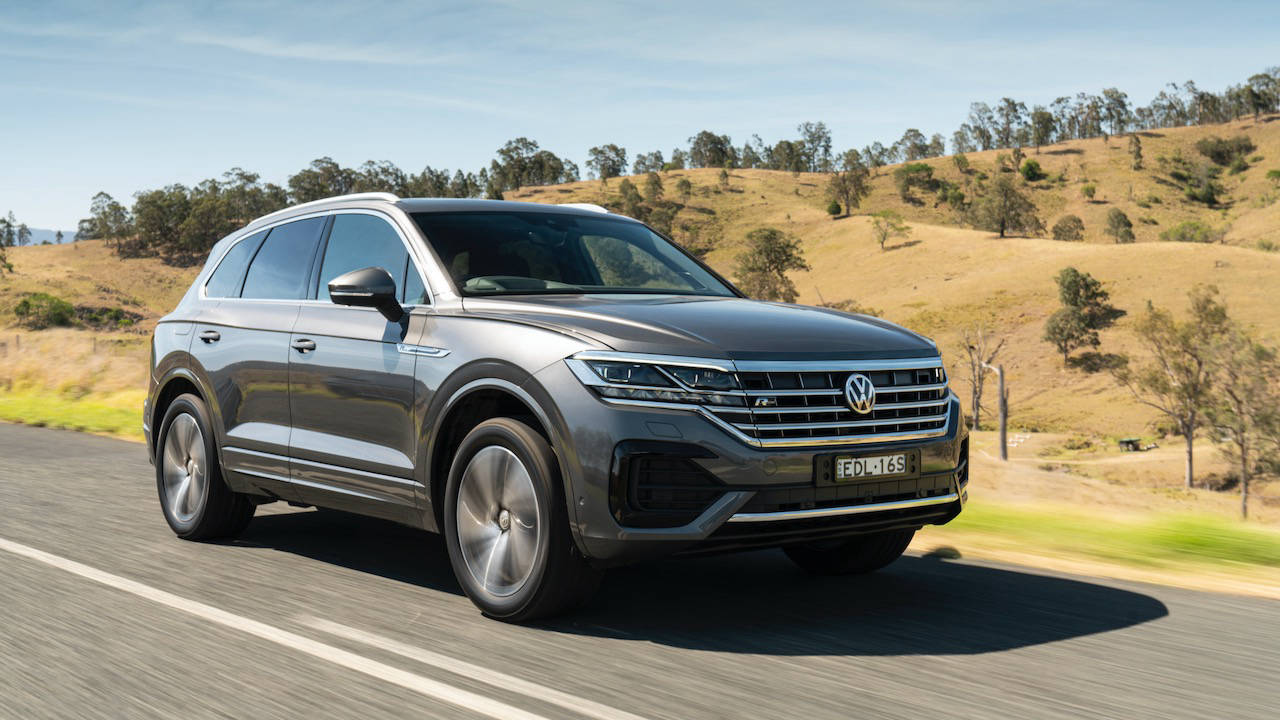 Six months on from the arrival of the Volkswagen Touareg Launch Edition – the first of the third generation of VW's largest SUV to hit Australian soil – the rest of the range has now arrived. The permanent lineup is two-strong but from a buyer's perspective there is really three: a base model called 190TDI, the up-spec 190TDI Premium, and then this car on test – the sportier 2020 Volkswagen Touareg 190TDI Premium R-Line – or Touareg R-Line for short.
In the Volkswagen universe, buying R-Line generally means getting the same engine as in normal range – but with a few sporty mechanical and aesthetic upgrades acting as a bridge to a bona fide high performance model. Half of that is true for the Touareg – though this time around, there's no hot version. The previous shape was offered with a V8 diesel in R-Line dressing, though we're yet to learn whether an eight-cylinder will make a return in the new model.
In the 2020 Touareg, the R-Line ($94,790, $105,588 driveaway) uses the same 190kW/600Nm 3.0-litre V6 turbo diesel as every other third-gen Touareg we've seen on the ground. Volkswagen Australia haven't ruled out bringing the 310kW/900Nm V8 diesel available in Europe to our shores, but for now, it's a V6-only lineup – not that there's anything wrong with the bent-six.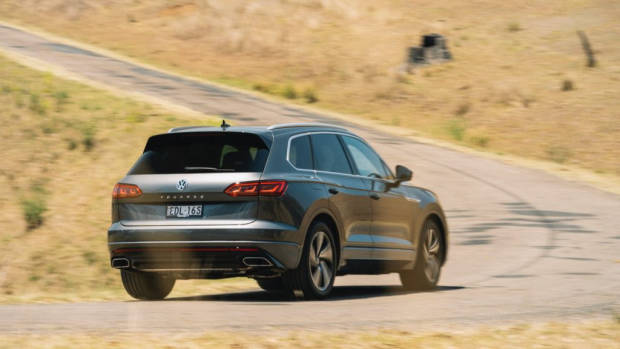 Instead, this R-Line's upgrades take in a four-wheel steering system, differentiated 20-inch wheels, exterior badging and a rather naff carbon-effect pattern on the headrests inside. With one exception, most people will be just fine opting for the underlying 190TDI Premium ($86,790, $94,668 driveaway) without the extra garnish, saving $8,000.
That exception is the four-wheel steering system. Like other 4WS setups, at high speed, the Touareg R-Line's rear wheels turn in the same direction as the front wheels for greater stability, while at lower speeds they turn in the opposing direction for impressively tight cornering and manoeuvrability. It really works: jumping from a 2WS Touareg to this R-Line, it's clear that you can turn in later and harder on a good road and that the urban turning circle is tighter.
Otherwise, the heart of the R-Line is unchanged. Volkswagen's venerable three-litre diesel is still a wonderfully smooth, refined unit – it's much better suited to the job than the petrol V6s of many large mainstream SUVs. Testament to this is the 6.5L/100km we managed on a Christmas road trip from Sydney to Melbourne and back, while urban economy rarely blew out beyond 9L/100km. Try that with a petrol donk. That this engine is found in many Audi applications is unsurprising.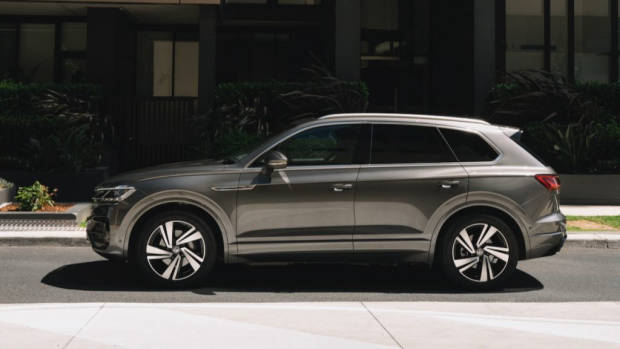 The R-Line shares the underlying 190TDI Premium's air suspension, which replaces a fixed, busily-riding steel spring setup in the base 190TDI. You want the air, making the Premium a no-brainer, though the R-Line does not get a specifically sporty tune. It does have three modes: comfort is floaty but ultimately the best fit for this car. Normal and Sport introduce more jitters respectively without improving body control to the point that a deteriorated ride is worthwhile. The high lift settings on the air suspension also provide some genuine off-roading capability, as we discovered when driving the new Touareg in Morocco (watch here).
Left in Comfort mode, any air-sprung third-gen Touareg makes for a wonderful country tourer, loping along Australia's scarred highway network with aplomb. It irons out bumps with ease, cosseting the occupants. Noise at all speeds is also very well insulated. This is a relaxing, easy, frugal large SUV.
Shame it's only a five-seater, because we'd find the Touareg so much easier to recommend if it had a third row. Seven seats would be a natural fit for Volkswagen's flagship crossover in Australia – it would be a nice upgrade from a Mazda CX-9. The Touareg's close cousin, the Audi Q7 (from $101,900, $112,092 driveaway), is a three-rower, making the decision a baffling one. Volkswagen Australia says the Touareg is very popular with grey nomads who don't need the room. We think it'd be popular outside that group if it had better versatility.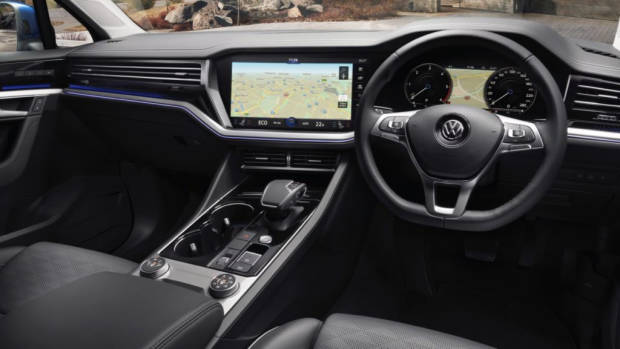 The byproduct of less seats is that the Touareg's second row is very roomy, with a sliding and reclining bench, a separate climate zone, and extremely generous headroom and legroom, even with the panoramic sunroof option of our test car. Integrated sun blinds in the rear windows mean avoiding tacky aftermarket options. Equally, no stowed third row further increases boot space to a vast 810L – expanding further to 1,800L in two-seat mode. With the air suspension, the rear ride height can be lowered from the cargo area to make loading heavy objects easier.
However, it's up front that the Touareg's cabin impresses the most…if you opt for the $8,000 Innovision package, that is. Anybody remotely interested in technology – or in finished-looking cabins – will smash the piggy bank to find the extra dosh. The package includes a 15-inch touchscreen that allows you to view a huge, cartograph-like map and interact with media and vehicle settings on an enormous canvas. You also get a 12-inch digital driver display, a head-up display, customisable ambient lighting and a gloss-black centre console.
Skip out on Innovision and the enormous space for a 15-inch screen remains…but it's filled with a 9.2-inch unit, which ultimately looks compromisingly small. There's nothing wrong with the nine-incher's functionality or with the pretty analogue dials that you get in front of the driver, though we did raise an eyebrow at the cheaper matte finishing of the centre console that arrives by default.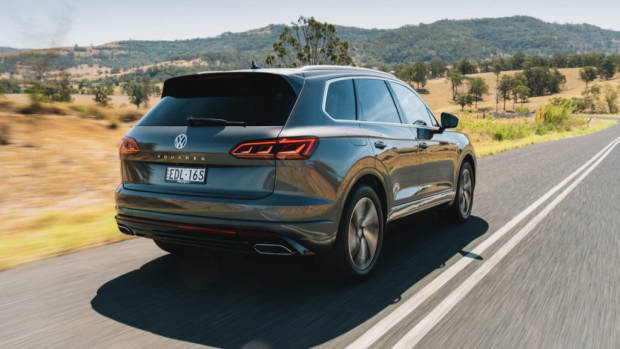 Speaking of cheap, we're also left wondering whether the vault-like character of the previous-gen Touareg might have departed with that vehicle. While the doors are reassuringly hefty, we couldn't ignore the creaking noises emanating from the touchscreen and centre console regions over every midsize or large bump. Just an overworked press car? It's possible.
That question mark aside, the remainder of the Touareg's interior is a lovely place to be. Nappa-leather seats are standard on the Premium (and therefore the R-Line) – they offer a very broad range of adjustment, plus heating, cooling, and massaging functions which ease long-distance road trips considerably. The creamy leather steering wheel is good to hold; the driving position is well set up; vision outward is great thanks to large windows and a 360-degree camera. The Dynaudio stereo is superb.
In the second row, the space is voluminous and the finishing is luxurious: it's a lovely place to spend time. With limo-like legroom, headroom worthy of a basketball player and amenities that include USB charge points and a separate climate zone, kids or adults will be happy here. The seats do slide fore and aft to maximise either boot space or legroom.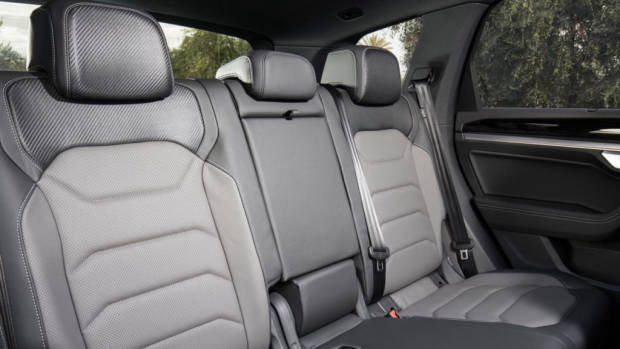 We've already mentioned the specific inclusions for the R-Line, that wrap up more athletic styling, four-wheel-steering, specific seat upholstery and black headlining into the $8,000 package price.
However, standard kit is pretty impressive across the Touareg lineup – with Volkswagen claiming you save thousands buying their large SUV instead of a luxury rival like a BMW X5. All Touaregs score leather seats with heating and power adjustment up front, an electric tailgate, proximity entry to all doors, a 75-litre fuel tank, Apple CarPlay and Android Auto, autonomous emergency braking, adaptive cruise control, lane keep assist, blind spot monitoring, and automatic LED headlights.
The 190TDI Premium grade that the R-Line is based upon adds in air suspension with a super-soft Comfort mode, softer Savona leather, automated parking, a cooling function for the front seats, 20-inch wheels, and matrix LED headlights.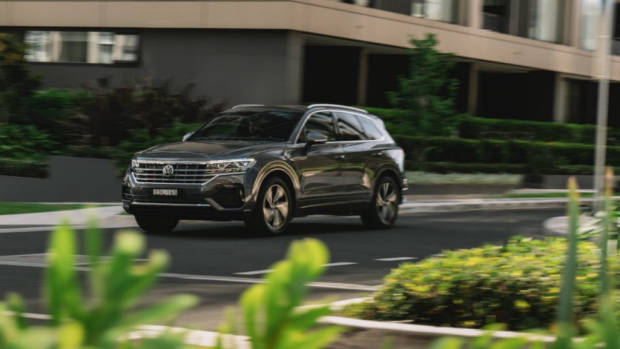 Plus, the whole lot is covered by Volkswagen's five year, unlimited kilometre warranty – which is two years longer than the coverage granted by Mercedes-Benz, Audi, or BMW. Only the Lexus RX – with their four year warranty – come close to that sort of ownership piece of mind, even if the annual/15,000km service intervals seem slightly short for a big diesel engine.
So: the 2020 Volkswagen Touareg is a very likeable SUV, combining class-beating value for money with many of the trappings of a bona fide luxury vehicle. For those not hung up on outright badge snobbery, the Touareg 190TDI R-Line makes a lot of sense. The powerful but frugal diesel V6 engine, comfortable ride, spacious and modern cabin and modicum of athletic ability make this one of our preferred large SUVs.