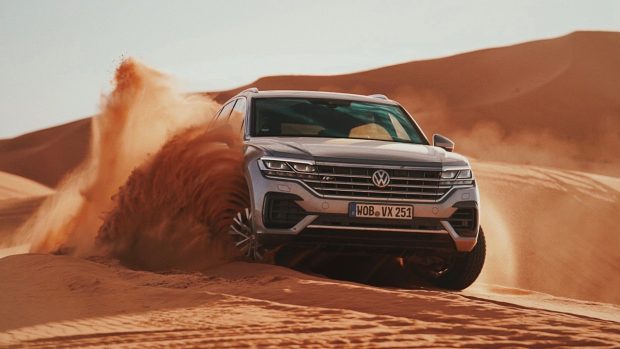 With all the SUV hype at Volkswagen in recent years revolving around the midsize Tiguan, it's been easy to forget all about the brand's flagship truckster – the Touareg. The current second-generation Touareg has quietly gone about its business for the last seven years, proving to those in the know to be a solid and capable wagon costing less than a Toyota Landcruiser Prado, while offering a range of refined V6 (and V8) diesel engines and a 3.5 tonne towing capacity. The biggest demographic? Grey nomads wanting something a little nicer than the aforementioned Toyota.
But next year, it'll be upgrade time for the Volkswagen Touareg. And while the second-generation car was hardly a stripper, the third-generation vehicle that will replace it in May 2019 steps up a class into luxury SUV terrain. 'Fairly nice' is out, replaced by a genuinely premium five-seater that shares a platform and many components with some far more prestigious cousins – the Audi Q7, Porsche Cayenne, Bentley Bentayga, and even the Lamborghini Urus.
Ahead of its staggered Australian launch next year, Chasing Cars travelled to Morocco for an extensive cross-country drive of the 2019 Volkswagen Touareg, sampled here in 210kW/600Nm V6 diesel form. The vehicles we drove in North Africa were German specification, wearing a sporty R-Line package under Wolfsburg number plates, but many of the features present on the eight Touaregs on our trek will come to Australia, either as standard or in option packages.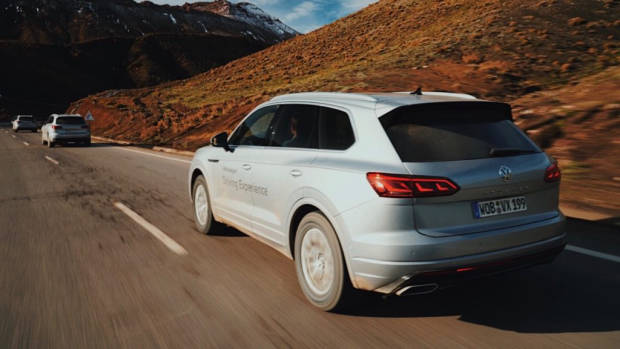 As you'll see from the pictures and video available on this review, the new Touareg ushers the SUV into a modern era of Volkswagen design. We think the previous car aged gracefully but it was getting a little soft around the edges – not so here. The Touareg 3 is all creases and sharp surfacing, with a prominent front grille. By contrast, the rear end is still curvy, with retro wide-spaced badging. Trapezoidal exhausts disguise real twin outlets. The 18-inch wheels seen here – in beefy all-terrain tyres – will not come to Australia. Instead, wheels will range from 19 to 21 inches down under.
On paper, the new Touareg should be the poor cousin to the aforementioned blue-blooded SUVs – Cayenne, et al – but in reality, that simply isn't the case. The Touareg will be a good-value way in to that lineage. We'll refrain from using the term bargain, because a result of stepping up to the MLB PL73 platform will be substantial cost increases – the new Touareg will come to Australia from around $80,000 before on-road costs, and we predict a loaded-out model to reach $95,000 before costs. We'll know more on this front in February.
So, why Morocco? Mostly because it sounded cool – an opportunity to drive Volkswagen's most capable vehicle, and their flagship product, in an exotic location. This wasn't the international launch of the vehicle, which took place in Europe in May, far in advance of the Touareg's local arrival, which was delayed by Australian emissions testing requirements that are now inconsistent with modern European standards. Instead, a small contingent of Australian automotive media joined Volkswagen for a 1,000km trek from the congested byways of Marrakesh, across the breathtaking Tichka Pass, the sand dunes of Merzouga, the wild plains of the Dades Valley, and finally back to Marrakesh by way of some strikingly European mountain passes. Not bad for five days.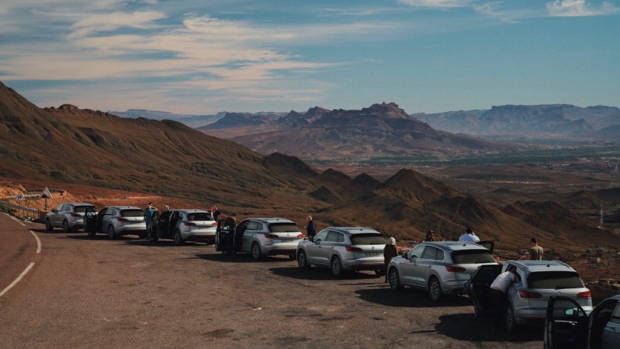 In fact, the same opportunity is offered to customers through Volkswagen's Driving Experience programme, led by a number of convivial German off-roading experts. Our leaders, Heike Hecht and Peter Weil, were fresh from three tours in North Africa and similar trips in Europe and the Middle East. Australians can participate: if you like travel and are a Volkswagen tragic, look into it.
Ultimately, though, we were there to explore the Volkswagen Touareg – and in particular, the burning question of whether a VW-badged product can successfully sport a price tag that, on the road, will come perilously close to six figures. Does that really work with the brand's mantra of "premium for the people"?
The answer starts with examining the basics. This Touareg feels close to an Audi Q7 in almost every way – size-wise, in its nicely-appointed cabin, even its Audi-like profile lines. And under the bonnet, too: just like on the outgoing car, you won't find any four-cylinder Touaregs. Instead, the lineup will be for the foreseeable future will be exclusively made up of tunes of the same V6 diesel found in the Audi.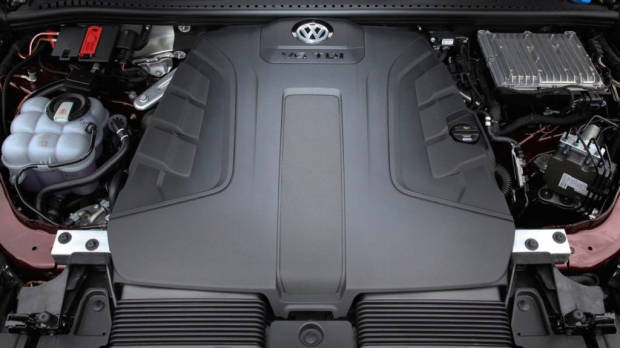 There will be a staggered launch of the 2019 Touareg in Australia. Emissions testing is not complete on the two 'permanent' variants, set to arrive in late spring; arriving in May will essentially be a tide-over model badged as a Launch Edition, using a 190kW/550Nm tune of the 3.0-litre V6 TDI. The 190TDI, as it will be known, uses an older Euro 5 compliant version of the six-cylinder, whereas the permanent models – a circa-$80,000 170kW/500Nm '170TDI', and a circa-$90,000 210kW/600Nm '210TDI' are rated to the more efficient Euro 6 emissions standard. Once the 170TDI and 210TDI arrive, the 190TDI will no longer be sold.
All engines are still rated to 3.5 tonnes of braked towing capacity, and all send power to a 4Motion all-wheel-drive system by way of an eight-speed torque converter automatic gearbox, which switches from an Aisin transmission in the outgoing vehicle to a ZF-built unit. If that combination sounds familiar, it is – this is a common powertrain in the Volkswagen Group. The 210TDI, all-wheel-drive and eight-speed combination is the diesel option in the Audi A8 flagship saloon range, for example.
Far more sophisticated technology is available on the new Touraeg, and while specification is yet to be confirmed for Australia, we are aware that standard kit on all grades will include a generous suite of active safety tech. This will include adaptive cruise control, lane keep assist and the ability to deal with driver incapacitation. In addition, rangewide standard fare will include LED headlights, leather seats, and wheels starting at 19 inches.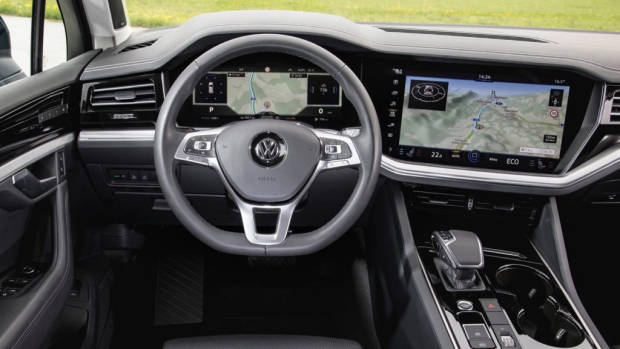 The initial Launch Edition model will include some key options designed to tempt upgraders into the new model early on. We expect the Launch Edition will include the optional air suspension, 20-inch wheels and higher-grade leather trim, among other things. We predict pricing will be especially attractive on the Launch Edition, which sources reveal was a late addition to the Touareg plan for Australia after it was clear the factory could not achieve Australian certification for the 170TDI and 210TDI in good time.
Going forward, the 170TDI base model will ride on steel springs, while the 210TDI – on larger wheels – will have air suspension, and standard spec will be higher on the more powerful vehicle. In other words, you aren't just buying more power – you'll get more kit, too.
Customisation will be available by way of option packages, which is typical for Volkswagen in Australia. At least one package will revolve around off-roading, bringing more sophisticated ESC modes tailored to specific terrain, plus underbody protection. Sportier styling will be offered by way of an R-Line package that has proved incredibly popular on the Tiguan. A further package, potentially called the Sound and Style package, will boost cabin tech to include the Innovision Cockpit: a huge 15-inch central touchscreen, 12-inch digital driver's display, and a windscreen-projected colour head-up display.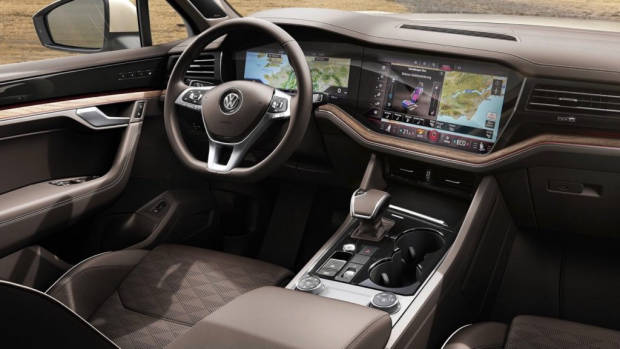 The tasteful beige and wood interior theme that, sadly, won't make it to Australia
It's something of a shame that the Innovision Cockpit won't be standard given Volkswagen Australia's penchant for equipping our cars with the highest levels of global infotainment. We think the Innovision arrangement, with its enormous canvas screen in the centre, is the Volkswagen Group's best interior tech yet – better even than Audi's new dual-pane touchscreen setup. We do buy the brand's argument that some of the older demographic buying into Touareg motoring may find the huge screens a bit much – and the standard, 9.2-inch touchscreen and analogue speedo and tacho will feel more approachable. Uniquely, the small screen comes with hard buttons and dials for the climate control – in the Innovision setup, everything is controlled through the screen. Two taps to change the fan speed can indeed feel a little cumbersome.
Go for the big screens and you'll need to spend some time learning and customising the tech on hand. The Active Info Display that sits ahead of the driver can be individualised to present navigation, off-roading or driving data in full-screen form, while the enormous central screen is canvas-like, with clean fonts and lines presenting customisable modules and lovely cartography when used in map mode. We're pleased to note the resolution of both screens matches, unlike in the Golf or Polo. Any way you look at it, the Innovision Cockpit is a huge step forward for the Touareg, which had dated mainly in the cabin.
The new Touareg's seats are great: we hope that the top-shelf seat comes to Australia, featuring air bladders for the side bolsters, thigh support and thigh extender. They're comfortable and supportive over long distances – we tested this thoroughly. Aside from a naff carbon pattern that Volkswagen occasionally applies to headrests, the grey/black two-tone seats on these German-spec cars looked good. Shame Australians are so unadventurous with leather colours – only black pews will come to our market, despite lovely grey, stone and tan colour options being available overseas. Seat cooling will be available for the first time on a Touareg, in addition to massaging and heating.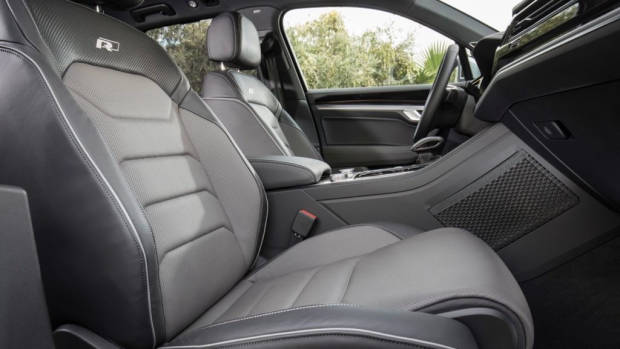 Material quality in the cabin is pretty good: there are plenty of soft-touch surfaces, pleasant contrast dash stitching, and traditional Touareg knurled dials. But not all is perfect: there's an odd strip of hard plastic right in front of the front passenger – the same component is actually soft in a Polo – and where you rest your leg is bone-hard, not soft as it is in a Mazda CX-9. While the Touareg's interior throws up no major complaint, it feels like it could have been even better – maybe it's been held back slightly to protect the Audi Q7's luxury aura?
What's definite is that it is roomy and wide in the Touareg – for a five-seater, that is. This is a big two-row SUV: at 4.88m in length, it's 8cm longer than the outgoing version, and it's 4cm wider. That length is almost 18cm longer Volkswagen's own Tiguan Allspace seven-seater yet all the space behind the comfortable back seat is allotted to an 810L boot, which is up 113L. Volkswagen say they haven't heard much customer feedback seeking a third row but in our view, SUVs don't need to approach five metres in length without one – a stowaway row ought at least to be optional.
That bugbear aside, the Touareg is nice for folks travelling in the back. The seats are big and comfy with decent thigh support, and large windows offer a good view out. Four-zone climate control will be available, with separate fan and temperature adjustment and head-level vents in the B-pillars, plus there's heating for the outboard seats. A flip-out centre console reveals, at least in Europe, a 12-volt socket, two 2.1-amp USB ports, and a household power point. Ideally, all of that will come to Australia.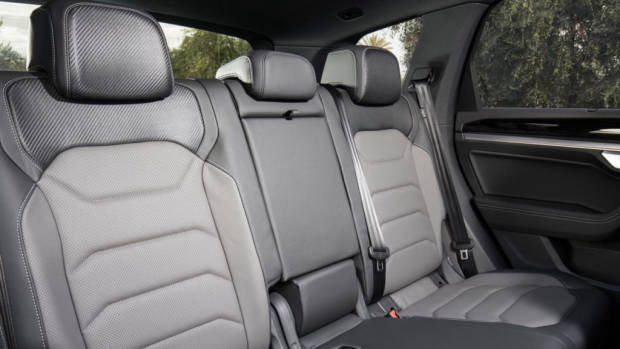 That big boot reveals itself behind an electric tailgate with a kick function for both opening and closing. Like the outgoing car, you can lower the air suspension from right in the boot to reduce the load height – nice for getting heavy gear into the back. There are remote releases to flat-fold the rear seats, and separate side bins prevent delicate items from rolling around. European Touaregs are available with a trick feature – additional buttons to deploy a hidden electric towball. Sadly, Australian Design Rules prevent such a handy feature from being sole in Australia – shame.
Out on the road, what's the new Touareg like? Well, the dynamics are remarkably similar to the outgoing car – no bad thing, given the Touareg 2 is a comfortable, refined bruiser. Similar engine tunes and similar air suspension were always going to yield fairly similar handling characteristics, though the new Touareg is a better steer, especially if the optional active sway bars on these test vehicles comes to Australia: these cut out a lot of body roll.
We've seen these engines before and that's fine, because they get the job done with pace and grace. Volkswagen's venerable V6 diesels have been around for a while but they have an earned reputation for fuel efficiency, strong torque and decent reliability.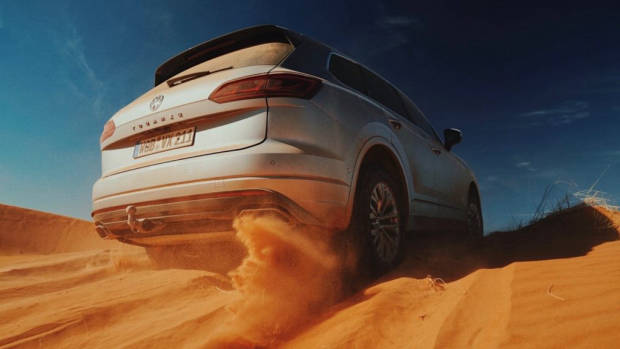 The only engine tune we drove was the top-shelf 210kW/600Nm version that will be the most expensive offer until such time as a V8 diesel arrives, though that is not under close consideration for Australia. The outgoing Touareg is offered in R-Line trim with a 250kW/800NmNm V8 oiler but it has accounted for such a slim portion of sales that this time around, six cylinders are the focus. Volkswagen executives question whether, with 210kW, you need more, and they may be right.
The 210TDI is a textbook V6 diesel, offering very strong low and mid-range pull, with all 600Nm available from 2,250rpm to 3,250rpm. What's not textbook is the hushed and vibration-free nature of this engine; until you are up the engine for the rent, you'll be hard-pressed to identify the Touareg as a diesel. Fuel economy is great, too; around 8L/100km on backroads. We only managed to get it to 10L/100km in medium-duty off-roading.
It's not a fault-free unit, however. Step-off acceleration is merely acceptable; the engine has to overcome a second or two of delay, which is be expected as long as Volkswagen continues to utilise a single (large) turbo. A bi-turbo arrangement would be more complex but would have the effect of minimising the noticeable turbo lag.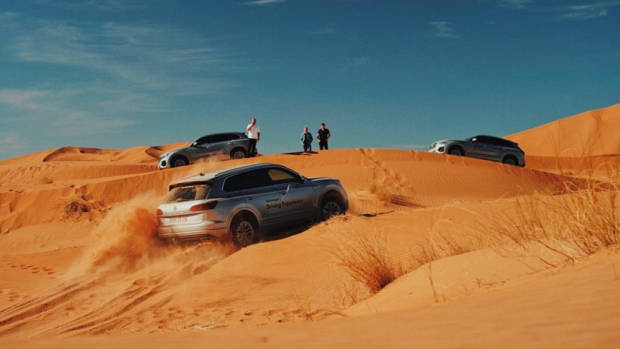 While the 210TDI is admittedly strong, we don't think the 170TDI or 190TDI units will feel slow by comparison. As we've noted in the Amarok V6 ute, the transition from 165kW/550Nm to 190kW/580Nm in that vehicle was noticeable only if you were looking for differences in power delivery.
No trouble in the engine department, then – what about the ride and handling?
When Morocco's roads are sealed, they do a good imitation of Australian bitumen quality. Hence, driving the Touareg for the first time in North Africa gave better insight into ride and handling than normal international launches, which so often take place on the glassy-smooth pavement of Portugal or Spain.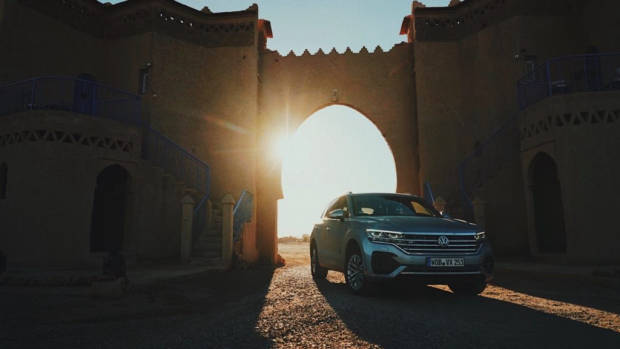 So it was possible to tell that one of the outgoing Touareg's best characteristics has been maintained – a wafty, luxurious ride quality untroubled by urban ruts and regional washouts, at least when fitted with air suspension. On air, in Comfort or Normal mode, the Touareg cuts a relaxed canter, traversing crappy surfaces with little intrusion into the cabin. Bump the drive mode dial into Sport and better body control is evident, though the German-spec cars we tested also have active sway bars to help cut out roll in corners. Though the damping is tighter in Sport, the air-sprung Touareg is never uncomfortable.
The air setup will pay dividends if you want to take the Touareg off-road, as we did. Maximum ride height increases from 215mm on steel springs to 258mm on air, while wading depth similarly increases from 500mm to 580mm. Two heightened air suspension modes are useful for negotiating obstacles, with the second super-high mode available under 20km/h for when the going gets particularly rocky. On the opposing end of the spectrum, the air suspension offers a lowered mode for restricted-ceiling carparks.
Conventional steel springs will be fitted to the 170TDI base model but it is likely the initial 190TDI and follow-up 210TDI will come to Australia riding on air, which we think will be worthy of the additional spend. That said, we'll reserve our judgment of the regular springs until we have a chance to drive them.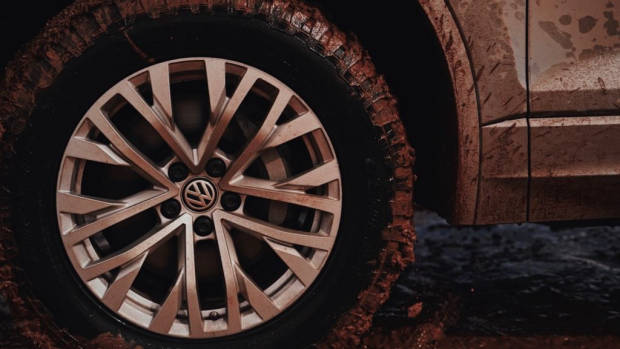 The handling isn't bad, either. The Touareg isn't a big Golf – let's not get too excited, as you can't grab this thing by the scruff of its neck, as you can with a Tiguan 162TSI, but the Touareg 3 does shrink around you to some degree. A brilliant surprise in Morocco was the number of Italianesque mountain passes – some with bizarrely great road surfacing, interspersed with random water-crossings – which provided a unique opportunity to drive the Touareg athletically.
Steering feel is good for a vehicle of this size, quick-enough off centre and fairly direct. The chunky all-terrain tyres fitted here muted surface feedback to a degree, and on road tyres, the Touareg should prove a few degrees more engaging again. As we drove them, though, backroad dynamics were good enough to have you nodding along, assisted by a smartly-calibrated ESC system that gently nips away on gravel rather than grabbing on the brakes.
Divided highways are rare in Morocco – faded-edged sealed, and many unsealed, B-roads are the norm. But the rare stretch of high speed road outside Marrakesh showed the Touareg to be stable and quiet. The adaptive cruise control and lane keep assist will play ball to drive by themselves where lane markings are clear for about half a minute or so, though full autonomy is off the cards for this SUV – as is electrification in this generation.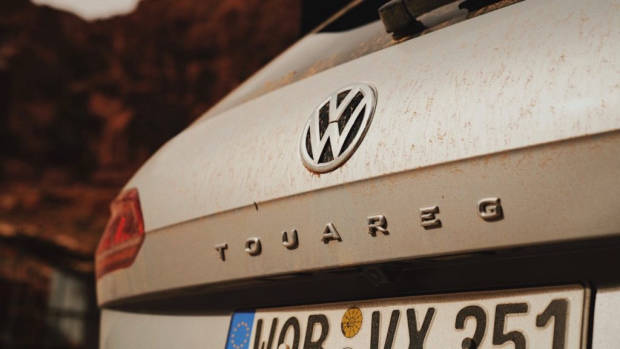 As an ownership proposition, all detail will be forthcoming closer to the Touareg's Australian launch in autumn, though it seems likely the current servicing arrangement – annual, or 15,000 kilometres – will continue. The bigger question is whether Volkswagen will make their current limited-time five year warranty a permanent arrangement next year. We believe they should.
First drive reviews are rarely this detailed, but rare is a first drive so extensive as this. A thousand kilometres and half a week of constant driving allowed us to become as familiar with the German-spec Touareg as we would in a regular round of in-house testing. And what that's revealed is that the new Touareg is a pretty good effort – and a decent stab at entry-level luxury motoring, thanks to an upmarket cabin technology game and sharper looks inside and out. Fundamentally, the dynamics are similar to the current car, and upgraders will find the Touareg 3 pretty familiar to drive.
Volkswagen have adjusted their volume expectations down about 15% for the new Touareg due to pricing increases, and that's smart. We'll leave our final determination until we drive the car on Australian roads, but the initial impression is that the Touareg provides an Audi experience at a substantial discount, spec-for-spec – and that's not a bad place to start.