The 2019 Volkswagen Touareg lineup will expand in late October to two permanent variants, bringing down the price of entry by $10,500 to $79,490 before on-road costs.

A new two-variant strategy will spell the end of availability of the current Touareg 190TDI Launch Edition (reviewed here), the $89,990 special edition that heralded the arrival of the Mk III Touareg in Australia earlier this year.

In late October two new variants will take over, badged 190TDI and 190TDI Premium, priced at $79,490 and $85,490 respectively. Both prices do not include driveaway costs.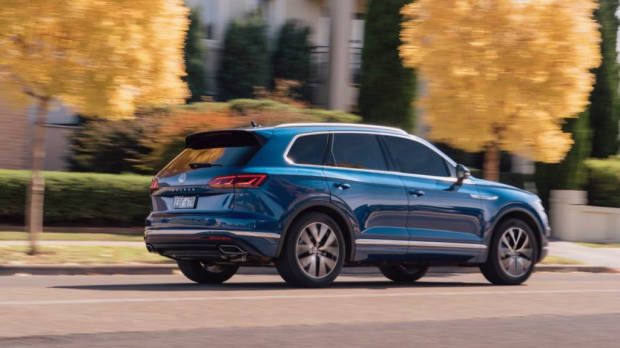 The new grades utilise the Launch Edition's three-litre turbocharged V6 Diesel engine, producing 190kW/600Nm. This represents a switch from an earlier plan to run two states of V6 diesel tune – 170kW and 210Nm. Both of the latter engines are Euro 6 and have not been tested for Australia's last-gen NEDC emissions scheme, hence the older 190TDI continuing on.

Specification across the extended range remains pretty generous in comparison to the Touareg's platform-sharing cousins – the Audi Q7, Porsche Cayenne, Bentley Bentayga and Lamborghini Urus.

No Touareg goes without full keyless entry and start, a power tailgate, leather seats or an adaptive safety package that includes low and high speed AEB, lane keep assist, blind spot monitoring and rear cross-traffic alert.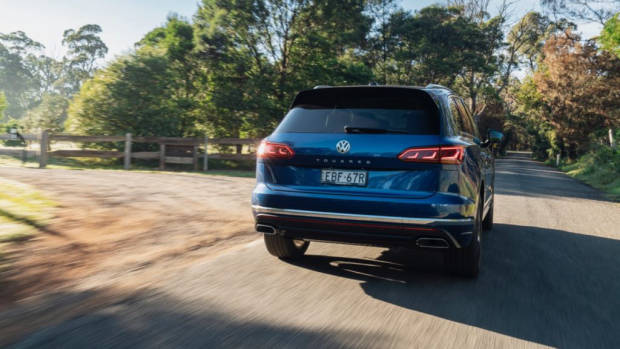 The 190TDI ($79,490) uses VW's midrange 'Vienna' leather upholstery – with heating for the front seats – and includes a 9.2" touchscreen which bundles navigation, Apple CarPlay and Android Auto but does not include digital radio. The 190TDI is identifiable by its 19-inch wheels.

Stepping up to the 190TDI Premium means shelling out another $6,000 but includes a number of desirable features – most notably air suspension. Other Premium equipment includes higher-grade Savona leather trim (in either black or beige) with massaging and ventilation for the front seats. The wheel size is also bumped to 20-inches while the headlights assume IQ Matrix technology.

Both models can be optioned with the Touareg's very impressive – and very expensive – high-end Innovision infotainment, with a huge 15-inch touchscreen, for a not insignificant $8,000.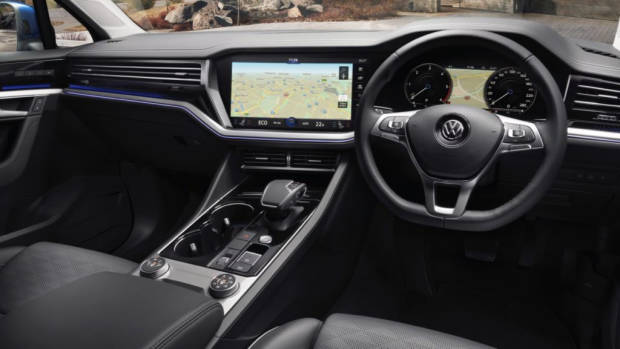 Other options are limited to the 190TDI Premium, which can be specified with two further packs, both priced at $8,000.

The Sound and Comfort pack includes a 360-degree camera, an upgraded 730-watt 12-speaker Dynaudio stereo, quad-zone climate control, and 15 litres of additional diesel capacity.

This pack also brings memory functionality to the Touareg; if you want to have multiple memory seat positions you have to tip in for this $8k upgrade: a big ask.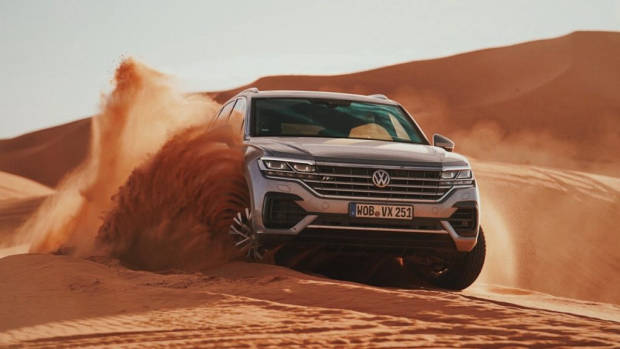 The second package – R-Line – includes sportier styling outside and in, differing 20-inch wheels, four wheel steering, and an active sway bar for more secure hard cornering.

A panoramic sunroof is available on the Premium for $3,000.

For both models, the colour set includes the traditional 'German rainbow' of white, black, grey, and silver, but also two brighter shades in Aquamarine Blue and Malbec Red. Reef Blue will be deleted with the departure of the Launch Edition.

The last Launch Edition cars will arrive in Australia in September, with the 190TDI and 190TDI Premium taking over the reins in late October.