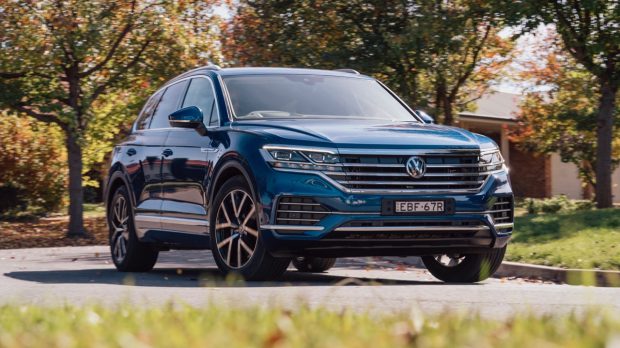 It may be expensive for a Volkswagen, but in reality, the new Touareg is a plush, technologically-advanced SUV that represents bargain buying when set against other luxurious German crossovers.
Six months ago, we scored our first drive of the new Volkswagen Touareg in the heat of the Sahara desert in Morocco. Now, we're on local soil. There's been a cold snap in southern Australia and we're bowling down snowy Tasmanian B-roads in a Volkswagen that hits the road at over a hundred thousand dollars.
That's a lot of cash for a brand that literally translates to "the people's car", but with the all-new, third-generation Touareg sitting underpinnings it shares with the $390k Lamborghini Urus and the $333k Bentley Bentayga, it all starts to make sense.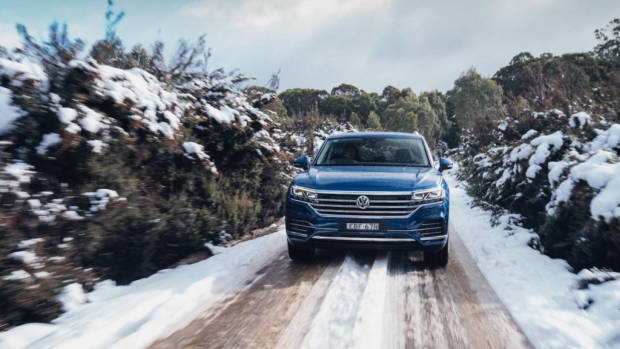 Okay – you're not getting an SUV that will bend physics or demolish a racetrack like the Lambo version. However, there are many subtle giveaways that the Touareg sits on a chassis built for vehicles far more expensive than this.
The 2019 Volkswagen Touareg is the sole vehicle in the brand's Australian stable that runs on the VW Group's modular longitudinal matrix (MLB) platform – a premium, rear-biased chassis that underpins the aforementioned superluxe SUVs, along with the Porsche Cayenne and several Audis, including the Q7, to which the Touareg bears a slight resemblance.
But far from being the poor cousin of the Volkswagen Group's large SUV lineup, the Touareg actually boasts one of the most impressive interiors of the lot, sitting at the leading edge of VW's tech know-how. The impressive infotainment blends with high levels of comfort and luscious, six-cylinder diesel-drive performance. So the price, ultimately, seems fair.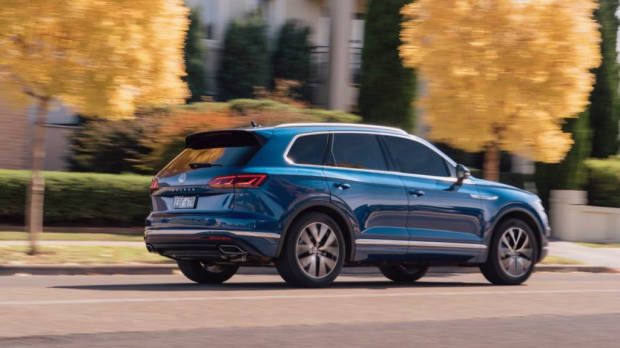 Like the previous two shapes before it, the 2019 Touareg is a big five-seater. Third-row status is bestowed upon Audi's Q7 but the Volkswagen won't be transporting mum, dad and four kids, but Volkswagen Australia's executives argue this isn't a concern. Touareg buyers are mainly looking for capacious cargo room (810L, up from around 700L in the previous version) and high-end towing capacity (which remains steady at 3.5 tonnes), they say.
Volkswagen will happily sell you a seven-seat Tiguan Allspace (which tops out at around $60,000), but there is no third row in sight for this longer, broader Touareg. To us, that decision feels like an opportunity missed.
Once accepted, though, the Touareg makes a compelling case as a brawny, comfortable transporter for five. There's no poverty pack on offer – the only specification for now is the Launch Edition, with a broader range of Touaregs meant to arrive by Christmas.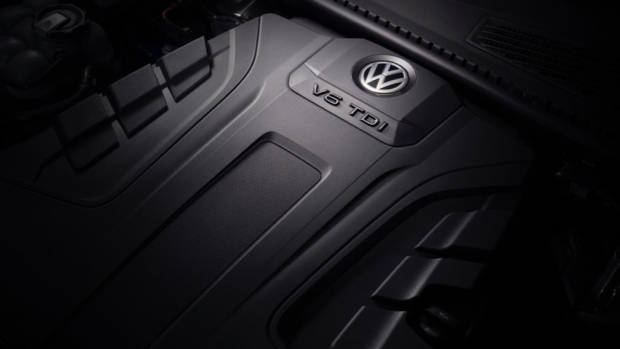 Kicking off at $89,990 ($98,026 driveaway), the Launch Edition includes nearly everything you'd want, with a major exception – we'll get to that.
Under the bonnet is a sublime powertrain – a 190kW/600Nm three-litre turbocharged V6 diesel. The big diesel is still the ideal engine for a big, two-tonne wagon. Here, crisp and swift acceleration is delivered to all four wheels through a well-tuned eight-speed torque converter auto built by ZF. The engine is whisper-quiet and sipped just 6.9L/100km on a spirited country run. As for its day-to-day consumption, we'll need to wait and see.
It is possible that a three-litre petrol V6 will arrive later – Volkswagen are exploring that possibility – while a V8 diesel (ilk of which was offered on the previous shape) is under consideration for the future. Only serious torque junkies need await the V8, however, as the six-cylinder provides all the shove most people will need: it does 0-100km/h in 6.5 seconds.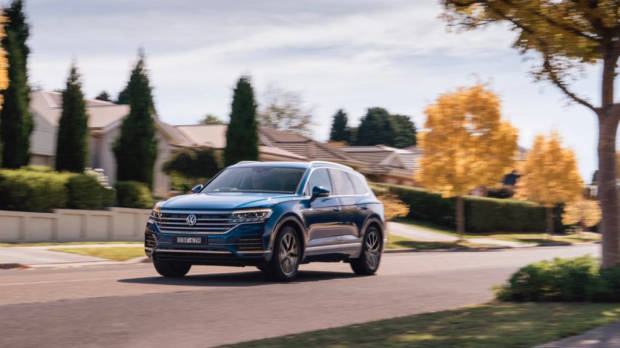 The handling's safe and secure, rather than fun. Dynamically, the Touareg is best described as mature, with meaty steering directing the accurate front end. Grip from the standard-issue Goodyear Eagle rubber is good – though tyre noise is a bit more present than we'd like. The Touareg sits relatively flat in the corners, especially if the sport ride is selected.
We reserve particular praise for the Touareg's ride, which is unusually plush and comfortable for an SUV in 2019. Far from pursuing a sporty, firm feel, Volkswagen's largest SUV achieves the kind of passenger insulation we dream about. The Launch Edition's blissful combination of smallish-for-the-segment 20-inch wheels and air suspension means the ride is cloudlike.
That's a far cry from a cousin of the Touareg we were driving in the same week: an Audi Q8 with 21-inch wheels and no air suspension fitted hobbled and bounced along cracked pavement.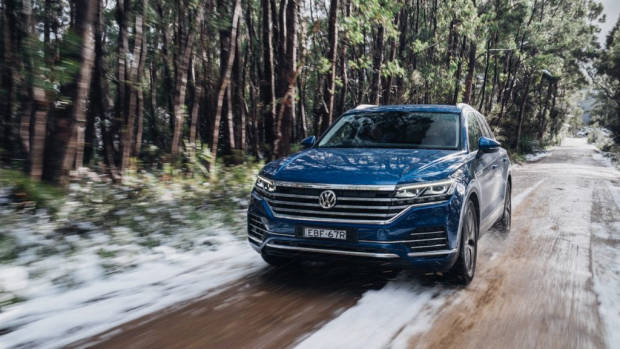 So far, so good. And that story continues inside the Touareg.
This interior's a welcoming one, with big and comfy seats blending just-tall-enough bolstering with the kind of shape all bodies will fit comfortably into. The upholstery is what Volkswagen is calling 'Savona' leather – more plush than nappa hide, they say. Those front seats have 18 directions of adjustment; they've got memory, they're heated, they're cooled, and they massage, as standard.
Shame it's all very dark, at least at launch – black leather with aluminium trim is the sole fitout for now, though later, softer-coloured leathers and wood trims will likely come to Australia.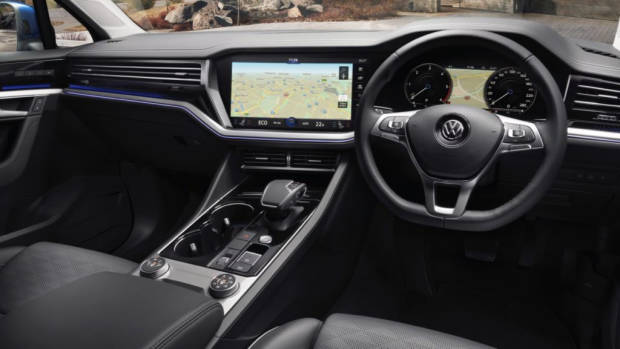 The big-ticket item inside, though, is the Touareg's new infotainment. Unusually, despite being the 'bottom' of the Volkswagen Group's premo-MLB SUV tree, we think the Touareg gets the best cabin technology, framed around an enormous 15-inch touchscreen and a corresponding Active Info Display for the driver.
Thankfully, the resolution matches the prodigious diagonal size of the central screen, meaning the satellite navigation more closely resembles beautiful cartography than a cartoonish digi-map. There's a level of customisation, so you can save your favourite features to a shortcut menu. Apple CarPlay and Android Auto are standard, too; these do not stretch to the full screen. DAB radio is, bizarrely, still absent from Volkswagen's Australian lineup.
But there's a catch to this impressive infotainment: it's an $8,000 option. Ticking the 'Innovision' package upgrades a standard 9.2-inch screen (which doesn't nearly fill the cavity) to the full 15-incher, switches analogue gauges for the 12.3-inch digital version, adds a head-up display and 30-colour ambient lighting.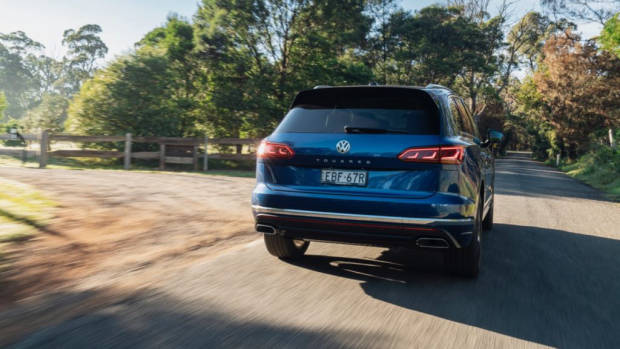 That's a big ask but Volkswagen expect more than half of Touareg buyers to cough up the further eight grand, and if push came to shove, we would too. Add a further $2,000 for one of the three metallic paints on offer (white's standard) and you've hit $111,676 driveaway.
A big number, for sure. Volkswagen rather helpfully pointed out spec-for-spec comparisons with rivals, though, which we confirmed. An equivalent Audi Q7 will set you back about thirty grand more, the BMW X5 around $25,000 more. Food for thought.
Infotainment and premium paint aside, there is virtually nothing you need to add to a Touareg – the Volkswagen makes a big value play. Matrix LED lights, a 360-degree camera, air suspension, high-end leather, semi-autonomous driving tech? All standard on this car.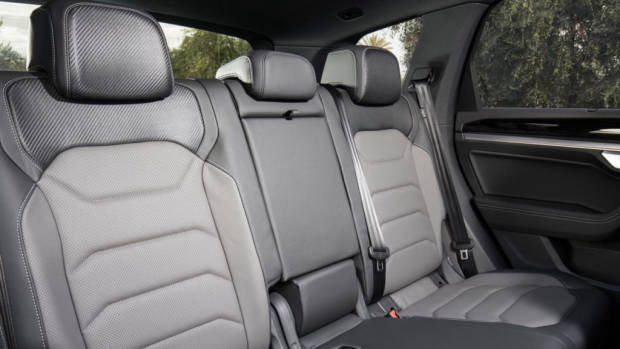 Back seat passengers enjoy a great deal of room, both in the head, leg and toe varieties. The backrest reclines and the base slides – but the second row isn't heated. Two fast-charger USB ports in the back are a must-have these days; the Touareg has those, though we were sad to see the household powerpoint from the European-spec car deleted for Australia.
Around the back, an electric tailgate reveals the 810L boot; there are the usual conveniences like shopping bag hooks, plus a nifty control for the air suspension. You can raise or lower the rear end of the Touareg alone – like its predecessor – to make the loading of heavy objects that little bit easier.
Volkswagen aren't expecting to make any advanced safety tech optional on the full Touareg range, and the Launch Edition arrives with most of the Volkswagen Group's semi-autonomous driving tech. There's high-speed AEB, active lane keep assist, blind spot monitoring, front and rear cross traffic alert, driver fatigue monitoring, and adaptive cruise control with traffic jam adaptability.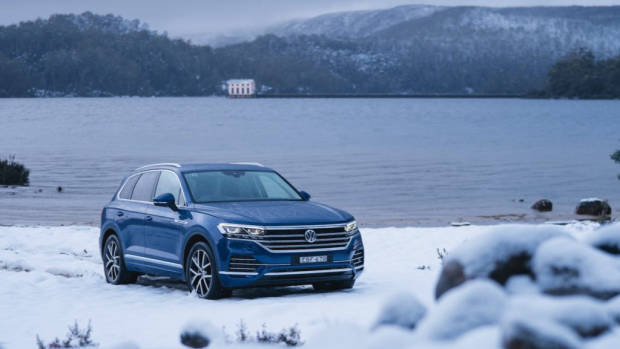 Ownership should be a little smoother than some more expensive vehicles in this class, too – Volkswagen upped their warranty to five years and unlimited kilometres in late 2018. For comparison's sake, Audi offer three years with no mileage limit.
Servicing is annual or every 15,000km, and if the new Touareg follows the same structure as the outgoing model, scheduled maintenance may be purchased in an upfront pack to save some coin. Paid at each service, the first five years of maintenance add to around $3,300, but the upfront pack grants a discount of about ten per cent.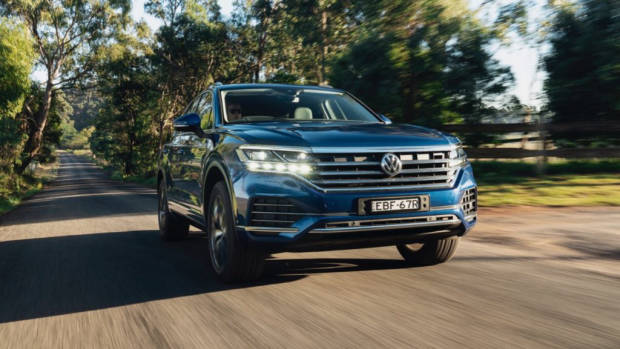 Though the Touareg's five-seat nature won't work for all families, the Touareg makes a compelling case for itself in virtually every other manner.
A frugal but powerful diesel six-cylinder, secure handling, handsome looks, a plush interior and, ultimately, strong value, come together in the new Touareg. It may not have the outright cachet of a BMW X5 or Mercedes-Benz GLE-Class, but it's more cohesive than both – the fact it costs substantially less is just a bonus.