2016 Range Rover Sport SDV8 Review
HSE SDV8
| $145,310
| Ancap : 5/5
Pros
Smooth, powerful diesel V8
Great mix of capability
Good to look at, outside and in
cons
Pricier than the competition, especially the options
Road noise is too intrusive
Standard safety kit is a little lean
We're big fans of specialised cars. Sports cars go fast, whether that's in a straight line or through corners. Family wagons are designed to be comfortable and durable. Hardcore off-roaders might not be the last word in sophistication, but they reach terrain where no conventional SUV will take us.

But not everybody has the interest—or the garage space—to buy three cars for three different lifestyles. There must be one car to do it all, right? There must be one model that can confidently offer driving pleasure, handle family duties with ease, and be capable enough to off-road properly.

It turns out that such a compromise is difficult to achieve. There are a quite a few good performance SUVs, like the BMW X5 M50d with its mammoth triple-turbocharging, or the Porsche Cayenne S Diesel—but neither German will take you very far off-road. Then, there are luxurious four-by-fours that are capable off the beaten track, like the Toyota LandCruiser Sahara. But the LandCruiser drives more like a truck than a car once you're back in civilisation.

Making a car dynamic on the road and highly capable off it is tough: these are two goals that pull engineers in opposite directions. Despite this, Land Rover have managed to strike that balance rather convincingly across their range.

The 2016 Range Rover Sport SDV8 stands out as particularly compelling. Provided you've got $170,000 or so, the Sport is the car we'd buy when you need a sophisticated tool to fit many of the aspects of modern life: whether that's traversing deep snow on the way to the ski fields, or just dropping the kids at school, the Sport is equally at home.

Plenty of the Range Rover's competitors do go-fast dynamics or luxurious interiors. It's the Range Rover, though, that is unique in offering actual off-road ability, a higher level of durability—plus the unspoken sophistication that is intertwined with the British brand.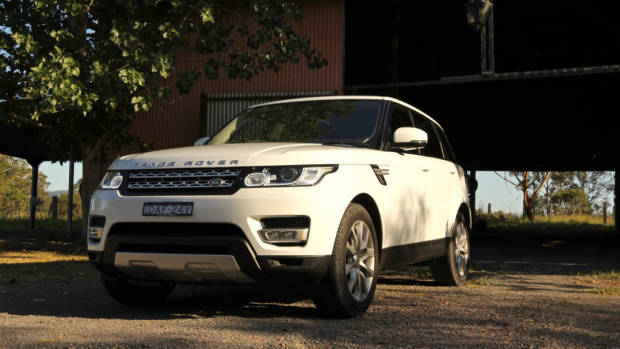 DRIVE
We put the Range Rover Sport through an average week at Chasing Cars: that meant pressing it into everyday chores, family transport, a couple of Christmas grocery runs, and a weekend road trip for five to the Hunter Valley. That was a good mix of tasks that let us closely consider the Sport's all-rounder credentials.
From the outset, the Range Rover's muscular lines, crisp white paint job and classy interior made it the favourite in the Chasing Cars garage. It didn't hurt that despite its size and weight, the Sport quickly made clear how easy it was to drive in the city. With light steering and plenty of glass, the Range Rover surprised us with how practical it could be in Sydney's notoriously tight inner-city suburbs.
Our Fuji White Sport arrived in HSE trim with the SDV8 engine. This is a big engine: a 4.4-litre V8 diesel with two turbochargers. Even with five big boys aboard with luggage, we didn't manage to get it out of puff. The 250kW of power is generous for a diesel, and the 740Nm of torque makes the Sport nimble in town, muscular off-road, and at ease with a boat behind it. Diesel V8s are very versatile motors thanks to their pulling power, but the silky SDV8 surprised us by being utterly relaxed wherever we used it.
It's not a performance-oriented engine, but the SDV8 hustles along with a lazy, creamy demeanour when left to its own devices. The eight-speed automatic shifts quickly and intelligently, comfortably tapping into the narrow but enormous crest of torque that lasts from 1750rpm to 2000rpm. At idle, the SDV8 motor transmits no vibration into the cabin.
The engine throbs along quietly under normal pressure, and the cabin is insulated from most noises outside, although road noise was more intrusive than we'd have liked. The air suspension is delightfully supple, dialing out the worst of Sydney's potholes and sharp speedbumps. The Sport makes menial everyday driving like the school run or the commute very comfortable—we sat back and enjoyed the stereo and seats.
When you're in the country, true to its name, the Sport surprises by doing an impressive sporty coupe act. The HSE's Terrain Response dial includes a 'Dynamic' setting, which sends much more weight through the steering wheel and hunkers down the suspension. Couple those adjustments to the big torque and you have a fast, tight SUV. The personality change it offers is significant and we found the Sport genuinely fun to drive fast down backroads.
Running errands and carving up mountain passes aren't the only tricks the Sport SDV8 handles with aplomb. Terrain Response also includes individual settings for grass and snow, mud ruts, sand, and rock driving, while the air suspension can be raised 65mm to avoid underbody-scratching obstacles. Nothing the New South Wales Hunter threw at the Sport could phase it in our possession—indeed, all Range Rovers are capable of far more, particularly the Sport and its full-size brother, which are properly capable four-by-fours which will get you to places only LandCruisers would otherwise. Just watch the paintwork.
If the handling and suspension send a positive amount of feedback to the driver, it's the Sport's standard brakes that need more attention. They offered us strong braking performance, but the pedal feel is vague, which prevented us from feeling completely confident to push as hard as the Sport can offer. To be fair, if sporty driving is your vice and a Range Rover is what you need, the hi-po Sport SVR wears beefy, blue Brembos that solve this problem.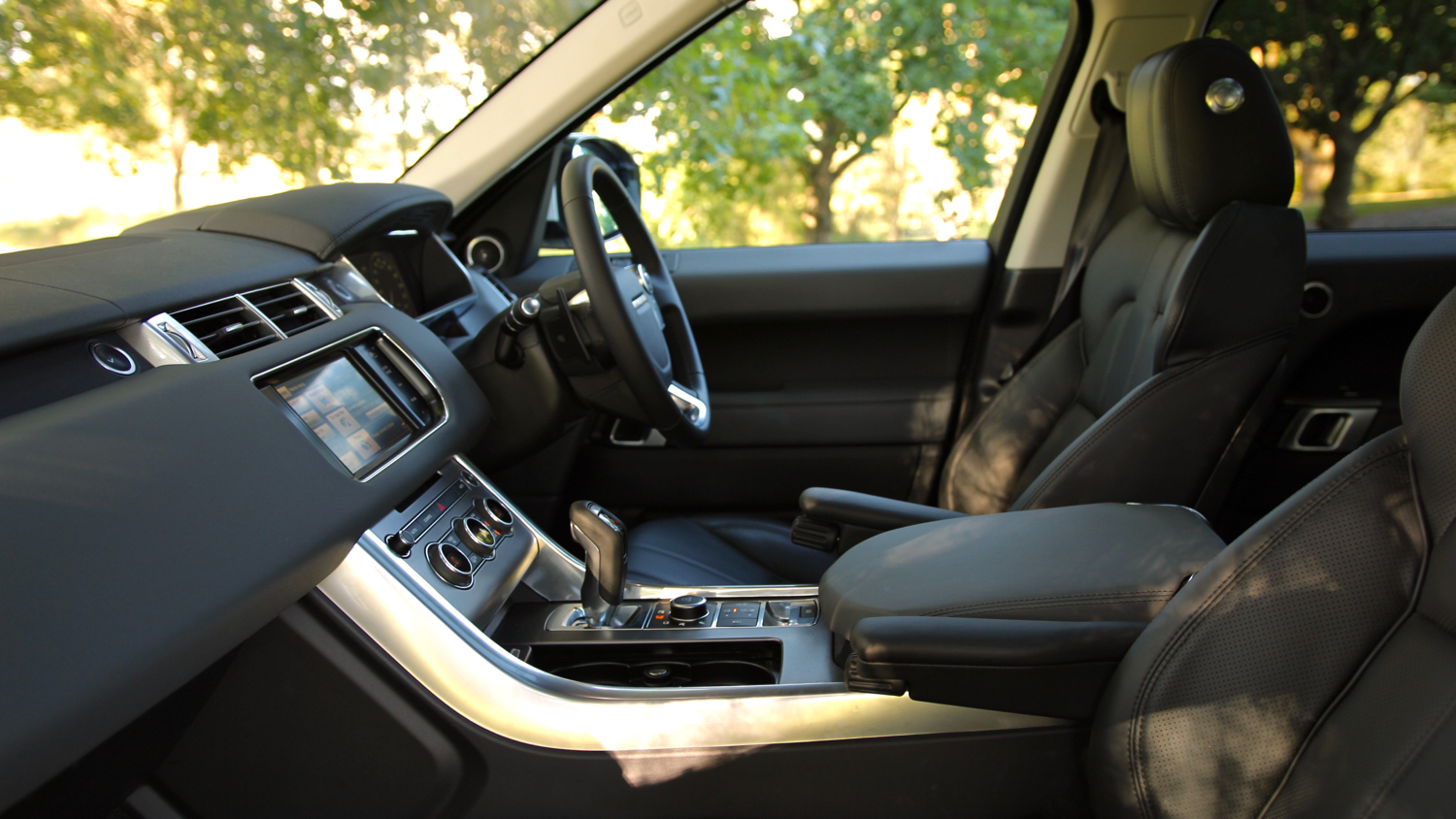 COMFORT
Range Rover will make you a Sport with either five or seven seats. Our HSE was strictly a five-seater, which we felt was as much as it can offer comfortably. Certainly, if your fourth and fifth children are still very small, they will fit in the optional third row—but best to consider all Sport models 5+2, not 7.
If you accept it as a five-seater, the Range Rover Sport (like its full-size, costlier brother) is one of the finest forms of ground travel in the world.
The comfort levels up front are considerable. Our Sport was optioned with a set of $2,720 eighteen-way massaging front seats. After a week, we thought this was a worthwhile option. A supreme range of adjustment, particularly in obscure directions like torso bolstering or thigh squabbing, meant even lean, tall frames could make the seat low and tight like a much sportier car, while bigger frames could relax the seat into an armchair. And they are armchairs—the flip-down arms made our road trip all the more comfortable.
Rear passengers aren't forgotten. They enjoy the same soft and supple leather as those riding in the front, and the outboard back seats are bolstered laterally, too. The Sport is two metres wide, so three adults can be sat side-by-side back there—we did that, and there were no audible complaints. Perhaps they were drowned out by our car's optional Meridian 19-speaker stereo ($2,900), but as you'll see in our video above, our team that rode in the back looked pretty comfortable.
Trimming out the Sport's interior is an adventure in itself. Our car stuck to the durable colours that press demonstrators usually do, and we think you'll do better than our HSE's dark ebony-black and lunar-grey leather combination. There are beautiful tan hides and stunning wood veneers that we liked.
Back up front, the Range Rover's infotainment is a tale of two screens. In front of the driver, the HSE gets brilliant, crisp digital gauges. In the dash, though, is Land Rover's last-gen touchscreen. This will be replaced next year, which is a good thing—although the navigation is easy to use, the screen is laggy. Our car's optional dual-view screen, which lets the front passenger watch TV while the driver sees a totally separate picture (if that's confusing, see it in the video review), is $3,870 better spent elsewhere. We'd instead put it towards the $4,200 sunroof that our passengers adored.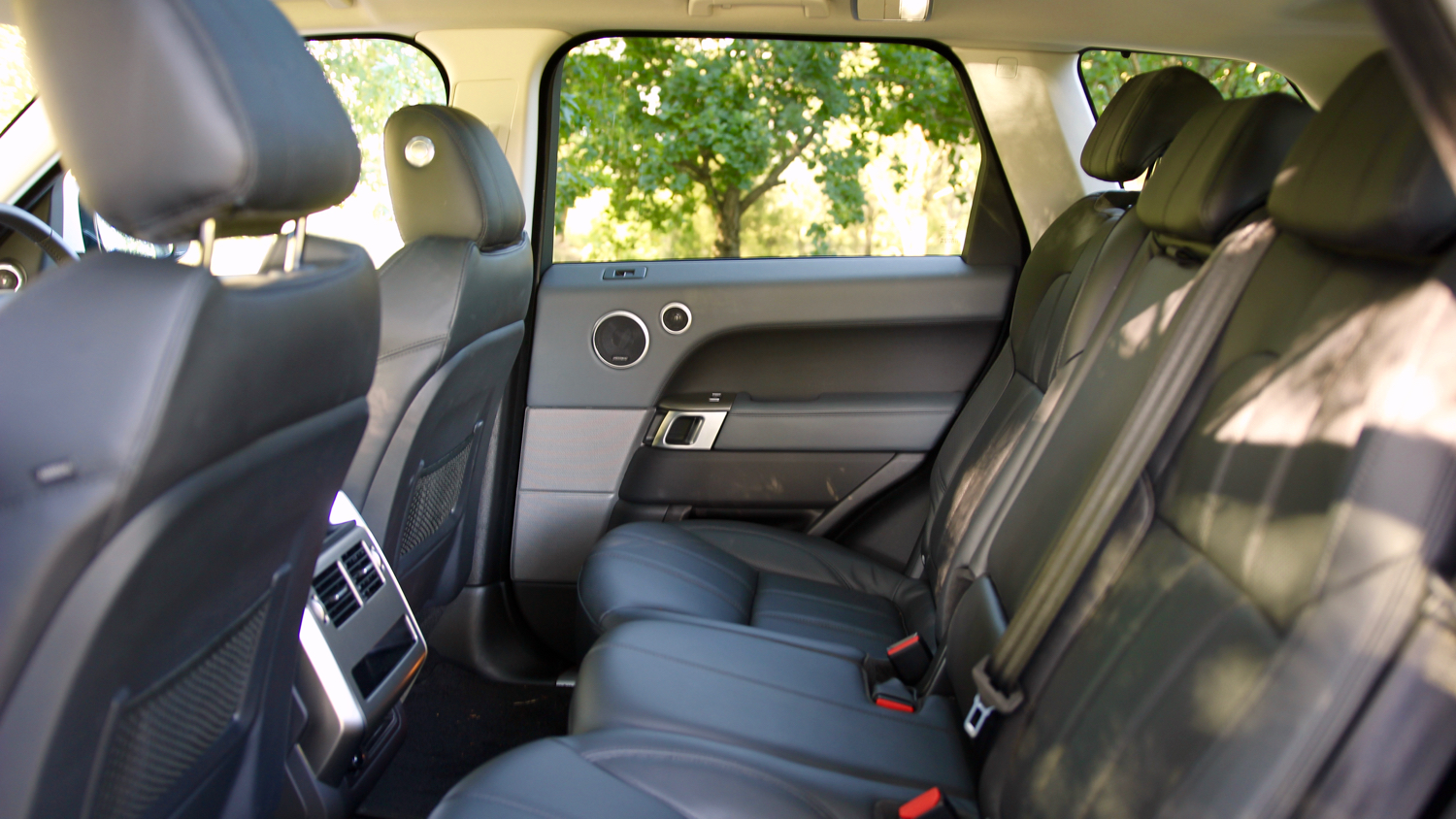 PRACTICALITY
The Range Rover's mix of capabilities—and the convincing way it blends into your lifestyle—it testament to this car's practicality. The Sport is a go-anywhere car, and while it'll take you to the Australian Alps (and much further), it shines just as brightly in the grocery store parking lot.
This is a big car and there is plenty of space. The beautiful materials inside initially made us tentative to use the car for dirty work—but as gorgeous as the leathers are, they are actually very durable. Good materials are often naturally hardy, and like a classic leather carry-all, the Range Rover can actually take quite a beating.
So don't be afraid to chuck in the kids' muddy soccer boots, school bags, bikes, skis and snowboards into the back. The tailgate opens with a button push, and inside there are 784 litres of space. We found that was—just—enough for the luggage of five people for a weekend away, which isn't a bad measure. Flip the second row of seats down, and you have a nice, square load bay of 1,671 litres. If you need a van every now and then, the Sport will do that too.
We mentioned earlier that it's sensible to think of the Sport mainly as a five-seater. When you do, there is ample passenger room for five adults. That's true even of headroom, because the Sport's conventional square design means your tall passengers will fit in the back.
Parking the Sport is easier than you might think, because the steering is light and visibility is good. The side mirrors tilt so you avoid grazing the kerb. A top-down camera view would make things a doddle—that's optional, as is a fully automatic parking system. Doing it manually, though, is always satisfying in something this size.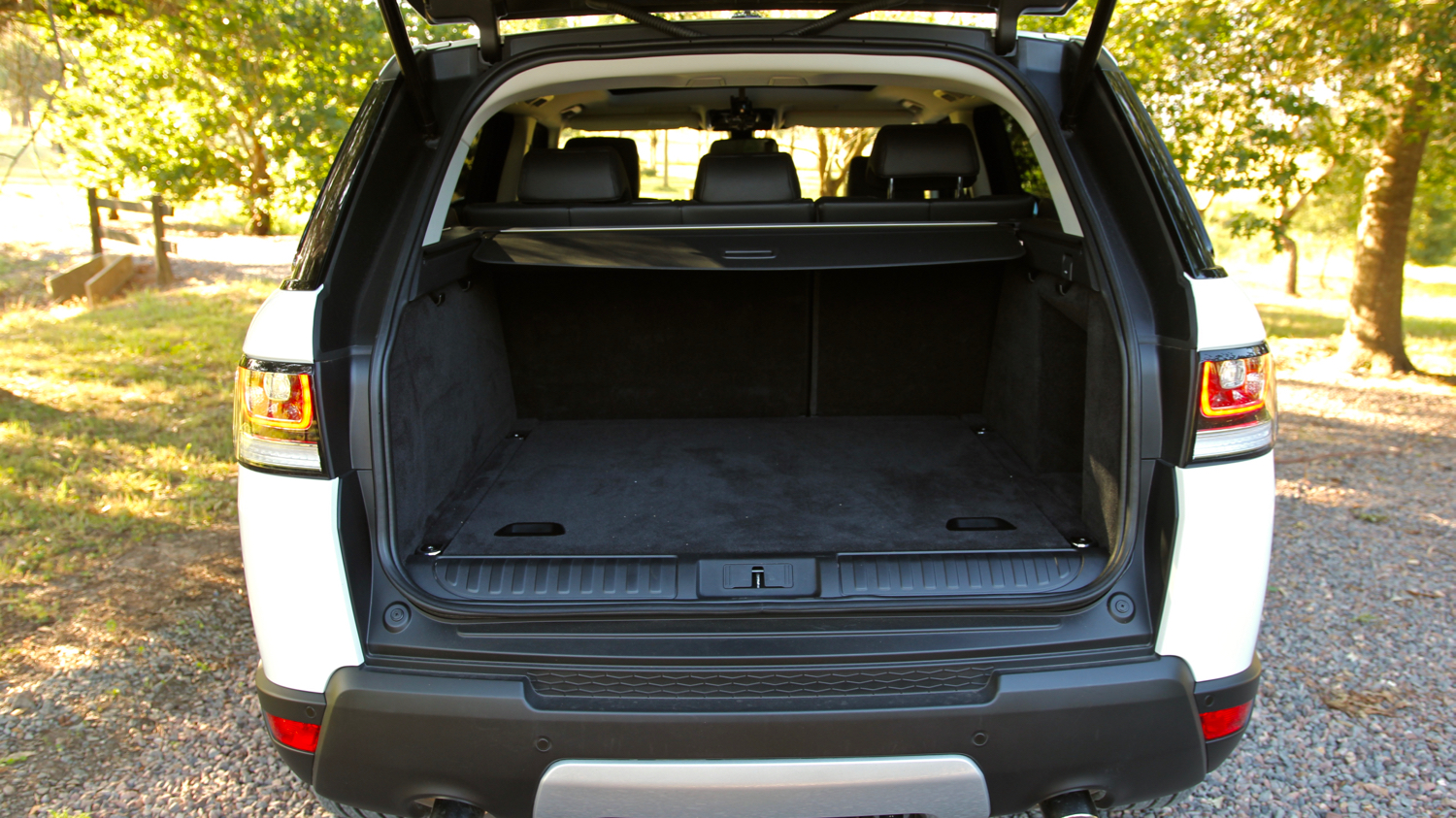 RELIABILITY & RUNNING COSTS
Land Rover doesn't offer a capped-price servicing programme, so maintenance costs for the Range Rover Sport are a little hard to predict. Using older Range Rover models as our guide, it's likely that a car as complex as this one will grow more expensive to keep in top condition as time goes on.
That said, Range Rover quality has improved substantially since the current owners, Tata, bought the Land Rover brand from Ford in 2008. The Indians have put enough money into the project to build the cars to the specification their price demands. The old Ranges became known for unreliable electronics, substandard panel gaps and failing air suspension. There's no evidence that those woes have continued to anywhere near the same extent with the current generation of Range Rover Sport.
The Range Rover Sport is assembled at Land Rover's home factory in Solihull, outside Birmingham.
Maintaining the car through Land Rover's 'Approved Servicing' programme carries a range of benefits. Service histories are digitised and only available if the car is serviced internally, which will keep resale value higher than if you use a local mechanic. The basic vehicle is covered under a three year, 100,000 kilometre warranty. That's about average. Corrosion is warrantied for six years without a limit on kilometerage.
The Sport's safety kit is sufficient, though a number of optional safety features should be made standard. Our Sport had no additional safety boxes ticked, and was delivered with eight airbags, a reversing camera, and rollover stability control. Our recommended safety features are optional: active cruise control is $4,700, a blind spot monitor with rear cross-traffic alert is $1,420.
The time to make those features standard on a $145,000 vehicle is now.
The Range Rover Sport was tested by Euro NCAP on behalf of ANCAP, and it fared well in crash testing, scoring 36.19 out of 37. It was rated with five stars—you should accept nothing less when buying a car.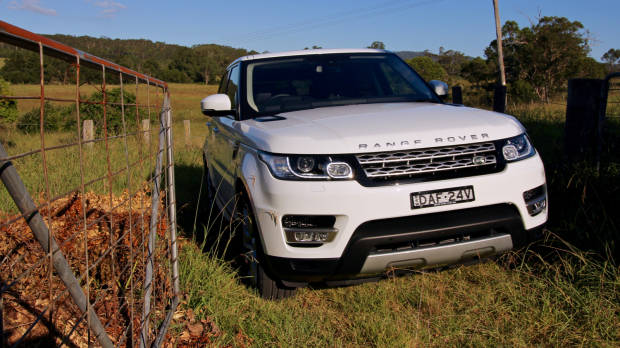 VALUE FOR MONEY
Selecting a Range Rover Sport is complex, so we've pulled together some hints here. There are five engines and eight trims to select from, but there are a few standouts that we recommend.
Our Sport is the first of those recommendations: the $145,310 HSE SDV8 mixes a reasonable level of included equipment with a superb eight-cylinder diesel powertrain. This is the all-rounder within a range of all-rounders: punchy, luxurious and relaxing to drive all at once.
Also test-drive the six-cylinder SDV6 in HSE trim. It's $130,100, and losing two cyilnders sheds barely any capability. If you can live without the silky throb of the V8, you stand to save yourself in the range of $15,000.
The performance enthusiast who ventures off-road is a small niche, but if money is no object, the Sport caters for that. Land Rover's most epic offering is the Sport SVR, which uses Jaguar's supercharged five-litre petrol V8, and costs $224,110. The blistering speed is only matched by the surprise that it retains the regular Sport's incredible terrain versatility.
Like many luxury cars, the Sport is too light on standard equipment. The list price is a mirage that disappears as soon as you add crucial options. That starts with metallic paint ($2,100). We'd also tick the retracting sunroof ($4,200), adaptive cruise and blind spot monitoring (really too expensive at $6,120), the superb 18-way front seats ($2,720), and a wood veneer ($880). Many can't live without heated front seats, which are a surprising option, priced at $1,500—that includes seat cooling.
What started as a Range Rover Sport HSE SDV8 for $145,310 suddenly becomes a heady $180,955 on the road. Is that a good value? A similarly-equipped Porsche Cayenne S Diesel is $174,895, and the BMW X5 M50d's final price of $173,810 is low because the car doesn't offer upgraded seats.
It comes down to what you use the car for. If you plan to take it off-road, the additional $5,000 or so that is involved in buying the Range Rover makes perfect sense. If you don't, you'll need to consider whether the brand cache pays for the difference.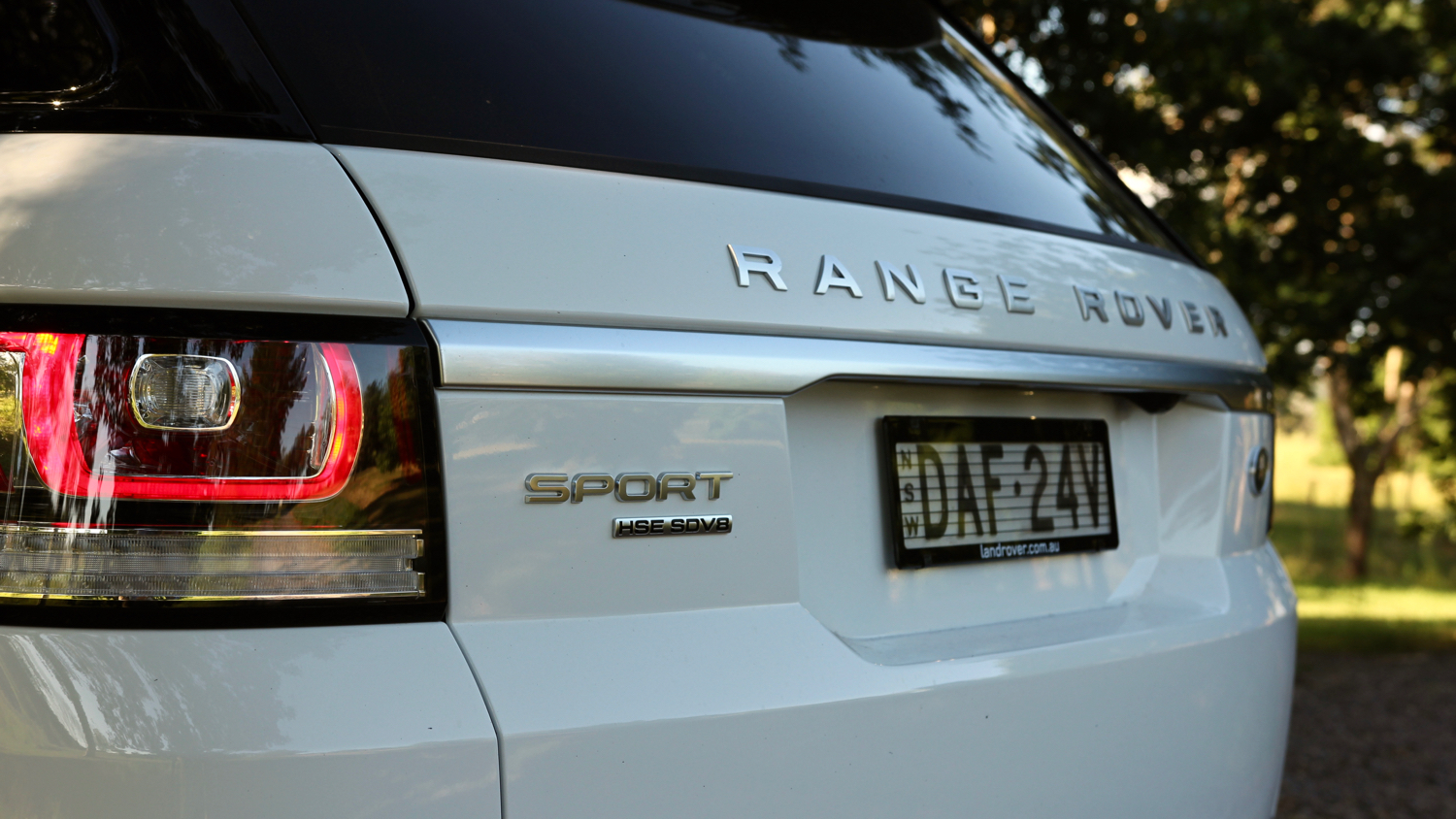 COMPETITORS
2016 BMW X5 M50d ($149,900): This one may not be a V8, but BMW's X5 M50d is a diesel six that packs a massive punch thanks to triple turbocharging. Making 280kW and 740Nm, the top-end X5 is faster than even Porsche's eight-cylinder Cayenne S Diesel. Like with the Range Rover Sport, you can option two fairly tiny seats in a third row—but you probably shouldn't. This is a high-riding autobahn cruiser for five. Take it off road, though, and the Range Rover will be towing the BMW out.
2016 Mercedes-Benz GLE 500 ($127,900): Mercedes-Benz aren't making their GLE-Class SUV in a diesel V8 form, so the closest thing with a pointed star to the Sport SDV8 is the GLE 500, which uses a 320kW petrol V8. Running on gasoline, you know it'll be thirstier—but with 700Nm of torque, it pulls like a diesel with the addition of a rortier engine note. The GLE's design is getting on in years, and it doesn't have the flowing sophistication of the Range Rover. The interior, though, is about on par in terms of quality, and we find the Mercedes COMAND infotainment is just a little easier to use.
2016 Porsche Cayenne S Diesel ($144,400): Epic road-holding and diesel-driven performance thrills are the headlines of the Porsche Cayenne S Diesel. The Porsche's 4.2-litre diesel V8 makes 283kW of power and 850Nm of torque. With a 5.4 second sprint to 100, it's noticeably harder and quicker than the Range Rover, with its 250kW. It won't take you anywhere near as far off road, but the Cayenne S Diesel represents an interesting niche that Range Rover haven't filled: the performance-focussed diesel V8 luxury SUV.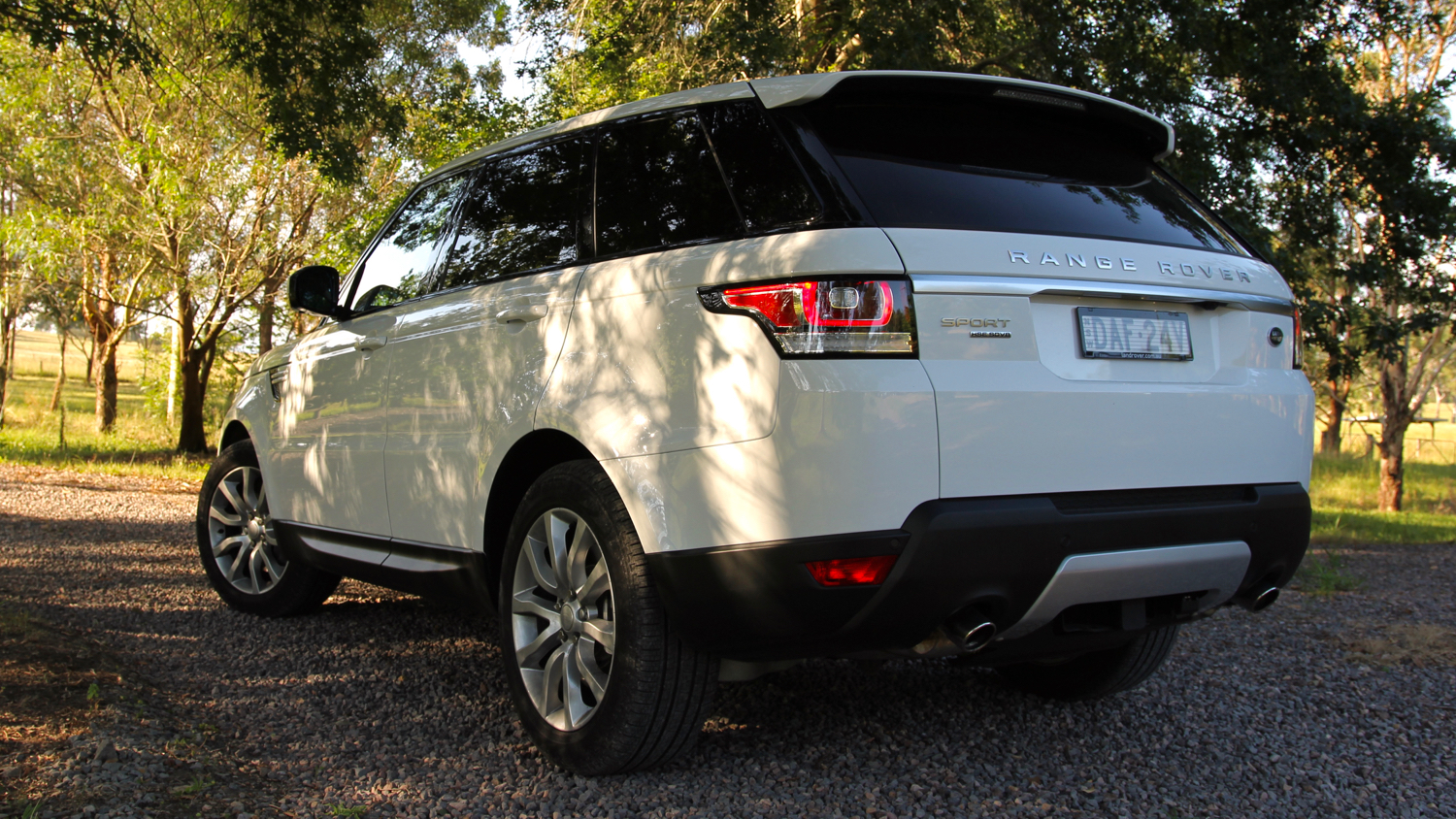 Engine
| | |
| --- | --- |
| Capacity | 4.4L |
| Fueltype | Diesel |
| Cylinders | 8 |
| Configuration | V8 |
| Induction | Twin turbochargers |
| Power | 250kW @ 3500rpm |
| Torque | 740Nm @ 1750–2000rpm |
| Power to weight ratio | 108kW/tonne |
| Fuel consumption (combined) | 8.7L/100km |
| Fuel capacity | 105L |
| Average range | 1207km |
Transmission and Drivetrain
| | |
| --- | --- |
| Transmission | Automatic |
| Configuration | Conventional |
| Gears | 8 |
| Drivetrain | Four wheel drive |
Dimensions and Weights
| | |
| --- | --- |
| Length | 4850mm |
| Width | 1983mm |
| Height | 1780mm |
| Unoccupied weight | 2309kg |
| Cargo space (seats up) | 784L |
| Cargo space (seats down) | 1761L |