Having been initially revealed in its current form in 2013, the Range Rover Sport has come in for its mid-life update, with subtly altered styling and most importantly for some markets, a new P400e plug-in hybrid variant capable of up to 51km on electric-only power.
The range-topping high-performance SVR has also been given more power – up to a massive 423kW – and various technological upgrades from the smaller Range Rover Velar, such as the new Touch Pro Duo infotainment system, now feature. The updated Range Rover Sport will launch in Australia in April 2018, with pricing starting at $95,100.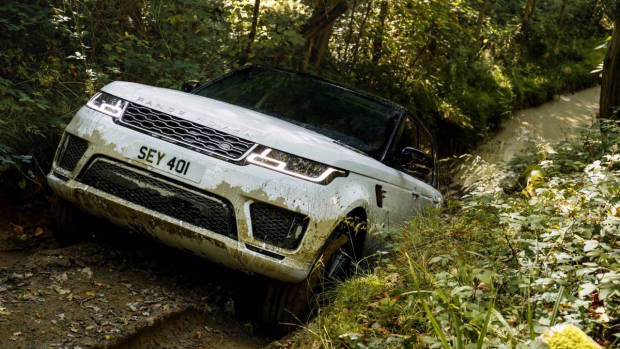 "As one of Australia's best-selling premium luxury SUVs, we expect that the new technology and upgrades to the 2018 Range Rover Sport will be of great appeal to our customers. For the first time Australian customers will experience zero-emission near-silent on and off-road luxury without compromising any off-road capability.
The pace of change is exhilarating and the 2018 Range Rover Sport is our first commitment towards our 2020 commitment." said Matthew Wiesner, Managing Director of Land Rover Australia.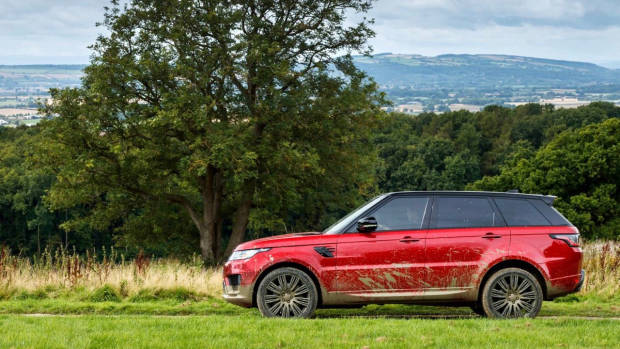 Land Rover have applied a number of touches to the Range Rover Sport update to ensure its freshness. A number of exterior changes have been made, including revised wheels, colours and bumpers to give a more premium look. The headlights are now LED, and are available optionally with a 52-beam LED Matrix system, which also includes automatic high beam.
Further available is Land Rover's new Pixel LED lighting, with 142 individual LEDs and auto high beam incorporated. The Pixel LED system includes what Land Rover calls the Pixel-Laser High Beam, a high beam light that can reach half a kilometre down the road. The front and rear lights also now incorporate sweeping indicators, a feature taken from the Range Rover Velar.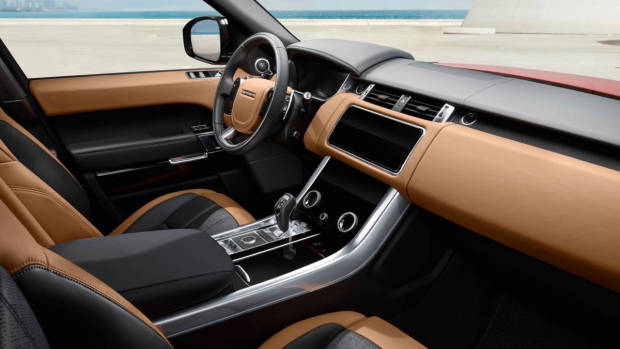 The interior of the Range Rover Sport has also undertaken a slight change, with a range of new trims and a new infotainment system now available. The 10-inch Touch Pro Due infotainment system from the Range Rover Velar makes its debut in the Range Rover Sport, and like the Velar also includes a rising function when the car is started. When the car is turned off, it remains flush with the angle of the dashboard. A 12-inch digital dials system is new to the Range Rover Sport, and a new full-colour 10-inch head-up display is available as well.
The updated Range Rover Sport has also been gifted the same lower 10-inch screen, which gives the driver and passenger control over the HVAC and off-road information using the same digital buttons. This screen incorporates Land Rover's Dynamic Dials, which control the temperature for occupants, yet at the touch of a button, other functions as well.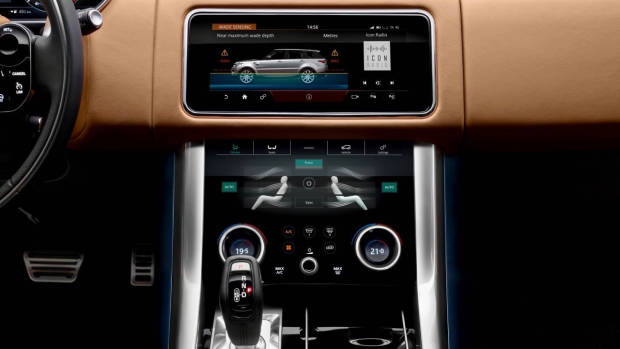 Elsewhere in the interior, the Range Rover Sport has been gifted new interior trims, including a new tan colour, as well as a new perforated leather seat design. The optional panoramic roof now features gesture control from the Jaguar XF Sportbrake, and newly flexible interior storage, including a new 3.2-litre centre box with USB ports.
Available technology has also been given a boost for the Range Rover Sport, with features such as lane departure warning and autonomous emergency braking fitted as standard equipment. Different drive packages are available for the car, with availability yet to be confirmed for the Australian market. A drive package adds blind-spot monitoring, traffic sign recognition, a driver fatigue monitor and a speed limited. A drive pro package adds that plus adaptive cruise control with stop and go functionality, high speed emergency braking and lane keep assist.
A park package adds a 360-degree parking camera, rear traffic alert and clear exit monitor, a system to alert passengers exiting from the rear doors of potential hazards. The park pro package adds all of the above, with an automatic parallel and perpendicular parking system.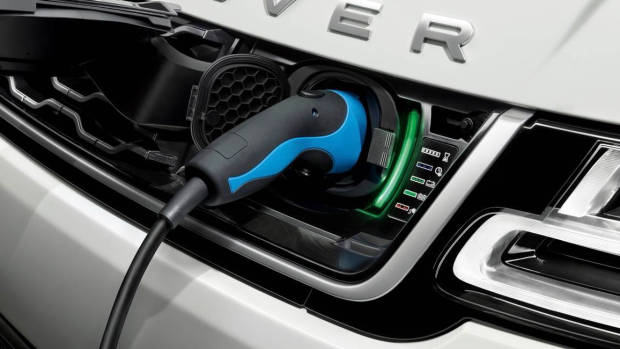 The updated Range Rover Sport coincides with the launch of Land Rover's first plug-in hybrid vehicle, the Range Rover Sport P400e. Combining the brand's 221kW 2.0-litre turbo four from the Ingenium engine family with an 85kW electric motor, the Range Rover P400e claims an all-electric range up up to 51km. Powered by a 13.1kWh lithium-ion battery, total available output is claimed as 297kW and 640Nm, with performance listed as 0-100km/h in 6.3 seconds, and a top speed of 220km/h.
The all-important fuel economy figures are listed as just 2.8L/100km – or 101mpg in the old money – on a combined cycle, with emissions listed at just 64g/km, making the Range Rover Sport P400e the lowest emitting Land Rover model ever made. The Range Rover Sport P400e can be driven in two different modes – Parallel Hybrid mode for when the petrol and electric motors are working together to provide propulsion and EV mode, where the car uses its electric motors solely if enough charge is available.
Using a 10-amp plug, the Range Rover Sport P400e can be fully charged in as little as 7.5 hours, though using a higher-output 32-amp plug where available reduces that to 2.75 hours.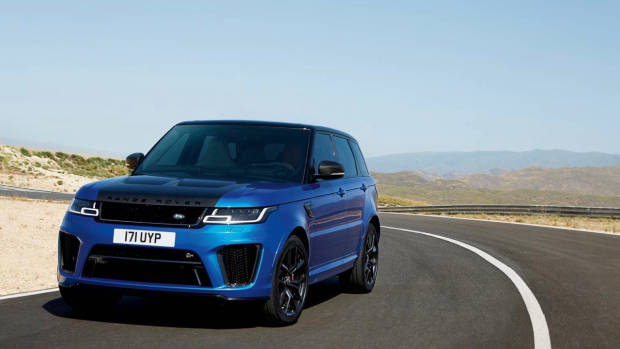 The high-performance Range Rover SVR returns with the Range Rover Sport's update, albeit now producing even more power and torque – 423kW and 700Nm to be precise. The SVR's 0-100km/h sprint time is now listed as just 4.5 seconds. A freshened front bumper and the same updated headlight units as the standard Range Rover Sport give more of an aggressive look, whilst new 21- and 22-inch alloy wheels are available in a variety of designs. A new carbon fibre exterior package is also available, with carbon fibre trimmings extending to the mirrors, tailgate, and bumper inserts.
Jaguar Land Rover's Special Vehicles Operation focused on the SVR's overall performance and handling, with supposedly more dynamic handling as a result of changes to the car's damping hardware. Turn-in, mid-corner grip and body control have all been improved, according to Land Rover. This is further improved by a new carbon fibre composite bonnet, which reduces weight over the front wheels according to Land Rover. The bonnet is also available with a unique paint option which leaves the carbon fibre weave exposed for the middle section of the bonnet.
The SVR's cabin has also come under revision, with SVR-branded treadplates that illuminate as the occupants climb aboard, to new aluminium sports pedals beneath the driver's feet. New 'Supersport' seats are available with front and rear heating, and deliver a significant 30kg weight saving over the standard seats. These seats are finished in perforated 'Windsor' leather, with the seat backs finished in satin black with an embossed SVR logo in the headrests.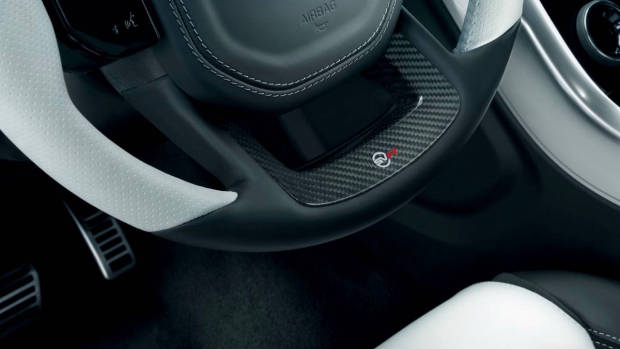 Land Rover Australia have announced that the updated Range Rover Sport will arrive in local showrooms from April 2018. Local pricing will kick off at $95,100 plus on-road costs for the entry SD4 S model. The British brand recently launched a new flagship store at Sydney's Westfield Bondi Junction shopping centre, which they hope will attract new customers to the brand from the most affluent area in the country.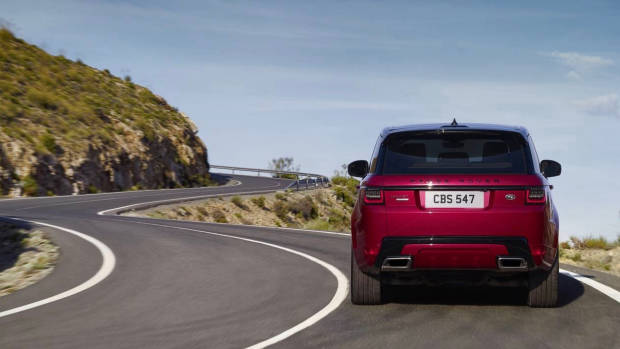 Stay tuned to Chasing Cars for news regarding the Range Rover Sport.