This week I'm driving the 2017 Range Rover Sport SVR, and it's bonkers. This full-size British SUV takes the already-capable Range Rover platform, adds in substantial stiffness, and borrows the Jaguar F-Type R's mad five-litre supercharged V8.
In this SVR application, the bent eight is making 405kW of power and 680Nm of torque – and paired to the Range Rover Sport's permanent four-wheel-drive system, that's enough to dispatch 0-100km/h sprints officially in 4.7 seconds – but that feels like a conservative figure to me. I feel like the real figure is more like 4.5 seconds.
Though the engine is the main attraction here, Land Rover's engineers have managed to make this a fast car in many ways – much faster steering makes the SVR feel really agile, even if you can't truly feel the road surface through the (still large) tiller. However, Special Vehicle Operations – the crack team at Jaguar Land Rover responsible for this beast – have made so many adjustments to the Sport that body roll has been effectively cancelled altogether.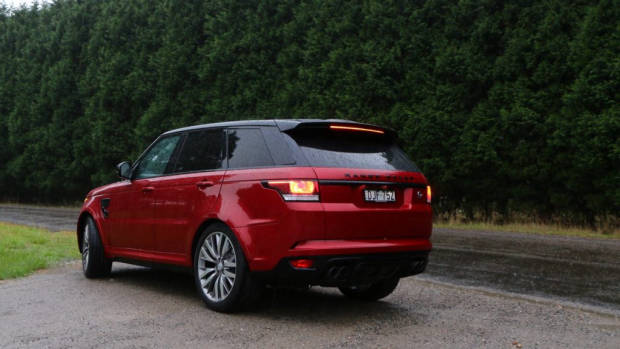 Some of the most significant of those adjustments have been to the four-wheel-drive system: the beefed-up permanent setup, coupled to an active rear locking differential, makes this a true high-riding, all-paw supercar. The Sport SVR will happily claw its way out of a corner when driven ambitiously – Evo-style – or given the room, it pushes its driver to open it up into a bellowing four-wheel-drift.
Bellowing is the word: the noise the SVR makes is properly earth-shattering. The car comes equipped with an active exhaust system – leave the exhaust in its normal mode and the V8 can be heard but, driven relatively gently, it's never antisocial. Flip the switch into loud mode – and it's too hard to resist not to – and the 5.0-litre eight burbles at idle, rumbles under light throttle, thunders when given more encouragement, and if you give it a serious kick, the SVR will, indeed, bellow its way towards licence-ending speeds, exhaust valves open and rasping. Lift off the throttle and most of the F-Type's crackles, pops and spits carry over to this Range Rover, too.
First impressions of the SVR are interesting – the current-generation Range Rover is a thoroughly mature and sophisticated platform. With a diesel V8, the Range Rover Sport is satisfyingly good but never overly interesting – strap a supercharged V8 with all sorts of characterful noises to it, though, and you have a completely different animal – a genuinely likeable, bonkers, insanely mad SUV. Who'd have a twelve-pot Bentley Bentayga over this?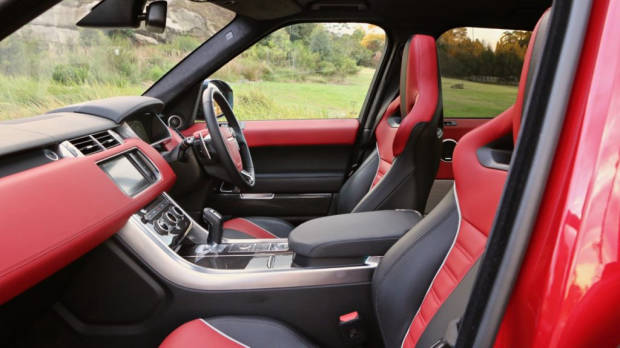 The Range Rover's conservative cabin gets hyped up on SVR juice, too. My test car is pretty out there, with an ebony black and pimento red mix inside, on both the soft Oxford perforated leather buckets, and on the ash. Throw in lashings of carbon fibre – a $3,000 option – and this interior is, well, memorable. Safer black, black/grey, and black/tan combinations are also available.
The Range Rover SVR is an expensive vehicle at $233,500, but it feels exotic and special – and when compared to the only slightly quicker $287,200 Porsche Cayenne Turbo S, the Rover is a relative bargain.
If you're looking at an SVR it's probably because – like the car itself – you want to do something a bit mad.
If you're buying an SVR, you're buying it because like it, you are quite mad – but for those who want a purchase that also appeals to the head, there is a 375kW tune of the same 5.0 supercharged V8 available for $64,000 less – just don't expect that car to go around corners with anywhere near as much fluency. Similarly, the superb 4.4-litre diesel V8 is a good buy at $147,000 – but as I wrote earlier, the mainstream Range Rover Sport models are exceptionally good to live with and very competent, but they don't set the heart alight like the SVR can.