A special edition Volkswagen Golf R 20 Years is finally making its way to Australia in time for its birthday party.
Originally slated to arrive in 2022, the most powerful and fastest production Golf ever will go on-sale here on July 13, priced at $77,490 before on-roads.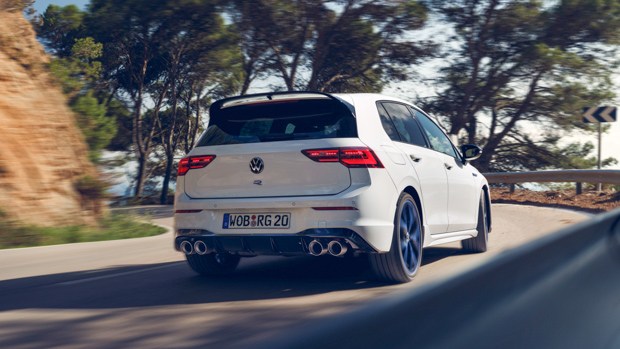 That sum makes it the priciest Golf ever sold here, beating out the Honda Civic Type R by a fair margin ($72,600 driveaway) but Australia will receive just 50 examples of the anniversary model.
Its 2.0-litre turbocharged four-cylinder offers 245kW and 420Nm – gains of 10kW and 20Nm over a normal Golf R – and hits 100km/h in 4.6 seconds. 
The 20 Years model is a seriously chunky $10,500 over a garden variety Golf R hatch's $66,990, although the latter is set to receive a rise to $68,990 from July 1.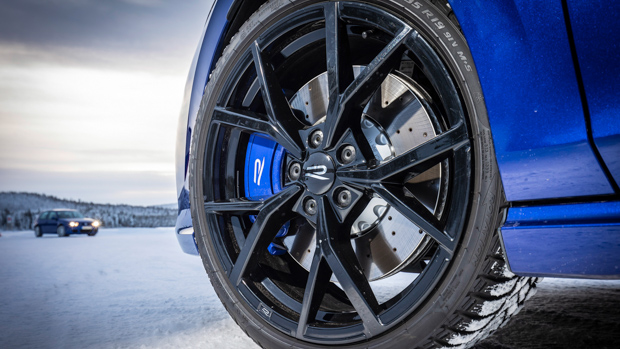 But the Golf R 20 Years offers more than just a 0.2 second improvement over the 0-100km/h sprint.
Each has an Akrapovic titanium exhaust, panoramic sunroof, Harman/Kardon premium audio system, carbon décor door and dash inlays and, rather less sexily, an emissions reducing petrol particulate filter (PPF), as already found on the Golf R wagon.
What's the 20 Year celebration all about?
Back in 2002, VW launched the R32 on its Golf Mk4 platform and it was an instant hot hatch hero. The 'R' stands for 'rennen' (German for racing) and with all-wheel-drive and 177kW, it was the most powerful ever Golf to that point.
It used a naturally-aspirated 3.2-litre six-cylinder engine, was available from mid-2003 with VW's first DSG auto gearbox, and hit 100km/h in 6.6 seconds. They came to Australia – 200 of them – only in three-door guise.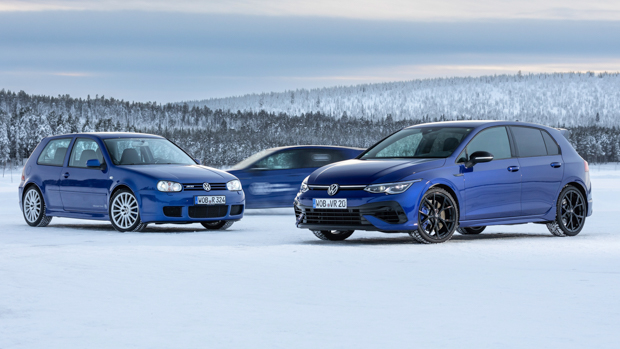 In 2010 the '32' was dropped and it's been simply 'Golf R' ever since. The same year a 188kW 2.0-litre turbo four-cylinder replaced the V6, and the potency of this four-pot and its successors have brought us to today's scorching figures.
So, the Golf R 20 Years may in reality be a 21 year-old by the time the special edition hits our showrooms, but buyers likely won't care.
What's special about the Golf R 20 Years?
An Akrapovic titanium exhaust – offered locally on the Mk8 R for the first time – is sure to boost aural excitement.
We're promised more acoustic feedback and "additional pops and bangs even low in the rev range," should you wish to remind neighbours you own a Golf R.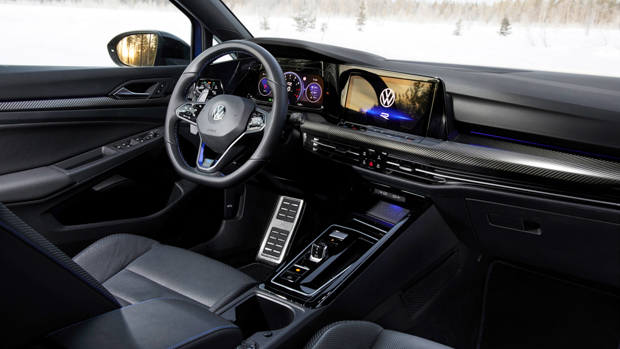 Also, there are "power and torque upgrades with more aggressive sound and enhanced turbocharger performance."
We're told if you hold the starter button for 1.5 seconds the engine's idle speed is raised to 2500rpm, ideal for those start-line launches.
A new feature is turbocharger 'pre-loading' where turbo speed is maintained in the part-load range. This should keep your snail armed for faster power development when you get back on the loud pedal.
The 20 Years' DSG brings sharper-shifting, including a "noticeable shifting jolt between first and seventh gears when shifting up by pressing the right hand paddle." Only a cruel person would input a jolting DSG joke here.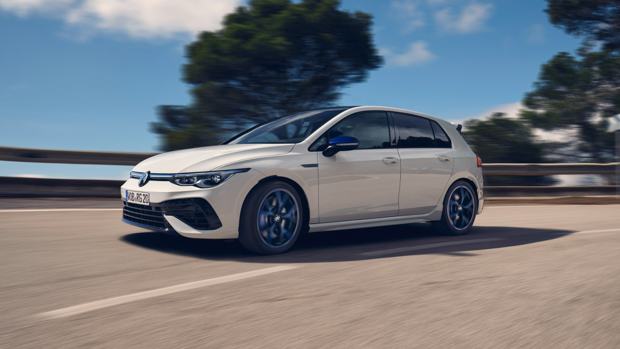 Premium paint's included: 32 Lapiz Blue metallic editions and 18 Pure White versions are destined for our shores. The former gets black 19-inch Estoril alloys, the latter black and blue versions of the same.
Blue cars get black door mirrors and white cars Lapiz blue items, while each features B-pillar '20 Year' badges.
If you want one it appears you best be quick. The Golf R 20 Years is sold out in other markets, and is only available online at Volkswagen.com.au from July 13. They'll be delivered through Volkswagen dealerships.
Volkswagen Golf R 2023: pricing in Australia
VW Golf R hatchback: $66,990 ($68,990 from July 1)
VW Golf R wagon: $69,990 ($71,990 from July 1)
VW Golf R hatch 20 Years: $77,490, with orders opening on July 13