What do you recommend when somebody just needs a car? The Volkswagen Golf sits highly on such a list. Sure, options like Toyota's Corolla or Camry are what many people consider basic transport – but if you want a car that does most everything very well, the Golf continues to be a safe bet.
It's a range that caters to a range of tastes and budgets. All models share the virtues of Volkswagen's sophisticated MQB chassis, punchy and economical engines, practicality, and a no-nonsense image. The range is essentially split into two groups: everyday Golfs, which are tremendous basic vehicles; and high-performance Golfs, which not only represented the first hot hatches, but continue to be great bang for buck.
The top-end Golf Highline is quite unique. For less than forty grand on road new, the seventh-generation Golf's premium model, with appropriate options, is frighteningly convincing in its capacity to act like a much larger and more expensive German luxury car, within the confines of the Golf's compact dimensions.
Loaded-up Highlines, featuring initially expensive options like the full-leather-and-sunroof Luxury Package ($4,900), are now hitting the certified preowned market around the early-$30,000s price point – just a little more than a brand-new 90TSI Comfortline, but packing sizably more power and torque, and plenty of additional fruit inside.
So is a two-year-old, 103kW petrol Highline the Golf you want – over a factory-fresh 90kW Comfortline? If you can find one as nice as Ed's, the answer is yes.
Part of the Highline's appeal is the choice between two punchy engines: the 110kW 110TDI turbodiesel is a totally-refined economy superstar if you cover lots of highway miles. The 103TSI is the more enjoyable motor, though – and in the 1.2-tonne Golf, 103kW, 250Nm, and better turbocharging than the sixth-generation car go a long way.
The 103TSI is quick and struggles rarely. The seven-speed dual-clutch DSG automatic is far, far slicker in the seventh-generation Golf, and puts the Highline's power to the ground via the front wheels fluently. The sixth-generation car's dual-clutch unit felt experimental and unfinished. Well, the lab have completed their work with the contemporary tranmission and it's a great automatic.
The Golf's unspoken luxury car feel is most evident in the cohesive way the running gear comes together. Its turbocharged engine, especially the 103TSI, seven-speed automatic, sorted front-wheel-drive architecture, and ultra-tight chassis produce a car that, unlike any other similarly-sized competitor, drives with outstanding fluency and composure, in nearly every situation.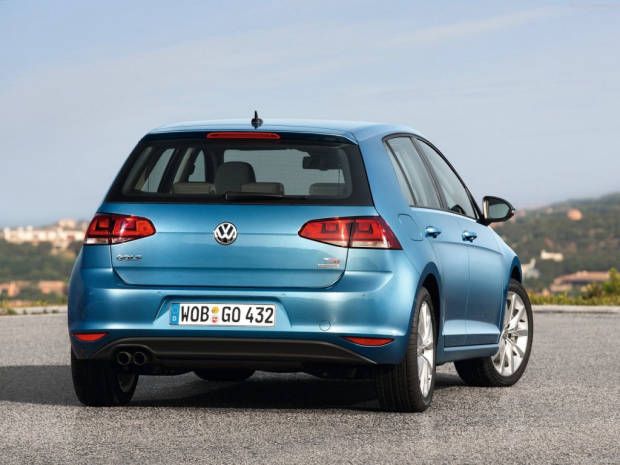 Like all modern Golfs the Highline surprises you with big-car compliance and quietness. Refinement is really only let-down by two things: the 103TSI's torque overwhelming the front wheels during hard acceleration from a standstill; and an imperfect stop-start system. Engine shutdowns and resumptions are far too evident; the petrol is otherwise super-quiet. Being overly intrusive, the ability to turn off the system is a saving grace – but you have to do it every time you start the car.
Stop-start, like turbocharging, is the Golf's key to superb petrol fuel economy. Consumption in the fives and sixes is possible in petrol Golfs, if they're driven conservatively. Push it and the turbos end up chewing more than a normally-aspirated car around town. Plus, it requires at least 95 RON premium petrol. Food for thought.
Valid criticism is thrown at Volkswagen for conservative design, inside and out. That's fair comment on the seventh-generation Golf, too, which is square and slabby outside. To some, it's handsome; to others, VW continually misses an opportunity to give the Golf flair equivalent to the racily-styled Mazda 3. Inside, the subdued design contributes to what makes the Volkswagen feel like a premium vehicle at an everyday price point: soft-touch surfaces are everywhere; all new Golfs get a touchscreen audio system, and the Highline bundles navigation too; everything you interact with is tactile.
The Golf appeals to those who like subtle, discerning, everyday luxury; not those who want to make a loud statement. That's Volkswagen's thing; there are plenty of other options if you prefer otherwise: see Mazda's 3 or Hyundai's i30 (review here), both of which are excellent alternatives.
Do you need the Highline's comforts to feel like the Golf is an expensive car? Absolutely not. All of them, particularly the petrols, are tremendous to pilot, if wanting for a little character. The Highline simply adds the top layer of visible luxuries to drive home the point that this is a subtle statement of German luxury. Leather, a panoramic roof, heated seats, and integrated satellite navigation don't hurt. They're even better when a careful first owner has shouldered the depreciation of those options for you. Low kilometre used Highlines are certainly something to consider if you're presently considering only a totally new small car.
The Golf isn't perfect; but among small cars, it remains the superior all-rounder, and the closest thing to excellence in its class.